The majority of Arizona is very inexpensive in comparison to the rest of the nation, despite the fact that it is located in the heart of the desert. The cost of living in Arizona is a lot more reasonable compared to most of the other big states.
I'll show you how much money Arizona expects you to pay for all the developed expenses such as housing, groceries, taxes, and utilities so that you can make an informed choice about whether moving to Arizona is the appropriate move for you financially.
Cost of Housing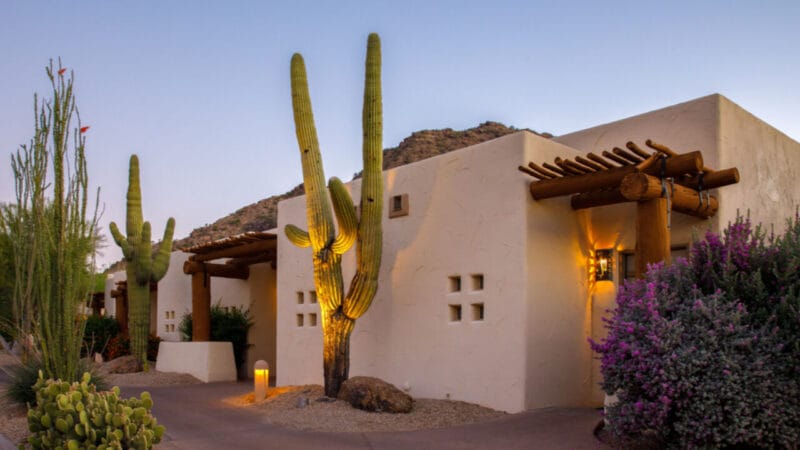 By early 2022, the typical price of houses in Arizona was at $470,500, almost 20% above the median wage of $392,450.3 Two-bedroom apartment rent was $1,295.4 per month, which was 18% more than the national rate.
Perhaps you're now reconsidering whether a relocation to the desert is in your best interest in light of those numbers. If you're looking for a place to call home, the 2022 census reports that Arizona has more than 3 million Houses available for rent or purchase. However, you should bear in mind that prices in Arizona vary considerably from region to region. The cost of a home in most of Arizona's tourist hotspots is about the same as it is around the country.
Utility Bills in Arizona
Utility costs in Arizona are somewhat higher than the national average, but that makes sense because the weather outside is not suitable to go without air cooler!
Bullhead City, located in southeastern Arizona, has utility rates that are roughly 13% cheaper than the national median, whereas Surprise, located just outside of Phoenix, has utility expenses that are 32% higher than the median.
On the other hand, Flagstaff's cost of living is around 6.3% below the U.S. average, thus it falls in the center.
Even if the total cost of living in the city you're looking at is on the higher end, it may not be a deal breaker if there are enough cheaper options to make up the difference.
Cost of Food
Monthly food and grocery costs in Arizona average $301 per person.
It's important to know how much money you can expect to spend on food every month in Arizona, since this is a recurring cost no matter where you reside. Except for Lake Havasu City, where they are nearly 20% higher, grocery costs in Arizona don't deviate much from the national median. Yet, supermarket costs in Surprise are 8% below the state average.
Grocery prices in Phoenix, Yuma, and Tucson are typically within 3 percent of the national average. Chimichanga filling may be purchased for between $4.07 and $4.52, so those delicious fried burritos won't break the bank.
Check out our list of the best cities to live in Arizona.
Cost of Transportation
Average Transportation Costs in Arizona: $4,900 to $13,317 per year
The cost of transportation may quickly mount, particularly if two people or children in the household are involved in daily commutes. Arizonans living the fast life may have a unique perspective on things. From 10% below the national median in Lake Havasu City to 7% higher in Flagstaff, transportation expenditures such as petrol prices or automobile maintenance are around 2% cheaper compared to the rest. As a city, Tucson's transportation expenses are only 1% more than the U.S. average, putting it firmly in the center of the pack.
The most effective strategy for minimizing transportation expenses is to invest in comprehensive insurance. It is advised that you speak with one of the independent insurance agents about combining your vehicle insurance for a discount.
Cost of Healthcare
Arizona residents should expect to pay an average of $6,418 annually for medical care.
Health care expenditures in Arizona vary from 20% less expensive than the national median in Surprise to 8% more expensive than the national average in Flagstaff. Healthcare prices in Lake Havasu City are around the same as the national average, which is better than the majority of Arizona communities.
It's important to remember that your health care costs will vary widely not just because of the kind of coverage you have, but also because of your individual health care requirements.
Cost of Childcare
Care for one kid costs between $981 and $1,283 a month on average in Arizona.
Child care costs may add up quickly, particularly in the first few years of a child's life, and this is true regardless of your family's financial condition. Your monthly outlay may vary, depending on the child's age. Childcare costs in Arizona range from $981 per month for a toddler classroom to an average of $1,283 per month for an infant school.
The State of Alabama's Department of Human Resources offers Subsidized Day Care Services to low-income families. The state of Arizona provides financial aid for child care to low-income working families, adolescent parents attending high school or GED programs, victims of domestic abuse or homelessness, and parents who are unable to care for their children due to mental or physical illness.
Take a look at our list of the cheapest cities to live in Arizona.
Taxes in Arizona
State taxes in Arizona aren't the highest or lowest, but they're also not particularly low. As far as income taxes go, inhabitants of the state pay between 2.59 and 4.5 percent.
The maximum rate of Arizona's progressive income tax is 13.3%, so although 8% may appear hefty in contrast, it's worth considering that other states have lower minimum rates. However, the state sales tax in Arizona remains at 5.6% (or 8.4% when including in average local taxes). In terms of state sales tax, Arizona is 11th highest in the US.
If you are in a financial position to call Arizona home after all the data, congratulations to you!