Although dentistry is considered a branch of human health conditions, it is more specifically concerned with the face and mouth rather than just the dentition.
Many students find dentistry to be one of the most challenging courses to study, especially in the context of the major technological advancements in radiology and the materials that are now being used to perform appreciative dentistry methods. In most cases, certificate programs contribute to the profession of a dental assistant.
There are also associate's degrees granted. The dental schools of Arizona listed below are well-known for having excellent facilities and faculties to train future dentists, so read on to find more.
1. Phoenix College
Call: +16022857800 – Visit Website – View on Map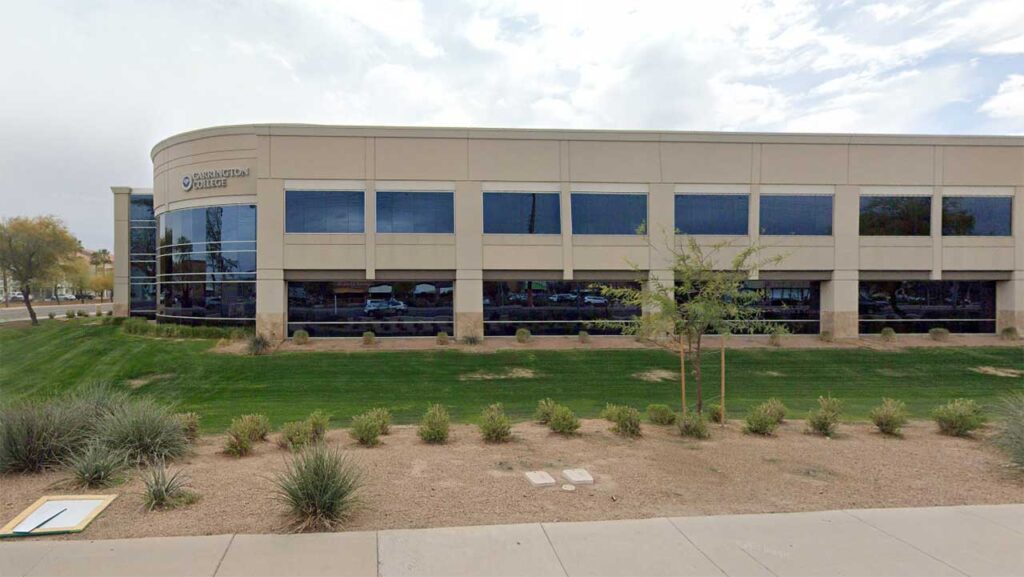 Phoenix College, one of the best dental schools in Arizona, provides a career-oriented and relevant education to meet this increasing need for qualified workers with its experienced instructors.
Phoenix program offers two programs under dental school; the certificate program, which is Dental Assisting and Dental Hygiene (34.5-42 credits), or the associate degree program, which is Dental Assisting (60 credits), are options for completing this dental assistant training program.
Additionally, the associate degree program includes classes in general studies, which will give you a comprehensive education. In order to be accepted, you must complete a secondary or GED degree and have current CPR certification.
2. My Dental Dentistry & Education
Call: +14808302000 – Visit Website – View Map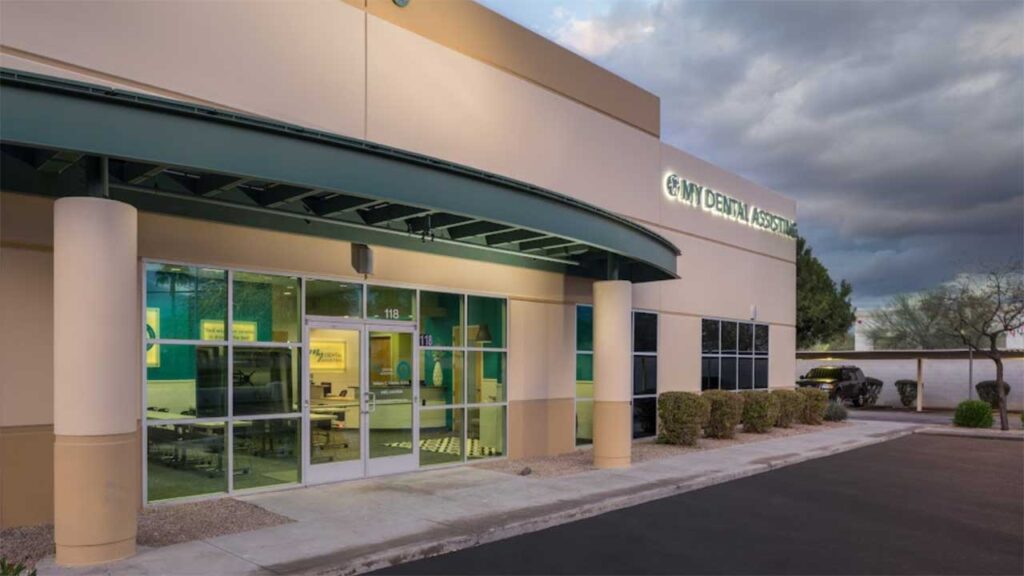 My Dental Dentistry & Education is a dental program of My Dental Dentistry & Implants in Mesa, Arizona. This school provides training in three certifications; the most well regarded are the RHS certification, the Certified Dental Assistant certification, and the Certified Dental Assistant National Board certification (DANB).
The school has a spacious, pleasant classroom, a clinical learning area, a fully equipped laboratory, and functional orthodontic chambers. Taking part in My Dental Dentistry & Education depends on the certificate, with a cost of $6,000 and a range of $5,000 to $6,000 per certificate requiring time from 3.3 – 4 months.
The dentists here are very welcoming and friendly in terms of teaching and service.
3. Carrington College
Call: +14807342378 – View Map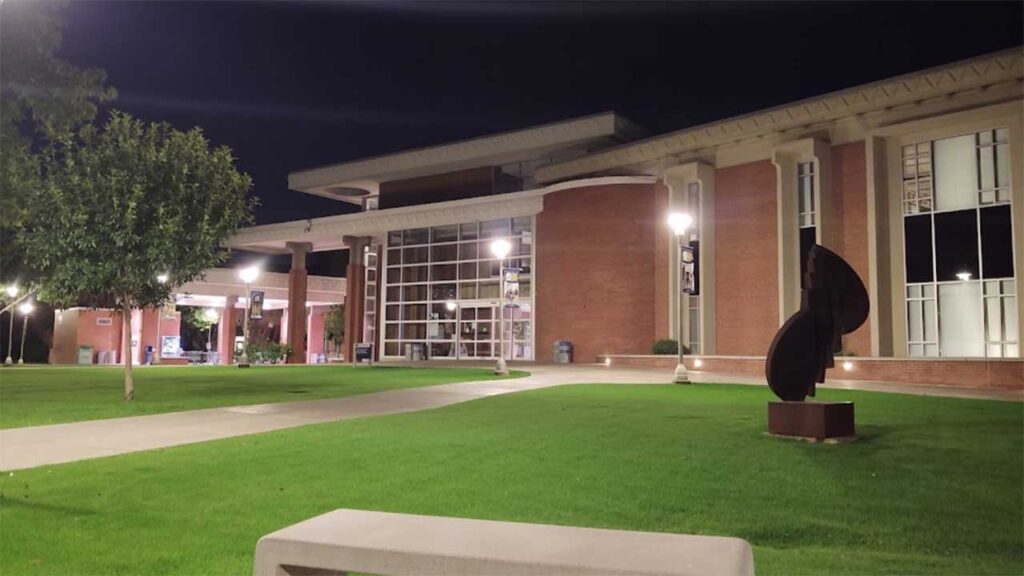 Carrington College consistently peruses the quality of assisting students to achieve their professional goals. You may do your dental aid course in Carrington and be guided with excellent clinical experience to professional services through four local campuses around the state, which are the top dental schools in Arizona.
Carrington provides a certificate and a degree in Dental Assisting and Dental Hygiene program. Typically, the technical courses for both programs concentrate on acquiring clinical, administrative, and laboratory abilities needed to support a dentist throughout different dental treatments.
It takes just two years to complete Carrington College programs. But not only former courses, but the program also analyzes general education to enhance overall knowledge.
You might also like these cosmetology schools in Arizona.
4. Eastern Arizona College
Call: +19284288472 – Visit Website – View on Map
Eastern Arizona College is a private college in Phoenix, in the state of Arizona, United States. As a Dental Assistant, the main objective of the curriculum is to prepare students with the experience and information necessary to compete for entrance exams as Dental Assistants in 40 weeks.
This 10-month dental assistant course offers
Dental Specialties
Preventative Dentistry
Dental Radiography
Anatomy
Finally, you will complete a 180-hour externship in a dentist's practice to use your new skills. This experience will help you build credence and abilities even before you get your first job.
5. Scottsdale Community College
Call: +14804236000 – Visit Website – View on Map
One of the characteristics that distinguishes Scottsdale Community College as another best dental school in Arizona is the high level of education and atmosphere provided on the campus.
At the College of Dental Medicine-Arizona (CDMA), you have a good chance of achieving success as a dentist. Dentists are educated in this four-year program by preclinical faculties with extensive experience and accreditation. During clinical experiences, you will receive pragmatic expertise to enhance patient's dental and overall wellness.
After completing the program, you will be set to accept the workforce as a skilled, bold, and competitive clinician who will be well-positioned to further their career as a part of the future healthcare team.
These are the best community colleges in Arizona.
6. ATSU-Arizona School of Dentistry & Oral Health – Dental Clinic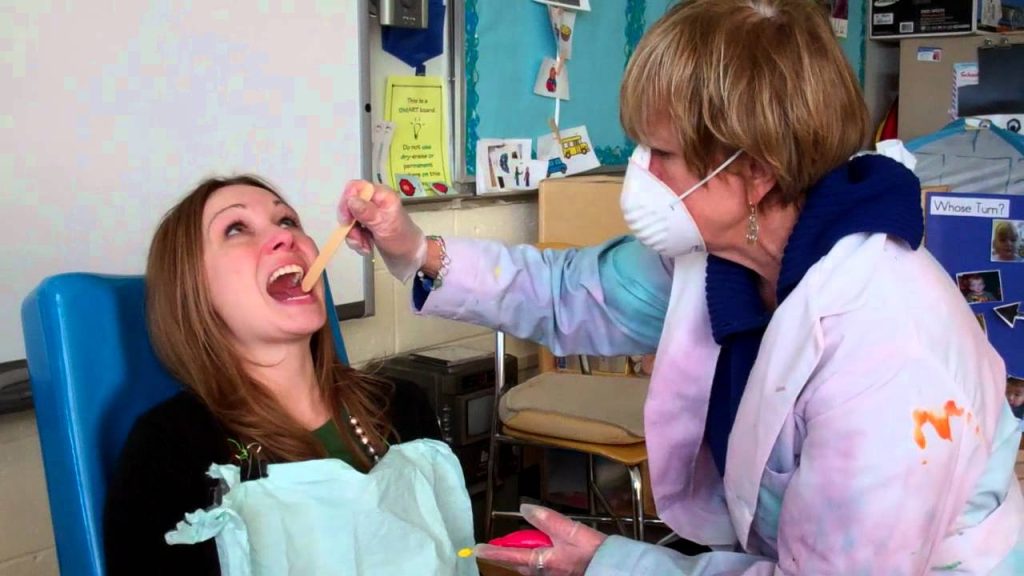 Established in 2007, this school is located close to Scottsdale and Phoenix. Of both the prenatal and clinical stages in the graduate program, ASDOH utilizes a learning intervention that depends on an outstanding framework of committed and qualified mentors.
The curriculum includes progressive courses in integrated human systems, integrated dentistry, dental tissue, and interdisciplinary clinical experiences. Along with learning about oral health issues and dental skills, students have the opportunity to interact with caring community-based health care providers. Additionally, you graduate with a degree in Doctor of Dental Medicine (DMD) and public health administration.
7. Pima Community College
Call: +15202064500 – Visit Website – View on Map
Pima Community College offers various dentistry programs to students interested in pursuing a career in the dental industry for two years. This program is accessible across the metropolitan area of Tucson and has earned the name of being one of the top dental schools in Arizona.
As a result of your education and training, you will be able to qualify in biomedical sciences, oral x-rays, dentistry, preventative dentistry, dentistry, and dental office duties such as management and administration of dentists while at college. Some topics covered are oral morphology, dentistry, oral x-rays, periodontology, pharmacology, dentistry, and clinical practice.
You will be qualified to sit for the National Certification Examination, as well as for the Arizona Oral Radiology Certification and the Coronal Polishing Certification after you have finished the course work.
8. Mohave Community College
Call: +15202064599 – Visit Website – View on Map
Mohave Community College provides dental programs to students with professional skills a convenient studying environment. They offer two programs for keen learners, dental assisting and a dental hygiene program.
This course is a 20 months certification program, offered every autumn with part-time and full-time preferences. You need to complete mandatory credits in courses including dentistry, infection monitoring, dental X-ray, clinical procedure, dental management, dental specialty knowledge, and dental material to get your degree.
The courses are tough, and a grade point average of 2.8 or better is required in required coursework, with a grade of "C" or above in all courses. In addition, the institution provides an associate degree in dental hygiene, which enables trainees to sit for state and national licensure examinations.
9. Northern Arizona University
Call: +19285239011 – Visit Website – View on Map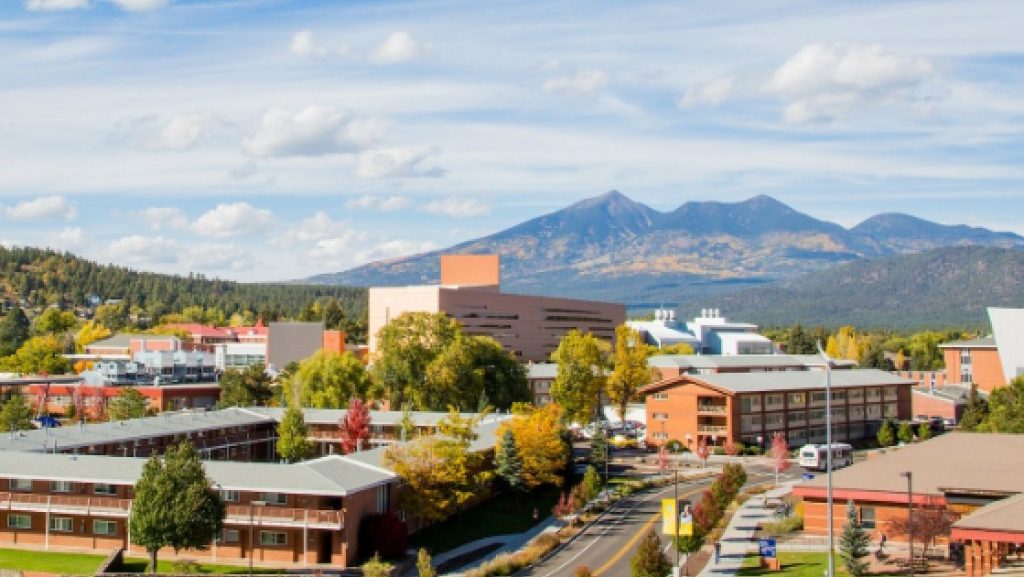 Dental hygiene from the University of Northern Arizona seeks to provide a comprehensive education in dental hygiene's practical and theoretical knowledge. Dental studies include dental anatomy, oral medication, radiography, management of pain, and dental supplies.
You will follow new techniques and work two weeks in or out of Arizona at a dental health institution. It is the exclusive BSc program in Dental Hygiene in Arizona.
10. Cochise College
Call: +18009667943 – Visit Website – View on Map
Situated in Phoenix, Arizona, students enrolled in Cochise College's dentistry, and dental training programs gain the skills and information necessary to pursue certification and a career in dentistry. The 10-month dental assisting program may help you get a first-level job.
The number of opportunities for dentists and dental hygienists will increase dramatically in the next years, including in dentistry, mobile dentistry, hospitalization, nursing home placements, dental schools, public health organizations, as well as private and public health organizations.
11. Midwestern University Dental Institute
The Midwestern University clinics offer a wide-range of health services for the whole family. At its clinics, graduate-level students and expert clinical faculty work side-by-side to provide exceptional care. Patients of all ages benefit from state-of-the-art facilities, comprehensive treatment options, and a collegiate atmosphere where they play an important role in the education of the next generation of healthcare professionals.
At Midwestern University Dental Institute, patient services with convenient centralized scheduling, easy inter-specialty referrals, and several specialty areas are in one central location.
Recent years have seen a notable improvement in the number of dentists working in Arizona. Where, Dentistry is frequently known as a noble occupation that needs professional mastery. It is now widely esteemed by the state, which develops the public's overall well-being and enhances their longevity. So, if you want to secure your career in dentistry in Arizona, these programs might help you out for the best results in the future.