In Illinois, lake resorts are the best destinations if you want to combine beautiful scenery with peaceful surroundings, as lake resorts provide you the best of both worlds more effectively than any other type of accommodation in the state.
Illinois's lakefront resorts are known for their exceptional quality and their breathtakingly beautiful natural locations. Thus, it is not a simple task to choose one of them to stay at.
Because of this, I have compiled a list of the most desirable lake resorts in Illinois.
1. Eaglewood Resort & Spa
Call: +16307731400 – Visit Website – View on Map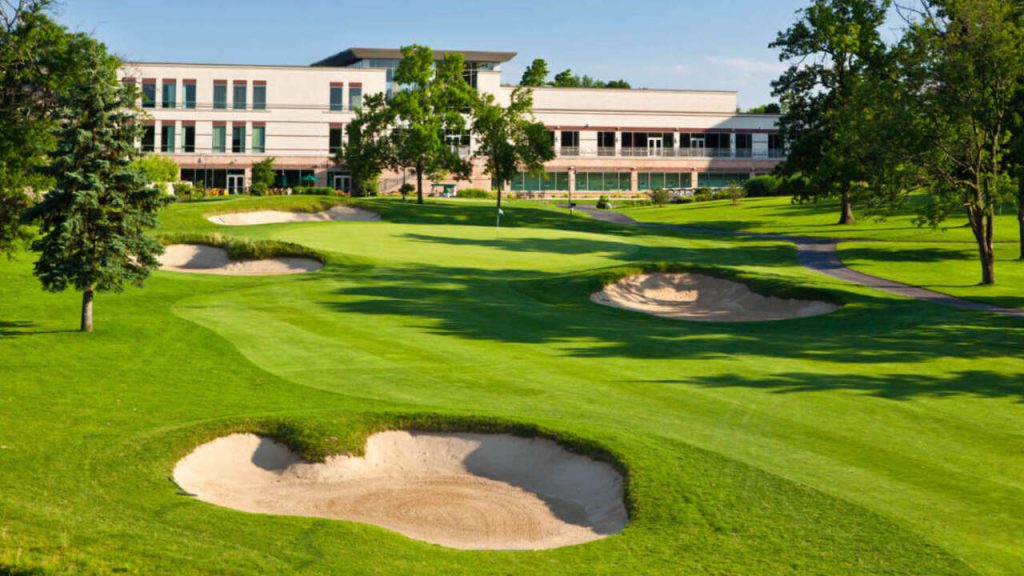 The Eaglewood resort in Itasca is a high-end destination not far from Chicago. There are 295 rooms and suites to choose from. Each of the rooms is equipped with a high-speed Internet connection and a spacious desk, perfect for working or holding a meeting. If you're in the mood for a little glitz, book a suite on the top floor overlooking the golf course.
Your vacation can turn into a fitness retreat with the help of activities like Zumba and water aerobics. You can also make use of the gym and pool facilities there. Golf, tennis, bocce ball, and bowling on six lanes, plus darts, billiards, a bar, and a patio are all available. You can also find Burnham's Restaurant, which is a quaint American eatery that specializes in farm-to-table fare.
2. Illinois Beach Hotel
Call: +12242592600 – Visit Website – View on Map
This affordable lakefront hotel is about 40 minutes from downtown Chicago and is located near The Zion National Park. Each of the 92 rooms has a view of the ocean or a nearby state park. Go for a stroll along the lake, cast a line, or kick back on the beach. Relax in their large pool, which is located in an atrium surrounded by palm palms.
The steaks and beer-battered fish at Lakeside Restaurant are legendary. Check out Sandpiper Lounge if that's not convenient. There are also two golf courses nearby, and Six Flags is easily accessible.
3. Pheasant Run Resort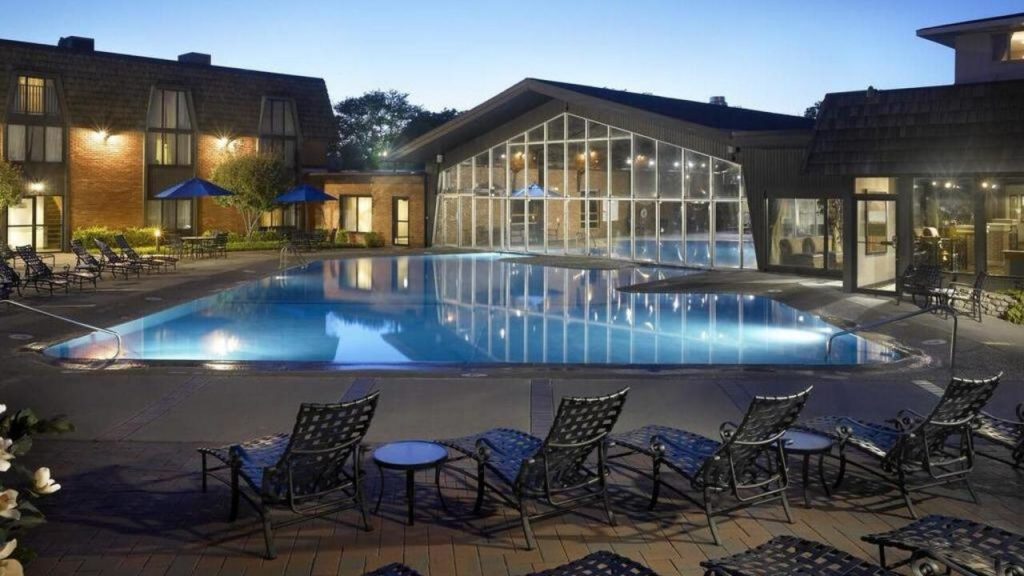 This 250-acre St. Charles resort features koi ponds, gardens, and an atrium-housed pool. It's magnificent with its reproduction of Bourbon Street with magicians, clowns, and other entertainers. There are 300 rooms on the first to sixteenth floors, including Jacuzzi suites, golf course views, and a penthouse. You can spend your afternoons at the spa, golf course, or craft nook.
On Fridays and Saturdays, guests can do a scavenger hunt or watch a "moonlight movie" on the pool deck, bonfire terrace, or ballroom. The resort features many eating options, including Harvest and Jambalaya. Or go casual with an ice cream or sports bar snack.
Check out these incredible lakes in Illinois.
4. Lincolnshire Marriott Resort
Call: +18476340100 – Visit Website – View on Map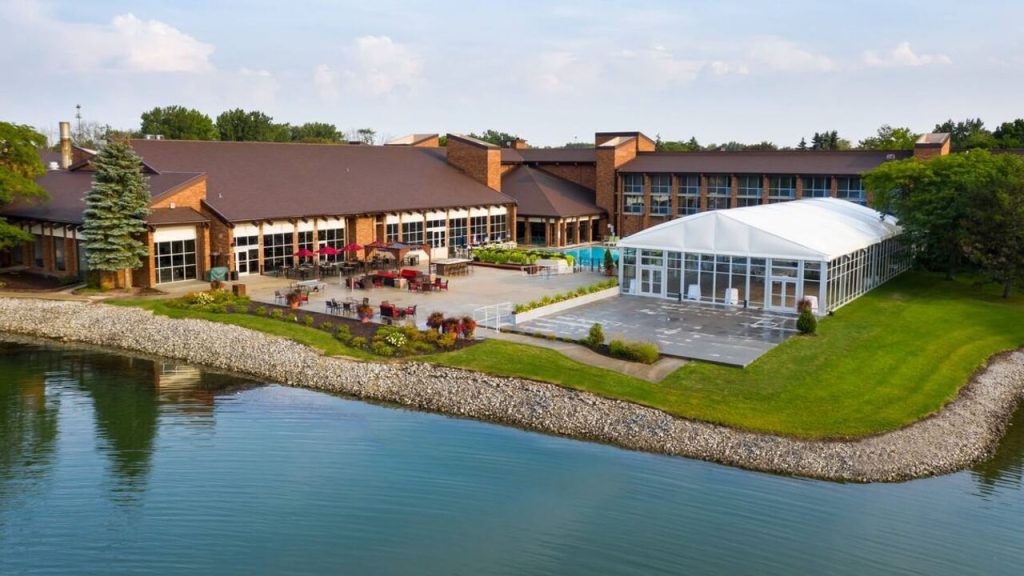 Marriott's North Shore golf resort has award-winning service. It's 30 minutes from O'Hare International Airport, perfect for work retreats or romantic weekends. Nearly 400 rooms and suites have modern amenities and workspaces. Guests can enjoy PGA golf, tennis, volleyball, hiking and bike paths, and swimming pools (indoor and outdoor). Live musicals and Broadway performances are performed there.
Four restaurants and lounges are available for supper and happy hour, including the Fairfield Inn Restaurant and Crane's Landing, which overlooks the golf course. A Starbucks kiosk serves caffeine. There's plenty of conference space for corporate events.
5. Oak Terrace Resort & Spa
Call: +12175394477 – Visit Website – View on Map
You may golf, visit the spa, or get married here. "Shotmaker's Mile" is a tough stretch of holes on the back nine of the resort's golf course. This resort is located near Pana, next to a 65-acre lake and woodland environment.
Guests can pick from rooms in the Inn, lakefront villas, and fairway town homes. All have balconies, patios, or porches. Mulligan's Bar & Grille serves pub food like fried pickles and chicken wings or more refined fare like grilled pork chops and bourbon-glazed fish. Evenings feature live music.
6. Indian Lakes Hotel
Call: +16305290200 – Visit Website – View on Map
Indian Lakes Hotel in Bloomington is 40 minutes from downtown Chicago and offers much to do if you leave your large suite. Frank Lloyd Wright-inspired architecture fills 260 acres. The Presidential Suites have wraparound terraces and wood-burning fireplaces. Huge indoor pool, waterfall hot tub, and 24-hour fitness facility.
Izzy & Moe's is a speakeasy with DJ and karaoke evenings, and Shiraz on the Water serves contemporary American cuisine. Cave Bar's interior atrium has a broad choice of beers.
Check out these magnificent wedding venues in Illinois.
7. Eagle Ridge Resort & Spa
Call: +18157775000 – Visit Website – View on Map
Eagle Ridge is a "country manor-style" luxury residence in Lake Galena created for activities and leisure. Upgrade choices include gas fireplaces, jetted baths, and walkout patios. The resort's Stone drift Spa has steam rooms, organic products, and 10 treatment rooms, with massages and revitalizing treatments.
The resort can organize boating, golf, kayaking, and even a hot air balloon excursion. Insufficient? Horseback riding, sledding, skiing, birding, footgolf. Yes, there's a golf-soccer course. Sunday brunch, wine tastings, and all-you-can-eat prime rib are offered at Woodlands Restaurant.
8. Wordmark Galena Resort
Call: +18157769020 – Visit Website – View on Map
Wordmark sits near Apple State Canyon Park in a touristy part of Illinois. The resort has four world-class golf courses, ski runs, and equestrian trails. Enjoy suites with wood finishes, fireplaces, Jacuzzi tubs, fully-equipped kitchens, and flat-screen TVs.
A sauna, hot tub, BBQ grills, and movie rentals are available outside your room. There's also a fitness center and basketball court. The resort's game facility has ping-pong and pool. Galena, a short drive away, has cute shops, restaurants, and historic sites.
9. Hilton Chicago Oak Brook Hills Resort
Call: +16308505555 – Visit Website – View on Map
You can use the pool and golf course next to your hotel for business or enjoyment. Hilton provides transport to nearby areas. If you don't want to play real golf at Willow Crest, you may "play" 80 holes indoors. You can use the amphitheater for business video-conferencing and catering.
Tin Cup Bar & Grille or B. Restaurant & Lounge. Noonan's offers grab-and-go snacks for golfers and sunbathers. The Monarch Spa offers facials and massages in-room or poolside. Your room has a 42-inch flat-screen TV and Keurig coffee station.
10. Heartland Spa & Fitness Resort
This resort emphasizes wellness. Heartland includes a spa, gym, nutritional assistance, lifestyle programs, and fitness classes. Small-group guest speakers help you refuel and reboot. Book a full-body massage or relax in the Himalayan salt sauna or whirlpool.
There are several ways to stay active. Walk, jog, ride, or hike along Geneva Lake pathways, or sign up for a one- to seven-day package. Yoga, cardio, aromatherapy, dancing, or tai chi lessons are organized for you. All meals are supplied, including low-fat recipes and easy-to-make snacks. Plush bathrobes, free in-room movies, and private balconies make your stay comfortable.
11. Cypress Resort & Marine
Call: +12248184177 – Visit Website – View on Map
Cypress Resort's family-owned cottages and boats are well-maintained. Private sandy beach on Petite Lake with grills, electricity, and boat ramp. The Boat House is a stunning event facility with hardwood floors, nautical elements, and beach access.
This resort is smaller and more secluded than others. Cypress provides five cottages with natural light, modern decor, and fully outfitted kitchens with coffee and a French press. In summer, use the charcoal grills, fire pit, kayaks, and paddleboards. In winter, go ice fishing.
12. Harpole's Heartland Lodge
Call: +12177342526 – Visit Website – View on Map
This Pike County hunting lodge is also a family-friendly resort. You can hunt whitetail deer, pheasant, quail, and turkeys in the area. Multi-day hunting packages include guides, meals, housing, and access to private properties.
If you're looking to relax, try one of their luxury cabins or the onsite bed & breakfast. The latter includes a stone fireplace, a large deck, comfortable rooms with character, and home-cooked meals. A hunting lodge offers sporting clay shooting and a pistol range, but you can also go horseback riding, fishing, play volleyball, or ride an ATV on the resort's trails and terrain park.
13. Grizzly Jack's Grand Bear Resort
Call: +18663993866 – Visit Website – View on Map
Grizzly Jack's in Utica, next to Starved Rock State Park, seems like a family-friendly option. Definitely. There is a lazy river, water slides, and a wave pool at this resort. Over 60 arcade and video games, many with prizes, may be found at Cave Arcade. Bear Island has four levels of observation decks looking out over Curtis Canyon.
Explore the Illinois River on a raft, hit the links at Oak Ridge Golf Club near Seneca, or taste wine at a local vineyard. Wi-Fi and cable TV are standard in all of our family-friendly villas, cabins, and suites. Pizza, salad, and burgers are on the menu at Jack's Place Restaurant & Bar. Snacks and exotic drinks can be enjoyed poolside at the Wave Café.
The resorts that are included on this list include breathtaking views of the lakefront as well as luxurious rooms, both of which will ensure that your stay is one to remember.