In the southwest part of the United States, Arizona is a paradise for outdoor enthusiasts, with mountains, flatland, deserts, and rivers to explore. It has a wide variety of landscapes, including some breathtaking views.
There are only two natural lakes in Arizona, and the rest are man-made or artificial. In certain cases, they are located at higher elevations in pine forests, making them actual desert oases. This list of the best lakes in the state offers a wide range of recreational activities, including scuba diving and fishing for tournament-sized bass.
So, don't waste any time and check out this list of the best lakes in Arizona for some inspiration on where to go boating for the day.
1. Lake Powell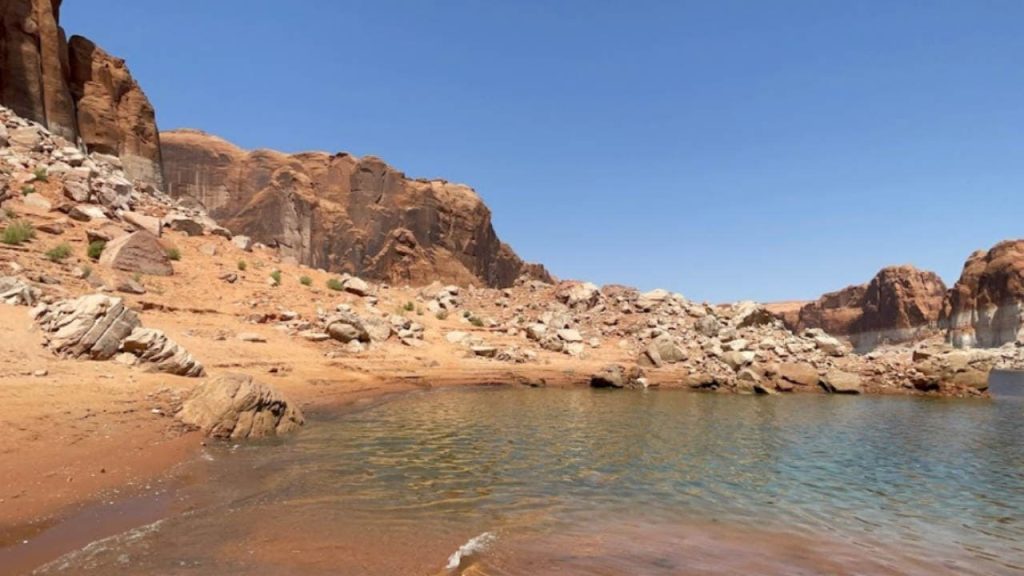 You don't need a houseboat to explore Lake Powell's roughly 2,000 miles of shoreline and 96 major canyons, which were created by the damming of Glen Canyon. All kinds of water sports can be enjoyed in the waterways bordering Arizona and Utah.
The Glen Canyon National Recreation Area, which includes Lake Powell, is a popular spot for outdoor activities like hiking, fishing, and camping. You can also visit Glen Canyon Dam, Rainbow Bridge National Monument, and Antelope Canyon from Page, Arizona.
2. Lake Havasu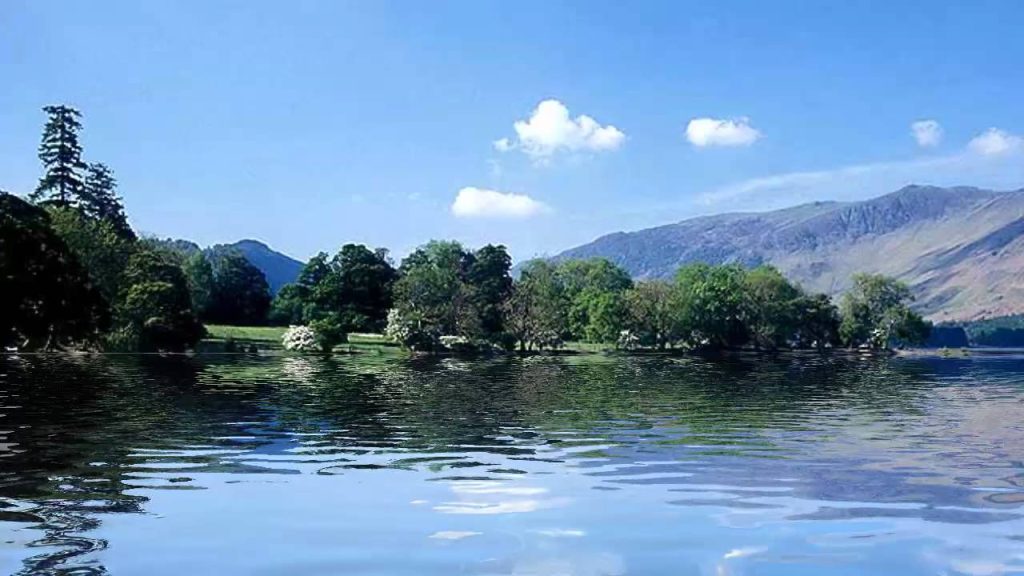 The beach in Lake Havasu is a wonderful place to unwind and relax. In the 400 miles of coastline, you'll find soft sand beaches that are ideal for sunbathing in lawn chairs. The temperature of the lake is quite warm.
Visitors come to the lake from all across the state during the summer, while snowbirds flock there in the winter. From pontoons to wake board boats, boating is a specialty in this area. Water-skiers, tubers, and wakeboarders are towed by boats and Jet Skis in the sweltering Arizona sun.
Many people head up the lake to their own private cove or beach to avoid the congestion. High-performance boats are welcome to blast around the lake because there are no speed limits.
3. Lake Mead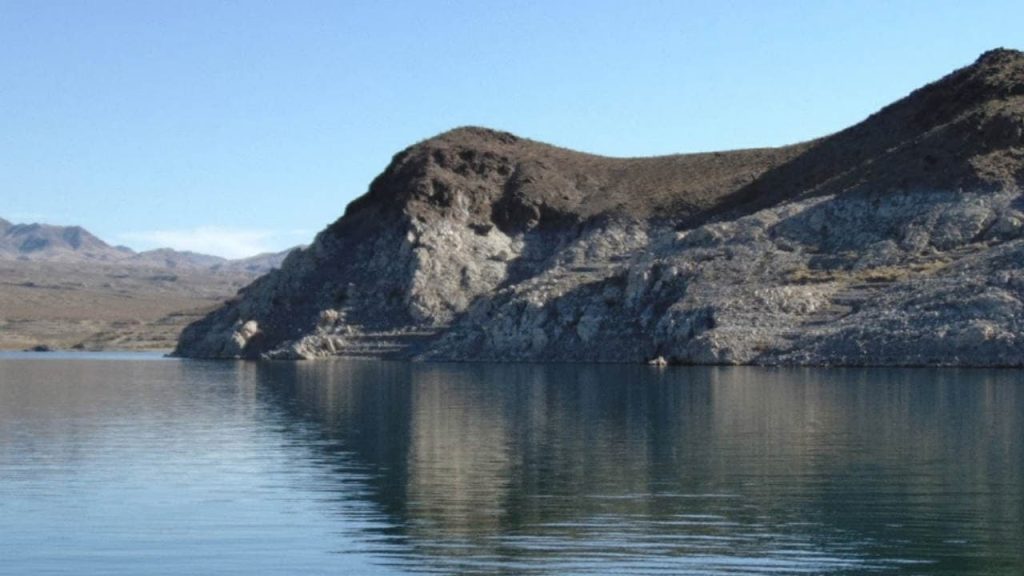 Lake Mead is a well-known Arizona freshwater lake. This is one of the world's most stunning lakes, with crystal-clear water and wide open spaces. Exploring Lake Mead is fun because of the distinct perspectives. It's difficult to know where to begin in this immense body of water.
Though you can start by exploring the lake by powerboat, sailboat, houseboat, SUP, or kayak. Lake Mead's northern and southern coasts are in Nevada and Arizona, respectively. A meandering canyon and secluded beaches dot Lake Mead's shores, leading to stunning views and quiet fishing spots.
Camping along Lake Mead's shoreline is also a necessity. If you prefer to camp in Arizona, you can remain at Temple Bar or take your boat out on the water to pick your own camping location.
You might also be interested in checking out the most beautiful waterfalls in Arizona.
4. Theodore Roosevelt Lake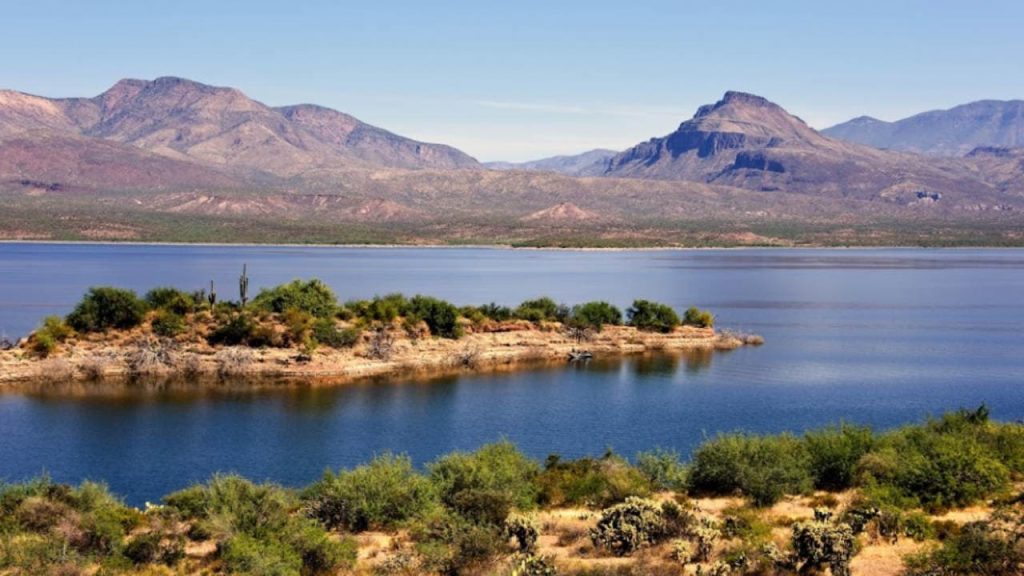 A significant lake in central Arizona bears the former president's name – Theodore Roosevelt Lake. There are roughly 8,600 hectares of surface area and a 205 kilometer shoreline around the lake. It is the state's largest lake.
A wide variety of game fish can be found in the waters of Theodore Roosevelt Lake. Carp, crappie, sunfish, smallmouth bass, and channel catfish are among the species included here. The willow flycatcher, an endangered Neotropical migrant bird, also makes its home on the lake.
With the Arizona National Scenic Trail running through the area, the lake is quite breathtaking. On the beaches of the lake, a marina provides boat rentals and moorage, as well as campgrounds.
5. Lake Pleasant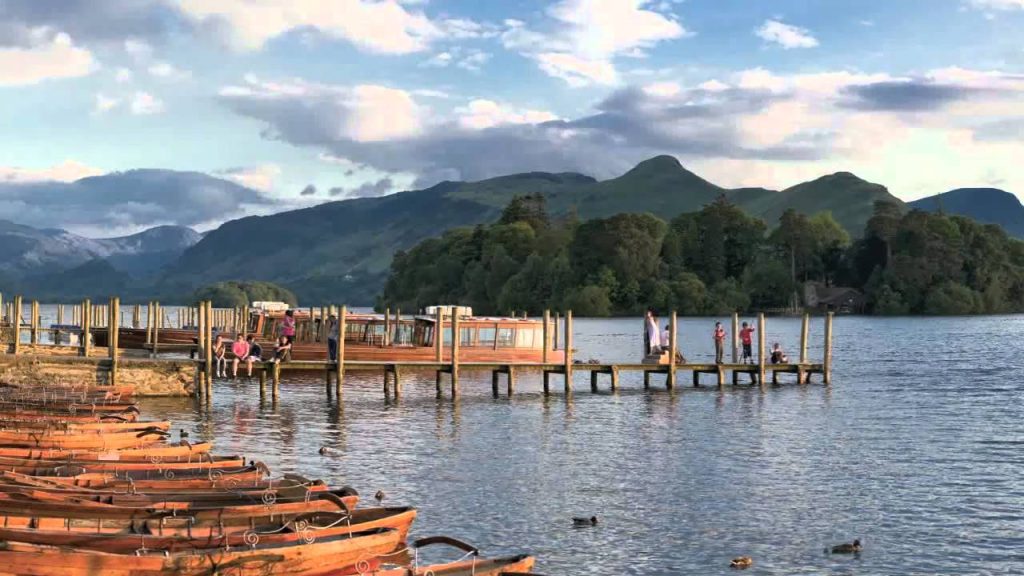 Because of its huge size and long shoreline, Lake Pleasant in Phoenix is a boater's paradise. Its water surface measures slightly under 12 square miles. The boating and fishing at Lake Pleasant Regional Park are some of the best in the state. White bass, crappie, sunfish, and tilapia are just a few of the fish that may be found in the lake.
The lake and the surrounding area are ideal for outdoor activities such as hiking, picnics, mountain biking, and camping, and the view is really stunning. Boat rentals, storage, and anchoring are available at two marinas along the lake's shores, as well as a shop and a restaurant.
6. Lake Mohave
Most Arizona water lovers seem to overlook Laughlin's Lake Mohave. On the western part of the state is a 68-mile-long lake created by the Davis Dam extension of the Colorado River.
Many of the lake's upper 22 kilometers are nestled in narrow gorges, making them ideal for nature exploration. Hoover Dam's cold water is from Lake Mead's bottom layers while the warm waters can be found near Laughlin; temperatures vary from high 70s to mid-80s Fahrenheit.
The lake is easily accessible, and marinas provide all boating conveniences. However, the Nevada side of the lake has no services besides a few nice beaches. Crappie and rainbow trout are also abundant in the lake's waters, but the water temperature fluctuates as you approach north.
Make sure to visit the most beautiful places in Arizona.
7. Canyon Lake
In 1925, the Salt River was dammed to form Canyon Lake. The lake's 380-hectare size makes it the smallest along the river, and it's nestled against the Superstition Mountains. Located 24 kilometers from the Apache Trail and 82 kilometers east of Phoenix, the lake is a popular spot for kayaking and canoeing.
Also, hiking, camping, and boating are all popular activities here. Rainbow trout, largemouth bass, yellow bass, carp, and walleye can all be found in Canyon Lake's waters. Because of the adjacent Superstition Wilderness Area, the view from the lake is spectacular.
Apache Lake is one of four reservoirs along the Salt River that are located 104 kilometers northeast of Phoenix. Located in Tonto National Forest, the lake is very close to the Apache Trail. The marina at Apache Lake is a popular location for a variety of recreational activities, including fishing, kayaking, and canoeing.
Largemouth bass, crappie, channel catfish, walleye, and sunfish are among the more common species caught while fishing in the area. There are three motels, an RV park, and a restaurant all located on the lake's shores. Numerous other routes can be found around the lake, including the Apache Trail.
9. Saguaro Lake
Saguaro Lake is a reservoir located in the Tonto National Forest in Maricopa County, Arizona, along the Salt River. Located at an altitude of 459 meters above sea level, it is a beautiful lake surrounded by spectacular natural scenery.
Rainbow trout, largemouth bass, yellow bass, crappie, channel catfish and tilapia are just a few of the fish that call Saguaro Lake home, as well as a variety of other species. It's possible to go sailing or jet skiing on the lake as well.
A marina with a restaurant, boat ramps, restrooms, and picnic tables can be found along the lake's 35 kilometers of shoreline. Swimming and picnicking are also available at Butcher Jones Beach.
10. Woods Canyon Lake
In northern Arizona, the Mogollon Rim, this little lake is located about 48 kilometers from the city of Payson. Woods Canyon Lake is a little body of water, but it's incredibly deep, with an average of 7.6 meters.
Recreational fishing is the most popular activity at the lake, which was built primarily for this purpose. Camping, hiking, and biking are also among popular pastimes in the area.
However, during the winter months, access to Woods Canyon Lake may be restricted. Families are most likely to visit during the summer, when temperatures are ideal for swimming and boating on the lake.
11. Bartlett Lake
Bartlett Lake is a reservoir recognized for its excellent sport fishing. Smallmouth bass, largemouth bass, sunfish, crappie, crayfish, and flathead catfish are all found in the lake.
Swimming, water-skiing, and sailing are all popular activities on the lake's 815 hectares of shoreline. There are also a variety of campgrounds within a short distance of the marina.
In 1939, the Verde River was dammed to create Bartlett Lake. It is located in the Tonto National Forest, approximately 77 kilometers from Phoenix. Additionally, the lake is surrounded by wildflowers, cacti, and hills, making it a magnificent sight.
12. Tempe Town Lake
Tempe Town Lake is located in the central Arizona city of Tempe, as its name suggests. The lake opened to the public in 1999 after being built in 1997.The Tempe Beach Park is located on Tempe Town Lake, which has a variety of trails for running, biking, and skating. With rainbow trout regularly stocked, visitors can go boating and fishing on the lake.
Throughout the year, there are also a number of regattas held in the area. There is a vast marketplace along the lake's southern bank that includes a mall, restaurants and fire pits, a music venue and a pedestrian path for visitors to enjoy. Around the lake, you'll find office buildings and residences.
13. Lynx Lake
Lynx Lake is a picturesque body of water nestled among the trees and greenery of the Prescott National Forest. Central Arizona's Lynx Lake is a popular destination for boating, fishing, hiking, and camping; it's also a great place to learn about the local wildlife. Mule deer, bald eagles, bull frogs, geese, and osprey are just a few of the wildlife that may be found in the area.
Each year, the lake attracts more than 125,000 tourists, many of whom are desert residents seeking respite from the intense heat. In addition to being easily reachable by car, it is also accessible to people with disabilities.
14. Alamo Lake
Alamo Lake, which is located in the Alamo Lake State Park, was created in 1968 by the Alamo Dam for flood control. It is also a major tourist attraction and one of the best fishing places in the state of Arizona.
As a result, Alamo Lake is a popular destination for fishing tournaments due to its abundance of species like crappie, largemouth bass, channel catfish, sunfish, and tilapia. At least one fishing record is broken every year at this lake.
Camping and hiking are available in the park's surrounding area, but there are also cabins for tourists who prefer a little more privacy. Among the activities that may be enjoyed at Alamo Lake are swimming, boating, biking, and picnics.
Even while these lakes are popular for boating, fishing, and other outdoor activities, they have an additional function: they help to conserve water during times of drought in this extremely dry region by storing it in reservoirs. So, these lakes are the reason that save Arizona from turning into a desert!