Alaska is known for its natural beauty and richness. In contrast to Anchorage, the state's largest city, and Juneau, the state capital, which is located in a remote area with no road access, Alaska is a land of enormous, untouched countryside.
Whereas these communities have a lot to see and do, it's still the Alaskan wilderness that attracts tourists. Alaska has a lot to offer in the way of natural beauty, wildlife, and massive glaciers.
This list includes natural wonders as well as steadfast cities that have established themselves as some of the best places to visit in Alaska.
1. Denali National Park & Preserve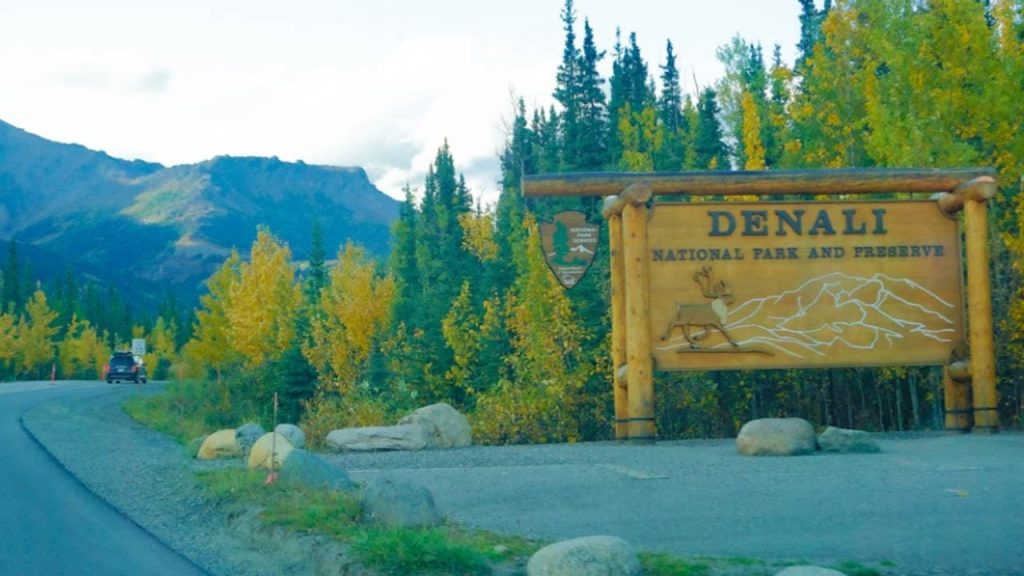 Denali National Park & Preserve, in the heart of Alaska, is a place of extremes. There is no doubt that Denali National Park and Preserve is among the most beautiful destinations in Alaska as it has the tallest peak in North America, Denali.
Stunning alpine ranges, tundra, and river basins abound here, in addition to North America's tallest peak. Aside from that, it's home to diverse fauna such as elk, reindeer and wolf and grizzly bear populations. Even if you're not interested in photographing the mountains or wildlife, a jeep tour of Denali National Park and Preserve is the finest way to go about the park.
Denali's summit isn't viewable from anywhere in the park, but a guide can show you the best areas to see it, such as the famous Reflection Pond perspective.
2. Juneau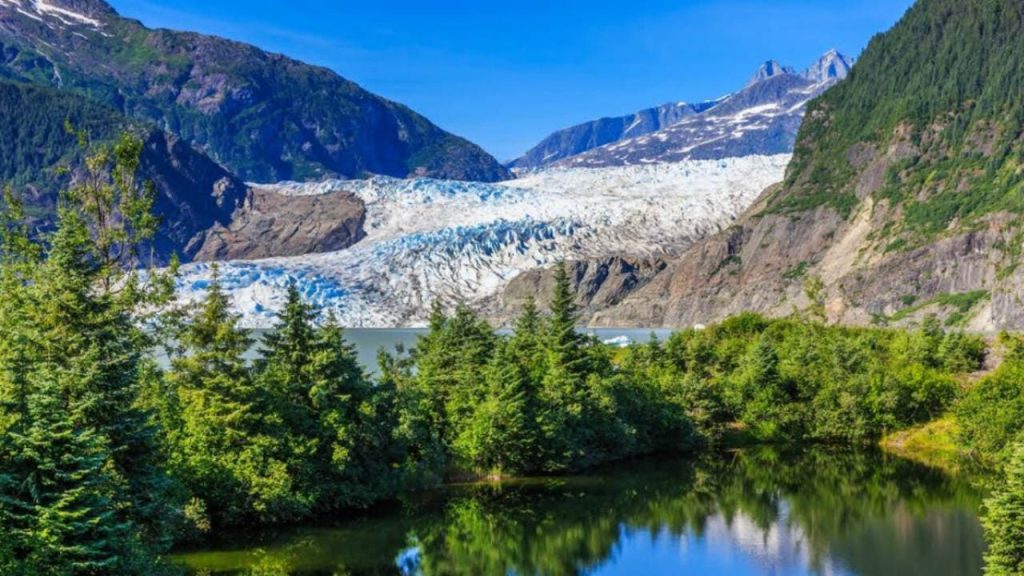 Throughout many ways, you can consider this place as the state's capital which serves as a microcosm of all the exciting things to do in Alaska. Gastineau Channel and mountains and glaciers on either side of town create a stunning backdrop for this city of spectacular landscapes and wildlife.
If you want to visit Juneau, you'll want to leave plenty of time in your schedule for photographing the area's stunning blue waters and lush, verdant forests. At a distance of 13 miles northwest of Juneau's central business district, the Mendenhall Glacier can be viewed from kayaks and hiking routes; a popular route that leads to the beautiful Nugget Falls.
Everyone loves this Mendenhall Glacier. Also, Juneau's Alaskan Brewing Company has a tasting area with more than 20 Alaskan beers on tap, making it the ideal place to relax after a long day of sightseeing.
3. Tracy Arm Fjord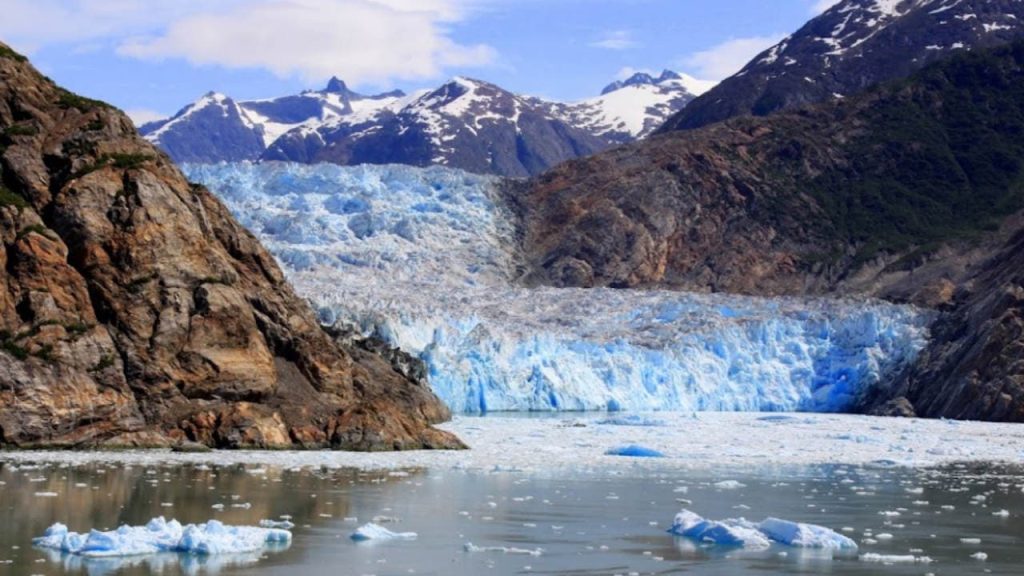 Tracy Arm is a fjord that is surrounded by glaciers and is located near south of Juneau. Waterfalls cascade down the jagged granite cliffs, while glaciers calve, forming little icebergs in the process. As a result, it is a popular stop for cruise ships and boat cruises.
Located inside the Tracy Arm-Fords Terror Wilderness of the Tongass National Forest, the fjord is a popular destination for kayakers. On trips, views of wildlife are common, whether it's a brown bear or an elk on land or the dolphins and whales that live in the waterways surrounding the area.
You might also want to visit these stunning small towns in Alaska.
4. Ketchikan
Deer Mountain and the Tongass Narrows waterway, which is teeming with fishing boats, float planes, ferries, and barges, surround the southernmost Alaskan settlement of Ketchikan. It's one of the nicest villages in Alaska to visit, in my opinion.
For 31 miles, the city follows the shoreline's cliffs, and many of the city's businesses are located on or near the water, accessible by floating walkways. You can see the art of the Haida, Tlingit, and Tsimshian people everywhere in Ketchikan. Salmon fishing in Ketchikan is world-renowned, and the city is referred to as the salmon capital of the world.
5. Kenai Fjords National Park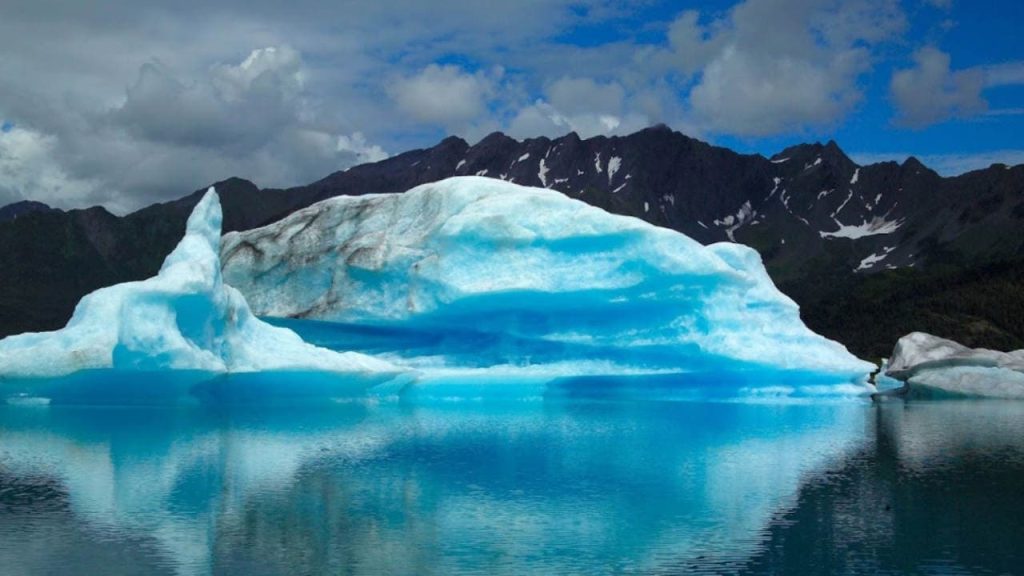 As one of Alaska's premier tourist destinations, the Kenai Fjords National Park preserves a significant portion of the Kenai Peninsula's fjord-dotted coastline. The 700-square-mile Harding Ice field and an undeveloped coastline may be seen in the park's panoramic views. Brown bears can grow to enormous sizes in the national park's forests, where they rely on the salmon's high fat content.
To visit this national park, you'll feel as if you've stepped back in time to the ice age. A wide range of sports are available at this park, including sledding, dog sledding, skiing, and hiking.
6. Mendenhall Glacier
One of Alaska's most popular tourist locations is the 12-mile-long Mendenhall Glacier, which connects the Juneau Ice field with Mendenhall Lake. The ice thickness ranges from 300 to 1,800 feet, making it almost half a mile wide.
Retraction of the glacier has been two and a half miles since the mid-17th century. The crystalline structure of the ice, which modifies how light bounces off the surface, gives it a striking blue tint. You can see the glacier's face best from a chopper or by paddling up to the edge of it on a kayak.
Two popular glacier-related pastimes are ice climbing and exploring ice caverns. Many well-maintained hiking trails go to the glacier.
You might also want to check out the top rated ski resorts in Alaska.
7. Anchorage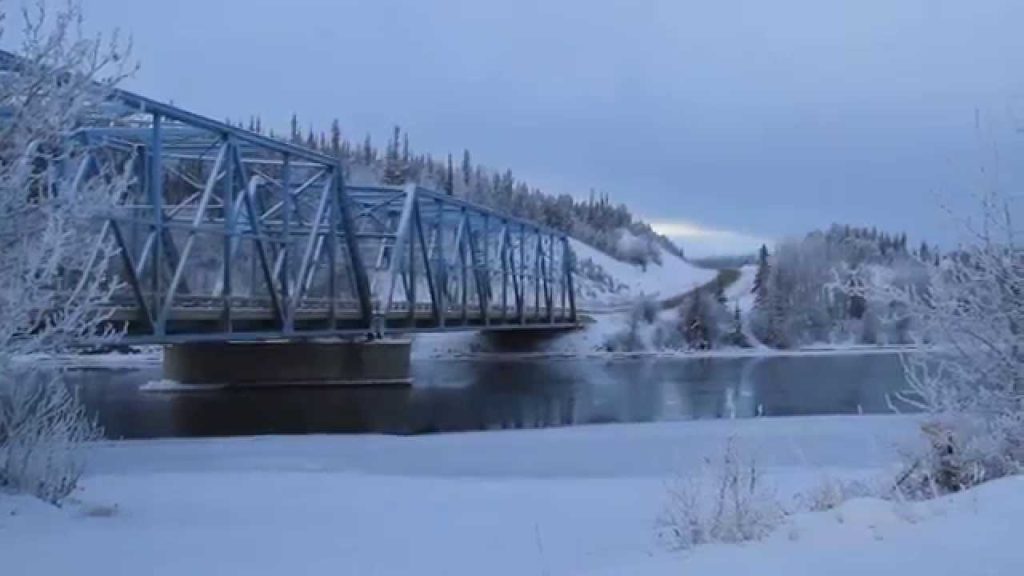 Although it is actually a city in the province, Anchorage is widely regarded as Alaska's most populous city. The ethnic diversity of cultural offerings, restaurants, and nightlife in the city reflects the city's relatively big population.
And, because it's still Alaska, you won't even have to look farther for recreational activities. Anyone interested in learning about Alaska Native heritage and customs should pay a visit to the Alaska Native Heritage Center. All of Alaska's Native peoples are honored through life-size village settings, permanent collections, and immersive activities.
Check out the Anchorage Museum for even more Alaskan perspective, where displays blend art, history, and technology to convey the narrative of this northern area and the people who call it home.
8. Glacier Bay National Park
Glacier Bay National Park, one of the world's largest protected areas, is part of a World Heritage Site with a total area of 25 million acres. It also has over three million acres of mountains, glaciers, rainforests, rugged beaches, and deep fjords. Glaciers move and recede on a regular basis, altering the landscape significantly.
Cycling, trekking, kayaking, and fishing are all popular pastimes in this area. On one of the daily boat trips, the glaciers can also be seen.
9. Seward
Seward is frequently referred to as a "gateway" city. It is a port city in southern Alaska. Seward is a good location for park visitors, being just west of Kenai Fjords National Park. The port of Seward serves as both the starting and final point for many Alaskan cruises.
As a result, it is a popular tourist attraction in Alaska. Seward, on the other hand, is a destination unto itself, with plenty to see and do to justify a longer visit. Marine life abounds in a seaside community like Seward, and there are numerous ways to enjoy it. The Alaska Sea Life Center, a marine mammal rescue and rehabilitation facility, as well as an aquarium, are family-friendly attractions.
Actually, the best way to discover Seward is through outdoor activities. At Seward's Waterfront Park, which boasts breathtaking views of the water, picnic areas, beaches, and campsites abound. Seward also offers a range of well-maintained hiking trails suitable for hikers of all abilities.
10. Alaska Native Heritage Center
The Alaska Native Heritage Center provides visitors with more than a look into the lives and ideas of Alaska's 11 largest ethnic groups; they may interact directly with music, people, and art. The Heritage Center is an excellent location for anyone looking to interact with others and engage in programs and events.
The Heritage Center is located outside of Anchorage. The Hall of Cultures offers exhibits and local vendors selling handmade goods and works of art, as well as an Alaska Native Gathering Hall for dancing and storytelling.
11. University of Alaska Museum of the North
In Fairbanks, the University of Alaska Museum of the North has more than a million historical and natural history objects. The museum's permanent collection features indigenous items and Alaskan fine arts, as well as ethnological objects.
This museum is an excellent alternative if you're looking for educational tourist attractions in Alaska. With almost a million objects, this museum showcases the best of Alaska and its history. Moreover, this museum features exhibits ranging from ancient antiquities to Alaskan art.
12. St. Elias National Park & Preserve
National Park Wrangell-St. Elias is Alaska's largest and most picturesque national park. Nine of the sixteen tallest peaks in the United States can be found in this majestic mountain range. Glaciers, lakes, mountain streams, and an abundance of animals are just some of the park's other distinguishing characteristics.
Climbers, walkers, and those who enjoy water activities will find Wrangell-St. Elias a wonderful place to visit. The park's Kennecott Mines National Historic Landmark offers a glimpse of the once-bustling mill town, complete with deteriorating heritage structures and defunct mines, which lie beneath the surface.
13. Inside Passage
The Inside Passage of Southeast Alaska is a network of inlets and straits that provides safe passage for ships. The most popular way for people to experience the fjords is on a large ship, a private yacht, or a charter boat. As an alternative, Haines, Skagway, or Hyder can be detoured off the highway.
The Tongass National Forest covers 17 million acres and includes mountains, islands, glaciers, and ice fields. Prince of Wales Island, one of the largest islands in the United States, is included in the forest. Other indigenous groups who call this region home include the Tlingit, Haida, and Tseshian.
14. Hubbard Glacier
One of the best sites to visit in Alaska is Hubbard Glacier, which can be found in Wrangell-St. Elias National Park about 200 miles northwest of Juneau, off the coast of Yakutat. In terms of its size and activity, it's around six miles wide at its widest point.
Indeed, it has risen twice in the last 30 years and nearly swamped Yakutat in the Russell Fjord. The glacier's face rises 400 feet above the water, making for an impressive sight from the decks of cruise ships.
15. Katmai National Park & Preserve
As part of the greatest eruption of the 20th century, Novarupta was produced on the Alaska Peninsula in 1912. As a national monument established in 1918 to safeguard the Valley of Ten Thousand Smokes, Katmai became the first national park and preserve in the United States.
Volcanoes and bears are the park's two most well-known features, and it was only in 1980 that the protected area was increased to its current extent. However, there are very few well-marked paths in Katmai National Park & Preserve. But skilled backcountry campers and hikers have an almost infinite number of options to explore.
16. Alaska Highway
In some parts of the Yukon Territory, the Alaska Highway is also referred to as the Alaska-Canada Highway or the Alcan Highway. This portion of the route connects Dawson Creek in British Columbia (Canada) with Delta Junction in the Yukon Territory. After the end of World War II, this path became the most important land route to the Yukon Territory and the interior of Alaska.
17. Totem Bight State Historic Park
Totem poles were a tradition that were on the verge of extinction when in 1938 the United States Forest Service started a project to save, restore, and create totem poles. The funds were utilized to recruit carvers from among the older generations, and these craftsmen were responsible for restoring or recreating totem poles that had been abandoned.
18. Klondike Gold Rush National Historical Park
In order to commemorate the Yukon Gold Rush of 1897 and 1898, the Klondike Gold Rush National Historical Park preserves and restores some outstanding structures in the Skagway historic area. Visitors have the opportunity to travel the Chilkoot Trail, which is 33 miles long and begins near the Taiya River Bridge. This trail honors the journey and hardships endured by those who sought gold in the past.
Even though Alaska is a long way from the rest of the country, the state's rich history and diverse natural landscape make the trip worthwhile. As the largest state in the United States, Alaska has enough to see and do for visitors.