Nursing may be a rewarding profession, and the demand for nurses is increasing on a daily basis. Finding a suitable nursing program for you is critical if you want to pursue a career in the field of nursing.
To learn more about how to start your nursing career, read through the following list of the top nursing schools in Arizona. 
1. Arizona State University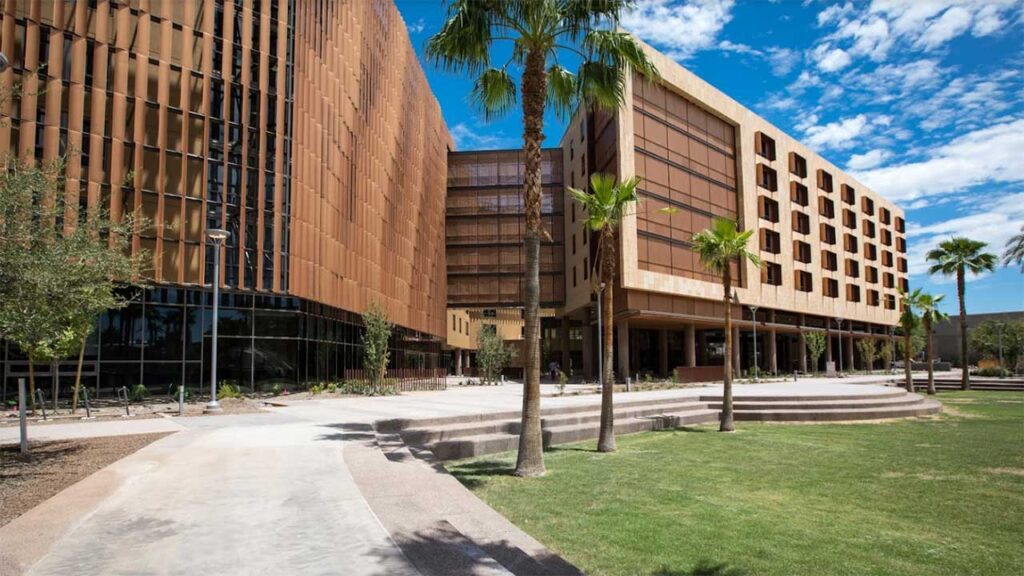 Arizona State University is one of the finest nursing schools in Arizona, with a reputation for excellence. It offers a nursing curriculum that may be completed in 15 to 18 months, depending on the student's schedule. A total of 38 credits are earned by completing all of the courses divided into 7.5-week periods. The in-state tuition is $10,792 and the out-of-state tuition is $27,372.
All the graduate students are perfectly trained to think critically and communicate helpfully. They will receive an advanced education to develop their skills in the healthcare sector. It offers 50+ online programs, and its education rate is 38%. 
2. Pima Medical Institute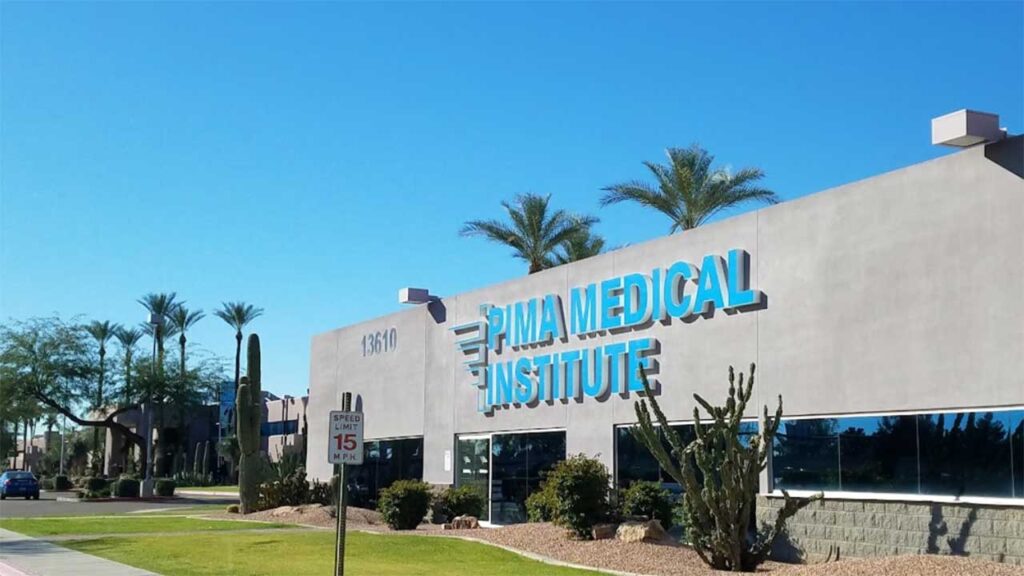 Pima Medical Institute is situated in Tuscan. It is a nursing school in Arizona that focuses more on health professionals. It has over 100,000 graduates. It offers eight online programs. The graduation rate is 64.2%.
All of their students will have associate degrees, accelerated certificates, and bachelor's degrees. With online nursing programs, you may finish your associate and bachelor's degrees in two years or fewer. The tuition cost is $16,658 per year for students. 
3. Cochise College
Cochise College has around 11,000 students and offers approximately 15 online programs. The nursing program uses advanced equipment and highly skilled mentors in different clinical settings to provide all the students with the utmost possible education and experience in the nursing program. 
Students can achieve an associate degree in nursing, and they can be prepared themself to take the national exam. The graduate rate is 21.9%. Its in-state tuition is $1,848 and the out-of-state tuition is $6,000.
Read this article to find out about the largest hospitals in Arizona.
4. Gateway Community College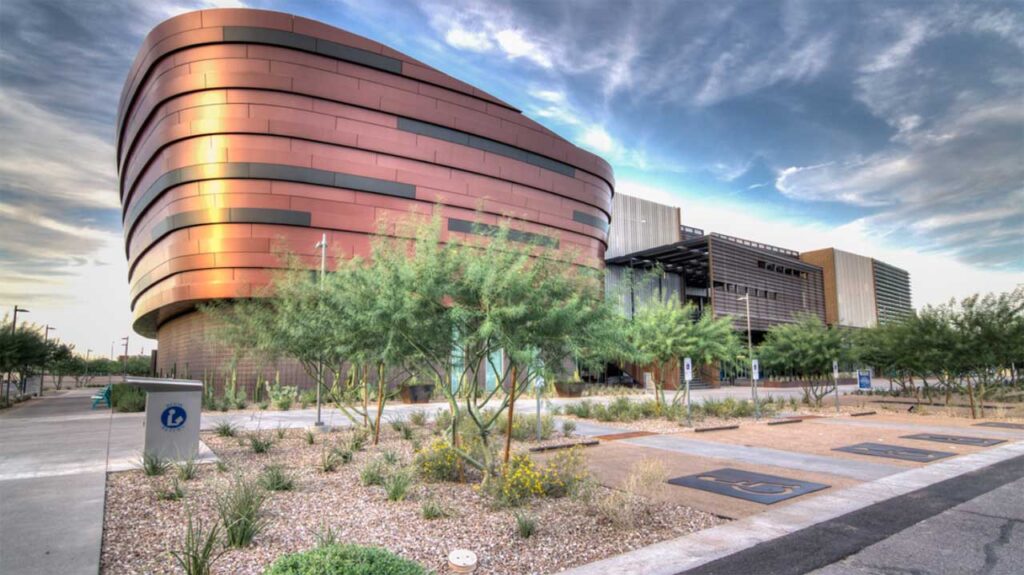 The Gateway Community College campus is located in Phoenix, Arizona. It provides well-designed nursing and healthcare programs, licensed practitioners instruct all the courses. By imparting high-rated education in the classroom, their ambition is to make the best-trained graduates.
It also provides in-class, hybrid, online options. Its in-state tuition is $2,046 and out-of-state tuition is $7,830. The graduation rate is 15.3%.
5. Northern Arizona University
Northern Arizona University is well-known for its status as the top nursing school in Arizona. When it comes to nursing degrees, Northern Arizona University provides multiple different options. It offers around 40+ online programs. The graduation rate is 69.5%. In-state tuition is $27,073 and out-of-state tuition is $40,855.
It offers several undergraduate and graduate nursing programs, including:
Bachelor of Science in Nursing
Accelerated Bachelor of Science in Nursing
American Indian Program and so on
6. Yavapai College
Suppose you are looking for a top-class nursing school in Arizona. In that case, the Yavapai College could be the one with its excellent mentors, special pass rates, and outstanding clinical settings.
Yavapai College provides an associate degree in nursing and has 25 online programs. It aids in the program of study for licensing as well as outstanding jobs in the healthcare profession. Students need to finish classes with a "C" or higher grades. 
However, Yavapai College accepts transfer students, but all transferred students should follow the requirements. The in-state tuition is $2,064 and the out-of-state tuition is $8,688.
7. University of Arizona
The B.S.N. program at the University of Arizona is among the current best available. Pre-nursing programs will take about four semesters, and the nursing degree will take around four semesters to complete. The in-state tuition is $11,403 and the out-of-state tuition is $32,630. It offers more than 50 nursing online programs.
8. Eastern Arizona College
Eastern Arizona University has been imparting nursing education and knowledge for more than 30 years. Besides, it provides four nursing programs. You need to pass a reading competency test, entrance exam, and background check to get admitted to Eastern Arizona College. Students should gain at least a C grade in their classes to remain in the nursing program.
9. Chamberlain College of Nursing 
The Chamberlain College of Nursing is a comprehensive nursing school situated in Phoenix, Arizona. All of their nursing programs require three semesters to complete. The offered programs are full-time and part-time. It provides nursing and health professions degree programs. It has five online nursing courses.
10. Paradise Valley Community College
Paradise Valley Community College provides different nursing programs. All the instructors are top-class and highly skilled; they are always ready to provide the best nursing education to work effectively with other health care professionals. Their nursing program offers the Associate of Applied Science (A.A.S.) in Nursing. The in-state tuition is $2,046, and the out-of-state tuition is $7,830.
11. Scottsdale Community College
Associate degree in Nursing is one of the courses offered by Scottsdale Community College. Students who want to study at Scottsdale Community College must have a G.E.D. to apply or a high school diploma. 
They need a C grade or higher to remain in the classes. All the students will gain better clinical experience in several healthcare settings, and also they are also eligible to participate in the NCLEX upon graduation.
12. Mesa Community College
Mesa Community College offers students a choice of six distinct nursing programs. It has full-time and online options available. Students will get clinical experience and practical experience in various nursing areas. After completion of the nursing program, students can apply for a license.
13. Northland Pioneer College
Northland Pioneer College provides several nursing programs that need approximately 72 credits to finish. Candidates who are curious about applying to nursing schools must hold the appropriate licensure for every degree in order to be considered.
14. Glendale Community College
Glendale Community College offers an Associate of Applied Science in Nursing. Students can gain enough skills and knowledge and effectively transfer their classroom learning into nursing careers. All graduates can negotiate properly, love to take challenges, and prioritize the patient's needs first. To apply to their nursing programs, interested students must fulfill the appropriate prerequisites.
15. Brookline College
Brookline College provides two amazing nursing programs to expand your nursing skills and knowledge. If you want to pursue a B.S.N. degree, you can choose Brookline College for its outstanding nursing programs and highly skilled instructors.
A diverse selection of nursing courses is provided at several educational institutions across Arizona, allowing prospective nursing students to choose the school and route that is the most appropriate for them and their future goals. Although the vast number of nursing choices available may seem to be daunting at first, after you evaluate the most important programs, you may begin to look into the programs provided by the institutions of your choice.