Who does not like a good slice of pizza? A slice of pizza adorned with a variety of pizza toppings is the most popular among everyone.
Pizza toppings, on the other hand, are always a popular subject of conversation in the United States. Let's know about the most popular pizza toppings in America!
1. Pepperoni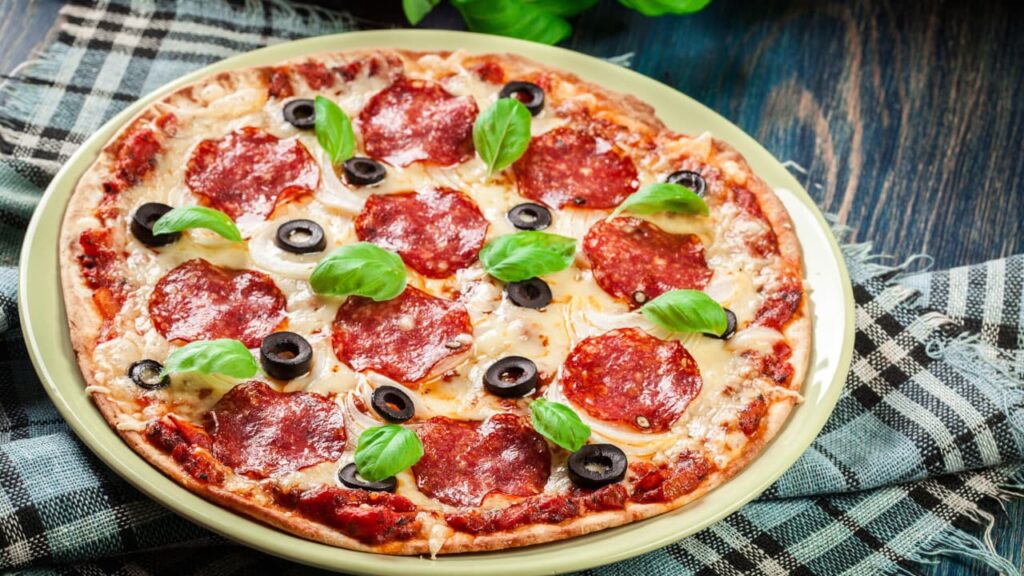 Let's introduce the star of all pizza toppings – the pepperoni! Almost all Americans consistently love pepperoni as a Thor pizza topping. We can see, around half of all Domino's pizzas have used pepperoni for pizza toppings. According to a survey of over 6,000 people, pepperoni is the most popular pizza topping in America.
Pepperoni gives a better taste with melting cheese and other toppings that redouble its original taste and flavor. Some pepperoni normally sits flat on the pizza. Some are curled up at their edges. They are made from a collagen case.
But whether it is flat or curly, the strong taste and flavor of pepperoni have become one of the favorite pizza toppings for many Americans as they can not imagine their pizza without having pepperoni. Pepperoni has more admirers than peppers, chicken, sausage, ham, and bacon.
2. Mushrooms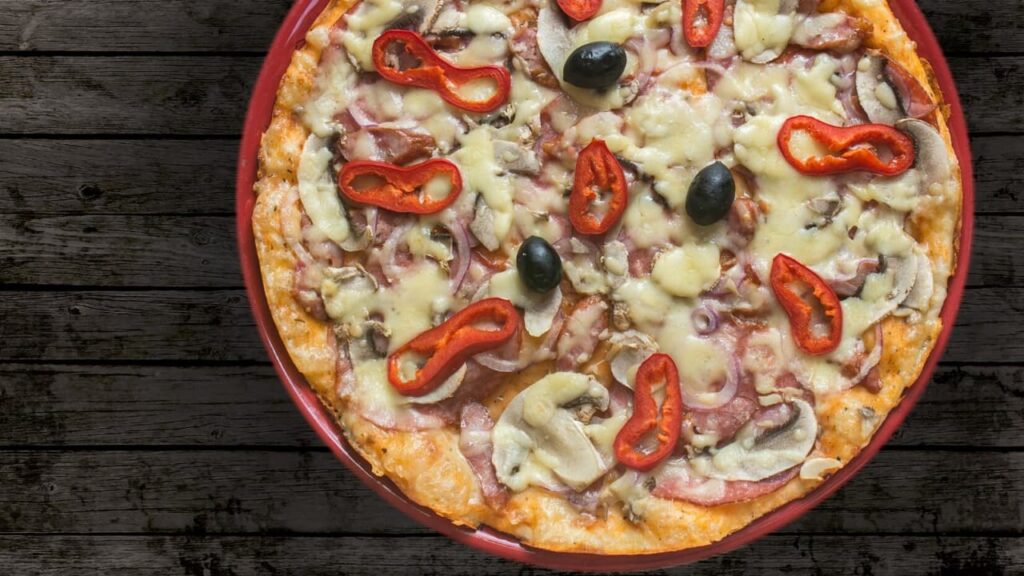 The combination of mushrooms and cheese will take you to heaven. Mushroom is another favorite and popular pizza topping in the US.
Mushrooms not only make your pizza delicious but also contain nutritional value. They have a wide range of vitamin B, iron, potassium, and also selenium. Apart from that, they contain low calories and have a better source of fiber. They also have vitamin D that helps to improve our immune systems. So, mushrooms are good for us.
So load up your pizza with mushrooms and enjoy every bite!
3. Mozzarella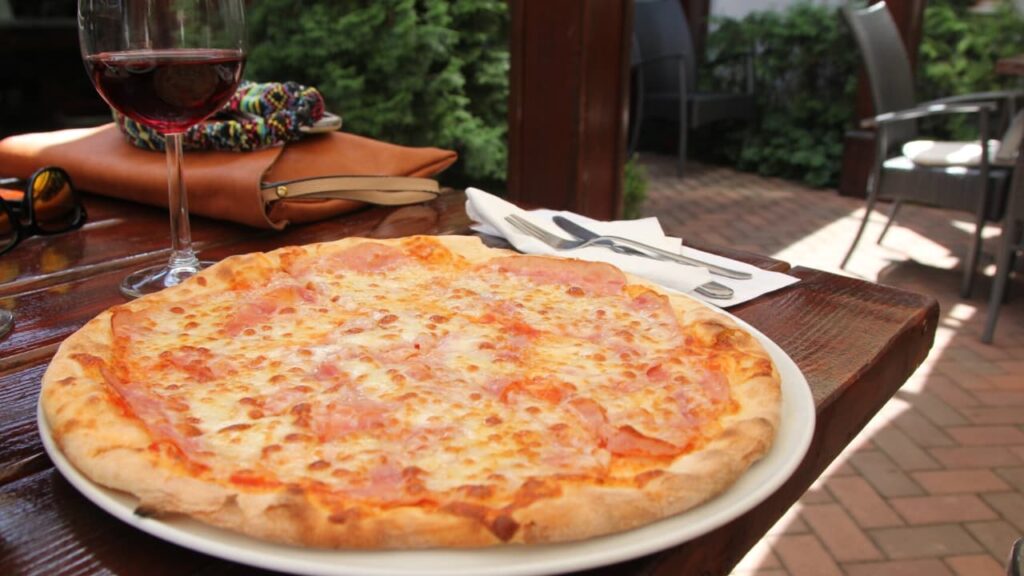 Among all the exotic pizza toppings out there, simple mozzarella comes out as one of the original and great. Yet, several opinions arise when it comes to different types of mozzarella.
Some love only the fresh discs of the mozzarella cheese. Others go for the low-moisture grated versions.
Anything you pick out, mozzarella with basil and tomato sauce – is an original, authentic, and classic Italian combination which is very tough to beat.
Check out this list of the largest fast food chains in US.
4. Bacon
The addition of bacon will make your pizza more appealing and mouth-watering. The salty taste of bacon with tomato pizza sauce and cheese perfectly enhances the original taste of pizza. It is sometimes added to the controversial Hawaiian pizza. However, it may be a bit high in fat and salt – that's why it becomes so tasty!
5. Ham
Ham is another popular pizza topping that gets mixed views. It grabs a strong position in the popular pizza toppings list.
Ham is a versatile pizza topping, and it performs beautifully with the other flavor combinations to increase the taste. It gives a better taste with goat's cheese, spinach, and pears.
6. Sausage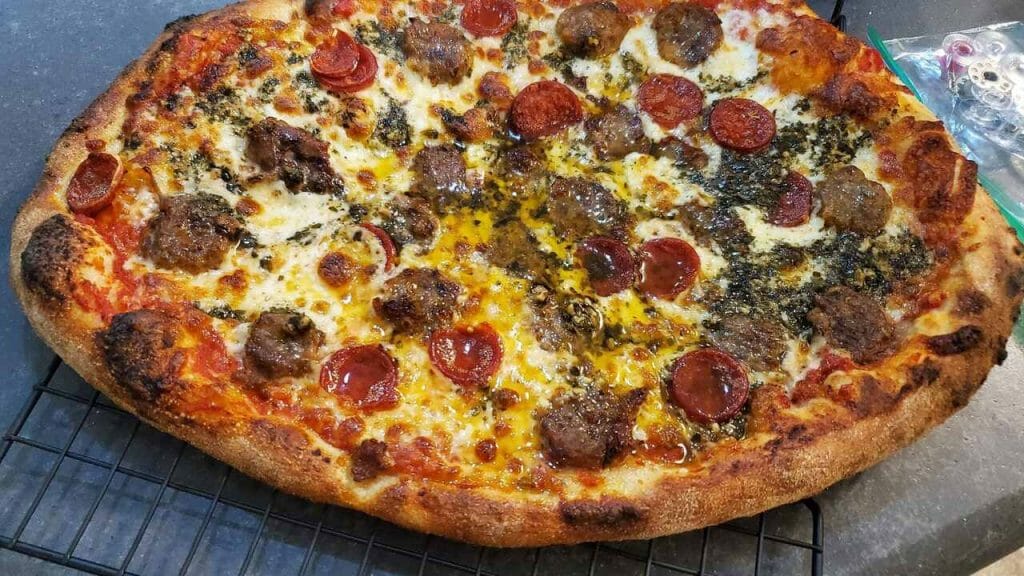 We can find a huge variety of sausages out there – chunky, thin-sliced, mild or spicy, pre-cooked, or fresh. Americans love sausages on their pizza. Sausage is their second most popular topping out there.
It is a key element in many a meat feast. Anyway, it also has enough flavor to stand alone in the race. Put it together with mozzarella and tangy tomato sauce. Delightful!
7. Onions
The humble onion may look boring in its original form. But once it peels off, slices perfectly, and is added to the pizza – it is the ultimate winner then!
Onion wonderfully caramelizes in the oven and leaves a sweet flavor on the pizza. It is because of pyrolysis. The bigger sugar molecules in the onion break down into smaller molecules at high temperatures. The outcome is more delicious, sweeter, and packed with flavor. Out of all vegetables, onions hold a special place as one of America's popular pizza toppings.
8. Olives
Olives are a classic Italian pizza topping. Black olives are more commonly used as pizza toppings compared to green olives.
Baked black olives work perfectly with seafood toppings, especially tuna. Also, they give an amazing taste with grated or sliced mozzarella, tangy tomato sauce, basil and provide a great taste blast and a quintessential vegetarian taste.
However, not everyone loves the taste of black olives. Around 14 percent of American people love olives as one of their popular and favorite pizza toppings.
9. Peppers
Peppers bring bright colors and also enriched flavor to the pizzas. Also, they are another basic ingredient with a load of flavor. There are different colors of peppers available in the store. Peppers become sweeter and boost the taste when it is baked.
Peppers are generally pre-roasted before they are added to the pizza. So, they will have a longer cooking time to enhance their original taste and flavor.
Peppers can be a great addition to deliver a strong, authentic flavor to your vegetarian pizza. In a survey, around 11 percent of American people consider pepper as a popular pizza topping.
10. Chicken
Chicken is a favorite pizza topping for most meat lovers. Chicken works beautifully with the cheese topping on your pizza. Mostly, pre-cooked chicken is used in the pizza topping. So that it does not remain raw. In high heat, all the harmful and dangerous bacteria are destroyed before you consume them. However, Italian pizzas do not contain chicken, but they mostly use pineapple.
11. Pineapple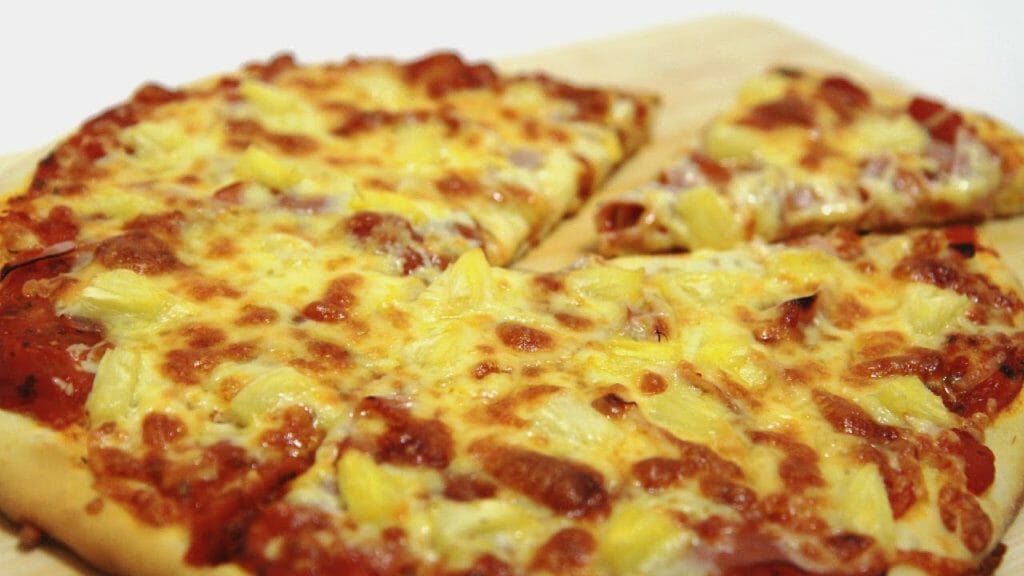 Undoubtedly it is the most controversial pizza topping as we can find many pineapple lovers and haters around us. In 2017, a poll came out on America's favorite pizza toppings – where pineapple lovers grabbed the top position.
Frankly, pineapple is one of the popular pizza toppings in America. It is an important topping ingredient for Hawaiian Pizza. Most Italian pizzas use pineapples more than meat, mushrooms, or any other ingredients as pizza toppings. So, whether you hate it or love it; pineapple will stay on the top of your pizza toppings.
12. Beef
However, beef has gained much popularity amongst meat pizza lovers. But recently, it appears the popularity of beef has declined as a pizza topping. Beef contains high fat and calories, which might be the reason for its decline in popularity
Pizza toppings appear in a range of flavors, from simple to decadent. Mixing it up with ingredients may produce a broad range of flavors, from chilly to moderate. Pizza toppings vary depending on location. Adding local foods or contrasting tastes has been a tradition for ages and from this article, I hope you get a clear idea about what America truly loves when it comes to pizza toppings!