The airport lounge is sometimes merely a spot to get away from the terminal. When flying, having access to an airport lounge may make a world of difference, owing to the complimentary beverages, food, and Wi-Fi (and therefore a little additional time for productivity) as well as being a few minutes away from the busy main terminal.
Regrettably, most airport lounges in the United States are little more than nondescript transport hubs that aren't much better than standard reception areas. Interestingly, a few handfuls have raised the bar. Some lounges are better than others, and some are so fantastic that you'll contemplate changing your plans. These fifteen lounges in the United States stand out for their outstanding service and facilities, and more are being built or refurbished every day.
Some of these lounges are only open to passengers on overseas flights. However, regardless of your end location, we made a particular effort to include lounges that you will be able to visit.
1. Etihad Lounge – John F. Kennedy International Airport, New York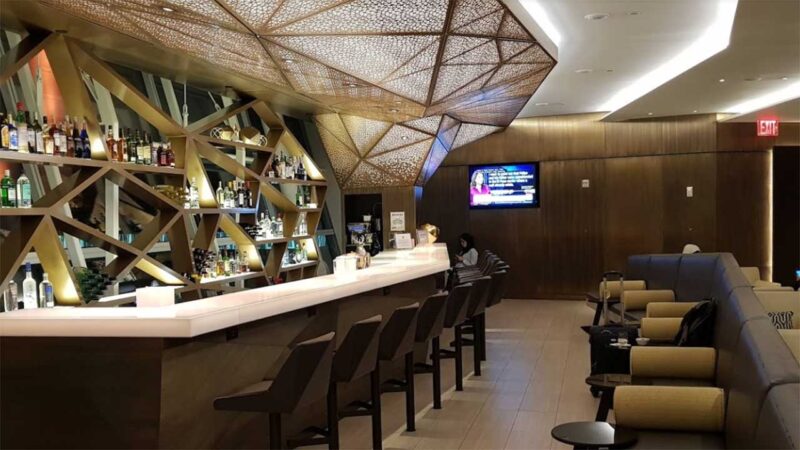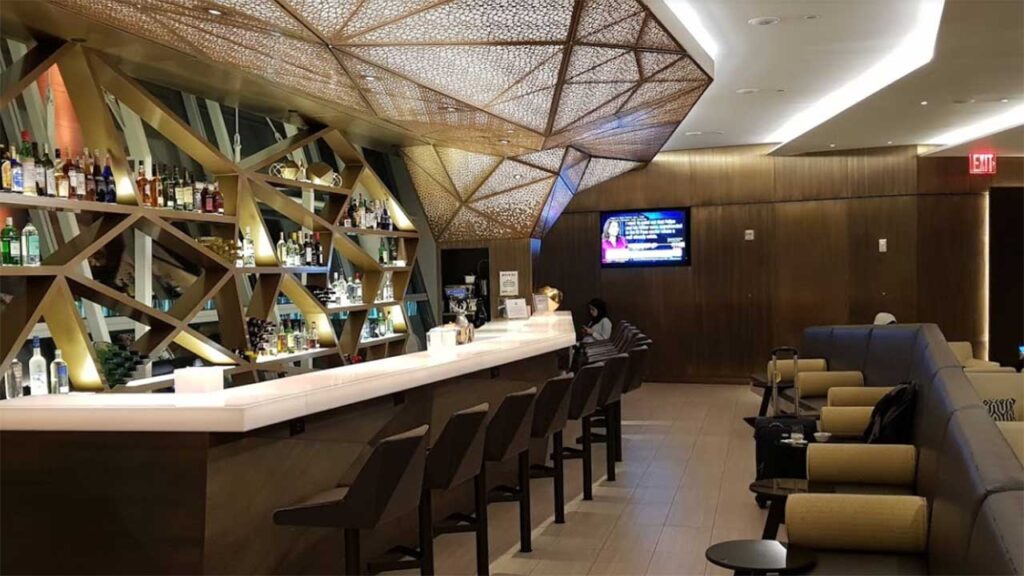 The iconic Etihad Lounge is the best airport lounge in the US and my favorite lounge located at John F. Kennedy International Airport. The Etihad Lounge, located just past security at JFK's Terminal 4, is a lounge inside a lounge where Etihad first and business class customers may enjoy a unique experience. It is one of the best airport lounges in the US.
This elegant lounge features leather couches, excellent plane-spotting views, and more.A hot buffet with an amazing drink selection, including Arabic coffee, espresso, soft drinks, Dilmah tea, unique cocktails, and à la carte meals with waiter service, is available in the common area.
The Residence Lounge, which is located within this business and first-class lounge, is the greatest in the world. The Residence is the world's most fantastic commercial flying experience, where you get your private three-room apartment with a double bed, private shower suite, butler, and much more.
The Residence Lounge at JFK Airport, on the other hand, provides you with your own, exclusive apartment at the airport, replete with white-glove butler service and excellent meals. A spacious private room with two long couches, a private dining table, your television, your bathroom suite, and a private prayer room comprise the suite. This is undoubtedly one of the most unique lounge experiences available in the United States!
2. United Polaris Lounge – Chicago O'Hare International Airport, Illinois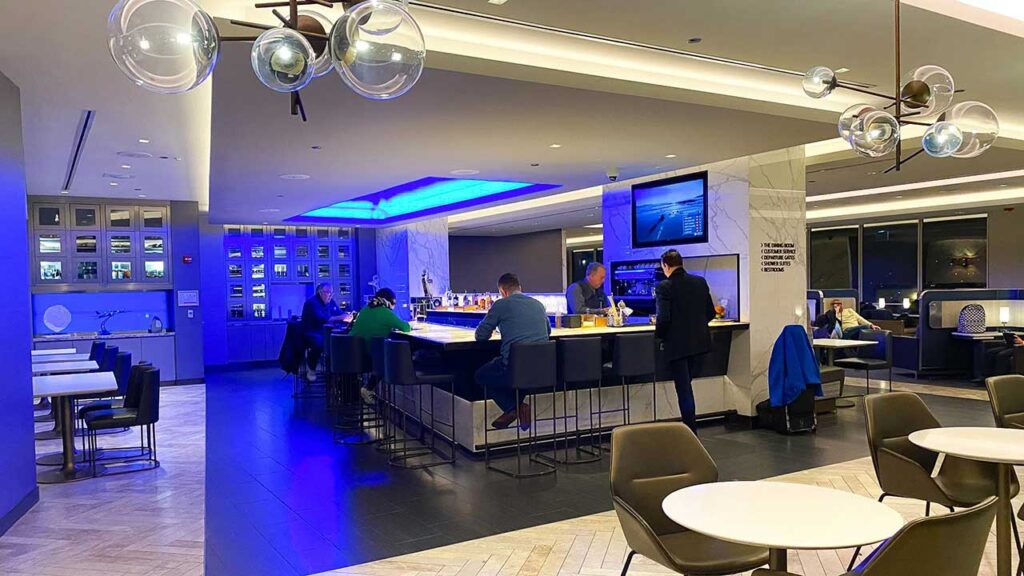 The United Polaris Lounge, located at Terminal 1, is one of our top recommendation. Although United Airlines is known for delivering small, tight seats with little amenities, their Polaris Lounge concept is one of the best airport lounge in the country, and it's even one of the few American lounges we regard to be the greatest in the world!
When you go inside the lounge, you'll see a variety of sitting options, including back-to-back, semi-private cubicles, table seats, an L-shaped cocktail bar with premium cocktails, a sit-down section with waiter service, and à la carte food, among other things.
There are also over ten single bathrooms, shower suites, private rooms with daybeds, and a variety of luxuries such as Saks Fifth Avenue pillows, a hot buffet, several espresso machines, barista-made Illy espresso beverages, and more.
The United Polaris Lounge provides an exquisite lounge experience, particularly with its sit-down dinner service and extensive drink menu.
3. Delta Sky Club – John F. Kennedy International Airport, New York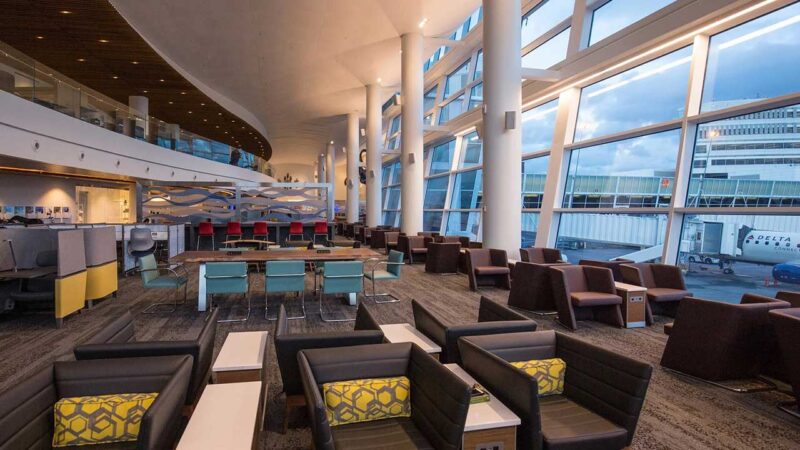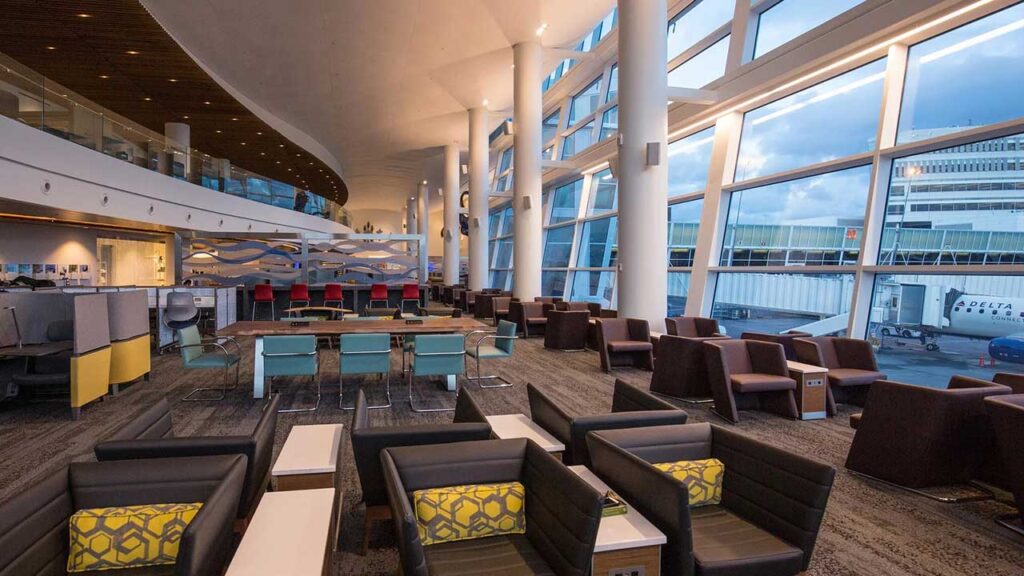 No matter which airport you're waiting at, the Delta Sky Club is a relaxing place to wait, but the flagship lounge at JFK is particularly impressive. Delta's flagship SkyClub has been the prettiest (and largest) in the airline's network since it debuted at JFK's rebuilt T4 a few years back, and it offers a few unique facilities.
The lounge's interior has seats for roughly 400 passengers, 50 workstations, and a bar with complimentary beverages and nibbles as well as luxury spirits, wine, and beer for purchase. Six shower suites are also available in the lounge. Free internet, lots of power outlets for charging devices, fresh cuisine, quality beverages from The BAR, and a large open dining space with floor-to-ceiling windows providing natural light are all available to guests. The outdoor SkyDeck, which overlooks the Terminal 4 ramp, is a feature.
The SkyDeck, a vast outdoor space overlooking the tarmac where you can get beverages and food and even use the free Wi-Fi while watching planes, is the main attraction.
You might also like to read this article about the best airport restaurants in the US.
4. The Amex Centurion Lounge – John F. Kennedy International Lounge, New York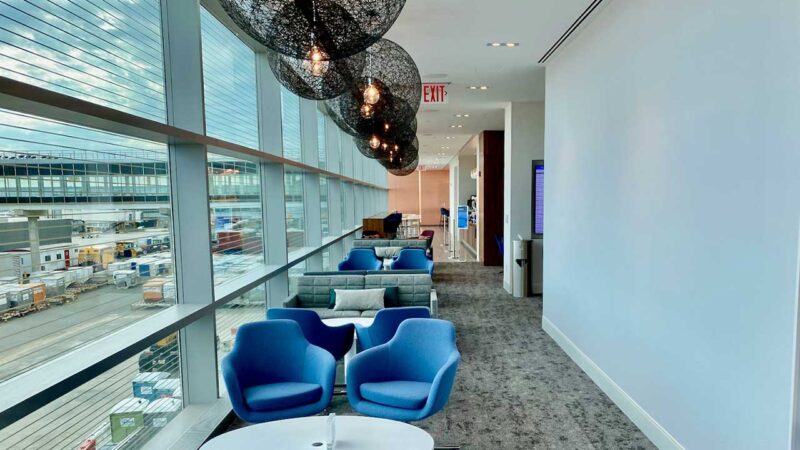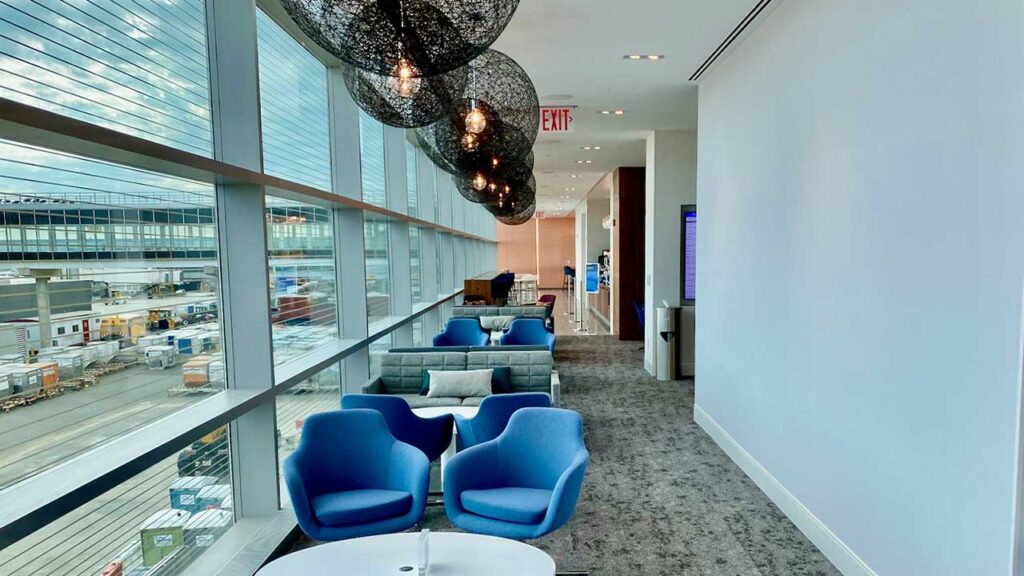 Terminal 4 houses the Amex Centurion Lounge at JFK. The iconic Amex green living wall, blue doors, and Centurion logo can be found after passing through T4's centralised security checkpoint. The biggest Centurion Lounge in the world is located at JFK's biggest terminal. The JFK outpost is huge, measuring over 15,000 square feet. It's so large that it takes up two stories. The multipurpose area is ideal for families with children who are travelling.
There are several lounging places in the main room, including sofas and individual recliners. The wall in this section is adorned with the distinctive Amex watchdog and flight information monitors. The Equinox Body Lab is conveniently located near the entrance. The lounge boasts a panoramic view of the runway.
If you go down the centre hallway, you'll spot the planes parked at T4's A-gates right away. For aviation lovers, the floor-to-ceiling windows are a dream come true. Others will be impressed by the abundance of natural light that floods the room.
5. The Centurion Lounge – Phoenix Sky Harbor International Airport, Arizona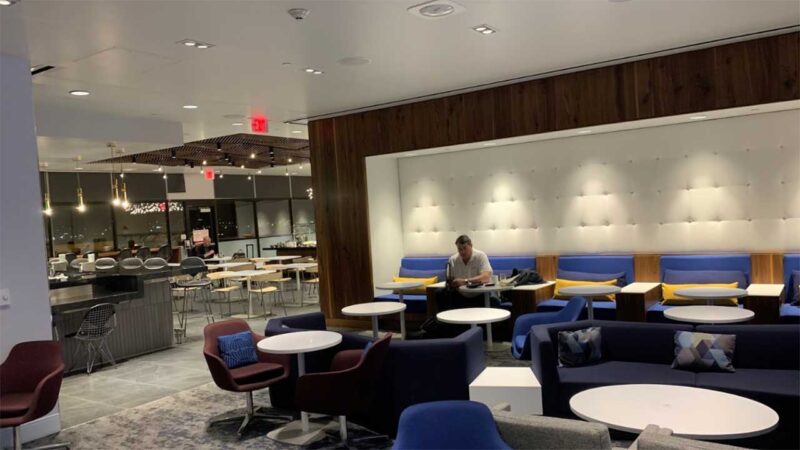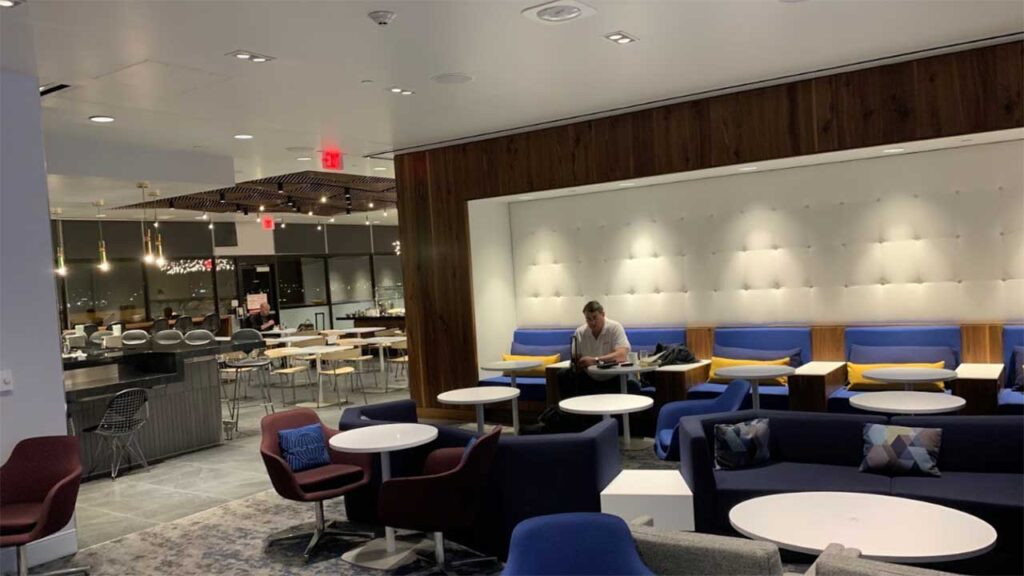 The Centurion Lounge, which is located in Terminal 4 across from gate B22, is one of the newest additions to PHX as one of the best airport lounge.
There are sofas, seats, relaxation pods, and a giant co-working desk with rolling seats in this area.The rest of the lounge is filled with informal eating tables and in-wall couches.
The main eating room features a Doug Robson hot food buffet and a Jim Meehan cocktail bar with a menu. A refreshment station featuring Franke espresso machines, Twinnings tea, and fruit-infused water is also available.
A separate area with a large number of tables, a top counter sitting near the glass windows for plane watching, and a few booths is also available.
6. The Centurion Lounge, Charlotte Douglas International Airport, North Carolina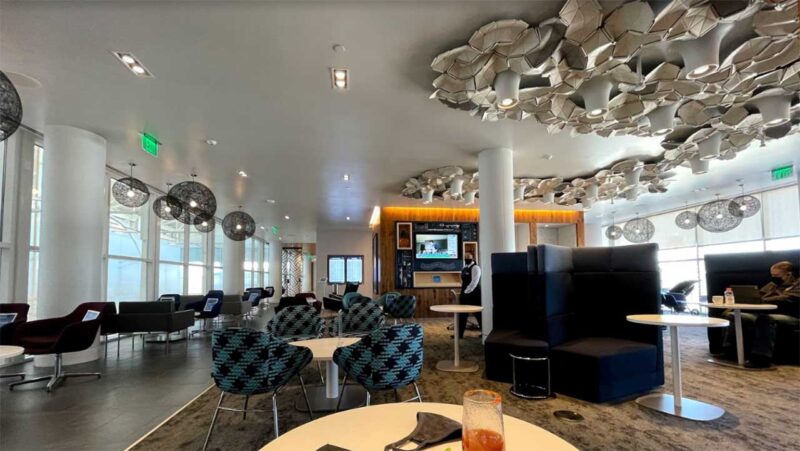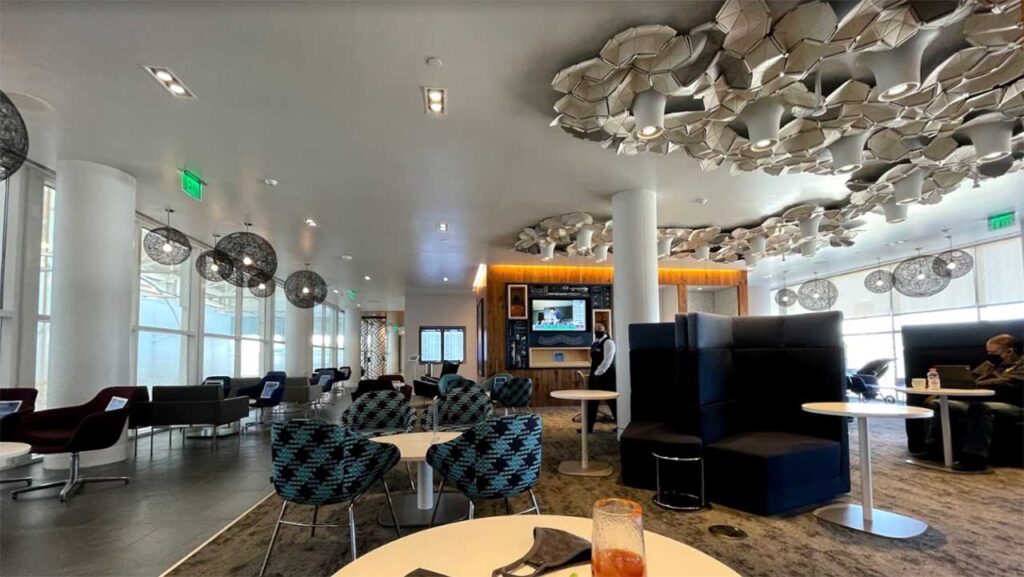 American Express is the only airline that offers the Centurion Lounge at Charlotte Douglas International Airport. While Centurion Lounge locations can be found all over the country, the Charlotte branch is one of the newest and one of the best airport lounge.
With a selection of sofas, recliners, and solitary chairs, the lounge offers some of the most comfortable sitting available. Because of the high ceilings and near-floor-to-ceiling windows, the lounge is always light.
There are 13,000 square feet of area with a capacity of more than 250 people in terms of facilities. A complete cocktail bar is available, as well as cooking by famous chef Joe Kindred. Buttermilk fried chicken, milk bread French toast, and other favourites are among the favourites.
Coffee stations with high-tech automated Franke machines may be found throughout the lounge. There are three phone rooms, as well as a family room for the kids, for extra privacy. Large bathrooms, electricity and USB plugs everywhere, fast Wi-Fi, and two shower suites are also available in the lounge.
Despite the lack of conference rooms or a business centre, The Centurion Lounge consistently provides excellent facilities, décor, and environment.
7. United Polaris Lounge – Houston George Bush Intercontinental Airport, Texas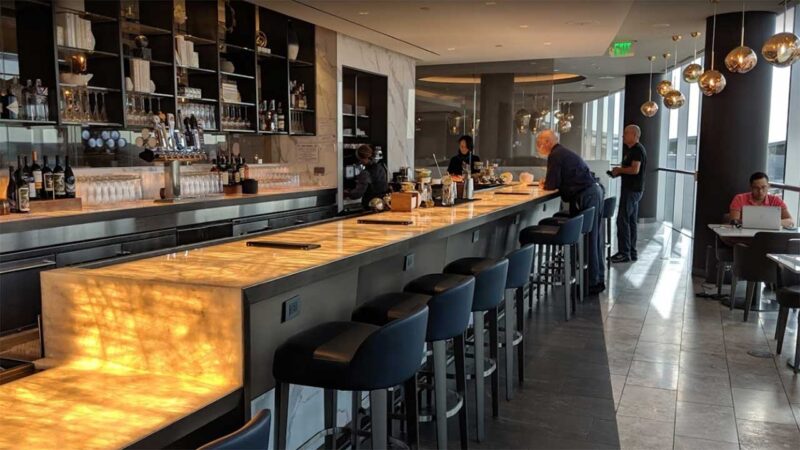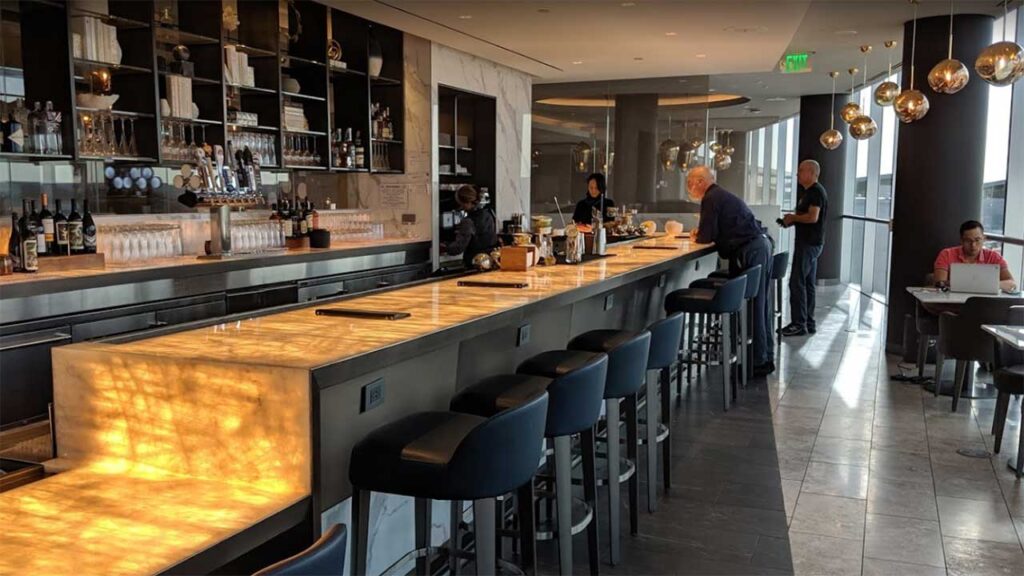 United put a lot of effort into creating the most comprehensive lounge service at its Houston hub. The United Polaris Lounge, located at gate E12 in Terminal E, is United Airlines' premier lounge in Houston. The lounge is a little more than 12,500 square feet.
There are more power outlets and USB ports than seats, so there will never be a problem with connectivity. An à la carte dining room with waiter service is available in the lounge, where you may enjoy gourmet entrées, light nibbles, desserts, and more. Two silent suites are available, each consisting of a separate room with a daybed and Saks Fifth Avenue bedding. Spa shower rooms with rain showers, Sunday Riley bath items, and Saks Fifth Avenue towels are available in the lounge.
The United Polaris Lounge offers rigorous entry regulations, which makes the lounge experience considerably more intimate, in addition to exceptional cooking and the chance to take a private sleep and shower.
8. The Centurion Lounge – Las Vegas McCarran International Airport, Nevada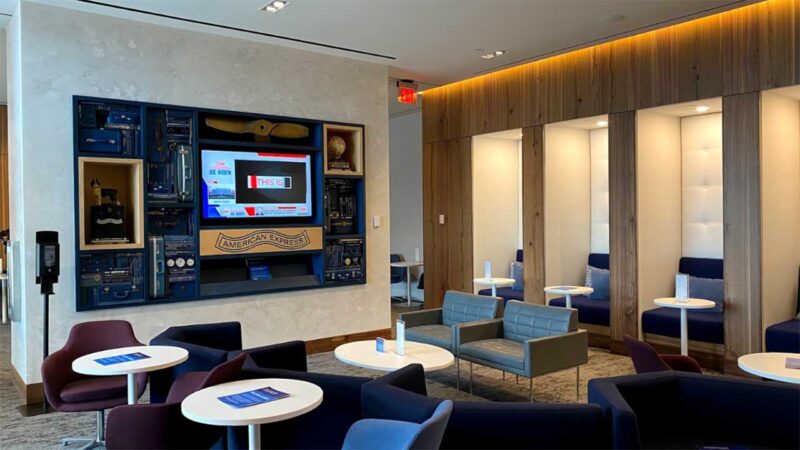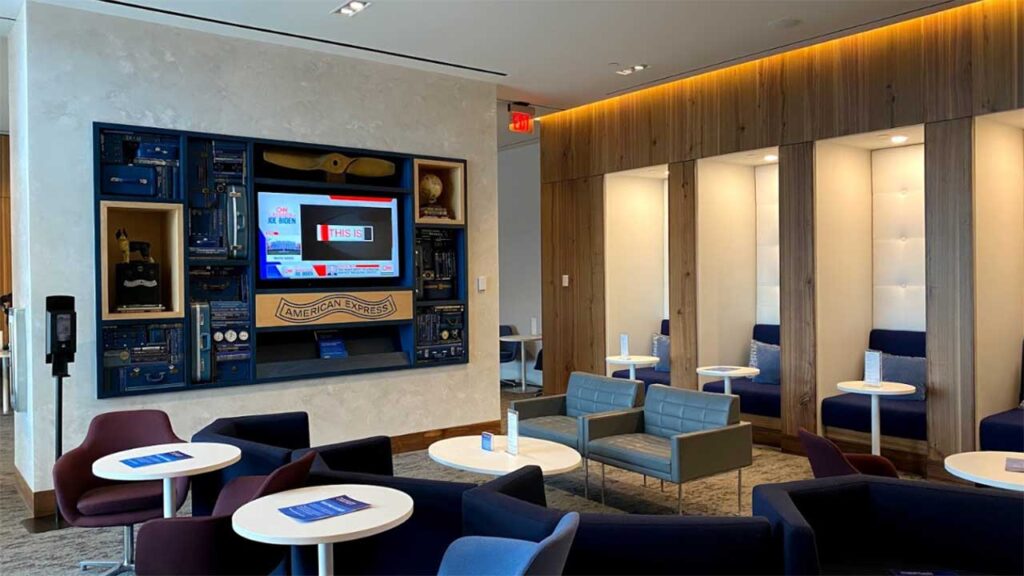 The Centurion Lounge is our favourite lounge in the entire airport. This lounge is in the heart of Concourse D, directly across from Gate D1. The lounge is around 8,000 square feet in size and has seats, recliners, semi-private cube sofas, built-in wall seats, and a co-working table with rolling seats, among other sitting options.
The open-air dining room, which has a hot buffet and a distinct cocktail bar, is the lounge's focal point. The cuisine is dependably superb, thanks to chef Kim Canteenwalla, who has been nominated for a James Beard Award. Espresso machines, orange juice, tea, and water stations are also available. One well-appointed shower suite with L'Occitane amenities is available. There's also a family area and a tiny business centre with two computers and a printer to keep the youngsters occupied.
9. American Airlines Flagship Lounge & First Dining – Miami International Airport, Florida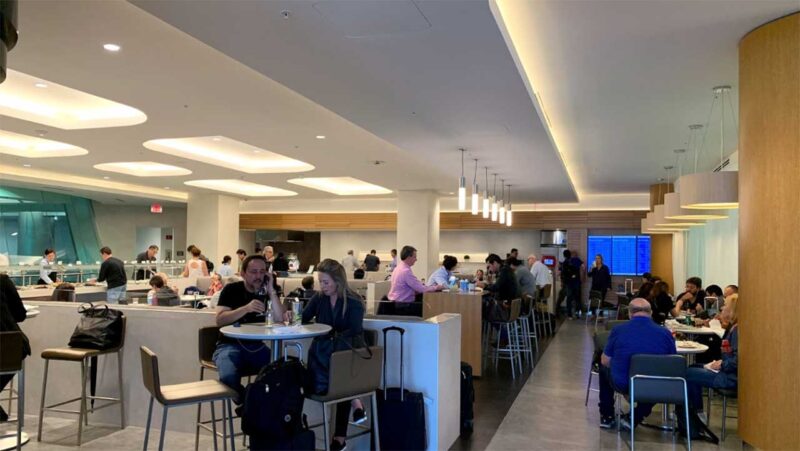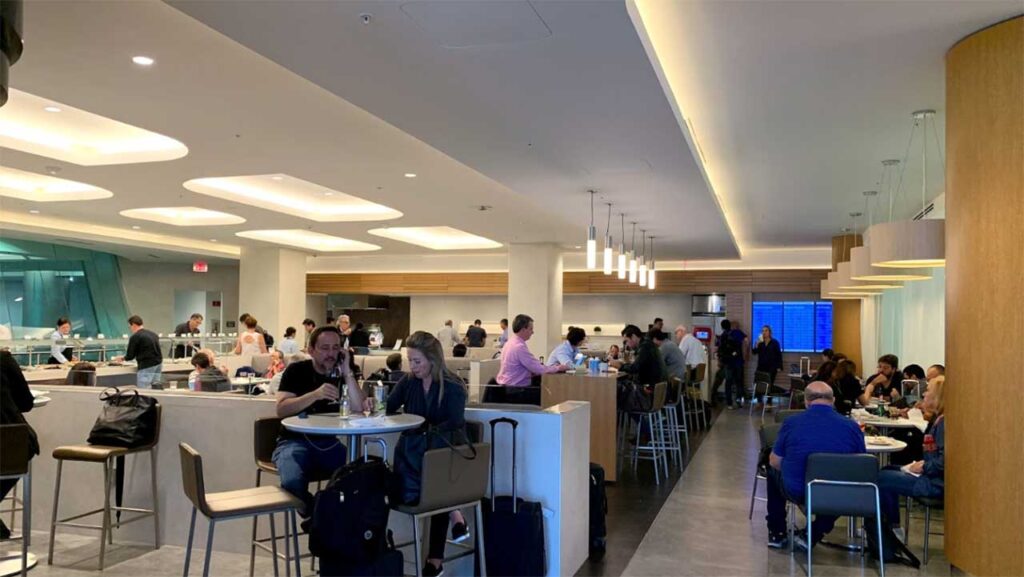 The Flagship Lounge at Miami International Airport is a massive 29,000 square foot area located at gate D30. A big bar with high chairs in the centre of the lounge overlooks the concourse through floor-to-ceiling glass windows. There's also a media room, which is the only spot in the lounge where you'll find a television.
A quiet area with daybeds and semi-private tall-back chairs is also available. There are also several regular armchairs strewn throughout the area. Multiple refrigerators with soft drinks, as well as a self-serve alcohol section with wine, whiskey, and Champagne, make up the main meal area.
The food part has a big buffet with a variety of hot and cold food selections, as well as a live cooking station that prepares arepas. The Flagship First Dining facility is located inside the Flagship Lounge and features a staffed cocktail bar with seating for 20 persons. With a host, a bartender, at least two servers, and kitchen personnel, it's exceptionally well-staffed.
The food and beverage menu, which is designed to imitate that of a fine dining restaurant, is outstanding. Crispy pig belly empanadas, braised pulled pig shank, carne asada, tuna poké, dessert flan, specialty drinks, and more are all popular selections. Only a tiny percentage of visitors will be able to partake in the Flagship First Dining event.
10. American Airlines Flagship Lounge – Dallas/Fort Worth International Airport, Texas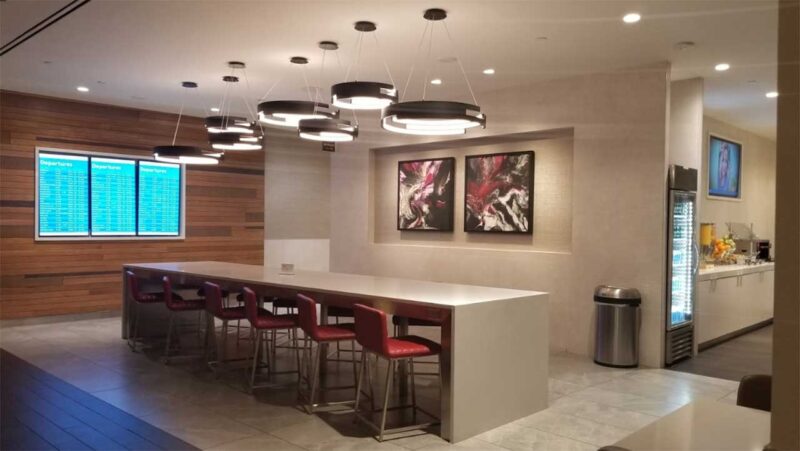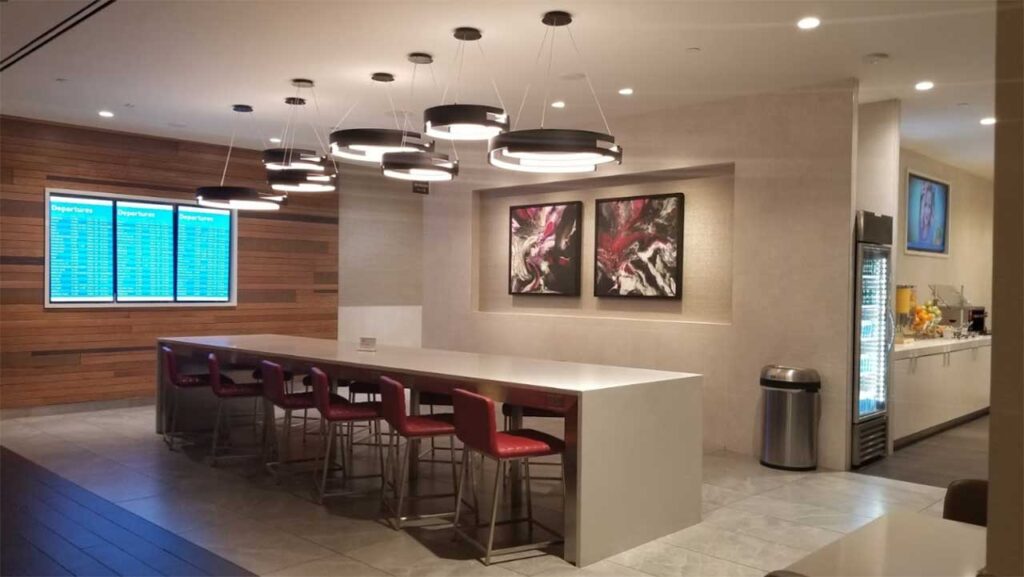 At DFW Airport, American Airlines boasts a fantastic Flagship Lounge, complete with the oh-so-exclusive Flagship First Dining experience. The lounge is designed around a central hallway and contains floor-to-ceiling windows that provide spectacular views of the runways and apron.
For your convenience, there is a small business centre with a printer and a few PCs. There are several sitting spaces in the Flagship Lounge, including Flagship First Dining. Flagship First Dinner is a private sit-down meals event that includes excellent dining, Krug Champagne, waiter service, and plenty of seclusions.
A TV room, a relaxation room with chaise lounges, a full hot buffet, a cooking station, a Coke fountain, Franke espresso machines with La Colombe coffee, a massive liquor selection, and awesome shower suites with a walk-in shower, an en-suite toilet, a large sink and vanity, and C.O. Bigelow bath amenities are all available in the lounge.
If you're one of the lucky few who has access to Flagship First Dining, the lounge offers fantastic views, plenty of room, delicious food and drink, convenient amenities, and exceptional service.
11. American Airlines Flagship Lounge & First Dining – Los Angeles International Airport, California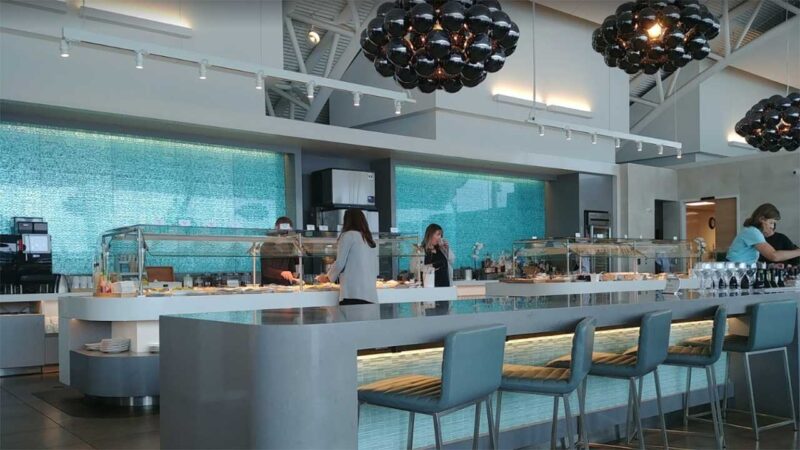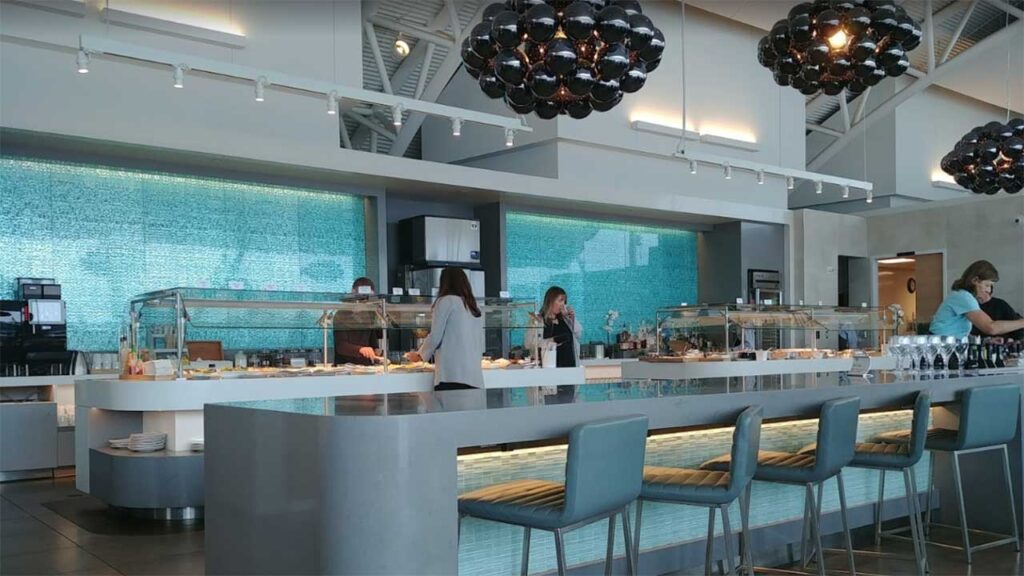 The American Airlines Flagship Lounge, which offers the Flagship First Dining experience, is one of my many favourite lounge. This club is one of LAX's most elite and is located at gate 40 in Terminal 4. If you're fortunate enough to be granted entrance, the Flagship Lounge features floor-to-ceiling windows, outstanding plane spotting views, and a choice of seating options.
And, even though the main Flagship Lounge features a self-serve hot food buffet, a self-serve cocktail bar, a wine table, and a grilled cheese station, as well as a quiet room with chaise lounges, a business centre, and eight stunning shower suites with C.O. Bigelow amenities, it gets even better.
The Flagship First Check-In experience, which is a unique check-in facility with customized help and expedited security for qualifying customers, kicks off your airport experience. The Flagship First Meals experience, which is an exceptionally secluded area with limitless à la carte fine dining and limitless beverages, including luxury cocktails, is what sets this club apart.
Although the cocktail menu is diverse and backed by an artisanal bartender, the Krug Champagne served is one of the most notable aspects. This is a fantastic Champagne brand that rivals certain airline first-class Champagne offers! It doesn't stop there since the à la carte menu is amazing. You'll be stuffed to the gills in this lounge with dishes like truffled mac & cheese, miso-glazed Chilean sea bass, and a cracked peppercorn petite beef filet.
12. British Airways Lounge – Boston Logan International Airport, Massachusetts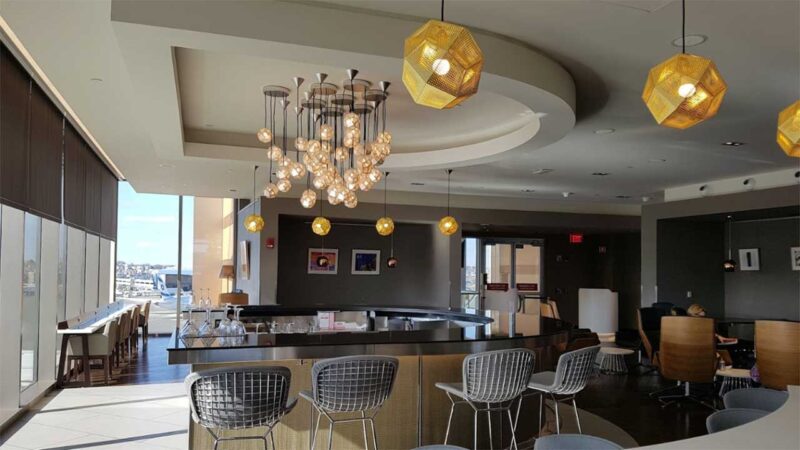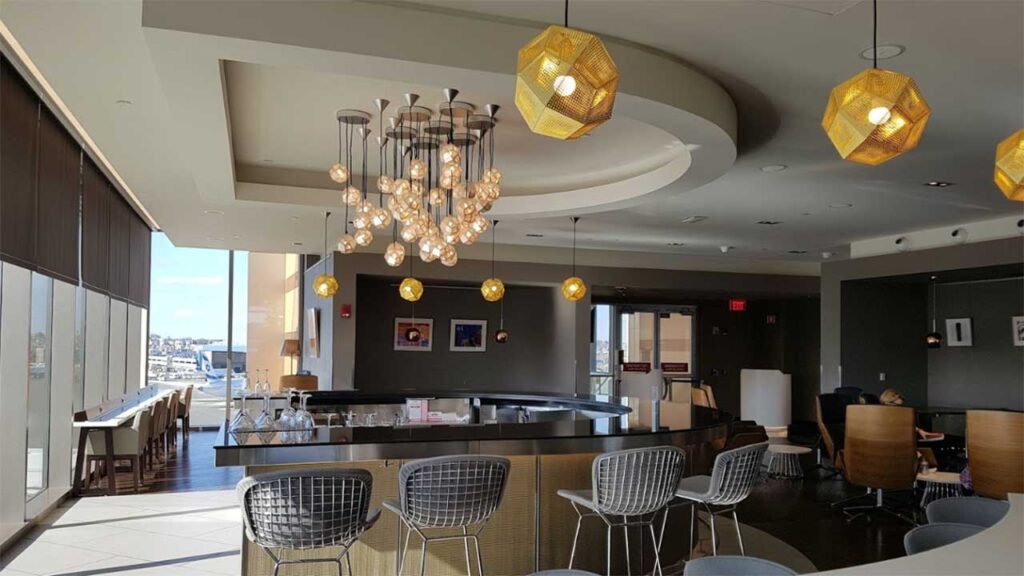 British Airways offers easy transatlantic flights from Boston to London-Heathrow (LHR), and we believe the British Airways Lounge is the greatest in Boston. And because this facility was recently rebuilt, premium travellers now enjoy a fun lounge to spend the time while waiting in the airport.
The premier lounges at London Heathrow Terminal 5 served as inspiration for this roughly 10,000-square-foot lounge. Additionally, if you want to get more sleep on the plane, you can dine in advance at the lounge rather than during the journey. You won't go hungry with the entire 3-course meal available in the pre-flight eating room. First-class guests have access to the dining area, which has excellent food, carefully selected wines, and waiter service.
13. Delta Sky Club Concourse B – Atlanta International Airport, Georgia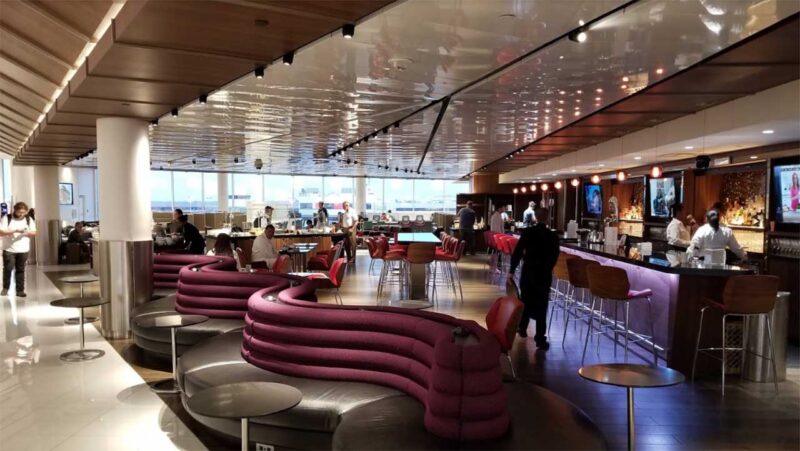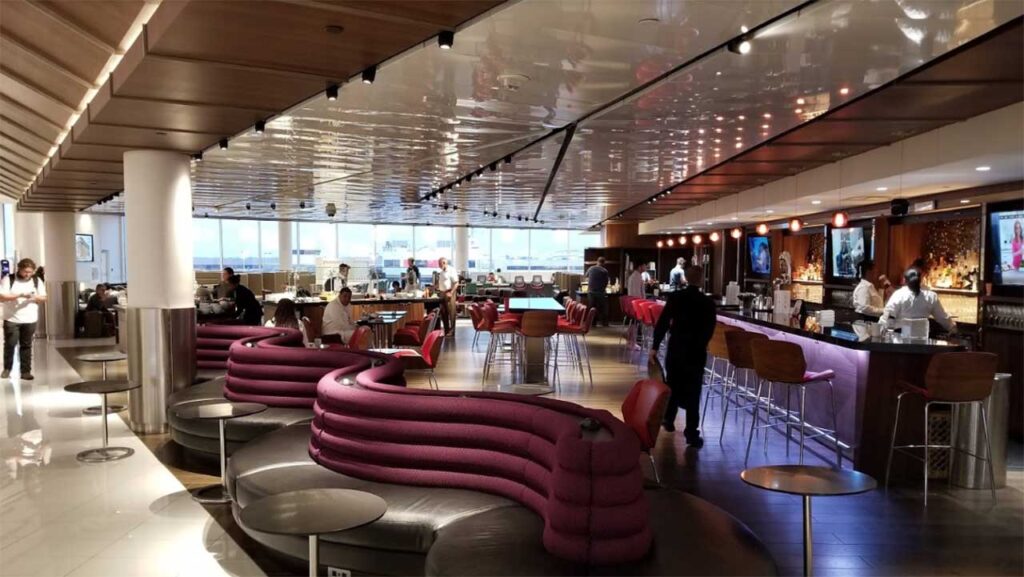 Known as Delta's flagship airport lounge, the Delta Sky Club in Concourse B, launched in 2016. The Delta Sky Club in Concourse B is our top pick for the greatest lounge in Atlanta.
Floor-to-ceiling windows with panoramic skyline views, Andrea Robinson's curated wine selection and wine wall, and a variety of premium and complimentary options like cocktails, Clearwater craft beer, and Starbucks coffee brewed fresh or dispensed from a Swiss coffeemaker are just a few of the highlights. Linton Hopkins will provide complimentary Southern cooking, as well as soups, salads, bread, and other culinary options.
The lounge's connectivity is much better: there are power outlets near every seat, high-speed Wi-Fi, TVs, magazines, quiet workplaces, a capacity of 500 people, larger toilets, and shower facilities. This lounge also has remarkable artworks!
14. British Airways The Concorde Room – Washington Dulles International Airport, Washington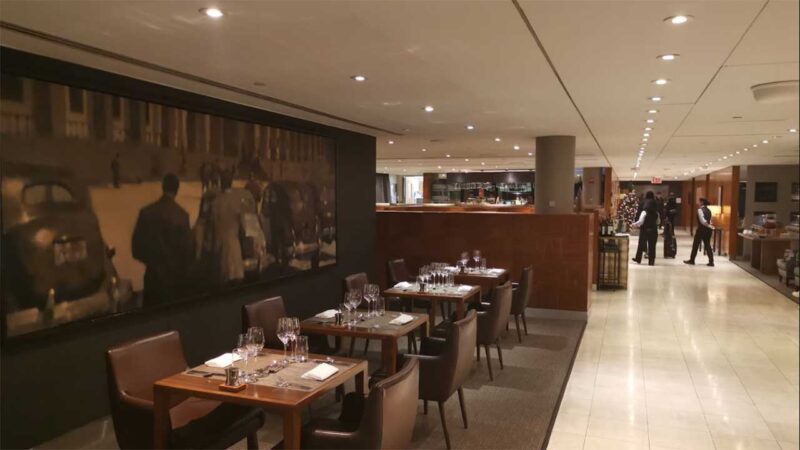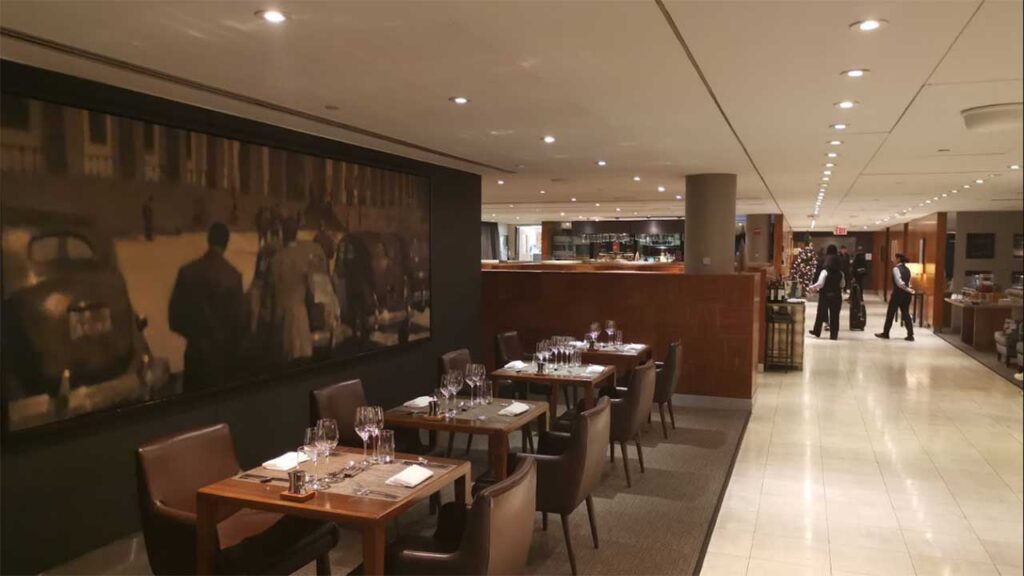 In Washington Dulles Airport, British Airways offers a big lounge, but The Concorde Room is the most unique aspect of the club. The Concorde Room is a first-class lounge dining concept featuring waiter service and 5-star catering from British Airways. The lounge, which is near gate B50 in Terminal B, features enough chairs, power outlets, and fast Wi-Fi.
The Concorde Eating Room is a unique room with its wine gallery, bar, and dining sections enclosed in rosewood and leather! Tables and booths with USB and power outlets are available in the dining room.
At the business centre, you'll also discover some additional private tables as well as a printer. Shower suites with Elemis amenities, a cocktail bar, clean restrooms, a wide self-serve drink selection, and a large range of food are all available in the main area. The Concorde Room at the British Airways Lounge at Washington Dulles is without a doubt the nicest and most luxurious airport lounge experience in Washington D.C.
15. Delta Sky Club – Fort Lauderdale International Airport, California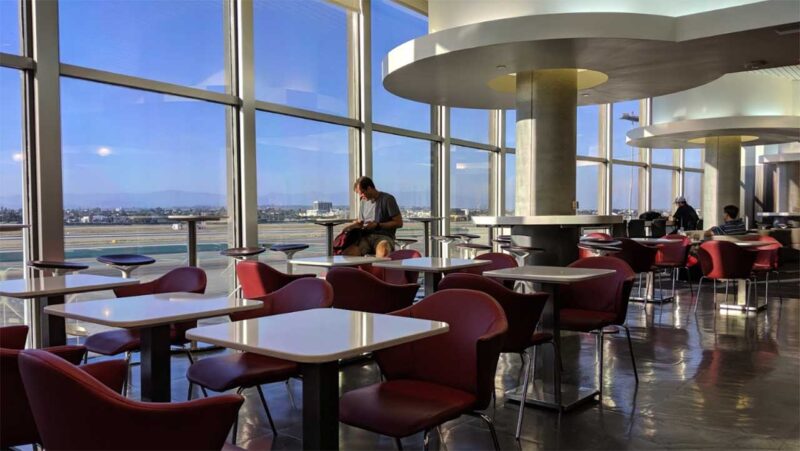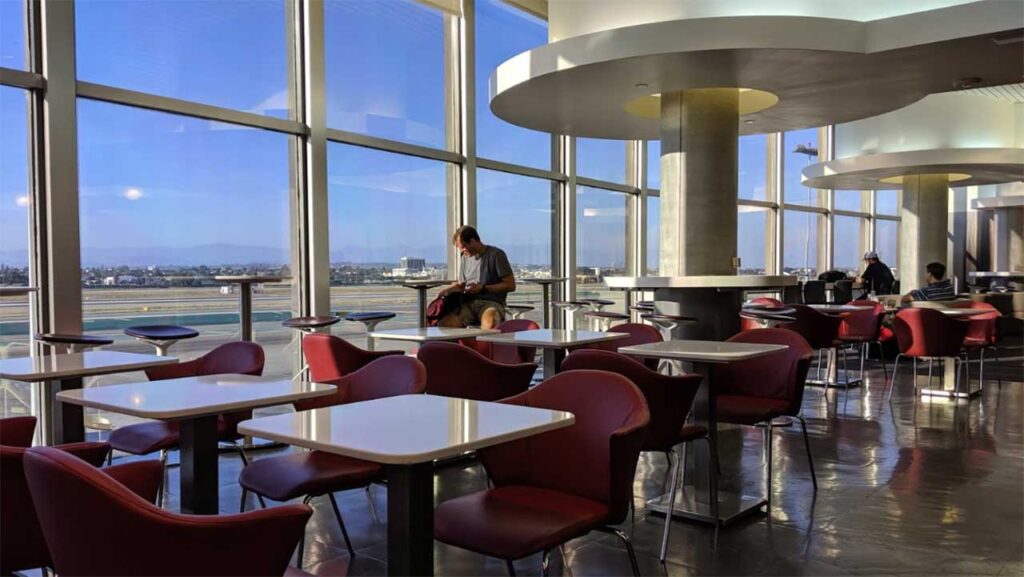 The Delta Sky Club in Fort Lauderdale has been named the best airport lounge in the city. Despite the lounge's tiny size, there are several nice couches in which to unwind. Along the rear wall of the lounge is a huge counter where you may get sliced fruit, yogurt, bagels, bread, cereal, eggs, and other continental fares. Soft beverages, alcohol, Starbucks coffee, a high-tech espresso machine, and Harney & Sons tea are all available.
A cocktail bar with complementary beverages, clean toilets, free Wi-Fi, and literature racks are also available. Unfortunately, there are no showers at this lounge.
Contrary to common belief, the United States has a plethora of high-quality airport lounges. While many of these airport lounges are linked with a foreign airline, such as Emirates or Qantas, there are also several fantastic lounges maintained by American airlines, such as United Polaris Lounges and Delta Sky Clubs. Hopefully, this list helped determine which lounges are the finest at each major U.S. airport.
You might also likes these articles: