Iowa is largely defined by agriculture, but the state also has a vibrant lake culture. In Iowa, there is a fresh body of water to discover in every direction. Iowa's lakes offer a terrific adventure, from critical reservoirs to glacier remnants.
The abundance of land-based activities available at these lakes in Iowa also includes trekking, boating, and disc golf. So, these are the best lakes in Iowa.
1. Lake McBride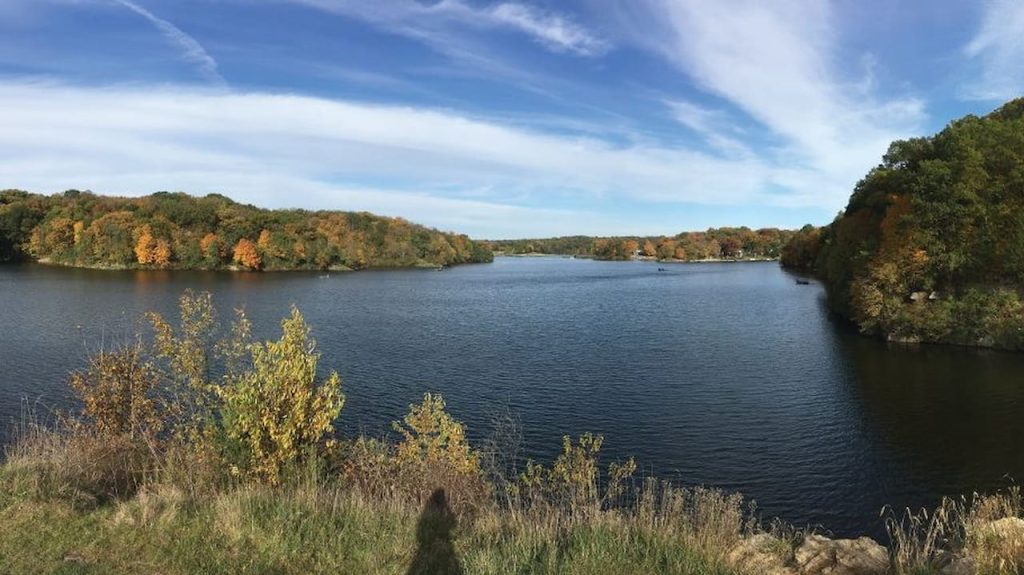 Lake Macbride, a 200-acre reservoir with two "arms," is hailed as one of the top recreation lakes in east-central Iowa. It provides a full range of water-based activities, from fishing to sailing. Visitors swarm to the water to partake in activities such as fishing, sailing, wakeboarding, waterskiing, and many others. In eastern Iowa, close to Solon, take a leisurely stroll along the edge of Lake Macbride.
The 1.25-mile coastal route at Lake Macbride State Park begins at the beach house and meanders through a forest with lovely lake vistas. The 2,180-acre Lake Macbride State Park, which has two campgrounds, picnic spaces, kids' playgrounds, a safe swimming beach, and numerous boat ramps for launching small vessels, surrounds the lake.
2. Big Creek Lake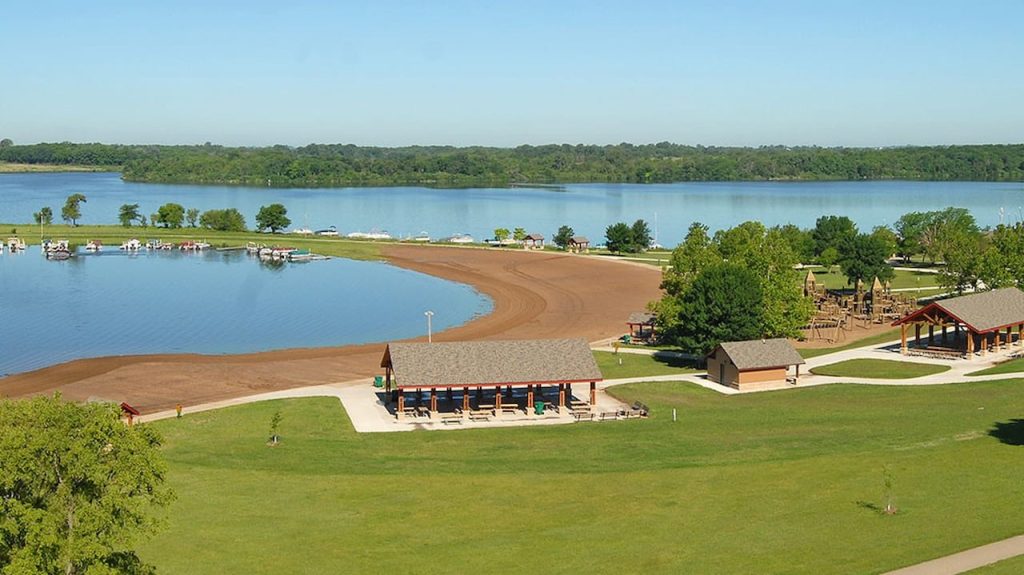 North of Polk City, organize a great family vacation to Big Creek Lake. Several fishing jetties and a fishing pier that is accessible to all people make it simple to catch bluegill, crappie, and walleye.
Big Creek Lake, an 883-acre body of water located about 11 miles north of Des Moines close to the community of Polk City, offers residents of Polk City and tourists a variety of recreational opportunities, including power boating, canoeing and kayaking, sailing and swimming, jet-skiing, wakeboarding, and waterskiing.
Rent fishing boats, pontoons, water bikes, kayaks, and other items at the Big Creek Marina. The spacious playground and cabanas next to the well-liked beach are especially great for kids. Big Creek State Park, a 3,550-acre wildlife refuge, and the Neal Smith Trail, a 26-mile paved path that leads all the way to Des Moines, are on each side of the lake.
3. Black Hawk Lake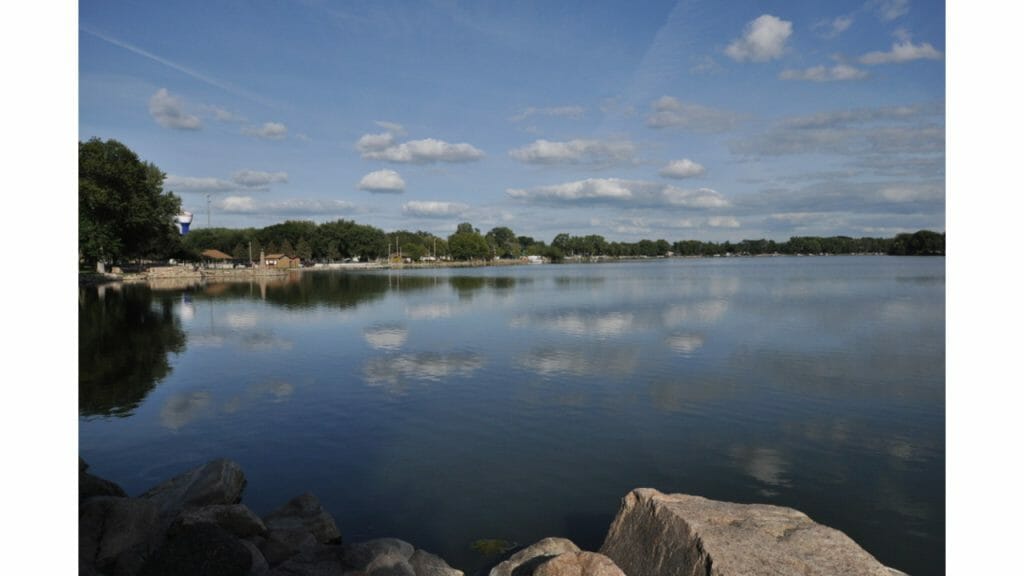 There are only a few natural lakes in Iowa, including Black Hawk Lake. Black Hawk Lake is a 387-hectare body of water that is situated on the southeast edge of the town of Lake View in Sac County.
A glacier created it millions of years ago, and today it is a well-liked fishing location with lots of bluegills, channel catfish, crappies, and sunfish. One of the most popular recreational areas is the Lake, which offers a variety of activities like boating, kayaking, and swimming.
Camping, picnic sites with grills and tables, a volleyball court, and a sizable playground facility are all available at Black Hawk State Park. There are many wonderful hiking routes near the lake, such as the Stub Severson Nature Trail, which features a variety of birds and other species.
Check out these adventurous mountains in Iowa.
4. West Okoboji Lake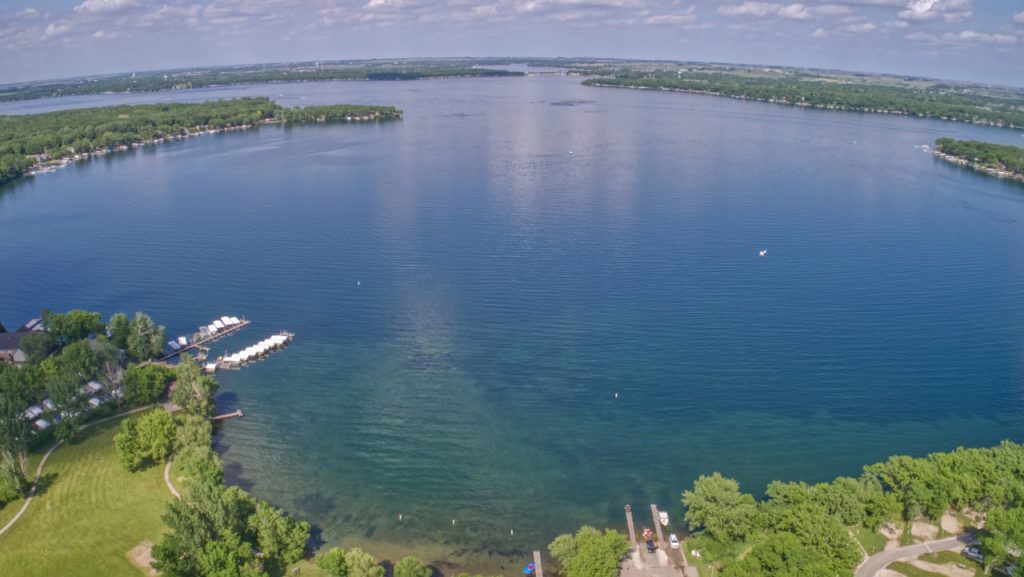 An Ice Age relic that dates back 13,000 years The centerpiece of the Iowa Great Lakes is West Okoboji. East Okoboji Lake, a 743-hectare natural body of water, is the longest and third-largest lake in Iowa's chain of great lakes. Because the lake is comparatively shallow—only 10 feet deep—than its neighbors, it is less popular for watersports. The Lake still offers a variety of recreational activities, including swimming, sailing, canoeing, kayaking, and fishing.
However, a lot of people opt to spend their holiday aboard one of the commercially operated party boats that cruise the lake while serving up drinks and providing lots of dancing opportunities. Elinor Bedell State Park, which has campgrounds, picnic spaces, a system of hiking and mountain bike paths, and boat facilities for small craft, is located on the lake's western bank.
5. George Wythe Lake
Black Hawk County's George Wythe Lake is a 100-acre lake with several water areas for different watersports. These include Brinker Lake, which has 120 acres for power boating, Alice Wythe Lake, which has 60 acres for electric motors only, Cedar River, and George Wythe Lake, which has 75 acres of no-wake water, a wheelchair-accessible fishing pier, and several fishing jetties.
Along with swimming at the well-liked George Wythe beach, other watersports like sailing, windsurfing, and kiteboarding are popular on the lake. The natural splendor of George Wythe State Park, located on the lake's banks, is ideal for picnicking, camping, hiking, and mountain biking. Fishing is also popular, with magnificent panoramic backdrops for fishermen trying to catch channel catfish and northern pike.
6. Lake Ahquabi
Lake Ahquabi is located within Lake Ahquabi State Park, which is 22 miles from Des Moines and 6 miles from Indianola. The 115-acre man-made lake has a sizable sandy beach for swimming and sunbathing. Activities on the lake include paddle boating, jet skiing, wakeboarding, and water skiing in addition to pleasure and power boating, canoeing, and kayaking.
The lake is a well-liked fishing location for anglers of all skill levels and features two boat ramps, many fishing jetties, and a wheelchair-accessible fishing pier. In addition to camping, hiking, mountain biking, and picnicking, the picturesque 770-acre Lake Ahquabi State Park also offers these activities in the summer and cross-country skiing and snowmobiling in the winter.
Take a look at our list of the best waterfalls in Iowa.
7. Lake Manawa
Situated in the state of Lake Manawa Within the boundaries of the city of Council Bluffs, Lake Manawa offers the peace and quiet of nature. When the Missouri River blocked off a section of a river channel in 1881, the lake was created. The 618-hectare Lake Manawa is encircled by beautiful trees and deep woodlands that are alive with birds and other animals.
Lake Manawa, named after a Native American language meaning "peace and comfort," was created when the Missouri River overflowed in 1881, and it provides residents and guests from the nearby state of Nebraska with just that. Access from the lake to the Missouri River is made possible by a boat ramp.
With activities like canoeing, kayaking, paddle boarding, wakeboarding, and water skiing as well as amenities like boat ramps, picnic spaces, campsites, and safe swimming and sunbathing beaches, the lake is a much-liked vacation spot.
8. Lake Red Rock
Boating, fishing, camping, and hiking are just a few of the fantastic outdoor pursuits available at Lake Red Rock, an Army Corps of Engineers reservoir built along the Des Moines River in south-central Iowa. Lake Red Rock was created in 1969 as a result of the construction of the Red Rock Dam, which is situated less than 50 miles southeast of Des Moines.
The 35,000 acres of virgin woodlands and marshes that surround the lake are now used for land and aquatic activities, respectively, making the lake a well-liked recreation destination. The lake's shoreline is home to several beautiful swimming beaches, Cordova Park, Roberts Creek Park, Elk Rock State Park, and a number of top-notch hiking and mountain bike paths.
9. Okamanpeedan Lake
Okamanpeedan Lake, also known as Tuttle Lake, is a popular vacation destination with a variety of outdoor and recreational activities to enjoy. It is located in the northern part of Iowa and shares a border with the state of Minnesota. The 930-hectare lake, which spans the three counties of Emmet, Martin, and Minnesota, is named after a Native American term that means "a nesting site of the herons" because of the significant heron population that resides in the towering trees along the shore.
Boating, canoeing, kayaking, fishing, and swimming are the main water sports available at Okamanpeedan Lake, which is a popular vacation spot for those who enjoy the outdoors. While the south bank of the lake is home to permanent residences and a sizable camping area with a boat launch, the southwest shoreline of the lake is home to a collection of seasonal cottages and summer dwellings.
10. Rathbun Lake
Rathbun Lake is a stunning lake in south-central Iowa that offers a great variety of watersports, fishing, and outdoor recreational activities of many types. Rathbun Lake was constructed by the U.S. Army Corps of Engineers for flood control and is now one of the largest lakes in the state of Iowa. The largest warm-water fish hatchery in the state is located in the Appanoose County lake, which is great for swimming, boating, and sailing.
It's also a great place to fish for crappie, channel catfish, largemouth bass, and walleye. The Rathbun Lakeshore Grille restaurant at Honey Creek Resort offers views of Lake Rathbun while you have breakfast, lunch, or supper there. Omelets, hamburgers, pizza, and spaghetti are all available on the extensive menu.
The Honey Bee, a famous banana split topped with fresh honey, chocolate, strawberries, and mixed nuts, is a delicious way to end your dinner. Along with an 18-hole golf course and a sizable indoor waterpark at the state-run Honey Creek State Park Resort, there are eight parks located around the lake's shoreline that offer camping and picnic spaces, public docks, boat ramps, and children's playgrounds.
11. Saylorville Lake
Saylorville Lake, a 50-mile-long body of water spanning three counties and located along the Des Moines River just west of Des Moines, is very well-liked for both on-land and on-water sports. The 5,950-acre reservoir was built by the U.S. Army Corps of Engineers in 1977 for flood control, but today it draws both locals and tourists who come to enjoy kayaking, camping, hiking, and mountain biking as well as boating, swimming, fishing, and other water sports. A multi-use trail surrounds the lake and is perfect for jogging, walking, cycling, and in-line skating while providing stunning lake vistas.
12. Storm Lake
Vista University are located on the northern shore of Storm Lake, one of the most major natural lakes in the state. With easy access from the coastline and public boat ramps, the lake is a well-liked boating and fishing destination with a bounty of channel catfish, crappie, white bass, and walleye. Jet-skiing, sailing, waterskiing, and swimming are additional water-based sports. Additionally, the shoreline features magnificent beaches for relaxing and sunbathing as well as a number of hiking and mountain paths.
13. Silver Lake
Silver Lake is a magnificent natural glacial lake that borders the community of Lake Park in northwest Iowa and spans 1,041 acres. Silver Lake, which is a part of Iowa's Great Lakes Chain, provides a picturesque setting for a variety of outdoor recreational pursuits, including boating, camping, fishing, and wildlife observation.
Along with great walleye, bullhead, crappie, northern pike, and yellow perch fishing, Silver Lake also offers recreational boating, power boating, canoeing, kayaking, sailing, and swimming. Three hard surface boat ramps, fishing docks and jetties, campers, bathrooms, and trails for hiking, mountain biking, and wildlife observation are all present in the two nearby parks.
14. Lake Anita
In southwest Iowa's Lake Anita State Park, a 1,062-acre park featuring a range of easily accessible outdoor recreation activities, is the lovely 171-acre man-made Lake Anita. Lake Anita, which was created when a dam was built on a Nishnabotna River branch, offers activities for everyone, including swimming at guarded beaches, fishing for bluegill and channel catfish, hiking on various trails, and lakeside camping.
With its protected swimming areas and several picnic sites with picturesque lake views, the lakeshore is perfect for families with young children. Camping, hiking, biking, and other lakeside activities are available along a 5-mile trail that circles the lake, as well as a 0.3-mile self-guided nature trail.
Although there is much to see and do in the Hawkeye State, many tourists do not think of Iowa when choosing where to travel in the United States. It has a lengthy history that dates to the 1600s and is geographically diversified.