When you consider that Colorado is home to more than 4,000 lakes and rivers, both natural and constructed, it is difficult to choose the absolute greatest lakes in the state. These lakes in Colorado also offer a wide variety of water activities, including sailing, boating, and jet skiing.
Fishing is another popular activity in Colorado lakes, and the best thing about it is that it can be done at any time of the year. During the winter months, ice fishing is very common on several of the lakes that are included here.
Here is a list of the best lakes in Colorado where you can enjoy both the scenic views and water-related activities.
1. Grand Lake
Grand Lake, located in Colorado's high alpine region at an elevation of 8,369 feet, is the state's greatest natural body of water and is a stunning deep blue color. The mountainous landscape that surrounds the city is just as stunning. Trail Ridge Road, which is the highest paved road in the United States, connects this town to Estes Park on the opposite side of the mountain during the summer months.
However, during the winter, it is closed. Visitors can find a diverse range of activities and attractions available in Grand Lake, including one with a historic boardwalk that dates back to the late 1800s. If you intend to travel the lake by boat, the Grand Lake Marina is the place to begin your adventure. You can rent stand – up paddleboards in addition to the many kinds of boats that are available here.
A variety of water sports, such as waterskiing and wakeboarding, are also available to participants. There is a designated swimming beach area with picnic tables, and even though the water temperature remains cool throughout the summer, many people still go swimming there. Additionally, Grand Lake is known for its excellent fishing.
2. Crater Lake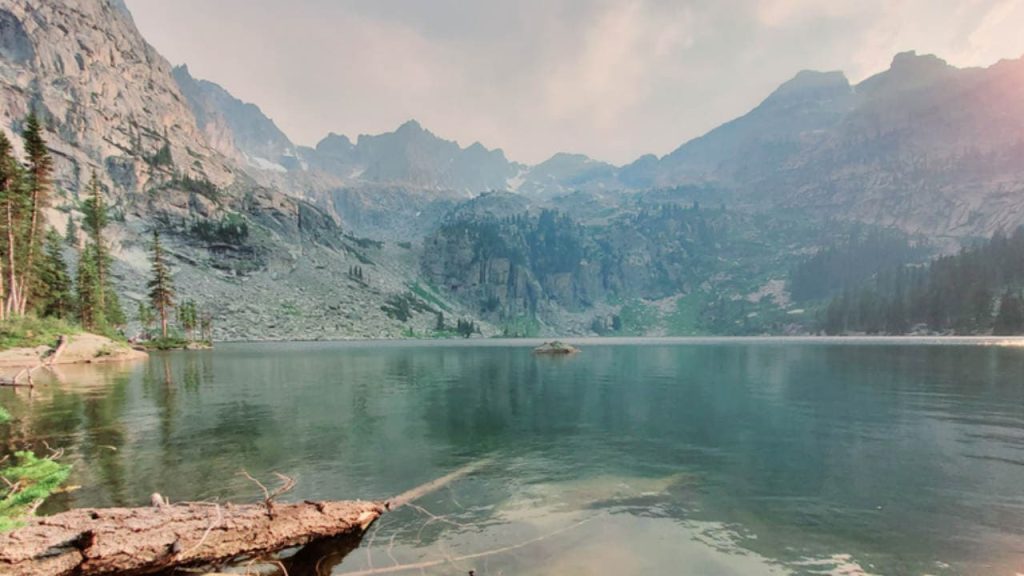 Crater Lake is without a doubt one of the most breathtaking natural scenes in Colorado since it is surrounded by the maroon-colored Maroon Bell peaks that rise majestically behind it and are reflected in the crystalline surface of the lake.
In order to access Crater Lake, which is located close to Aspen, you will need to hike a round-trip trail that is 3.8 miles long. The trek is best experienced during the summer and early fall months due to its moderate difficulty and its elevation rise of 692 feet; by November, the trail will be covered in snow.
When early October arrives and the aspen trees that surround Crater Lake begin to turn golden, the panorama around the lake becomes even more breathtaking. It is an excellent time to take pictures of the lake.
3. Horse Tooth Reservoir
If you are interested in participating in water activities, like swimming, the numerous reservoirs that are located in Colorado are frequently the best places to go, particularly on scorching hot summer days. One of the most well-known choices is the Horse Tooth Reservoir, which is located to the west of Fort Collins.
Many people like going swimming, boating, and fishing on the enormous lake that was created artificially. During the warm months, visitors can cool themselves in the water at the beach that's been designated as the Swim Beach. You may fish from boats or directly from the shore, and there are also hiking and cycling trails that go all the way around the lake itself.
Head on over to the local marina if you want to hire boats, paddleboards, or kayaks. In addition to that, waterskiing is permitted here. There are also camping spots and cabins available for rent at any time of the year, should you decide to extend your visit.
You might also want to try visiting these waterfalls in Colorado.
4. Lake Granby
Lake Granby is located directly on the Colorado River and is also in proximity to Grand Lake. It is only five miles away from the town of Granby. With a total of forty miles of shoreline, it is the third-largest body of water in the state of Colorado and was produced in 1950 by the construction of the Granby Dam.
Moreover, Lake Granby, which is considered to be one of the top boating lakes in Colorado, has both trout and kokanee salmon in its waters. You have the option of fishing from the shore or going out in a boat. In the summer, the region around the lake is frequented by hikers, while in the winter, snowmobiles can be found here.
5. Boulder Reservoir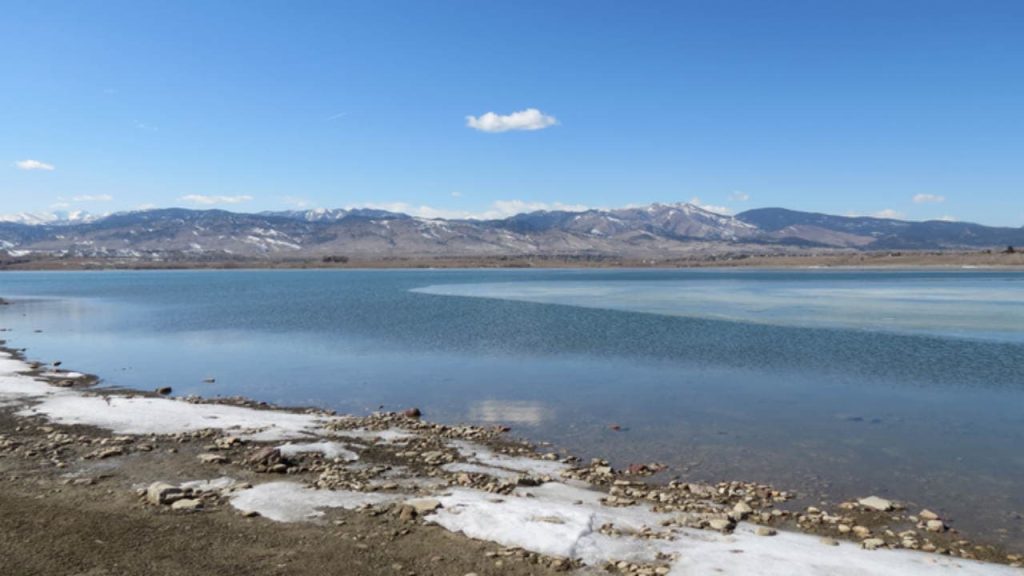 Another well-respected body of water in the area is the man-made Boulder Reservoir, which offers visitors breathtaking panoramas of the city's famous flatirons. Sailing, fishing, bathing, and other types of enjoyment can be experienced here. For sunbathers and swimmers, there is also a beach area.
If you are interested in trying out sailing, Community Sailing of Colorado can provide you with sailing lessons as well as rental boats. You may also spend the day fishing and relaxing on the lake by renting pontoon boats through Rocky Mountain Paddleboard.
The fish you can catch include bass, catfish, bluegill, brown trout, and walleye. However, you are required to hold a fishing license for the state of Colorado. These can be acquired in advance via the internet.
6. Steamboat Lake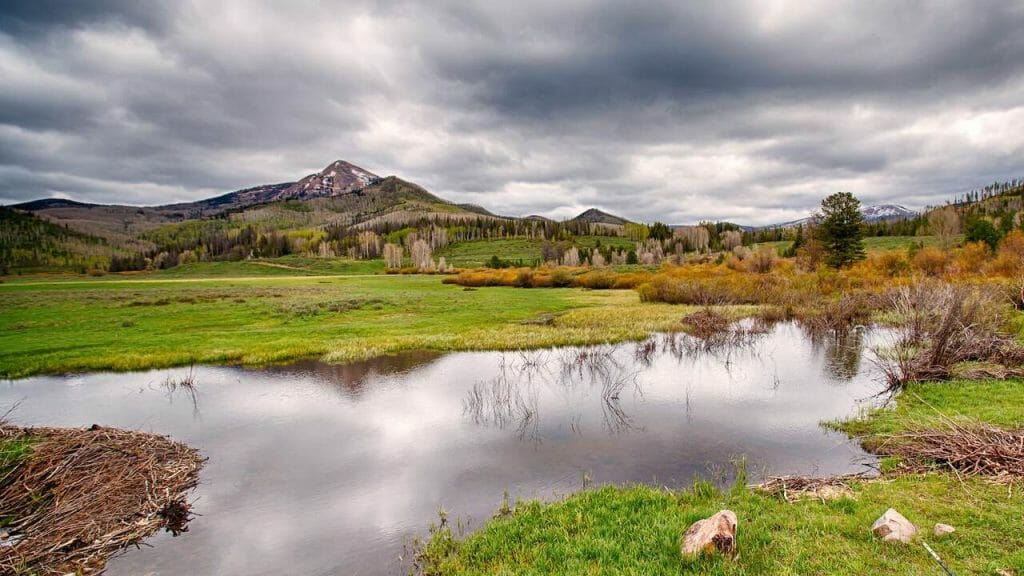 Steamboat Lake is located in the northwestern corner of Colorado, to the north of the town of Steamboat Springs. This lovely lake can be found right at the foot of Hahn's Peak and provides chances for pleasure throughout the entire year. Even during the winter months, it offers rentals of cottages and yurts.
Ice fishermen frequent the lake when it is frozen during the winter because it creates good fishing conditions. In the summer, there is a wide variety of water sports and activities to choose from, including jet skiing, fishing, kayaking, paddling, and stand-up bodyboarding. In addition to this, there are options for mountain biking, horseback riding, and hiking along the paths that surround the lake.
Make sure to check out the scenic national parks in Colorado.
7. Dream Lake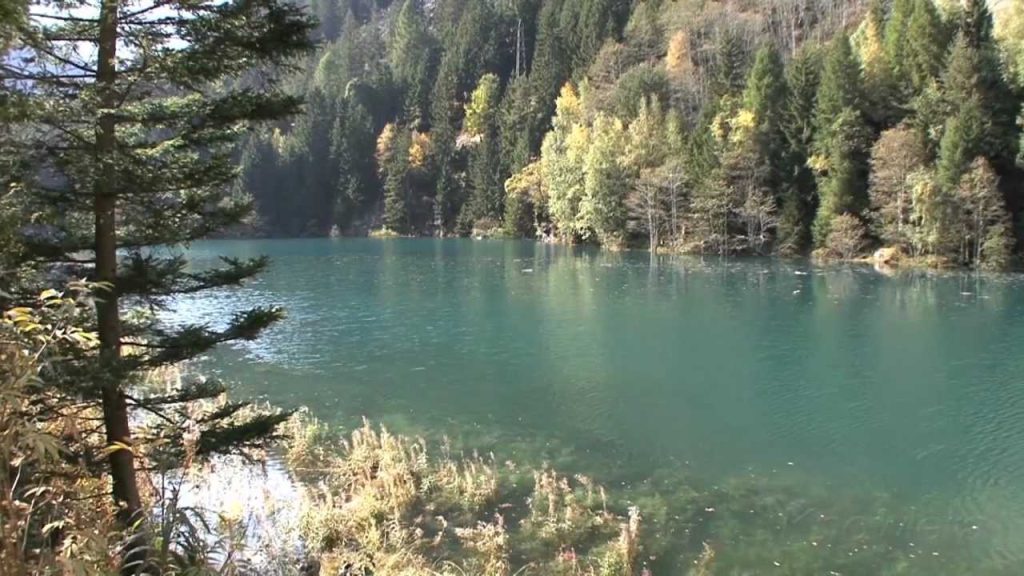 When the sun first rises, Rocky Mountain National Park's Dream Lake takes on a pink and purple hue that is really breathtaking. As a result of this, it is one of the destination hikes in the park that attracts the most people. Since it is a very easy hike, many families also go there.
The trail begins at the Bear Lake trailhead and only extends for a total of 2.2 kilometers out-and-back. You will travel via the lovely Nymph Lake on the way, but you should make sure to keep going until you reach Dream Lake. The ethereal quality of the light that is created when it is reflected off of the snow and the frozen lake is well worth the effort.
8. Shadow Mountain Lake
The Colorado River links Shadow Mountain Lake to Grand Lake, making it the third sister in a trio of high alpine lakes surrounded by the majestic Rocky Mountains. Anglers can hook up on a variety of species of trout and salmon in Shadow Mountain Lake.
Several nearby creeks, as well as the Colorado River, offer excellent fly-fishing terrain. Water sports like boating, sailing, and kayaking are very popular in the summer. Besides, Grand Lake and Granby, two surrounding communities, offer a wide range of hotel options.
9. Blue Mesa Reservoir
Though it's not a natural lake, Blue Mesa Reservoir is the largest body of water in the state of Colorado. It is located in western Colorado near Gunnison. Blue Mesa stretches for 20 miles and has 96 miles of shoreline. It is a great place to visit during the summer.
There are two marinas that offer complete services, where you may rent powerboats, kayaks, and stand-up paddleboards, among other watercraft. There are also organized swimming outings available for the wild. If you have a valid state fishing license, you can fish on your own, especially trout in these waters.
Have lunch at Pappy's Restaurant, which boasts a picture-perfect setting right on the water and is conveniently located near the lake. Take a seat on the terrace and enjoy some Colorado-style comfort food, which may include trout from the area.
10. Lake San Cristobal
Lake San Cristobal, which is located just outside of Lake City and is the second-biggest natural lake in Colorado, glistens like sparkling glass, particularly in the early morning or at sunset. Especially whenever the mountains and colors that are moving across the sky are reflected in it.
You are welcome to fish in the lake, which has been supplied with a variety of trout, from any of the open access sites that are located along the shoreline. Or, you may even go out on the water in a boat and fish from the surface. You can buy a fishing license at the lake or in Lake City.
Moreover, fishing boats, kayaks, canoes, and stand-up paddleboards are just some of the watercraft that may be leased in Lake City.
11. Two Rivers Lake
Located at the headwaters of Mill Creek just below the Continental Divide, Two Rivers Lake is often regarded as one of the most beautiful lakes that can be found within Rocky Mountain National Park. This subalpine lake is flanked on all sides by mountains that are far taller than it is (10,620 feet).
When the weather is clear, the lake resembles a sheet of mirrored glass, and you can see a reflection of the 12,129-foot Notchtop Mountain in the tiny basin. However, in order to experience all of this beauty, a significant amount of physical exertion is required. You can't just travel here. Instead, you will be required to hike in and out of the area using either the Bear Lake or Fern Lake paths.
The round-trip distance to Bear Lake is 5.6 miles, making it the more manageable of the two options. But, it is still considered to be a moderately challenging hike due to the 1,150-foot elevation gain along the way.
12. Monarch Lake
To reach Monarch Lake in the Indian Peaks Wilderness, which is located just south of Rocky Mountain National Park and is close to the town of Granby, you may take an easy hike that is four miles long and makes a loop around the lake.
This hike is great for families because it passes through both open meadows and wooded areas of the landscape. There is also the possibility of coming across many wild animals, such as foxes, moose, elk, and deer, among other species. The lake is also perfect for trout fishing.
13. Chasm Lake
Chasm Lake, which can be found in Rocky Mountain National Park, has an elevation of 11,803 feet and can be reached by a hard 4.2-mile journey that begins at the Longs Peak Trailhead. The journey will take you over open tundra, past upper and lower Columbine Falls, and up to over 2,300 feet in elevation until you reach the breathtaking alpine lake that is nestled in a basin at the foothills of Longs Peak, Mount Meeker, and Mount Lady Washington.
The time and effort required to get here are more than compensated by the breathtaking scenery. Then there is also wilderness camping at Battle Mountain, which is located a short distance from the lake.
14. Dillon Reservoir
Denver's water company owns and operates this big reservoir in Summit County, which is also known as Lake Dillon. Recreational opportunities abound in this region thanks to its proximity to the ski resorts of Breckenridge and Keystone, which have 26.8 miles of coastline between them.
The reservoir is accessible at all times of the year. During the summer months, there are two marinas where you may rent motorized and non-powered boats, and you can fish either from the shore or out on the water. Ice fishing and Nordic skiing are two wintertime activities that can be enjoyed near the lake.
Moreover, the communities of Frisco and Dillon are located on each side of the lake. Both of these towns provide a wide selection of dining establishments, and a number of different places to stay, with a concentration on catering to tourists on a tight budget and families traveling with children.
Lakes provide a variety of recreational activities like swimming, hiking trails, beaches for sunbathing, picnicking, etc. This list takes a look at some of the very best lakes in Colorado, and it doesn't matter if your interests lie in boating, fishing, or simply taking in all the natural beauty that the state has to offer; it will not disappoint.