Hawaii's tropical climate and laid-back Pacific Island atmosphere are just a few of the things that make the state unique. These islands offer a variety of magnificent terrain that ranges from the Kilauea volcano to lush green forests rich with exotic flowers.
The enormous Pacific, which surrounds them all, is home to a profusion of aquatic life, allowing countless possibilities to snorkel, scuba dive, surf, or simply go for a swim after sunbathing. Perhaps the unique aspect of the islands is their people, whose kind demeanor makes you feel as if you've arrived in paradise.
So, here is a list of the best places to visit in Hawaii.
1. USS Arizona Memorial at Pearl Harbor, Honolulu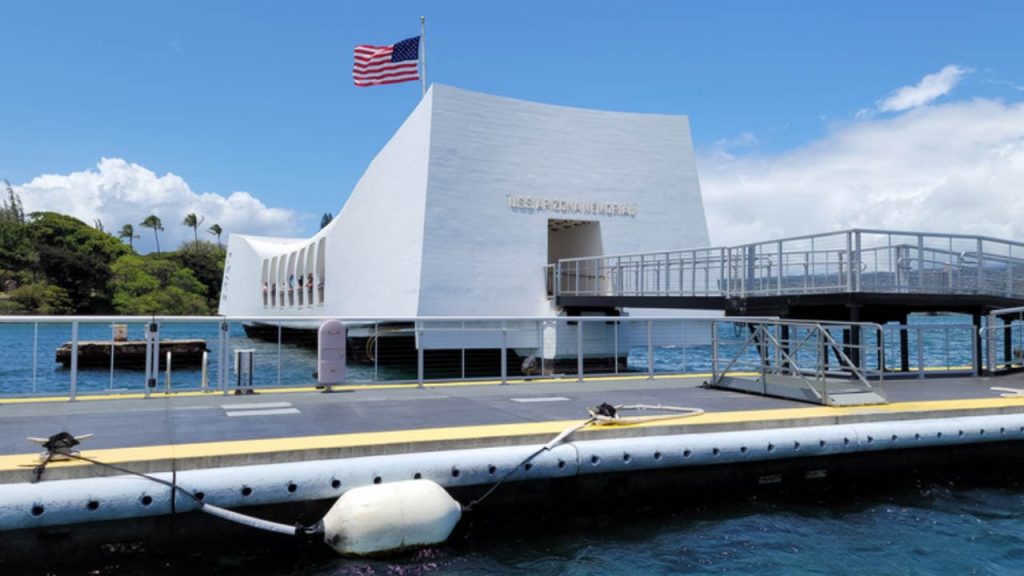 The attack on Pearl Harbor during World War II is widely known, and this memorial park rests atop the resting place of the many soldiers who lost their lives then. The site of the USS Arizona is one of the most popular sites in the islands because many tourists visit to pay their respects.
2. North Shore of Oahu, Waialua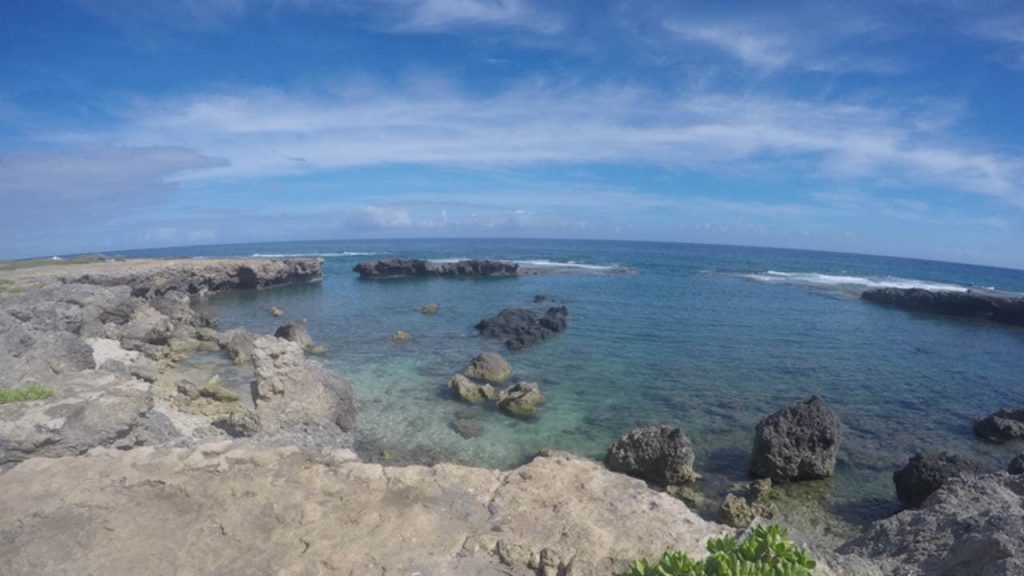 North Shore is a stretch of coast in Oahu Island known for its surfing waves and idyllic beaches. You won't find a better place than the North Shore to visit. This coastline is home to many of Hawaii's most famous beaches, like Laniakea Beach, Turtle Bay, and Pipeline Beach.
Swimming on the beaches depends on the season. Novice swimmers will enjoy wading and snorkeling during the summer. But the waters turn restless in the winter months, so it's best to leave the swimming to expert surfers by then.
3. Waikiki Beach, Honolulu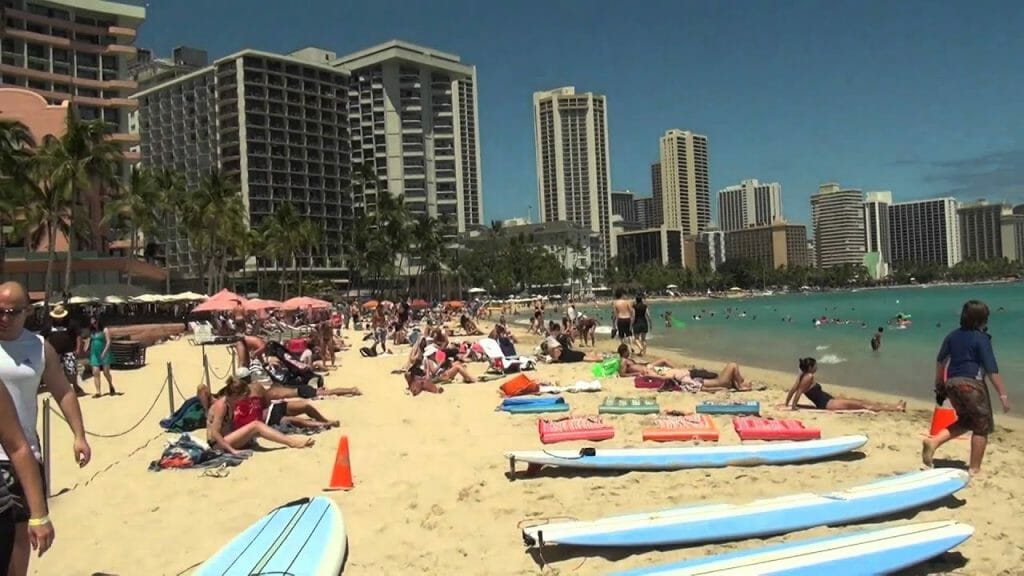 Waikiki Beach is a famous surfing beach and resort town in the islands of Hawaii. It is located on the north shore of Honolulu island. When it comes to the best cities to visit in Hawaii, this world-class neighborhood is the top dog for its vibrant nightlife and endless entertainment. All of that can be experienced just a few steps from the ocean.
This beach gets crowded quite often because it's among the famous vacation spots on the island. So, it's best to go here early to get a good place in the sand. You should also stay vigilant while in the water as swimmers, surfers, and tour boats all mingle there together.
You might also enjoy visiting these historical sites in Hawaii.
4. Hawaii Volcanoes National Park, Big Island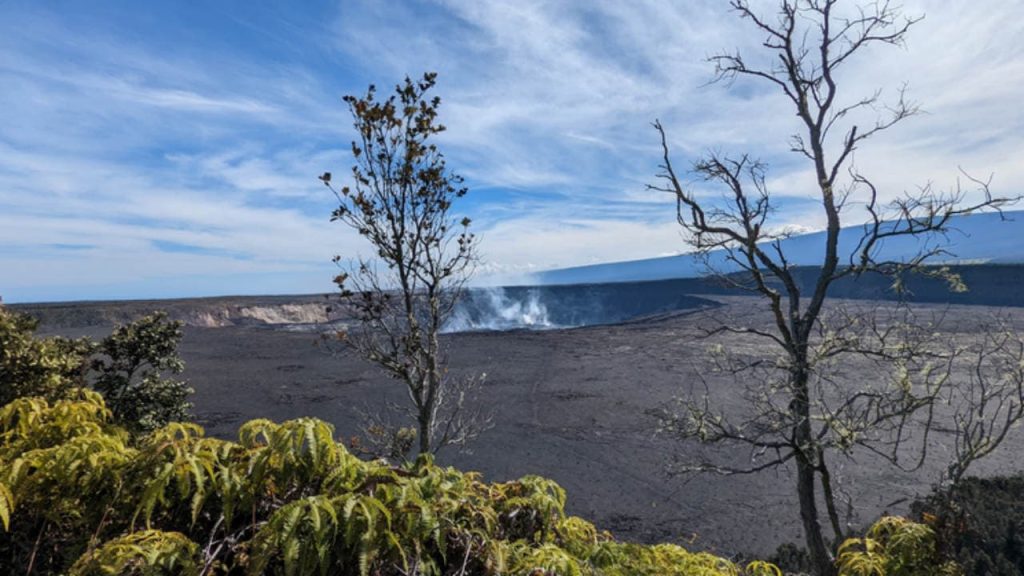 The Hawai'i Volcanoes National Park is a 323,400-acre natural park known for its active volcanoes. Located on the Big Island, here is where you can get the chance to see two world-renowned active volcanoes, namely the Kilauea and the Mauna Loa.
The dramatically different landscape of the park definitely makes it one of the cool and unique places to visit in the park. Unlike most of the island's abundant greenery, the topography here is more barren yet still stunning. It's better to stay on designated tracks and trails during your visit.
Though it might be tempting to deviate from the paths a little, sinkholes, cracks, and uneven cliff edges have been known to happen in some areas of the park.
5. Haleakala National Park, Kula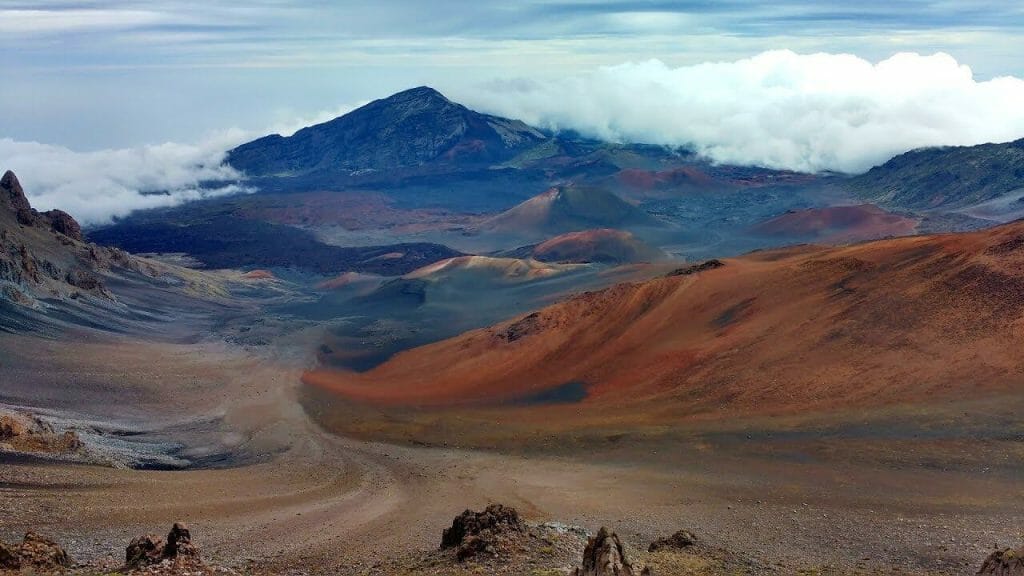 Haleakala National Park is a 33,200-acre big nature area on the island of Maui. It was established in 1961. Another beautiful volcano lies dormant inside this park which adds it to the places to see in Hawaii during your vacation.
Exploring around the volcano will show you different terrain, from lush green forests to desert-like grounds. The best way to enjoy the trip is to hike the different trails inside the park. To get dramatic views of the surrounding, you should try the Halemau'u Trail and stop in the middle of Rainbow Bridge.
6. Na Pali Coast State Wilderness Park, Kapaʻa
Na Pali Coast State Wilderness Park is 6,175 acres big and located in the northwest part of Kauai Island. It is known for its untouched scenery. You can get incredible vistas of the ocean from the valleys, enjoy a peaceful time on a remote beach, and even travel up to an impressive waterfall.
If you're up for a challenge, try hiking the famous Kalalau Trail from start to finish. It takes three to five days to complete the track, depending on your pacing.
These are the most beautiful places in Hawaii.
7. Road to Hana, Kula
Hana Highway is a scenic drive located on the northeastern coast of Maui Island. Driving on this road will give you awe-inspiring views of the cliffs and the ocean. If you stop occasionally, you can also discover short hiking trails to do.
Indeed, traveling down this road is a cheap yet fulfilling form of entertainment for unforgettable scenery. However, don't attempt this trip if you're not a confident driver. This highway is included in the world's most dangerous roads because of its sharp turns, blind spots, and narrow width.
8. Hanauma Bay Nature Preserve, Honolulu
Hanauma Bay Nature Preserve is a protected bay located in the southeast of Oahu. It is also less than an hour away from Waikiki Beach. This natural pool is a tourist-approved spot when it comes to the top places to visit in Hawaii for snorkeling because of its clear waters and teeming marine life.
9. Maui Ocean Center, Wailuku
The Maui Ocean Center is an aquarium located on Maui Island. This 3-acre marine center was opened in 1998. Here, you'll be able to observe hundreds of colorful tropical fish and bigger sea creatures like turtles, sharks, and even whales.
One attraction you shouldn't miss is the Open Ocean exhibition; walking underneath the 35-foot-long, transparent acrylic tunnel is a surreal experience as you watch dozens of sharks swimming above and around you.
10. Princeville Botanical Gardens, Princeville
Princeville Botanical Gardens is a 9-acre natural area located on Kauai Island's North Shore. If you're looking for where to go in Hawaii for a short, relaxing trip, this botanical garden is the perfect place. You'll be able to stroll along the fields of medicinal plants, endangered flowers, and fruit trees at a leisurely pace.
Wear comfortable, light clothes, sturdy walking shoes, bug repellent, and a sun hat when going on a walk in the garden. Some walkways have no shade, so you might also want to wear sunscreen, just in case.
11. Kona Coffee Living History Farm, Captain Cook
The Kona Coffee Farm is a history museum that focuses on plantation life during the early 1900s. As part of the state's unique places of interest, this farm is pretty fun because of its highly interactive displays.
You'll get to try your hand at making your own coffee, doing a few household activities in the old-fashioned way, and just experiencing life as a plantation worker in the early 20th century.
12. Waimea Canyon State Park, Waimea
The Waimea Canyon State Park is a 1,866-acre wilderness area located on the west side of Kauai. This attraction is known as the Grand Canyon of the Pacific, and the picturesque panorama is something you absolutely must see. Its red walls are slightly overlaid with green all around, making a stunning unique view.
The trails inside the park also offer unique views of the canyons. First-time hikers will find the Cliff Trail easy and fulfilling as it ends with a beautiful vista of the canyons. More advanced hikers will simply find Kohua Ridge thrilling with its dizzying heights and narrow paths.
13. Lanikai Beach, Kailua
Lanikai Beach is a mile-long stretch of sand in Oahu near Kailua. The crystal clear, blue-green waters, soft powdery sand, and vibrant palm trees of this beach are why many tourists regard it as one of the top places to go in Hawaii for an amazing vacation.
Being a famous beach among locals and tourists, this shoreline can get crowded pretty quickly, and parking can also be a challenge. Try going as early as you can to secure roadside parking and a good spot on the sand.
14. Hapuna Beach, Hawai'i
Hapuna Beach is a half-mile stretch of coast on the Big Island of Hawai'i, and is considered to be the largest beach on the island. When it comes to the best of Hawaii, this white sandy shoreline is on top of the list.
Many visitors enjoy the crystal clear waters and expansive shores all year-round. The waters are perfect for wading in and snorkeling during the summer and fall seasons. But in winter, the larger waves come out to play and surfing on this beach is best left to skilled surfers.
15. Molokai
Molokai is a Hawaiian island on the Kalaupapa Peninsula. Though not remote, it is more undeveloped than the other popular islands. With towering green sea cliffs and turquoise waters, you would think that this island was uninhabited. But its unmarred lands and breathtaking vistas are what makes it a definite contender for the best places to visit in Hawaii.
However, this island is not for everyone because it is definitely more rural and less commercial than the other islands. And if you're alright not staying in five-star resorts and eating at fancy restaurants, then you shouldn't miss out on experiencing the authentic aloha lifestyle.
16. Hulihe'e Palace
Hulihe'e Palace is an elegant palace sitting next to the Kailua pier. Initially, it was built as the summer residence for the Hawaiian Royalty. In 1973, it was restored and preserved and later designated as a National Historical site.
When you visit, you can get the chance to see the stunning portraits, koa wood furniture, Hawaiian quilts and many more beautiful artifacts of the Royalty. Opposite to the palace, there is another wonder, the Mokuaikaua Church, which was founded in 1820 by missionaries.
17. Kuamo'o Battle Site
The battle of Kuamo'o was fought in 1819, which was one of the bloodiest battles on Hawaiian grounds. Kuamo'o Battle Site stands as the evidence of the people's struggle to follow the traditional Kapu system or abolish it.
After years, the battleground has been preserved as proof of the historical battles in Hawaii which hold the value of safekeeping traditions to the visitors.
As can be seen from above, Hawaii is full of fascinating places. Most people around the world dream of coming here, and to make a meaningful vacation these best places in Hawaii should be visited.