When it comes to beauty, have you ever wondered what makes it so incredible? The answer is diversity. You can find dry subtropical climate on Lanai and also tropical weather in most places on Kauai and the Big Island.
Many places provide world-class surfing, whereas others offer world-class diving opportunities, including encounters with whales. Now, are you having a hard time deciding where to go?
If the answer is yes, then check out some of the most beautiful places in Hawaii.
1. The Hana Highway, Maui
Kahului and Hana are connected by this 52-mile length of coastline. There's a reason the Hana Highway is the most beautiful place in Hawaii. It's unique because you'll see waterfalls, swimming holes, thick jungles, hiking routes, and some of the most beautiful beaches in the world as you travel from one end to the other. Almost impossible to remain in the car!
2. Hawaii Volcanoes National Park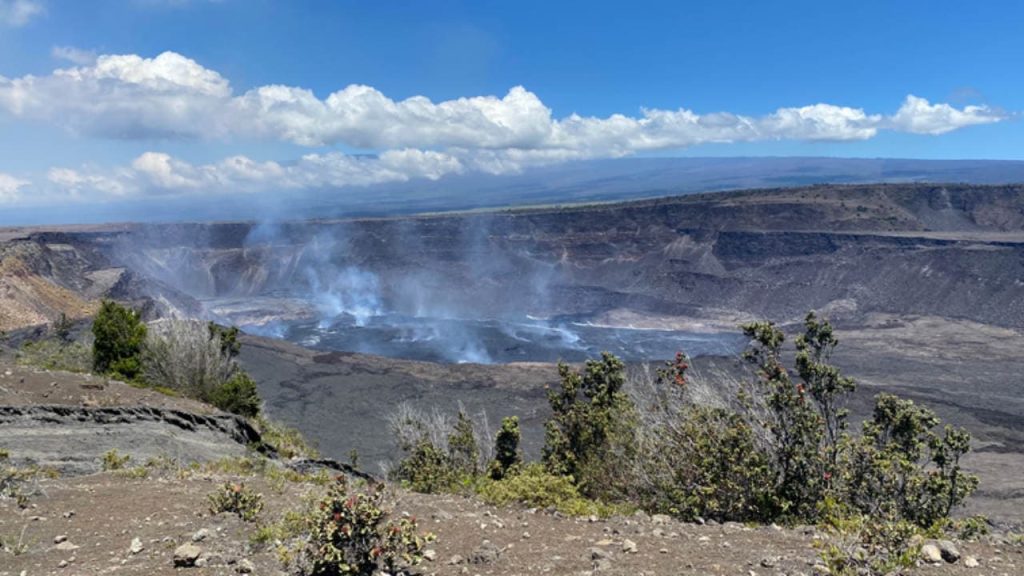 The Big Island of Hawaii, often known as Hawaii or the Big Island, is the youngest and biggest of the Hawaiian islands and one of the most beautiful places in Hawaii.
Multiple eruptions built the island, and it is continuously developing; there are now four active volcanoes on the isle. In Hawaii Volcanoes National Park, you can view two of them, including Mauna Loa, the world's biggest active volcano.
3. Hanauma Bay, Oahu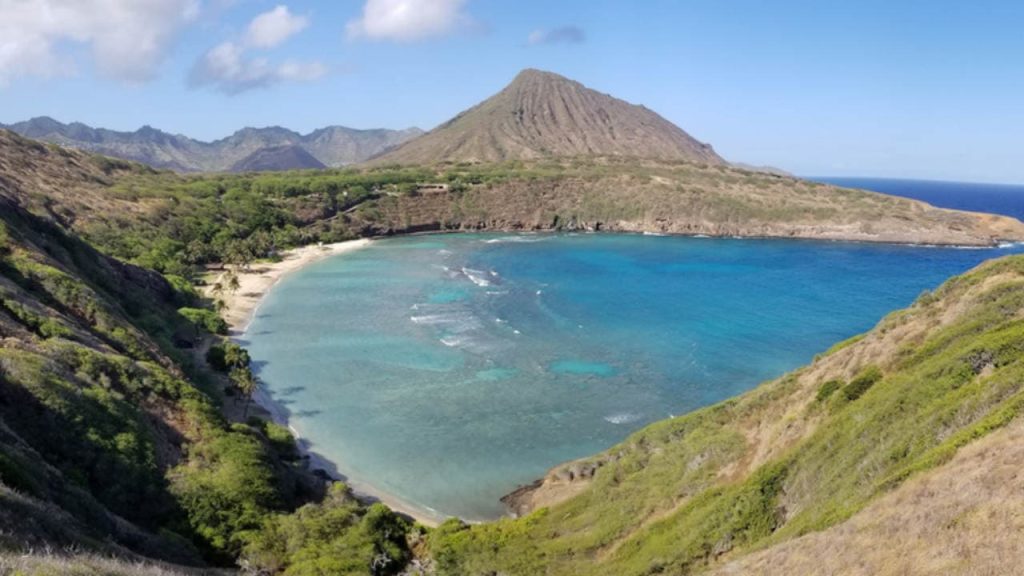 Hanauma Bay is the third most beautiful place in Hawaii on my list. The Hawaiian royal family used to come here to fish and relax since the bay is so picturesque and home to such a diverse marine ecology.
But you don't have to be a king or queen to take a dip in the ocean and gaze at the scenery from the beach these days. After being designated a marine life protection area in 1967, the park continues to be a popular destination for snorkelers.
You might also want visit these historical sites in Hawaii.
4. Keahiakawelo (Garden of the Gods), Lanai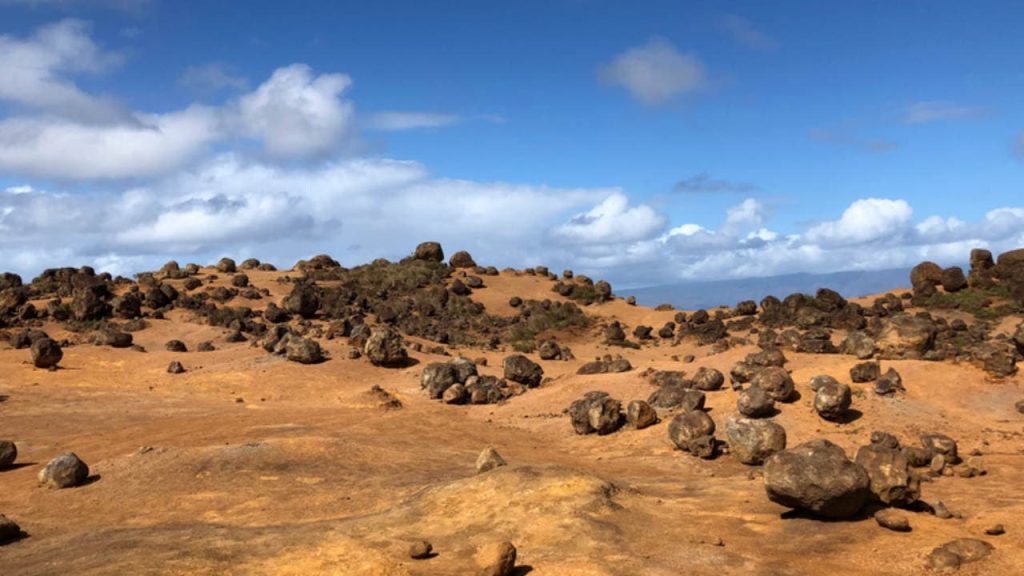 When most people think of Hawaii, they see lush green valleys and endless stretches of sand, but Keahiakawelo, a surreal landscape of rock towers and boulders on Lanai's northwest side, will make you feel like you've landed on Mars. At nightfall, the setting sun brings out the rocks' rich reds and oranges, making the landscape even more beautiful.
5. Halawa Valley, Molokai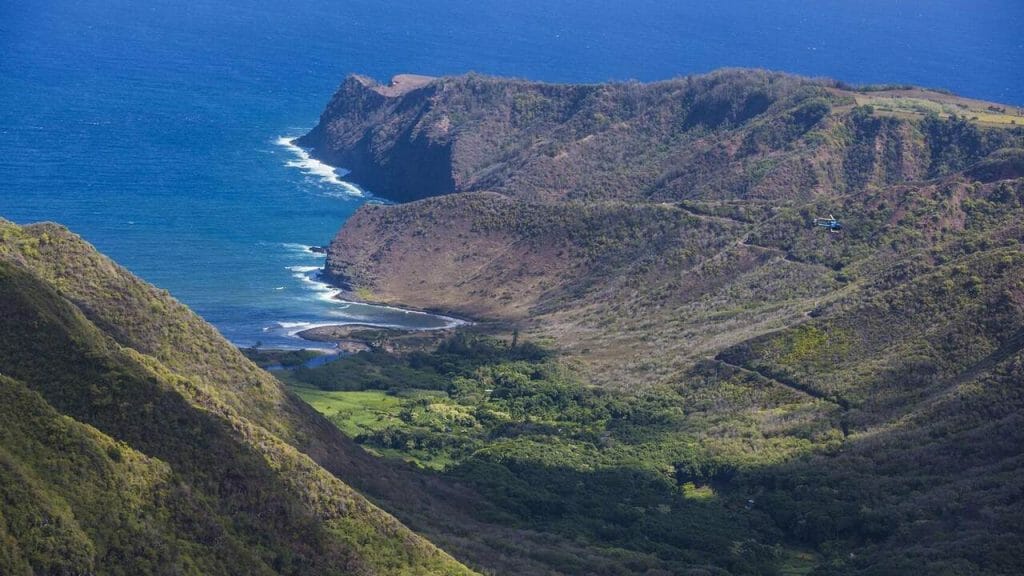 With its high proportion of native Hawaiians, world-record sea cliffs, and state's longest continuous reef, Molokai is an island with a special aura (a reef found close to shore). Halawa Valley, a revered site in Hawaiian culture, is found here, and it is one of the most beautiful places in Hawaii.
What was once a sacred site for ancient Polynesians has been transformed into a breathtaking natural wonderland, complete with flowing waterfalls, winding pathways through the jungle, and panoramic vistas.
6. Punalu'u Beach
As far as I'm concerned, black sand beaches are better than white sand beaches. This kind of sand is often found in volcanic regions, such as Hawaii (we're looking at you, Volcanoes National Park).
Punalu'u Beach, located on the Big Island's southeast coast, has jet-black sand and palm trees. It's also possible to see a sea turtle basking in the sun if you're fortunate enough.
These are the most iconic landmarks in Hawaii.
7. Wailua Falls, Kauai
The island of Kauai, commonly known as the "Garden Isle," is home to some of the most spectacular waterfalls in the state of Hawaii. Wailua Falls, the renowned 200-foot waterfall featured in the 1970s television series Fantasy Island, may be found here.
8. Koki Beach, Maui
Once again, after seeing a new color scheme, white sand seems overdone. This beach on Maui's eastern beaches, Koki, has a peculiar dark red tint that will make you forget about the charms of its powder-white peers.
9. Sharks Cove, Oahu
Cove located off the North Shore of Oahu begs to be explored by the adventurous people. In calmer waters, the bay is a popular destination for snorkelers eager to see the sea life and rock formations under the surface.
10. Nāpali Coast State Wilderness Park, Kauai
You'll discover cliffs that rise hundreds of feet above the ocean and tight gorges that seem like they belong in Jurassic Park on Kauai's northern beaches. Take on the 11-mile Kalalau Trail, which winds through the park before terminating at Kalalau Beach if you're feeling ambitious.
11. Kaunolu Village, Lanai
Beautiful sea cliff vistas and Kahekili's Leap, an ancient Hawaiian test of courage and devotion, may be found in the southern part of Lanai. National Historic Landmark status protects the site, which was formerly home to an ancient fishing community.
12. Akaka Falls
The park's magnificent cascade earned Akaka Falls State Park its name, and it's a must-see on Hawaii's Big Island. A half-mile stroll through the lush forest will bring you face-to-face with the waterfall's 442-foot cliff face. You'll also pass the 100-foot-tall Kahuna Falls on the way.
13. Wiliwilinui Ridge Trail, Oahu
If you want to see some of Hawaii's most breathtaking sights, you have to put in a little more effort. The 4.5-mile Wiliwilinui Ridge Trail offers spectacular vistas for those who are ready to put in the effort. Honolulu is on the left, Waimanalo is on the right, and Konahuanui, Oahu's tallest mountain, is straight ahead from the summit.
14. Kalaupapa National Historical Park, Molokai
Beautiful vistas at Kalaupapa National Historical Park are accompanied by a terrible and fascinating past. Those who got leprosy in the late 1800s were transferred to the remote Kalaupapa peninsula on the north coast of Molokai.
As a result of its significance and the breathtaking vistas it offers, Kalaupapa is regarded as one of Hawaii's most revered and attractive tourist attractions.
15. Big Island's Pepeekeo Scenic Drive
One of the most beautiful drives on the Big Island may be found here. It's a bummer that you'll have to turn around at the 2018 lava flow roadblock, but it's just another incentive to visit! Beautiful beachfront homes and quaint bridges and cascades are among the many other sights you'll come across while exploring the forest on this drive.
16. Mauna Kea, Island of Hawaii
Peaking at 4,207.3 m (13,803 ft) above sea level, Mauna Kea is a giant dormant volcano and the highest point in Hawaii. If you start at the visitor center, it will take around 8 hours (for a round trip) to climb this volcano. Though it can be dangerous in bad weather, it is relatively easy to reach the peak.
While the volcano does not have any visible craters, you may be able to notice cinder and pumice cones near the summit if you look closely.
17. Rainbow Falls, Hilo
Just a short distance from the town of Hilo on the main island, Rainbow Falls is a wide waterfall famous for the rainbow colors that shine through on sunny days. The waterfall is located in the Wailuku River State Park, and it takes around 5 hours to hike to the waterfall and back.
All of these locations are best-looking spots that are worth watching. So, make sure to include them as your travel destinations when you are in Hawaii.