The Midwest state of Iowa is a really beautiful area to visit. It is bordered by the Mississippi River to the east and the Missouri River to the west. It is home to charming rural towns and villages, some of which exhibit significant Dutch, German, and Scandinavian culture and tradition.
Some magnificent natural tourism destinations, like the glittering Iowa Great Lakes and well-known state parks, accentuate the region's lovely scenery.
So, check out our list of the best places to visit in Iowa.
1. Pikes Peak State Park
Pikes Peak State Park is situated in the northeast of the state, close to the border with Wisconsin, where the Mississippi and Wisconsin rivers converge. It is a well-liked destination in Iowa that will enthrall nature lovers and outdoor enthusiasts with its breathtaking scenery and exceptional natural beauty.
It was established in 1936 and is called for the peak that towers over the state park. Visitors can take in breathtaking views of the Mississippi River from its lofty peak, with lush forests and untamed waters extending as far as the eye can reach.
There are several fantastic hiking paths and lovely, isolated campsites tucked away among the park's varied topography and nature. Visitors can meander through its lush forests and tranquil valleys, with the sparkling Bridal Veil Falls being one of its most appealing and photogenic attractions.
2. Madison County
The picturesque countryside of Madison County is located about 30 miles (50 kilometers) southwest of Des Moines. Long a peaceful but picturesque backwater, it gained notoriety with the wonderful 1995 movie The Bridges of Madison County, which was based on the same-named book.
Today, tourists swarm to its lush countryside and fields, cruise along its charming country lanes, and stop at idyllic towns and villages like St. Charles and Winterset. Its beautiful and unusual covered bridges—six of which still exist—are without a doubt the highlight. Madison County is known for its beautiful and ancient wooden bridges, but it also has some excellent wineries and breweries.
All types of outdoor recreation are perfectly suited to the area's mild slopes and picturesque scenery, with hiking and cycling amid the parks and farms enjoying special popularity.
3. Crystal Lake Cave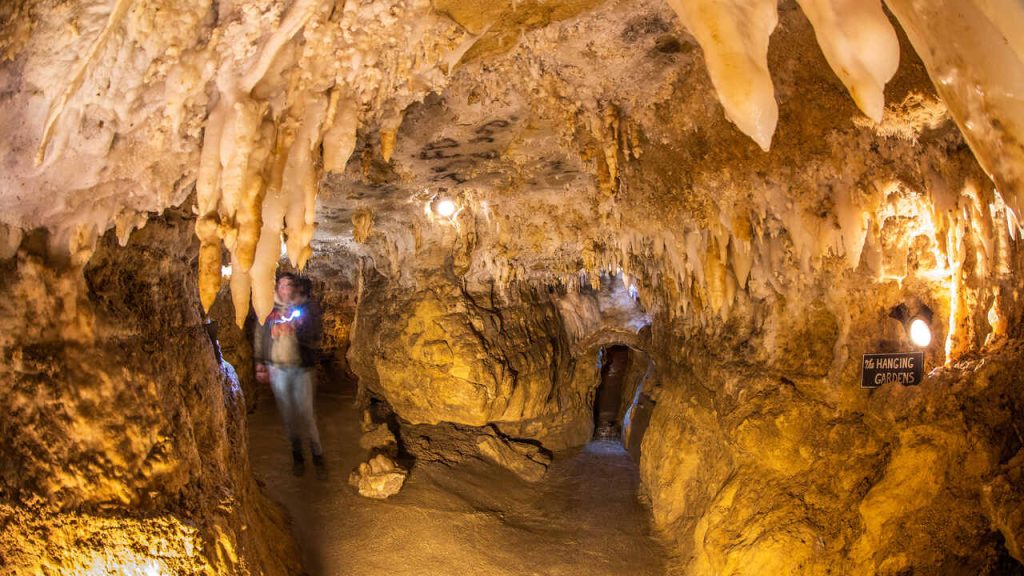 One of the most stunning sites to visit in Iowa is without a doubt Crystal Lake Cave, which located five miles south of Dubuque. This magnificent cave system, which its organizers refer to as a Matchless Wonder, is home to exquisite stalagmites, uncommon anthodites, and helictites. The Crystal Lake Cave complex also has its own gift shop, and the outdoor pavilion there is ideal for picnics.
Take a look at these stunning landmarks in Iowa.
4. Mary Pappajohn Sculpture Park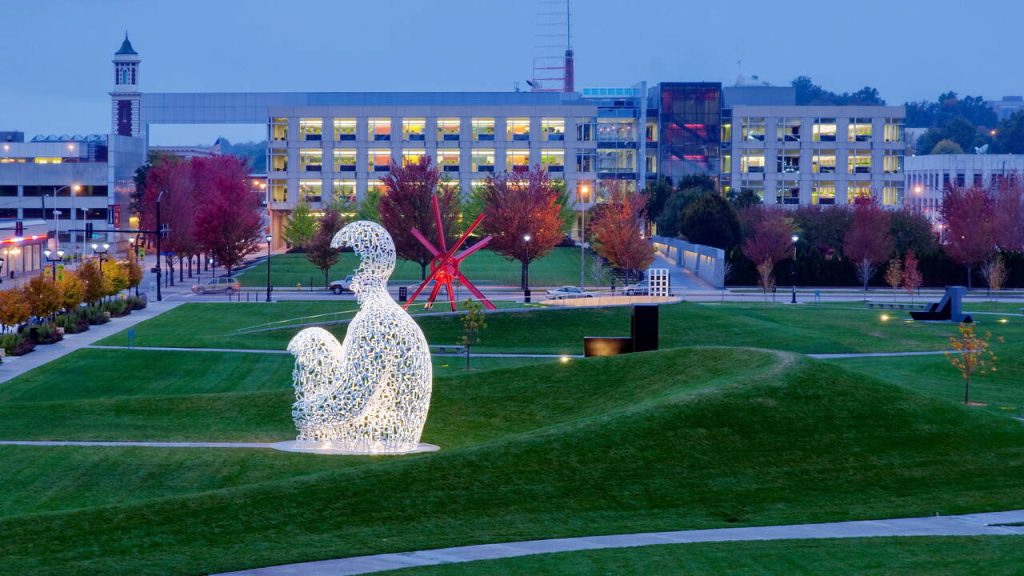 The John and Mary Pappajohn Sculpture Park in Des Moines is another of Iowa's top tourist destinations. The John and Mary Pappajohn Sculpture Park is one of the best locations of its sort in the entire nation, featuring more than 20 sculptures by well-known artists.
The 4.4 acre park is open from daylight to midnight during city park hours, and from April through October, guided tours of the sculptures are offered. Except for Scott Burton's breathtaking Seating for Eight sculpture, it is understandably forbidden to touch or climb on the sculptures.
5. Downtown Pella
Although Pella is not one of the largest towns in Iowa, the Dutch neighborhood is unquestionably one of the most picturesque sites to visit inside the state. Pella, the largest lake in Iowa, has won awards like "Tourism Community of the Year" and "Corporate Friend of Tourism," and many tourists come here to take in the breathtaking natural beauty of Lake Red Rock.
While the Sinterklaas Christmas parade and the July Dutch summer festival known as Kermis are both well worth checking out during a trip to Iowa, Tulip Time is likely the ideal time to visit Pella as this is when the Dutch community comes into its own. The Scholte House Museum and Gardens and the Pella Historical Village are two of the town's top tourist destinations.
6. Boone & Scenic Valley Railroad
The Boone & Scenic Valley Railroad, which boasts multiple locomotives and dozens of cars, must be visited as part of any vacation to Iowa. The railroad provides a unique opportunity to travel on the rails in an open-air car, and the project's organizers frequently host special events like dinner excursions.
One of the best activities in Iowa is without a doubt the most frequent journey on the Boone & Scenic Valley Railroad, which lasts around an hour and 45 minutes.
These are the best historical sites in Iowa.
7. Iowa State Capitol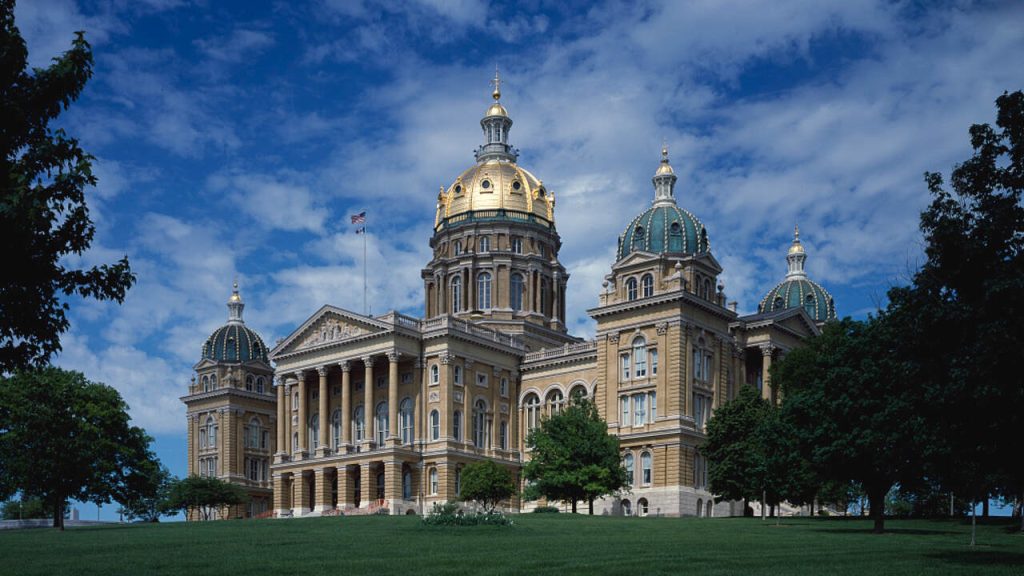 On a hill overlooking Grand Avenue, the Iowa State Capitol offers stunning views of Des Moines's city center. The Iowa House of Representatives, Iowa Supreme Court, and many of the governor's and other senior elected officials' offices are all located there. But it's much more than simply the city's gold-domed emblem; it serves as a window into Iowa's past.
The State Capitol is not only the hub of most of Iowa's administration, but it is also a striking example of architectural and design prowess. You can take a self-guided sightseeing tour of it to discover the various historical items and intriguing Iowa exhibits that are also included.
8. Maquoketa Caves State Park
Maquoketa Caves State Park offers a glimpse into the world below your feet for an uncommon natural side of Iowa. Numerous above-ground hiking routes in this well-liked state park explore cliffs, wooded areas, and an intriguing natural wonder called Balanced Rock. But the caves are the primary attraction in this park in Eastern Iowa.
The Dancehall Cave is a lit cave with high ceilings and a passageway for people who become claustrophobic. More than a dozen other caves that require a torch to explore and perhaps a change of clothes are also accessible through Maquoketa Caves State Park for people who don't mind cramming themselves into small spaces. For RVs and tents, the park has a sizable campsite set up.
9. The National Czech & Slovak Museum
The National Czech & Slovak Museum and Library in Cedar Rapids is a large institute dedicated to sharing the stories and culture of Czech & Slovak people. It also strives to help the public better understand their own freedoms and how history has led to our present point as a society.
The National Czech & Slovak Museum and Library meets these goals through its permanent exhibits, educational traveling displays, and plenty of special events for the whole family.
10. Okoboji
The Iowa Great Lakes are a collection of beautiful natural lakes located in the state's northwest and are frequently referred to as Okoboji. The resort area is particularly well-liked and offers a wide variety of outdoor recreational activities because of the breathtaking scenery and shorelines. The Big Spirit, West, and East Okoboji lakes, which cover a considerable area, are surrounded by lovely beaches and picturesque coves, with relaxed communities tucked here and there.
The biggest of these is Arnolds Park, which hosts a magnificent amusement park with entertaining rides and activities as well as restaurants and resorts on the shores of the lakes.
11. Effigy Mounds National Monument
The Effigy Mounds National Monument is one of Iowa's most mysterious and captivating views, and it can be found next to the Mississippi River and Yellow River. More than 200 magnificent prehistoric burial mounds, lovely woods, and expansive river valleys can all be found here. These incredible earthworks were created by Native Americans over a thousand years ago, and many of them are mounded in the form of animals like birds, mammals, and reptiles.
These ancient burial places are revered and connected to many tribes and ethnic groups. The largest and most significant of them all is the Great Bear Mound, which is 42 meters long.
12. Mississippi River
One of the most stunning natural landmarks in the United States is the Mississippi River, and Keokuk, Iowa, is one of the greatest spots to view it. One of the most stunning ways to traverse Iowa's 300-mile-long border with the Mississippi River is the Keokuk-Hamilton Bridge.
The Mississippi River offers excellent fishing opportunities for Iowans, and Keokuk itself is home to a yearly reenactment of the American Civil War as well as tourist hotspots including the Keokuk Veteran's Memorial, the Miller House Museum, and the George M. Verity River Museum.
13. Des Moines
Des Moines, the state's capitol and largest city, is also the location of several of Iowa's most well-known tourist destinations. The Capitol Building is a must-see sight for anybody interested in beautiful architecture, but the Iowa State Fairgrounds is undoubtedly the best place to spend a day in Des Moines.
Additionally worthwhile stops include the Greater Des Moines Botanical Garden, Pappajohn Sculpture Park, and Blank Park Zoo. Another attraction in Des Moines to add to your list of must-visit locations is the State of Iowa Historical Museum.
14. Snake Alley
Snake Alley in Burlington is without a doubt one of the strangest sites to see in Iowa. Ripley's Believe It or Not once named it the "world's most crooked road." In order to preserve its distinct vintage atmosphere, Snake Alley, which has seven twists across 275 feet, is illuminated by imitation Victorian lampposts.
The lane, which was built over a century ago as a shortcut to Burlington's business district, is now best recognized as an oddly gorgeous tourist destination.
15. Decorah
The little, quaint town of Decorah is located in the northeast of Iowa. It is known for having a strong Scandinavian ancestry and is surrounded by beautiful environment, including several parks and the Upper Iowa River. Numerous Norwegian families moved to Decorah after it was created in 1840, founding the expansive and prestigious Luther College, which continues to play a significant role in the community's life today.
Visitors can browse the vast collection of artifacts and folk art at the Vesterheim Norwegian-American Museum to learn more about the settlement's intriguing past. Additionally, the town holds Nordic Fest, an annual festival honoring Scandinavian traditions and cultures.
16. Sergeant Floyd Monument
Located in Sioux City, Sergeant Floyd Monument is a remarkable landmark to honor Charles Floyd. Soaring 100 feet tall, this monument pays tribute to Floyd, who lost his life on the journey westward in 1804. He was buried in this spot and later, this monument became the first National Historic Landmark registered in the US. gazing at the massive obelisk, this place is worth the visit.
17.  Women's Achievement Bridge
Not only a magnificent landmark, Women's Achievement Bridge is also a vital connection between east and West Des Moiness. This bridge was opened in 2010 and is a spot to celebrate and commemorate the achievements of women of the state.
There is a lot to see and do all over the state. The Madison County Bridges, movie locations, and river museums are just a few of the cultural wonders worth visiting. Two more Iowa attractions are a vast network of caves and old German settlements.