Iowa is not a state that only offers exotic and exciting destinations. This state offers a wide array of destination options for you to have an unforgettable memory.
Some hidden gems of Iowa are the views of the Mississippi River, terrain range, ecosystems, rural towns, eclectic cities and farming communities.
To discover the amazing destinations of this bountiful state, check out this list of the most famous landmarks in Iowa.
1. Iowa State Capitol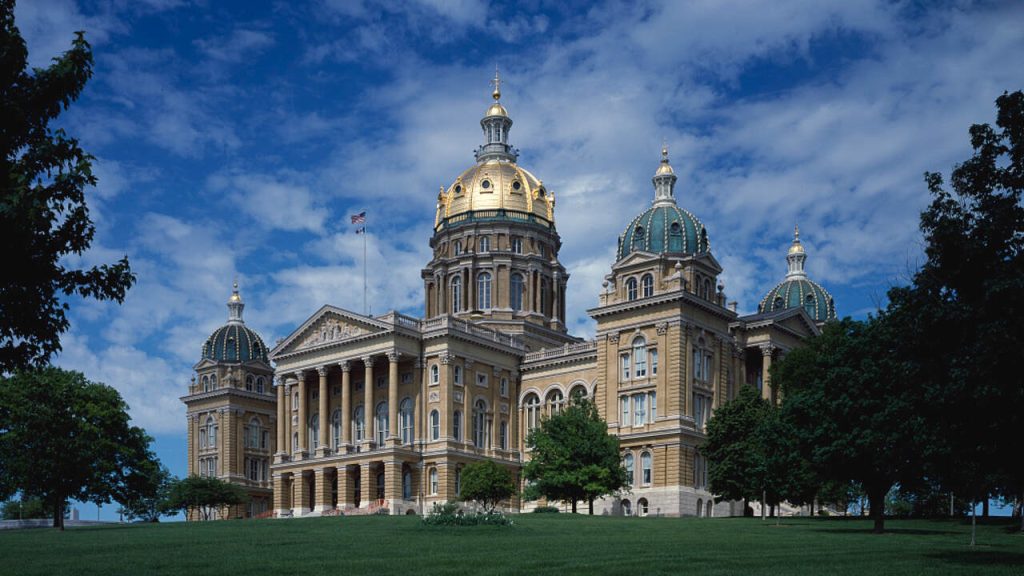 A majestic landmark in Des Moines is the State Capitol building. It is one of the grandest capitol buildings in the USA. This stunning golden-domed structure seats the government of the state. It is one of the most visited landmarks in Des Moines.
Visitors can enjoy the commanding views of downtown Des Moines from the stairs of the building. Public tours are allowed, and you can explore the architecture and design of this grand building.
2. Women's Achievement Bridge
Not only a magnificent landmark, Women's Achievement Bridge is also a vital connection between east and West Des Moiness. This bridge was opened in 2010 and is a spot to celebrate and commemorate the achievements of women of the state.
This bridge is meant to acknowledge and inspire women and their contributions. With its two pathways, you can cycle or choose the other one to enjoy a relaxing walk.
3. Columbus Junction Swinging Bridge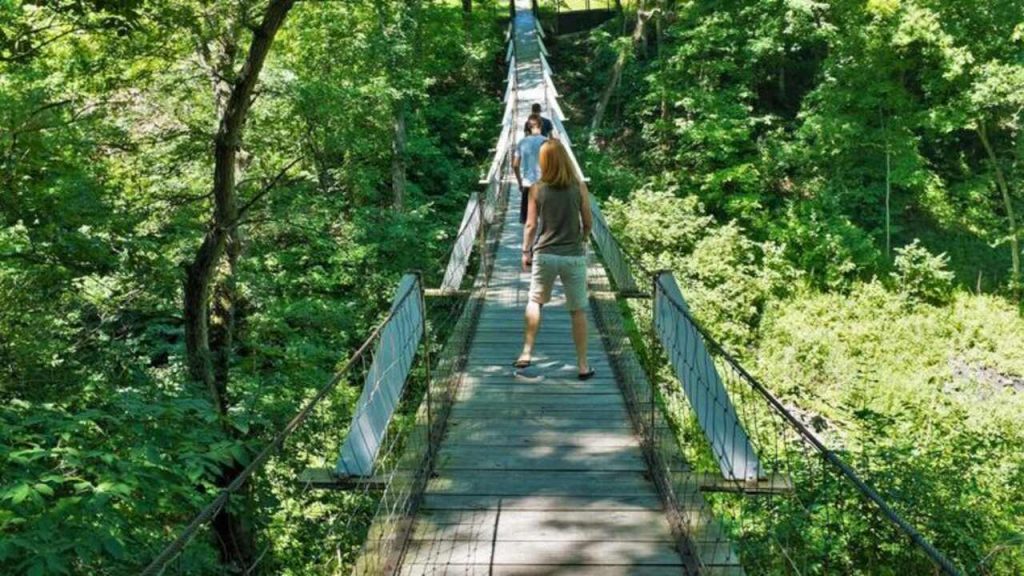 Columbus Junction Swinging Bridge is an eight-story tall, swaying wooden bridge. It is surrounded by lush trees and the top view from the bridge is not for the faintest hearts. Steeping below, the view gives a vibe of lore and mystery. There are few legendary and spooky tales about this bridge, but it is also a favorite spot for nature lovers to walk and view the stunning views.
These are the most well-known historical sites in Iowa.
4. Effigy Mounds National Monument
Want to visit one of the major historic landmarks of the state? Your go-to place can be Effigy Mounds National Monument. It has been a sacred area over centuries for the Native Monuments.
For history bluffs, this landmark offers natural beauty as well as rich history. This monument offers a glimpse into the enigmatic and ancient society of Iowa.
5. Pikes Peak State Park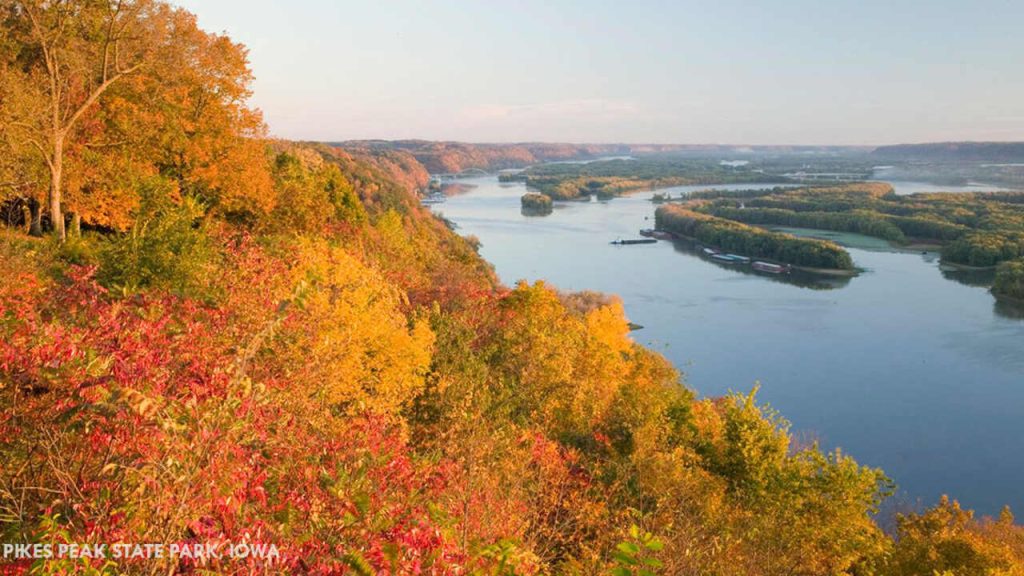 Pikes Peak State Park is one of the most gorgeous vistas of Iowa. This park offers 11.5-miles of hiking trails. It also offers stunning views overlooking the Wisconsin Rivers and Mississippi Rivers from the height of a 500-foot bluff.
With innumerable highlights, this park promises an unforgettable experience for nature enthusiasts. Apart from hiking, for outdoor excursions, this park offers excellent views and camping sites.
6. Okoboji Lakes
With an area of over 15000 acres of glacier-carved lake, Okoboji Lakes is one of a kind. For water sports enthusiasts, this landmark is the best option in the state. You can try boating, parasailing, boating, kayaking and more. In the area, there are also golf courses, camping grounds, picnic facilities, an amusement park and more for you to explore and enjoy.
Check out these incredible mountains in Iowa.
7. Sergeant Floyd Monument
Located in Sioux City, Sergeant Floyd Monument is a remarkable landmark to honor Charles Floyd. Soaring 100 feet tall, this monument pays tribute to Floyd, who lost his life on the journey westward in 1804. He was buried in this spot and later, this monument became the first National Historic Landmark registered in the US. gazing at the massive obelisk, this place is worth the visit.
8. Amana Colonies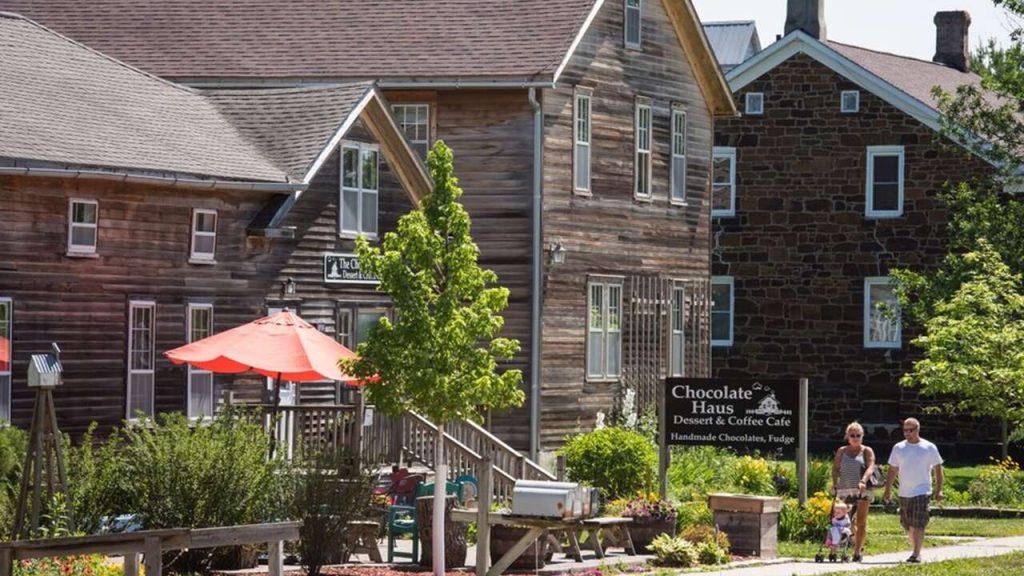 listed as a National Historical Landmark, the Amana Colonies of Eastern Iowa is a fantastic landmark. Comprised of 7 villages, this spot takes you back to the past of the mid-19th century. You can view the communal lifestyle of that time and explore the historical structures. With its scenic surroundings, this spot preserves the local establishments for visitors.
9. Des Moines Art Center
Since 1948, The Des Moines Art Center has offered amazing photography, sculpture and paintings. For art lovers, this center is a notable landmark with its stunning exhibition. Entry is free, and you can view the huge collection of sculptures. The eye-catching artworks of the center are worth multiple visits.
10. Crystal Lake Cave
Discovered in 1868, Crystal Lake Cave features large arrays of crystals. The cave continually evolves because of the water streams that erode the soft limestone formations. It is an appalling landmark which makes you ponder about the wonders of nature. The cave tours range from 30 to 45 minutes' exploration time. You can view the stalagmites and stalactites of the past inside this cave.
11. University of Iowa Campus
Right in Iowa City, The University of Iowa has become a significant cultural backbone of the city. It was founded in 1847, and this huge campus sits on the shore of the Iowa River. Overlooking the beautiful views of the river, you can explore the community attractions as well. The campus is also home to Writers' Workshop, which is the best writers' workshop in the country.
12. Grotto of the Redemption
Located in West Bend, The Grotto of the Redemption is a unique landmark on the list. It consists of nine separate grottos that were built from precious stones and gems. This impressive structure was handcrafted by a local pastor along with a few other helping hands. Open to the public, this landmark establishes the struggle and accomplishment of a man who took his lifetime to create it.
13. Farm House Museum, Ames
The Farm House, the original structure at Iowa State Agricultural College and Model Farm in Ames, was constructed in 1860. A look into the lives of the university's first two presidents and over 6,000 items of Victorian ornamental art and antique furniture are provided by these exhibits.
Iowa is not a state which you can pass through without visiting its amazing landmarks. For travelers, this state has lots to offer. So when you think of 'where should i go?', remember to read this land and plan your incredible journey.