With endless summer weather comes endless opportunities for summer activities: swimming, surfing, hiking, and perhaps my favorite, which is camping trips. Now camping in Hawaii is a little different from your traditional forest camping.
From campgrounds nestled along the coast to campsites tucked away deep in the rainforest and accessible only via hiking trail, these twelve campsites are sure to provide a sense of adventure.
With so much diversity, you're bound to find the ideal campgrounds in Hawaii for your family.
1. Malaekahana State Recreation Area, Oahu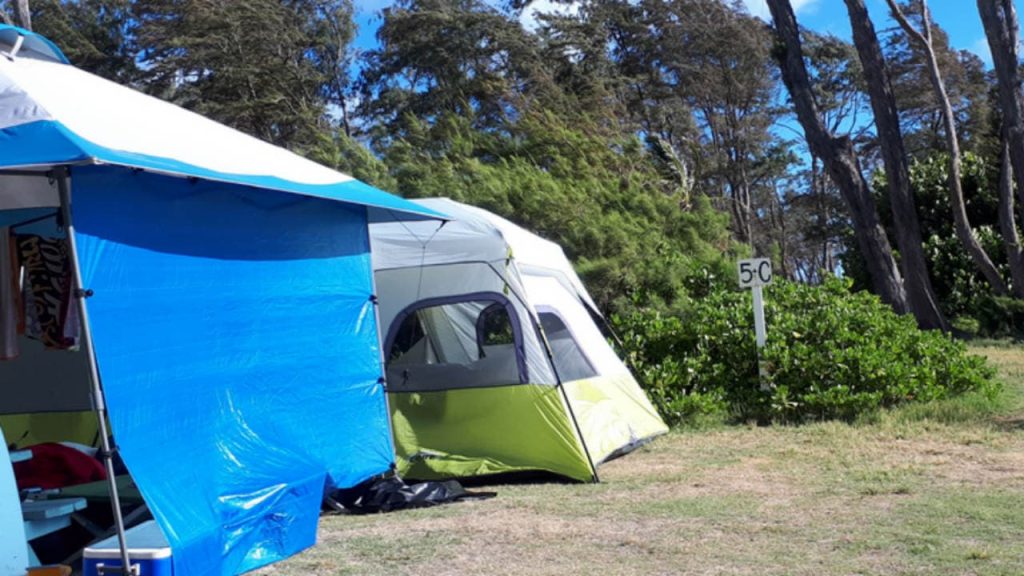 Malaekahana is only five minutes away from Oahu's famed North Shore, where some of the best surfing opportunities in the world can be found. The campground is a great place to get away from the hustle and bustle of Oahu, despite its popularity on the weekends.
These shorelines are rich with beautiful sights. At low tide, you can enjoy a leisurely stroll out to Goat Island, surf the outer reef, and watch the sun rise over the horizon.
Indoor showers, a grassy field, campsites with picnic tables, hammock trees, dishwashing sinks, and barbecues are just some of the amenities that campers can enjoy here.
2. Anini Beach Park Campground, Kauai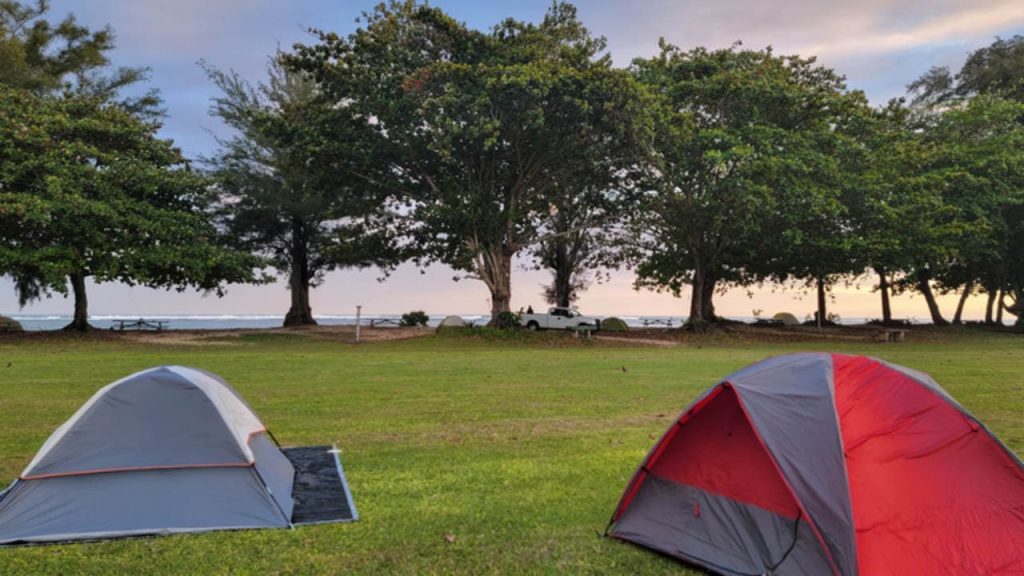 Anini is a popular tourist and local camping area. It's also a nice place to relax and explore Kauai. Anini's beaches and ocean are pink. Long and sandy, the beach is great for early morning strolls as the sun rises over the mountains. The tranquil inner reef is a great place to snorkel, but you'll need a board or floaty to remain afloat.
Anini has two grassy fields, shaded outdoor showers, clean (by Hawaii standards) bathrooms, a dishwashing basin, and other amenities. As long as you camp here, it doesn't matter where, but if you arrive on Wednesday at noon, you might snag a spot under the trees by the water.
3. Kalalau Beach, Kauai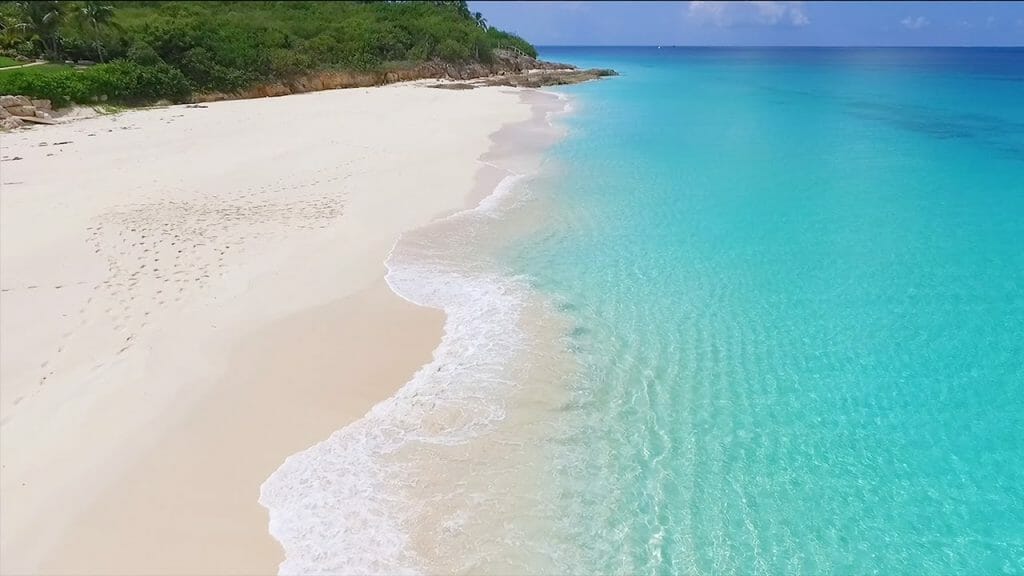 Kalalau Beach is Hawaii's one of the best camping spots and also the most remote area. By walking from your tent site under the treeline to the water's edge in Kalalau, you can see why the Na Pali Coast is so famous. There's also a waterfall which falls on the west side of the beach. Getting a camping permit here is difficult. So you need to make reservations months in advance.
Check out these extreme ziplines in Hawaii.
4. Bellows Field Beach Park, Oahu
Bellows campground gives campers the feeling of being on their own island. Due to its popularity amongst residents, it is not quite remote, yet at the same time it is pleasant and quiet.
Each of the approved campsites at this campground comes with its own picnic table. There are also plenty of perfect hammock trees at this campground.
If boredom sets in, Bellows is a good starting place for excursions to Oahu's eastern shores. You can go cliff jumping at China Walls, hiking up Lanikai Pillbox or around Kailua, surfing at Makapu'u point or the sandy beach next door, exploring coastal vistas like Makapu'u Lookout, and much more.
5. Spencer Beach Park, Hawaii Island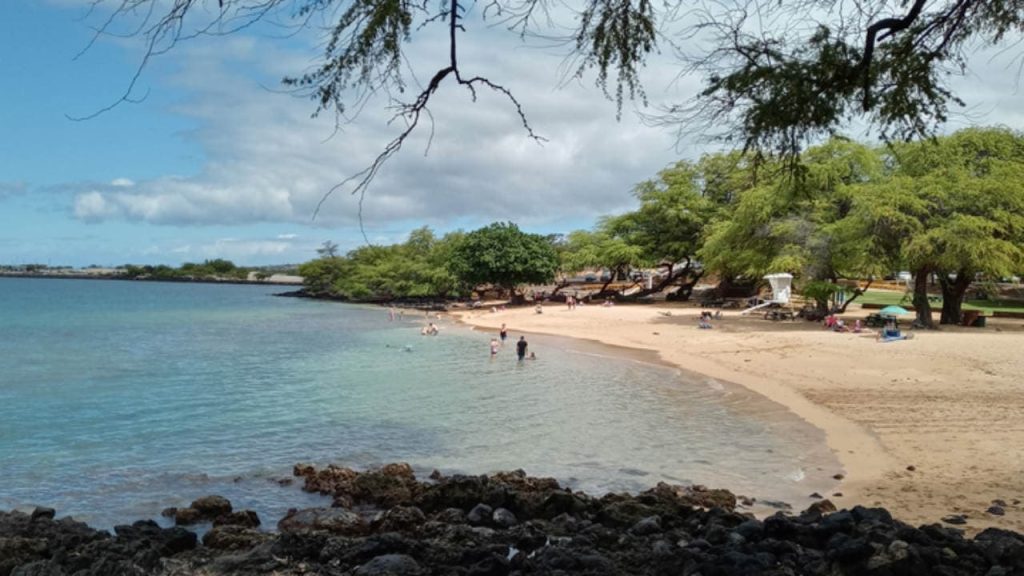 When it comes to camping in Hawaii, there is no better option than Spencer Beach. One of the best beaches on the Big Island, it has all the amenities you could want.
These beachfront properties aren't green, but they nevertheless have a sense of seclusion. There is a spacious shelter with picnic tables at the south end of the beach, next to the tent field. Sanitary restrooms and sinks for washing dishes are also provided.
Shortly beyond the grassy field is a golden cove beach with large trees providing shade and another grassy field, perfect for early morning yoga. When the tide is out, the ocean is calm and shallow, making it ideal for snorkeling. Stargazing is also another popular activity at Spencer Beach.
6. Waianapanapa State Campground, Maui
To reach Waianapanapa Campground, also known for its black sand beach, you'll need to detour away from the Road to Hana for a distance of two miles. Waianapanapa is an excellent place to spend the night and do so as one of the best ways to see one of Maui's most beautiful beaches is from a tent.
There are a lot of fun things to do at this campground. You can glimpse the dark sand and turquoise sea of the ocean by strolling down the concrete road that hugs the coast. Jump from rock-to-rock to see what's out there.
Take a look at these amazing hiking trails in Hawaii.
7. Punalu'u Black Sand Beach, Hawaii Island
Though the high elevation craters and rain forests of Hawaii Volcanoes NP are only 15 minutes away by car, the southeast shore's environment feels like two were combined.
Black sand and boulders contrast with the green palm trees that line the coast, which is surrounded by volcanic activity. Camping on a grassy bluff to the south of the beach is a nice place to unwind and enjoy the scenery.
7. Kohanaiki Beach
Kohanaiki, also known as Pine Trees Surf Park, is a prominent Big Island surf break and a favorite camping spot. The white sand beach is beautiful, and the lime green trees and blue waves give a great contrast. However, if you want to stay overnight, you need to have permission beforehand.
8. Hosmer Grove Campground, Maui
Seeing the sun rising over Haleakala is a once-in-a-lifetime experience that should be on everyone's list of must-dos. An overnight backpacking trip in the world's highest mountains is the best possible adventure.
Only ten minutes away from Haleakala's summit is the free Hosmer Grove campground, which is where I suggest you stay. You may sleep in and not have to get up at the crack of dawn to see the sunrise from your campsite here.
9. Hapuna Beach, Hawaii Island
Hapuna Beach is the only Hawaii campground that doesn't require tents; it now has A-frame cabins. Each cabin is provided a picnic table and two long benches that four people can use comfortably. Moreover, Hapuna Beach is a beautiful, uncrowded beach with nice cabins despite inadequate amenities like sharing restrooms with all campers.
11. Polihale State Campground, Kauai
Although I have not been there myself, I am confident in its high reputation after hearing so much about it. Even though the other campgrounds on our list are stunning, Polihale is widely regarded as the most beautiful in all of Hawaii.
Located on the western side of Kauai, below Waimea Canyon, Polihale is a beautiful beachfront campground with towering cliffs and panoramic views of the Na Pali Coast. Getting to the beautiful beach requires driving on a long, rutted dirt road, which some car rental agencies won't allow their customers to do. Even though 4WD is advised, I've heard that 2WD vehicles will have no trouble.
12. Kōkeʻe State Park, Kauai
This ordinary camping spot has large grassy grounds, designated campsites, and passable facilities. If you want to observe native plants, forest birds and insects, Kōkeʻe State Park is the perfect place to do so. Take your time to explore the area using the numerous hiking trails and look forward to the magnificent views you'll be able to enjoy.
Campgrounds are fantastic places to de-stress and rest in a natural setting. And in this case, Hawaii's unique landscape is what makes its campgrounds stand out from the crowd since they offer jaw-dropping vistas of the surrounding area and a glimpse of the uncommon wildlife that lives in this area.