You really should not pass up the opportunity to go camping in Indiana; as there are several fantastic areas to go camping in Indiana, each boasting breathtaking scenery and fascinating local animals. Also, there are plenty of places for you and your loved ones to relax and take in nature, from campsites to state parks and leisure areas.
Since there are so many options, I have compiled a list of the best campgrounds in Indiana to save you some time and effort.
1. Hardin Ridge Recreation Area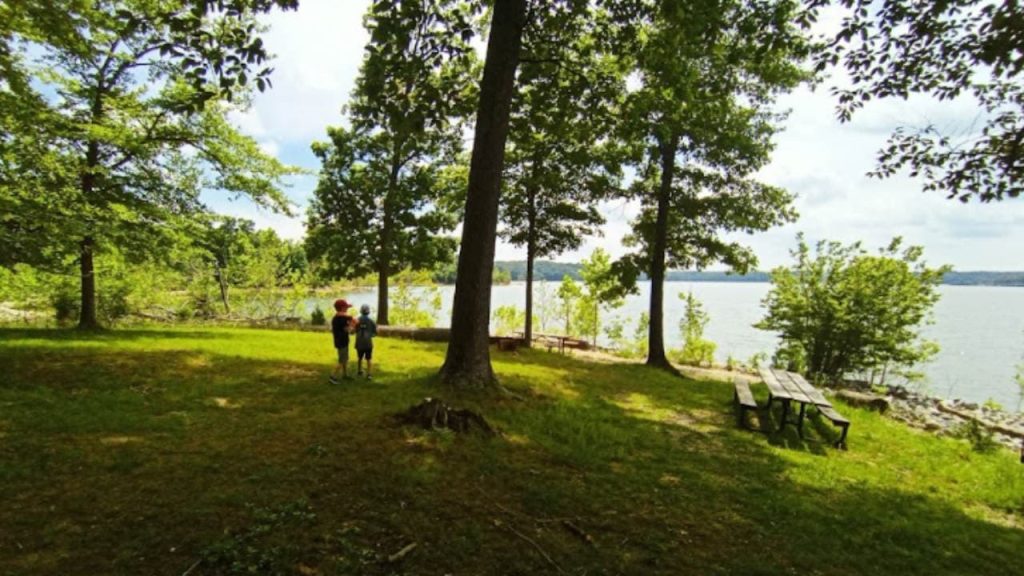 Camping enthusiasts may enjoy a wide variety of outdoor activities at the Hardin Ridge Recreation Area, which is located on the shores of Monroe Lake, Indiana's biggest lake and the best campground in Indiana.
Hardin Ridge Recreation Area's campground has two hundred big, secluded tent sites, as well as quiet, shaded RV sites. It's possible to go back to nature by staying in a tent or RV in the leisure center. If tent camping isn't your thing, many campsites also have cabin rentals available, so you won't miss out on enjoying the great outdoors.
Modern amenities, such as bathrooms, are conveniently positioned near the tents, and the campground is accessible annually from April to October. All in all, Hardin Ridge is a great area to go camping in every season and in any fashion.
2. Paynetown Campground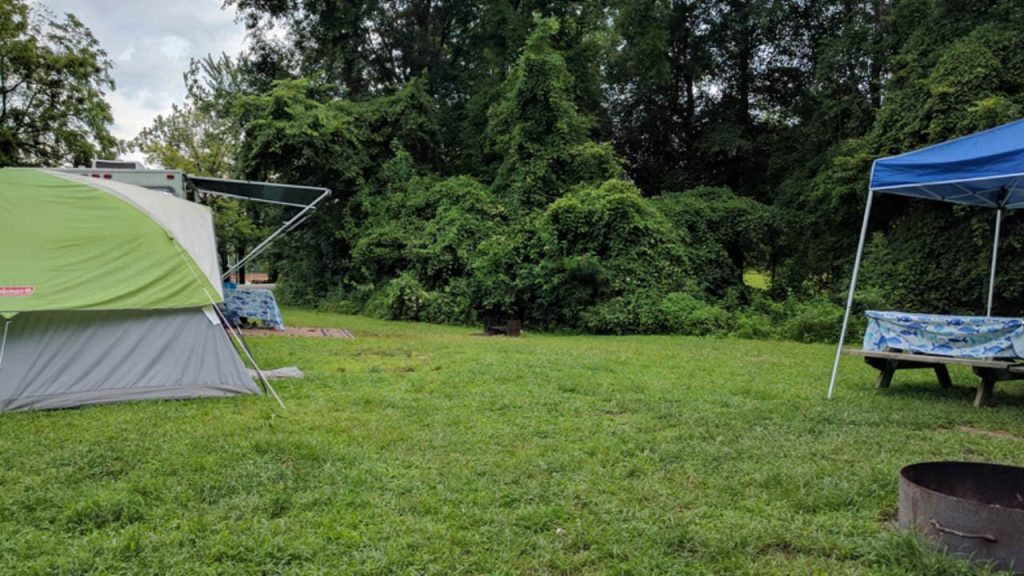 Paynetown Campground is situated on the banks of Monroe Lake and is therefore just a short distance from Bloomington and the University of Indiana campus. The campsite and neighboring leisure area are well situated for a wide variety of outdoor activities thanks to their proximity to the lake.
Birdwatching, hiking, camping, shooting, fishing, boating, children's playgrounds, a recreation center, and a wide variety of other outdoor pursuits are just some options. All the campsites have access to electricity, water, and sewage, and there are picnic tables, clean bathrooms, and hot showers available.
3. Dogwood Springs Campground
Cloverdale, Indiana is home to a seasonal RV campsite known as Dogwood Springs Campground. There are 500 acres to explore at this campsite, which is available from April through November. Visitor activities in the dense woodland around Dogwood Springs include animal watching, hiking, and fishing.
There are fifteen ponds and lakes, fresh fishing lakes, and covered, roomy RV campsites on the grounds, in addition to a guarded entry, playground, seasonal housing, dump station, and plenty of trees. The campground, Dogwood Springs, is approximately thirty miles away from Terre Haute and about thirty-five miles from the hustle and bustle of Indianapolis.
Check out the best ziplines in Indiana.
4. Hoosier National Forest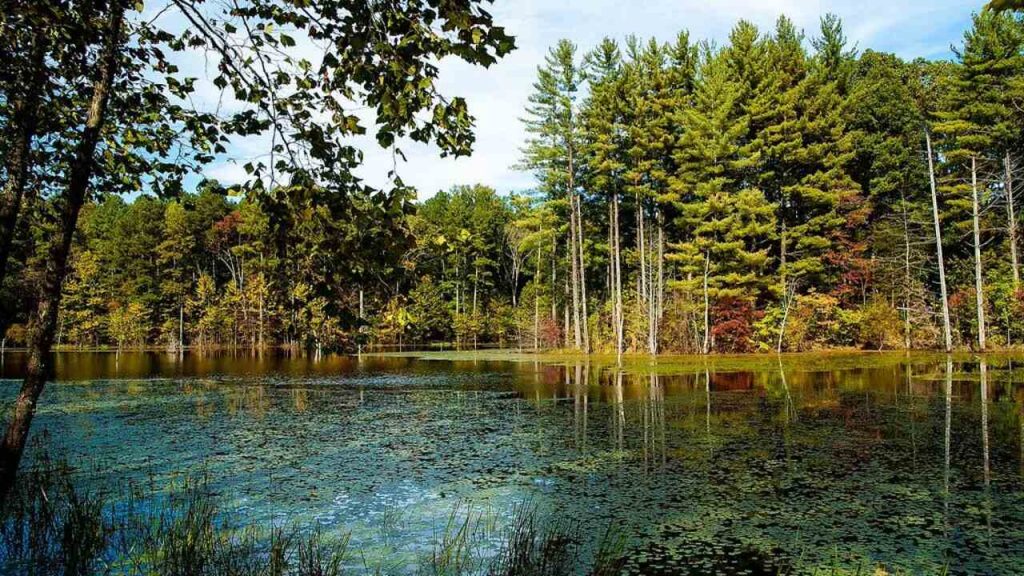 In the hills of south-central Indiana sits the Hoosier National Forest, home to a wealth of recreational options. The little but beautiful forest is a hidden treasure because of its proximity to quaint rural settlements, hiking paths, and undulating hills.
Camping isn't the only attraction, as the Hoosier National Forest is also a great place to go fishing, water-skiing, and swimming. The second-biggest lake in Indiana, Patoka Lake, is a great place to go jet skiing, swimming, and angling. Moreover, the Hemlock Cliffs, a box canyon inside the forest, are a popular attraction due to the seasonal mild waterfalls they host.
5. Lake Waveland
Lake Waveland is almost 600 acres in size and provides tourists with a wide variety of water and land-based activities, including swimming, boating, fishing, and camping. There are plenty of basic campsites at the campground, both along the lake and in the woods, and no reservations are necessary.
Both the bathrooms and the showers are brand new and state-of-the-art. The contemporary campground has 54 electric sites with water connections, a playground, a shower building, and a dump station all within walking distance of the campgrounds. Cabins may be rented right on the shore of the lake where you can enjoy the beautiful sceneries.
6. Grandpa's Farm Campground
Situated in the beautiful countryside of Eastern Indiana, Grandpa's Farm Campground & RV Park has been an integral part of the Richmond neighborhood for over fifty years. The campsite is run by a family and has a peaceful rural location, a calm river, beautiful scenery, and a wide variety of indoor and outdoor activities for campers to enjoy.
Hiking, frisbee, horseshoes, shuffleboard, basketball, volleyball, and many more sports are just a few examples which you can enjoy here. There is a heated pool, arcade games, billiards, and a leisure area available for guest use. The campground at Grandpa's Farm also has scheduled events.
Take a look at these stunning RV parks in Indiana.
7. White River Campground
The White River Campground, located on the river's western bank, is a beautiful spot for a weekend camping trip not far from Cicero, Indiana. Twenty-six scenic acres are at guests' disposal for angling, hiking, and animal observation.
There are more than a hundred campsites at the campground, ranging from rustic to contemporary and offering secluded areas for reading, boating, and fishing. Also, there are a variety of conveniences available to campers at White River Campground between the months of April and October, including a playground, picnic tables and shelters, a laundry facility, and clean bathrooms.
8. Deam Lake State Recreation Area
Camping, hunting (in permitted areas), hiking, picnicking, swimming, boating, and fishing are just a few of the many outdoor activities that may be enjoyed in the Deam Lake State Recreation Area. The lake, which is over 200 acres in size, is named for Indiana's first state forester, Charles Deam.
The campground in the park has space for little more than a hundred tents. The horseman's campground has a total of 68 campsites, 36 of which include stalls for your horses. Moreover, there are a total of sixteen cabins available for rent at Deam Lake State Recreation Area, three of which are situated in the horseman's campground.
9. Patoka Lake Campground
Outdoor enthusiasts can find a haven at the Patoka Lake Campground near Birdseye, Indiana. A total of twenty-six thousand acres is included in the property, including the lake's 8,800 acres. Nearly 500 campsites are available in the campground, 45 of which are basic, while the rest have access to electricity and asphalt pads.
The Patoka Lake Campground also has a trailer dump station, a fish cleaning facility, a camp shop, hot showers, flush toilets, water, and power. There is also the Youth Tent Camping Area, which is separated from the main campground. Patoka Lake Campground also hosts many other activities.
10. Raccoon Lake State Recreation Area
Located in Rockville, Indiana, the Raccoon Lake State Recreation Area provides a huge space for outdoor recreation and features the historic Mansfield Roller Mill.
The upper stretch of Big Racoon Creek is flanked by big rock outcrops and native vegetation, and Raccoon Lake provides lots of water leisure options. The Historic Mansfield Roller Mill, located in Mansfield, Ohio, is a flour mill from the 1880s that has been preserved nearly exactly as it was when it was built.
Camping, boating, hiking, fishing, swimming, water-skiing, animal watching, and picnics are just some of the things you may do here. Also, recreational facilities include playgrounds, horseshoe pits, volleyball courts, and basketball courts.
11. Mounds State Recreation Area
Located in Brookville, Indiana, the Mounds State Recreation Area is easily accessible from the nearby Interstate 69 East. Here you may explore eleven fascinating earthworks built by the ancient Adena-Hopewell people of Indiana.
It is estimated that the Great Mound, the biggest of the earthworks in the Mounds State Recreation Area, was constructed approximately 160 BC. Archaeological research suggests that the Adena-Hopewell utilized these remarkable mounds for religious rites. Camping, swimming, hiking, boating, and fishing are just a few of the recreational opportunities in the region.
12. Turkey Run State Park
Turkey Run State Park in Marshall, Indiana is home to numerous natural geological marvels, offering many great treks along the park's famed trails. Located along Indiana State Road 47, Turkey Run gives tourists the opportunity to take in picturesque vistas along Sugar Creek, hike through stands of ancient trees, and explore deep ravines.
There are more than 200 campsites, cabins, a camp shop, youth tent areas, the Turkey Run Inn, a trash station, an indoor pool, playgrounds, play areas, guided horseback rides, a botanical garden, fishing, and more at this state park.
This state park is also eager to accommodate your camping preferences, whether that be an RV or a tent. When there's so much to do in the area, it's not hard to see how Turkey Run could not be anything more than a perfect camping spot.
Preparing for a vacation to Indiana? Camping is a wonderful pastime there, whether you're visiting for a holiday or calling the area home, so make sure to try out these best campgrounds in Indiana.