The contemporary game of golf has been around since the 15th century, when it was first played in Scotland. Even in the United States, there is no shortage of world-class golfing options.
But playing golf in Arizona in the summer is a once-in-a-lifetime opportunity. Though Arizona may not be recognized for having many golf courses, you'll want to make a trip there as soon as you discover about its most well-kept secret.
Here, let's have a look at our list of the top golf courses in Arizona.
1. Copper Canyon Golf Club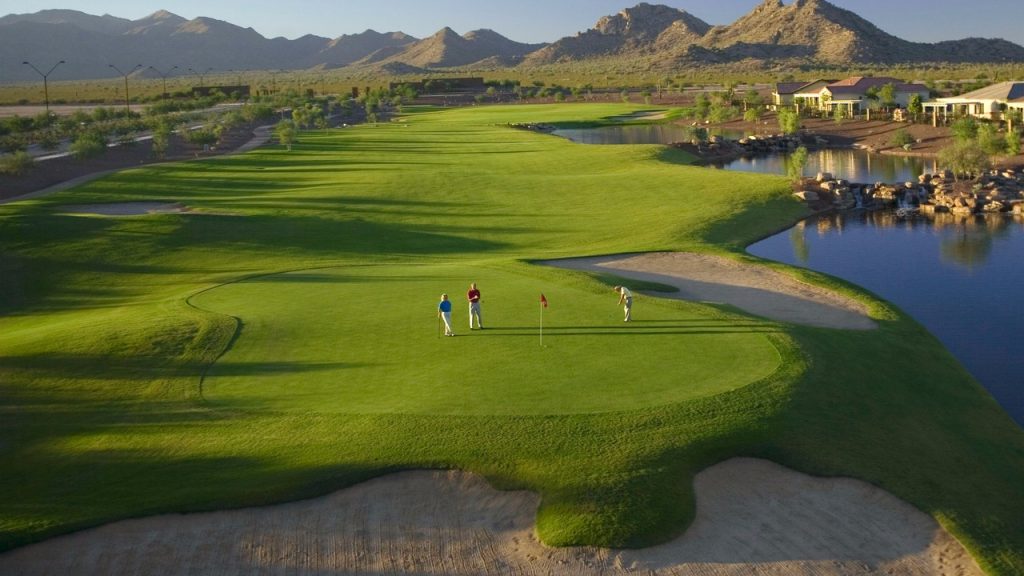 The course at Copper Canyon Golf Club is deceptively exclusive in that although the club has prestige and a luxurious atmosphere, there are some reasonably priced tee times. The layout features an interesting mix of holes that offer panoramic views of the White Tank Mountains to the south. The large, undulating greens that are framed by generous fairways are the trademark of the course.
Water hazards come into play on a few holes and there are also sand bunkers situated throughout. This golf course offers four sets of tee boxes. Copper Canyon Golf Club has extensive practice facilities for golfers to use as well, including a full length driving range with several target greens, a large practice putting green, and a short game area with a bunker.
2. We-Ko-Pa Golf Club
Located just east of Scottsdale and Fountain Hills, the course is located on land that will never be used for residential or commercial development, yielding dramatic views of the Sonoran Desert and the surrounding mountains.
We-Ko-Pa Golf Club is a daily fee golf facility that consists of the original 18 holes, the Cholla Course, designed by Scott Miller and a second 18 holes, the Saguaro Course, designed by Bill Coore and Ben Crenshaw, which opened Saturday, December 16, 2006.
In addition to the two 18-hole courses, there is a large practice facility and a full service clubhouse. We-Ko-Pa Golf Club has been developed and is owned by the Fort McDowell Yavapai Nation and is operated by EF Golf and OB Sports Golf Management.
3. Quintero Golf Club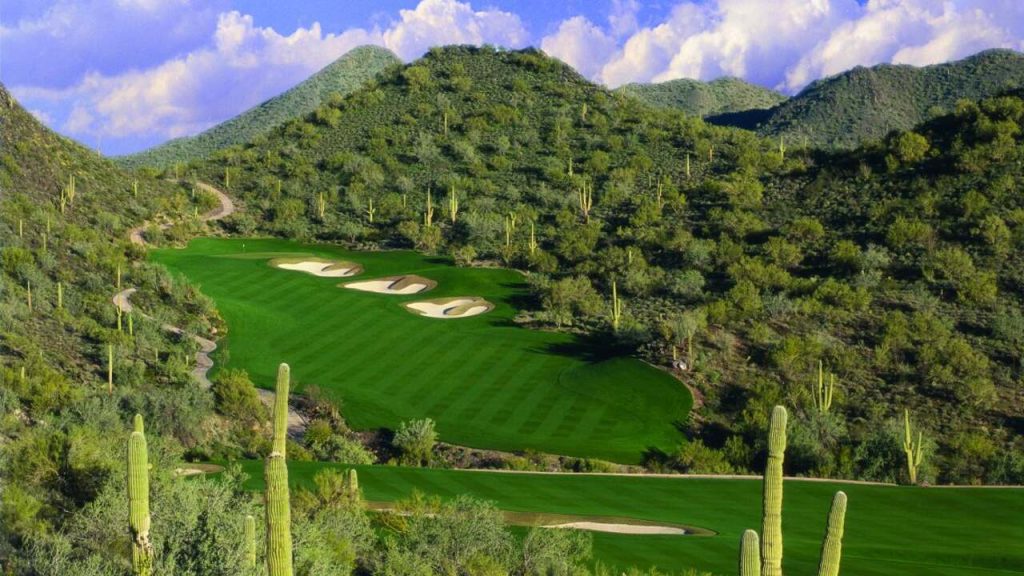 Quintero has won numerous awards, and has earned its place among the most stunning landscapes created by Rees Jones.
Measuring 7,190 yards from the championship tees and playing to a par 72, the Rees Jones course is certain to test any golfer. Yet, with as many as nine tees per hole, it's also accessible to players of all skill levels. Dramatic elevation changes enhance the thrill of this desert golf masterpiece.
Visit the restaurant after your game, a family-oriented restaurant housed in a timber-framed clubhouse that is open during the summer months. It delivers amazing gourmet meals with a breathtaking vista to match.
Check out these stunning Golf Resorts in Arizona.
4. Wickenburg Ranch Golf & Social Club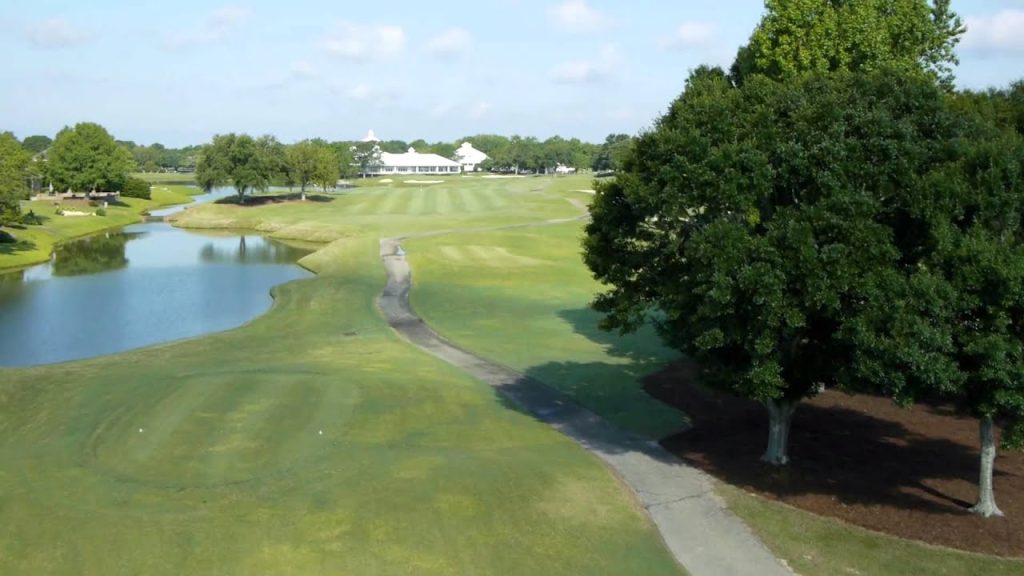 Wickenburg Ranch Golf & Social Club is a world-class course with a total length of 7059 yards that is ideal for all golf aficionados. It features a par-71, 18-hole course with a driving range open 24 hours a day. Active duty military, retired military, and Department of Defense-authorized civilians are all granted special advantages.
FlingGolf is open to people who do not normally play golf. FlingGolf is a rapid game that involves throwing the ball with a FlingStick for distance and placing the ball on the green as quickly as possible. You won't need to bring anything because the Chena Bend Pro Shop provides everything you need, including clubs, apparel, gloves, golf balls, and other accessories.
5. Forest Highlands Golf Club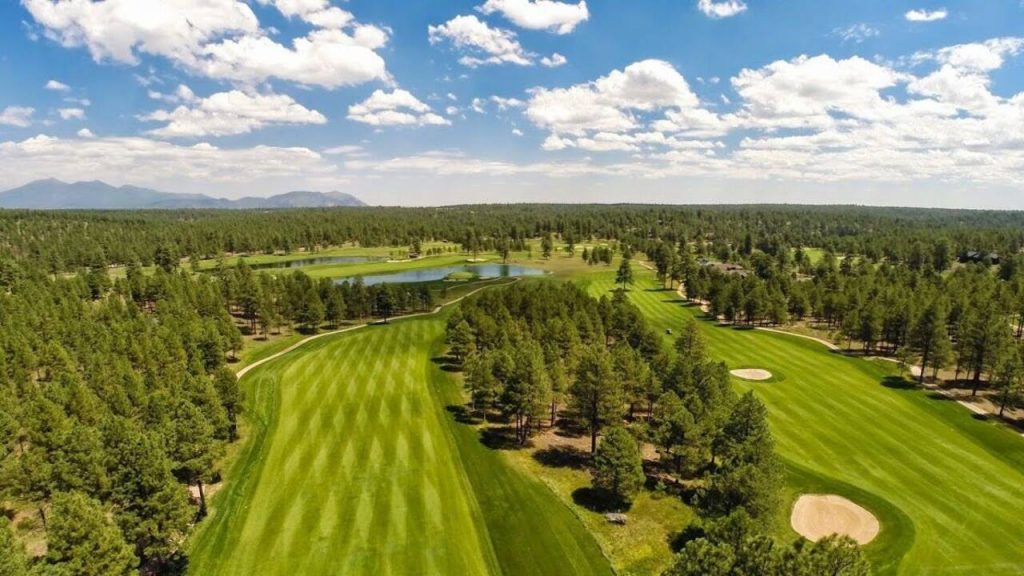 It has three par 5s over 600 yards long and a par 4 measuring 478 yards, but the Canyon Course at Forest Highlands still plays shorter than its listed yardage. That's due in part to its elevation at 7,000 feet and partly because it has six par 3s, a strong collection spaced every other hole from the fourth through 14th.
Both nines are routed along mountain ridges, with holes edged by stately ponderosa pines. The ninth is especially scenic, as it drops an escarpment into a narrow stream valley to a double green it shares with the 18th hole.
6. Whisper Rock Golf Club (Upper)
Whisper Rock's Upper Course was intended, as the club's second 18, to specifically test its low-handicap and PGA Tour pro membership, but Tom Fazio couldn't resist being a crowd-pleaser, so although he designed 18 holes with demanding angles to diagonal fairways from the back tees, his landing areas for average golfers are generous and most greens are cradled with ample chipping areas.
All players enjoy the scenic beauty of this patch of Sonoran Desert, with the front nine holes framed by dry washes and a four-hole stretch on the back woven through astonishing towers of balanced granite boulders.
Take a look at these stunning wedding venues in Arizona.
7. AK-Chin Southern Dunes Golf Club
Stretching over 320 acres in the southwest area, Ak-Chin Southern Dunes Golf Club (previously known as Royal Dunes) transforms mostly flat terrain into a challenging course that uses practically twice the amount of land as a standard course. The course incorporates superb landscaping featuring towering mounds and hollow valleys for an interesting and scenic game.
This desert golf course has wide fairways and generous landing areas. The dunes-style layout requires precision from tee to green. The difficulty of the golf course lies within the deep, strategically placed sand bunkers, multi-tiered greens, and native grass roughs. AK-Chin Southern Dunes Golf Club provides adequate challenge for players of any skill level.
8. The Stone Canyon Club
The Stone Canyon Club, which climbs the slopes of the Tortolita Mountains north of Tucson, is considered the consummate desert design of the late golf architect Jay Morrish. Restricted by Arizona law to 90 acres of grass, Morrish's routing demands forced carries over barrancas off several tees, but not into any green.
Artful contouring mimics the ebb and flow of the rugged terrain, bunkers seem spun by nature and the glorious scenery, which includes the Catalina Mountains at the east end of the Sonoran Desert, is spiked with Saguaro cactus. Ancient granite boulders and outcroppings don't just frame holes, but play an integral part in many design strategies.
9. The Stadium Course at TPC Scottsdale
Designed by Jay Morrish and Tom Weiskopf, The Stadium Course at TPC Scottsdale was purpose-built to host the PGA Tour's Phoenix Open, and it has done so since 1987. Designed with high drama in mind, the venue is well known as one of the most exciting and fan-friendly courses in golf, which includes a thrilling finishing stretch that begins with the risk-reward 15th hole.
The course plays to over 7,200 yards from the tournament tees, but golfers who play the course during their Arizona golf vacation will find the layout has more forgiving fairways than many other area desert courses. The TPC experience includes one of the most encompassing practice areas in the destination, as well as a grand clubhouse that includes the Toro Restaurant and Rum Bar. TPC Scottsdale is also home to the Champions Course, which plays out of a separate facility nearby.
10. Whisper Rock Golf Club (Lower)
Phil Mickelson wanted his course design debut to be something different from the typical Scottsdale desert layout, so he had some fairways recessed into the landscape to create elevation change, kept tee boxes flush with the ground and built mostly long, narrow greens edged by chipping hollows. Mickelson calls them "Pinehurst greens." Bunkers are surprisingly shallow and fairways are uniformly wide, because he dislikes holes that bottleneck down for big hitters.
There's plenty of grass in which to play, and a surprising number of trees on the layout, including Palo Verde, juniper and mesquite. Phil considers his design to be a second-shot course, "and we don't have the same second shot two times in a row," he says. One second shot, on the par-5 third, must contend with a "ha ha wall," a three-foot-high ledge of stacked rock that edges the putting surface. That's definitely different from anything in Scottsdale.
11. Quintero Golf Club
Although the desert course at Quintero Golf Club is difficult, it welcomes golfers of all skill levels and handicaps thanks to its up to nine tees per hole. The huge elevation fluctuations on the course' rolling desert landscape provide for exciting play. The layout of the golf course has both forgiving broad fairways and challenging water and bunker play.
The par-5 eighth hole is the course's toughest, due to its uphill nature and the presence of three big bunkers along the right side of the lay-up area. The third hole at Quintero Golf Club is a challenging par 4 that features a beautiful lake that can tempt golfers into playing it safe with their tee shot.
12. Catalina Course at Omni Tucson National Golf Resort & Spa
The Catalina Course is one of two golf courses at Omni Tucson National Resort. It is more well known than its sister course, the Sonoran, since it is both the original layout, and it has been hosted to over 30 PGA Tour events over the years. The Catalina Course is a traditional parkland layout while the Sonoran offers true desert golf, as its name would imply.
The challenging design incorporates eight sparkling lakes and a total of 80 bunkers strategically placed throughout. The 18th is touted as one of the finest and most demanding finishing holes on the PGA Tour. This tricky par 4 leaves little room for error with water along both sides of the fairway; it also requires a blind tee shot to a well-protected, elevated green.
13. Whirlwind Golf Club – The Cattail Course
Whirlwind Golf Club features 36 holes across 242 acres. Wild horses and native beasts roam the landscape – so don't let them drag you away. While just 12 miles from the metropolis of Phoenix, Whirlwind Golf Club's Cattail Course takes golfers to a secluded and scenic environment, where desert tranquility and beauty is a silent playing partner throughout.
Gary Panks designed the courses at Whirlwind Golf Club. The par-72 Cattail measures 7,218 yards and is on Arrow Shot, a par-4 413 yarder; the South Mountain Range's canyons will guide you, but shoot straight. Things get long on Two Mesquites, the second hole, a par-5 517 yarder, which does feature Mesquites, a staple for the Gila River Indian Community, used in construction, medicine and food.
Finish up on Last Hole, a par-4 450 yarder that offers a good test to close on, as it is the course's most demanding to drive.
14. Sewailo Golf Club
Sewailo has won numerous awards, and has earned its place among the most stunning landscapes created by Notah Begay and Ty Butler.
Measuring 7,283 yards from the championship tees and playing to a par 72, the Sewailo Golf Club is certain to test any golfer. Yet, with as many as nine tees per hole, it's also accessible to players of all skill levels. Dramatic elevation changes enhance the thrill of this desert golf masterpiece.
Visit the restaurant after your game, a family-oriented restaurant housed in a timber-framed clubhouse that is open during the summer months. It delivers amazing gourmet meals with a breathtaking vista to match.
15. Wickenburg Ranch Golf Club
The Wickenburg Ranch Golf & Social Club opened in early February 2015 and has created quite a statement for a course built in the middle of some of Arizona's stunning Sonoran Desert topography.
They have a beautiful 18-hole championship course built into the hills to the north of Wickenburg, as well as a temporary clubhouse with a golf shop, a small neighborhood market, and a patio where you can relax with a cold drink before or after your round while taking in the breathtaking views of the High Desert.
16. La Paloma Country Club
The beautiful 250-acre Westin La Paloma resort is home to this 27-hole Jack Nicklaus Signature golf course, which is popular with both experienced players and novices. Winding its way through dramatic canyons and desert foothills, the LaPaloma course is a singular challenge to players at every level of skill and experience.
There are few places like Arizona to play golf that will provide you with a truly unique and hard round of golf. Golfers have a limited amount of time to give it their best, but when that time is accompanied by breathtaking views, the potential to see animals, and the ability to play until nearly midnight, you know this is an opportunity not to be missed.