The contemporary game of golf has been around since the 15th century, when it was first played in Scotland. Even in the United States, there is no shortage of world-class golfing options. But playing golf in Alaska in the summer is a once-in-a-lifetime opportunity.
Though Alaska may not be recognized for having many golf courses, you'll want to make a trip there as soon as you discover about its most well-kept secret.
Let's have a look at our list of the top golf courses in Alaska.
1. Anchorage Golf Course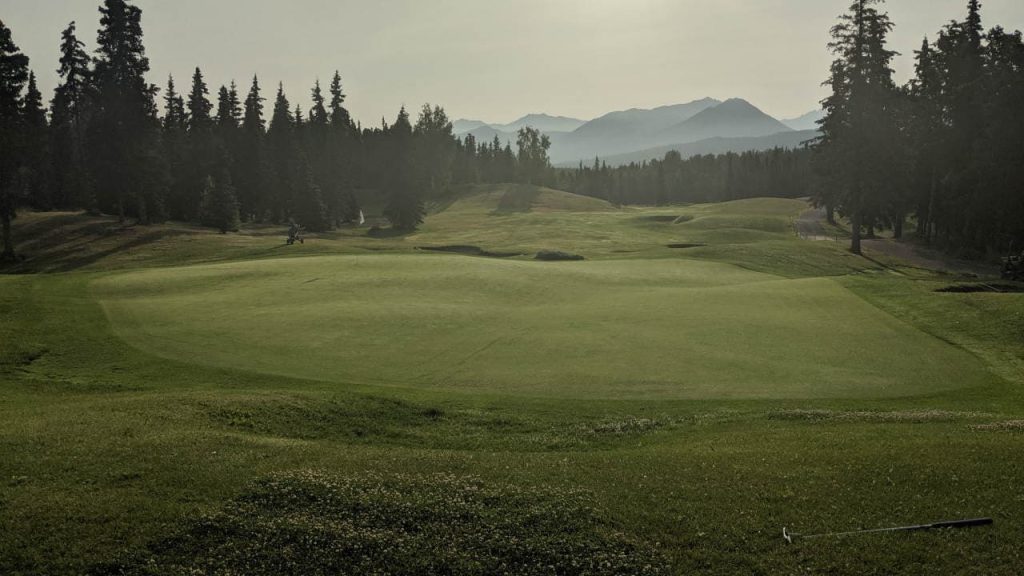 The Anchorage Golf Course is a great place to play a round of golf if you're visiting Alaska's most populated city. You'll be able to take in the stunning views of Anchorage from this hilltop location. The course's 6,600-yard (6,035-meter) layout is both hard and picturesque.
On a clear day, you'll be able to see Denali, North America's tallest mountain. Because the sun never sets in the summer, you'll have the opportunity to play as early as 5 a.m. and as late as 2 a.m.
There's also O'Malley's, a bar and Pro Shop, which are located in the same building. Summer is a brief time of year, so plan beforehand if you want to come here!
2. Moose Run Golf Course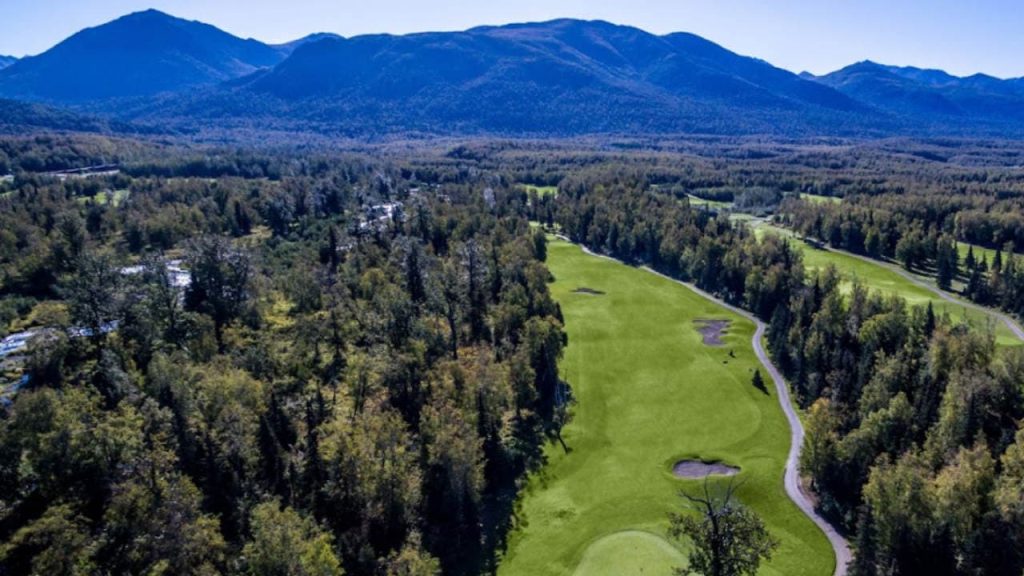 Moose Run Golf Course, the northernmost 36-hole golf facility in the United States, is widely regarded as one of Alaska's finest. Ship Creek meanders through and around the holes of the Creek Course while the Hill Course is built on walking gentle hills.
At the base of the Chugach Mountains, you'll be able to take in stunning vistas from both courses. Native animals like the black bear, lynx, or moose may be spotted as you go towards your ball. With a big driving range, two chipping ranges with artificial turf, and three practice greens, this golf course is ideal for the beginner.
3. Settlers Bay Golf Course
Wasilla is known for hosting the largest sled dog race in North America, but golf is also a popular sport in the area. Settlers Bay Golf Course is located approximately 13 kilometers (roughly 8 miles) north of Wasilla.
Fairway Estates, Alaska's only residential golf complex, is also located within the city limits. A championship golf course with spectacular views of the Chugach Mountain Range, it is an 18-hole facility. The front nine can be difficult, while the back nine is moderate level, with a difficult 18th hole to contend with.
Visit The Albatross Restaurant after your game, a family-oriented restaurant housed in a timber-framed clubhouse that is open during the summer months. It delivers amazing gourmet meals with a breathtaking vista to match.
You might also want to check these amazing wedding venues in Alaska.
4. Chena Bend Golf Course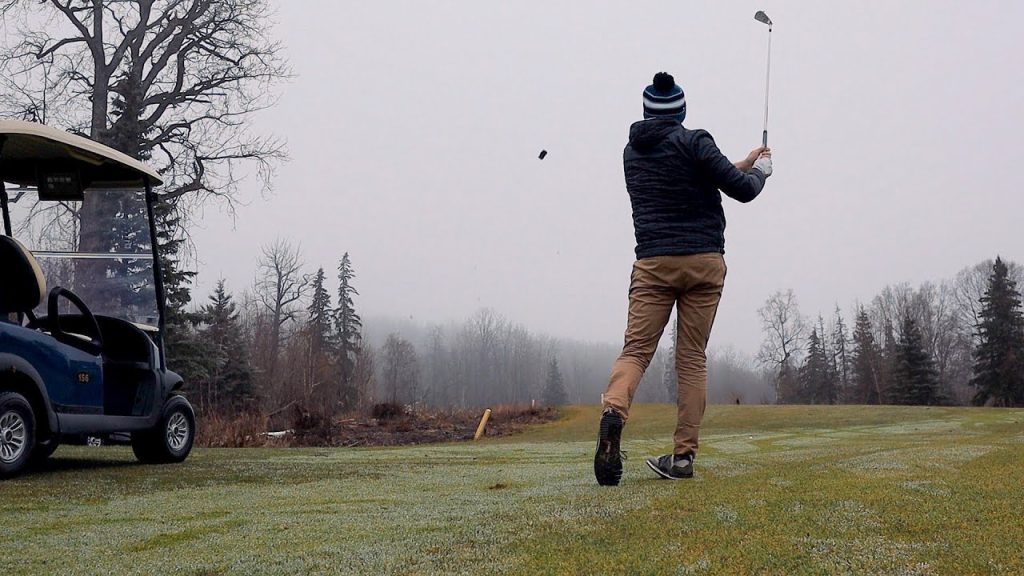 Chena Bend Golf Course is a world-class course with a total length of 6,476 yards that is ideal for all golf aficionados (5,922 meters). It is tucked away between the east end of Fort Wainwright airstrip and the Chena Bend River and features a par-72, 18-hole course with a driving range open 24 hours a day.
Active duty military, retired military, and Department of Defense-authorized civilians are all granted special advantages. FlingGolf – a rapid game that involves throwing the ball with a FlingStick for distance and placing the ball on the green as quickly as possible, is open to people who do not normally play golf.
You won't need to bring anything because the Chena Bend Pro Shop provides everything you need, including clubs, apparel, gloves, golf balls, and other accessories. When you've had a successful game, consider dining at The Turn Bar & Grille, where they provide something different from the usual fare.
5. Black Diamond Golf Course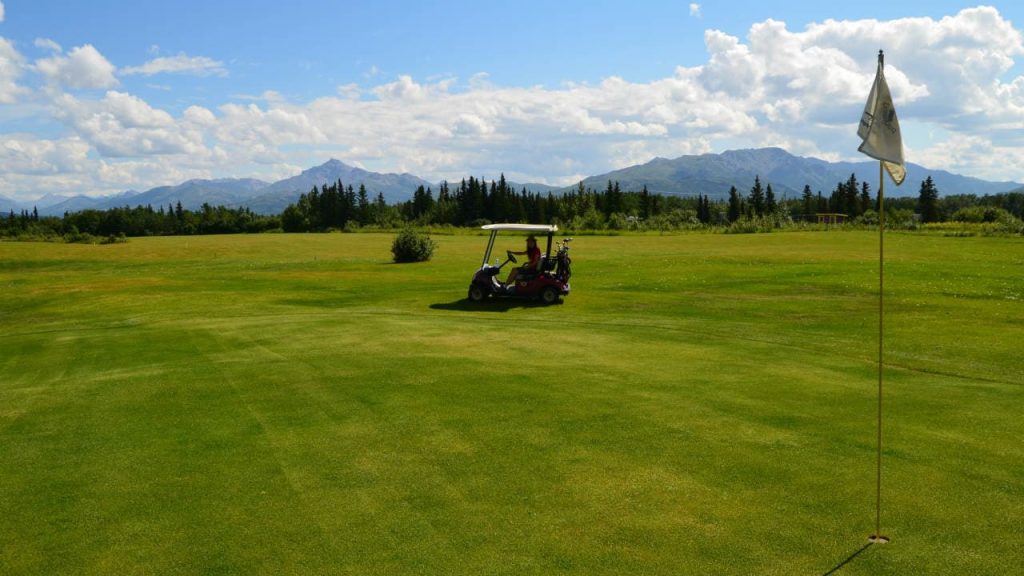 When you are golfing and there is a chance that a bear or moose will come, there is a certain level of excitement. When you play at Black Diamond Golf Course, you're right next to a hilly environment that's alive with animals.
This nine-hole course, which is built on top of the Alaskan tundra, contains little to no dirt. You'll be putting on a shaggy carpet of grass, but that's part of the fascination of playing golf in a place where the weather can be rather harsh at times. Furthermore, a mini-golf course with funny Alaskan features is available for entertainment.
Don't pass up the opportunity to play golf till the wee hours of the morning because the sun doesn't set during the height of summer. Just make sure to keep an eye out for moose trails.
6. Kenai Golf Course
Kenai is a town in Alaska's coastline region, southwest of the city of Anchorage. Golfers will be delighted to learn that the area, which is known for fishing and sandy beaches, also has a golf course that is unusually green (given that it is in Alaska).
The Kenai Golf Course is an 18-hole course that is 6,816 yards (6,232.5 meters) in length and delivers a challenge to golfers of all ability levels. As you enjoy your round of golf, keep an eye out for sandhill cranes, moose, and bald eagles, who are known to frequent this course on a regular basis.
If you are a beginner, you might consider enrolling in one of their clinics (which are available for men, women, and children) or lessons.
You might also consider visiting these top rated ski resorts in Alaska.
7. Palmer Golf Course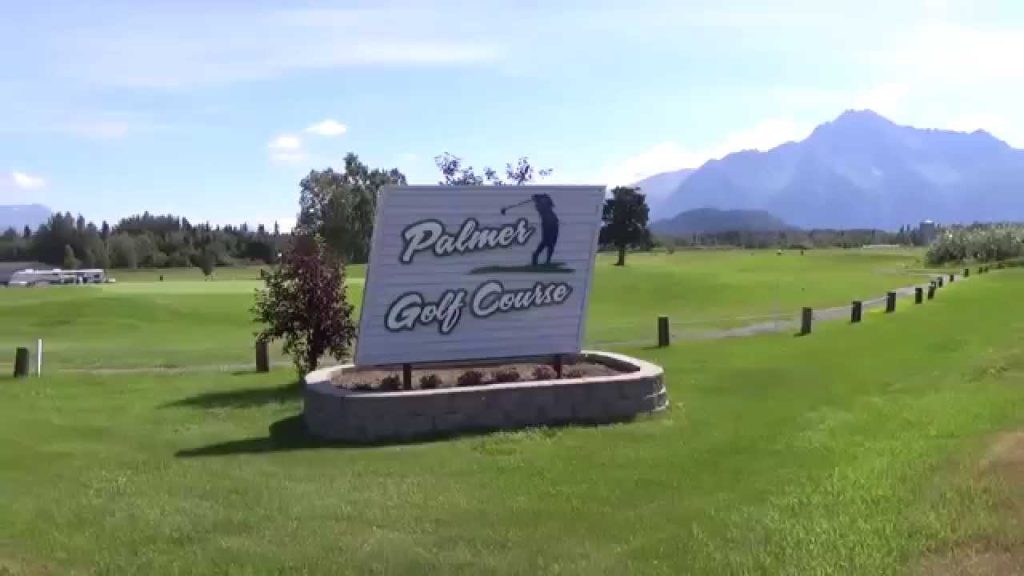 You'll fall in love with this place just like the locals do. The Palmer Golf Course is located in the middle of Mat-Su Valley, where you may swing your club while taking in the stunning views of Pioneer Peak, the Matanuska River, and the Knik Glacier.
There are four sets of tees on the 7,300-yard (6,675- meter) course, so golfers of all skill levels can enjoy it. Even though most golfers prefer to walk, they have a full fleet of power carts available. Whether you are a novice or a seasoned golfer, you will have a great time regardless of your skill level.
8. Homer Golf Course
The small community of Homer is on a broad stretch of ground that extends out from the Kenai Peninsula and is dotted with stores and art galleries. The Homer Golf Course is located in this area. Be sure to take advantage of the opportunity to play golf while you're here.
In addition to the nine holes of golf, Homer Golf Course offers unlimited daily play for a little fee. Regardless of your skill level, it's a challenge, but even if you believe it's simple, the breathtaking vistas make up for the lack of a challenge. You can also rent clubs, balls, and tees at this location.
9. Birch Ridge Golf Course
Soldotna is a town situated on the banks of the renowned Kenai River, which is renowned for its sport fishing opportunities and also for producing some of the best salmon in the world. However, do you think a round of golf may pique your interest? Golf at Birch Ridge for half price when you stay the night.
With distinct tee boxes for the front and back nines, this comprehensive 3,200-yard (2,926- meter) nine-hole golf course presents a unique challenge. Mt. Redoubt and Mt. Iliamna, two active volcanoes, will be visible from the course, so be sure to bring your camera along with your golf equipment. After a round of golf, Pat's Place is a great place to get a beer.
10. Bear Valley Golf Course
Kodiak, one of the island's seven hamlets on Alaska's south shore, serves as the island's nerve center. There are 2,805 yards of well-groomed fairways and greens at the Bear Valley Golf Course. The US Coast Guard runs the nine-hole course.
From May through September, it is open to the public. When you've reached that point, you'll be ready to take on the difficult course. Don't worry if you've never played before; the staff will gladly share their knowledge and experience to ensure you have a great time on the course regardless of the weather.
11. Sea Mountain Golf Course
Located in Sitka, Alaska, Sea Mountain Golf Course features a unique and beautiful 9-hole golf course. The course boasts amazing views of Alaska's natural beauty. Sea Mountain Golf has a covered driving range with 13 stations and a full-service pro shop with merchandise and rentals.
12. Sleepy Hollow Golf Wasilla
The nine-hole golf course in the Alaska wilderness presents players with strategic obstacles while also providing them with the scenic benefits of the area. Because of this, Sleepy Hollow is an excellent location for gamers who wish to practice their talents in a tranquil, rural setting that also has a strong sense of community. Sleepy Hollow is a wonderful place to get away from it all and have some fun thanks to the cabins that are available for rent there.
While you are at the course, don't forget to stop by the Roadhouse for a satisfying meal. In addition, anyone who are interested in renting the golf course to host events such as weddings, corporate events, birthday parties, and other types of gatherings can do so.
There are few places like Alaska to play golf that will provide you with a truly unique and hard round of golf. Golfers have a limited amount of time to give it their best, but when that time is accompanied by breathtaking views, the potential to see animals, and the ability to play until nearly midnight, you know this is an opportunity not to be missed.