It's a great time to get outside and enjoy all that nature has to offer. Hiking is one of the best ways to get some experimentation while also enjoying the natural world's beauty. Indiana is well-known for its excellent hiking opportunities.
There are trails of various lengths all through the province, making it ideal for both novice and experienced hikers. Hiking these routes allows you to see waterfalls, expansive views, and a wide variety of wildlife.
Here are some of the best hiking trails in Indiana for discovering natural beauty in a tranquil setting.
1. Indiana Dunes National Park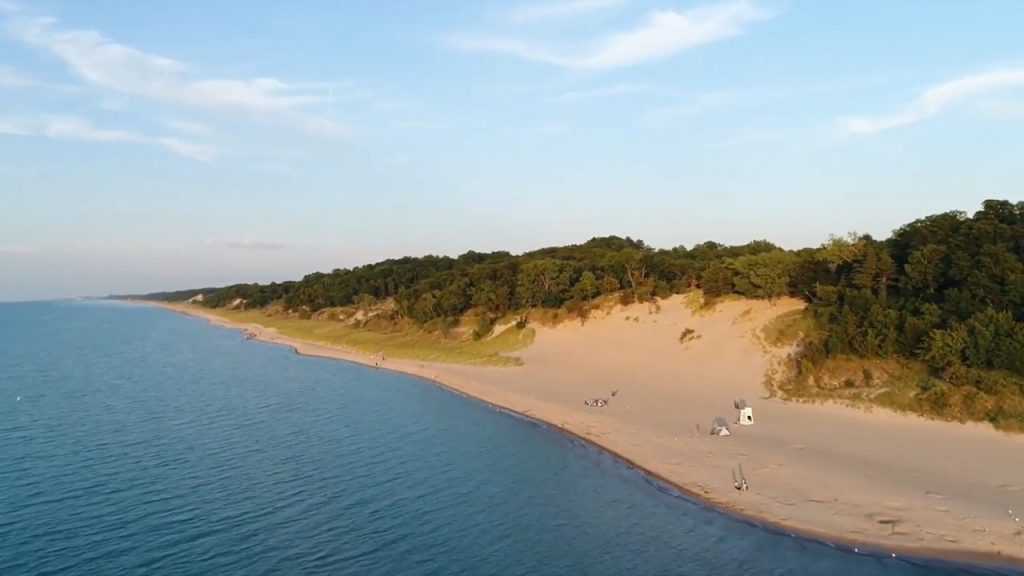 The National Park Service currently oversees Indiana Dunes National Park, a US national park that is situated in Indiana's northwest. The park covers over 15,349 acres along the lake shore and spans for about 20 miles (32 km) along the southern shore of Lake Michigan. Along with sand dunes, bogs, marshes, swamps, fens, prairies, rivers, oak savannas, and woodland woods, the park has 15 miles (24 km) of beaches.
Another feature of the park is its singing sands. In the park, more than 350 different bird species have been counted. Of all the units in the U.S. National Park System, it features one of the most diversified plant ecosystems.
In addition, there are chances for camping, 45 miles (72 km) of hiking, swimming, horseback riding, and cross-country skiing in the park. Cycling is possible on the Calumet Trail, a multipurpose path made of crushed limestone that goes through the park's eastern half and connects Beverly Shores, the Town of Pines, and Mount Baldy, a community on the outskirts of Michigan City, Indiana.
2. Hoosier National Forest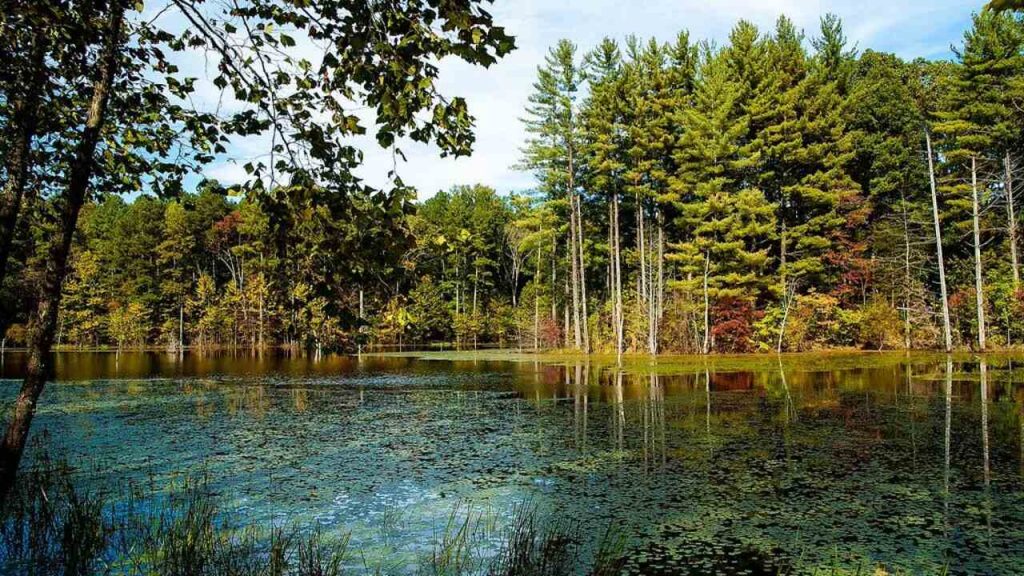 In the hills of southern Indiana, the Hoosier National Forest is a piece of land under the management of the United States Forest Service. A little known area, this shady valley offers a variety of viewing pleasures. It is made up of four distinct portions and covers 202,814 acres in total. Nearly 266 miles (428 km) of trails are included in the system, which also allows mountain biking and horseback riding in addition to hiking.
Mountain bikers must also surrender to horses, and hikers must yield to both of them. The 1.2-mile Hemlock Cliffs walk may be found in the valley of the same name, which is situated in the middle of the National Forest. The walk provides access to sandstone cliffs, periodic waterfalls, uncommon wintergreen plants, and hemlock trees.
3. Shades State Park
This state park in western Indiana has breathtaking canyons and unexpected views to offer. Start in the Hickory Parking Lot to connect several of these shorter paths. From the parking area, use Trail 7 north to reach Trail 8. Once on Trail 8, you'll appreciate trekking through Shawnee Canyon and up the creek. Return to the beginning and proceed toward Trail 1 after that.
Although swimming in Sugar Creek, which flows through the park, is not recommended, canoeing is possible. Turkey Run State Park, located about 5 miles (8.0 km) to the southwest, is another location where Sugar Creek flows. Slate and sandstone valleys, steep ravines, minor waterfalls, and other features are shared by the two parks.
Check out the best ziplines in Indiana.
4. McCormick's Creek State Park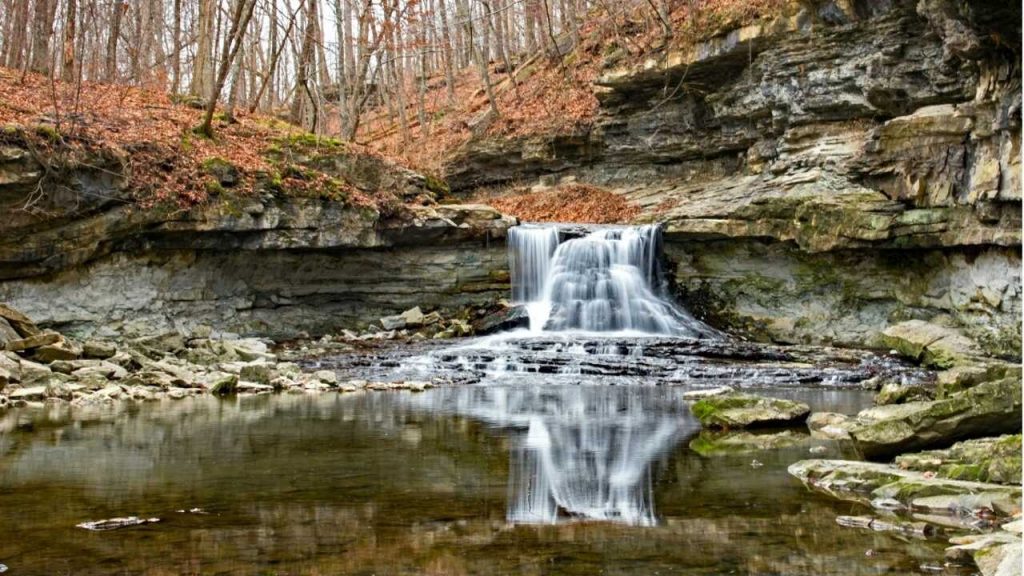 McCormick's Creek State Park was inherently a part of the celebrations for the state's centennial. Indiana's first state park was dedicated on July 4, 1916. The Park is situated in Owen County, 23 kilometers (14 miles) west of Bloomington. The park bears the name of John McCormick, who founded a settlement on 100 acres (0.40 km2) in the region in 1816.
McCormick's Creek Canyon, one of the park's principal attractions, draws roughly 640,000 visitors a year to McCormick's Creek State Park. The canyon's highest levels are about 700 feet (210 m) above sea level, and they descend to the west fork of the White River, which is about 540 feet below sea level (160 m).
Due to Indiana's relatively flat landscape, the state features few waterfalls, making McCormick's Creek Falls one of the park's main draws. A 90-foot (27 m) fire tower, a picturesque ravine and waterfall, a tiny cave, sinkhole formations, and towering stands of second-growth Midwest
5. Turkey Run State Park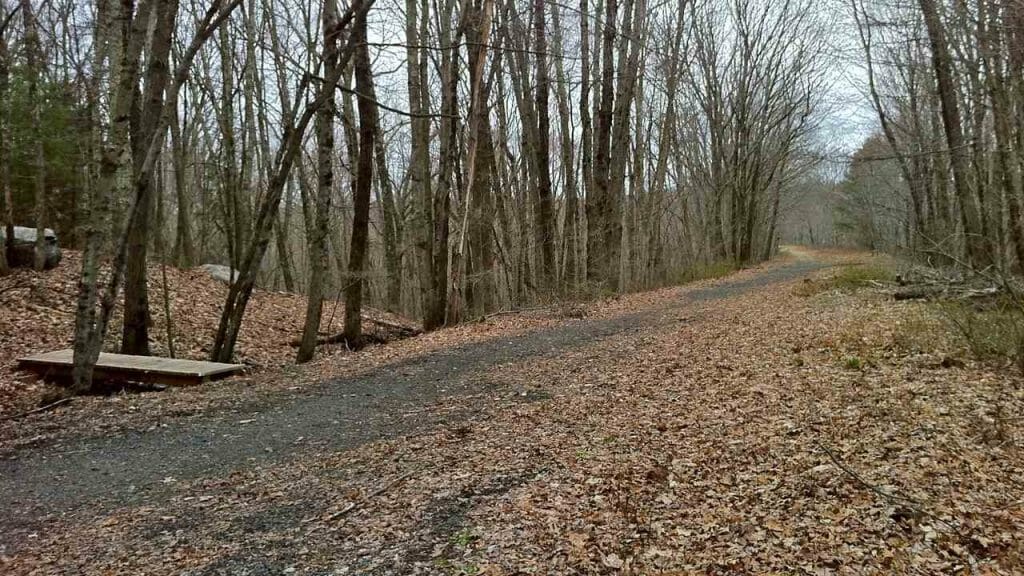 Turkey Run State Park is the second state park in Indiana, it is situated 2 miles (3.2 km) east of the U.S 41 along State Road 47 in Parke County in the state's west central region. On the paths through this park, embrace your inner child.
On a tour of the forest where a number of short trails intersect. 11 distinct Turkey Run hiking paths in the park accommodate hikers of all experience levels and skill levels in terms of distance and topography. While Hike #13 is designated as the shortest and easiest hike at only half a mile, it is also the longest, covering 3 miles of difficult terrain.
6. Brown Country State Park
The Brown Country State Park is situated in the southern portion of the state of Indiana, in the middle of the United States. With a total area of 15,776 acres (63.84 km2), the park is by far the biggest of Indiana's 24 state parks, ranking among the country's biggest. With roughly 1.2 million visitors each year, it is one among Indiana's most popular state parks.
The ground in Brown County was not sufficiently flattened by glaciers during the most recent ice ages, although glacier meltwater did deepen valleys and make hills steeper in the area. [34] At 1,058 feet (322 m) above sea level, Weed Patch Hill in Brown County State Park is the highest point nearby.
The area is a portion of the Knobs tone Escarpment, a landform made up of steep hills and valleys that is situated between northern Brown County and the Ohio River.
Take a look at these stunning RV parks in Indiana.
7. Knobs tone Trail
The longest natural surface footpath in Indiana is the 48-mile-long Knobs tone Trail. The path's unusual Knobs tone escarpment (or slope), which is visible when looking at a southern Indiana geography map, inspired its name. The trail's first length, which was only 32 miles (51 km), was built in 1980. The majority of its current 58 miles (93 km) through public woodland.
The height gain and decrease on the entire trail amount to about 20,000 feet (6,100 m) of elevation change. The path traverses three counties and is encircled by the Indiana State Forest covering around 40,000 acres (160 km2).
The length of the rough trail is broken up by severe ascents and descents. The upkeep complies with backcountry requirements. Since there are no permitted camping areas, hikers must set up camp at least one mile (1.6 km) from roads and trailheads.
8. Clifty Falls State Park
In the United States, Jefferson County, Indiana, contains the 1,416 acres (573 ha) of Cliffy Falls State Park. To the northeast of Louisville, Kentucky, it is 46 miles (74 km) away. Clifty Creek, Little Clifty Creek, and a canyon where the sun only shines in the middle of the day are all located in the park. There are several lovely nature trails there, especially those that are close to Clifty Falls.
To visit Clifty Falls, go north on Trail 2 and then take Trail 5 to descend into the canyon (warning: frequent creek crossings). As you follow the creek on your way back, continue south on Trail 2 while admiring the stunning canyon rocks and looking for fossils. After finishing Trail 2, turn back toward the north through Trails 3, 4, and 5 to reach the historic train tunnel with a captivating tale. Every year, the park draws roughly 370,000 people.
9. Potato Creek State Park
About 12 miles (19 km) southwest of South Bend, in the north-central region of the U.S. state of Indiana, is Potato Creek State Park. Fishing, hiking, camping, and mountain biking are just a few of the activities and amenities available at Potato Creek, which is open all year. Wooster Lake, a 327-acre (1.3 km2) body of water, as well as historic fields, old forests, restored grasslands, and various restored wetlands, are examples of natural ecosystems.
Native Americans engaged in hunting, fishing, and the gathering of "wild potatoes" from the banks of creeks. Old fields around Lake Wooster, a quick stroll close to marshes, or deeper woodlands are all options for walks.
Six trails for hiking range in difficulty. They are 9.2 kilometers long. A warbler or passerine may be seen flying around or relaxing on a nearby branch if you head over to Trail 4 for more than two kilometers of trekking. Trail 1 or Trail 4 both lead to Trail 2.
10. Pokagon State Park
Pokagon State Park is an Indiana state park located in the state's northeast, close to the community of Fremont and eight kilometers (five miles) north of Angola. If you want to go hiking in a beautiful area, many of Indiana's state parks are fantastic destinations. There are nine different hiking routes at Pokagon State Park, ranging in difficulty from easy to moderate.
All the trails in this state park, except fore ninth, are excellent for novices. Angola, Indiana is home to this lovely state park and all of its hiking trails. Every year, Pokagon welcomes close to 640,000 people.
11. Lawrence Creek Trail
Enter the Lawrence Creek's 7.2-km circular track that is close to Indianapolis, Indiana. It takes an average of 1 hour, 33 minutes to accomplish this route, which is typically regarded as moderately difficult.
Since mountain biking, hiking, and bird watching are all fairly popular activities in this region, you can run into other people while exploring. The Lawrence Creek Trail runs through Fort Harrison State Park and is best visited from April through September.
It is a wonderful day hike through a lovely, aromatic woodland. The trail has considerable variation and character thanks to its twists and turns and rises and dips across several ravines. This area is ideal for trail jogging, dog walking, or just getting the family outside to spend some time reconnecting with Mother Nature.
12. Buffalo Trace Trails
Buffalo Trace Trails is an Indiana hiking route that you should not miss out on. French Lick is home to several amazing trails. Both hikers and bicyclists will enjoy the 5.8-mile track that winds through the woodland. This is one of the most picturesque areas in the Midwest to spend a weekend if you want to love hiking.
The moderate difficulty of this lovely climb includes a spectacular waterfall as well. This trail in French Lick is suitable for many activities, including hiking, mountain biking, and nature excursions. Staying a few nights closer to the park will give you more time to explore and relax in the environs.
13. Coffee Creek Watershed
The Coffee Creek Watershed Conservancy, a nonprofit organization established in 1998, established the Coffee Creek Watershed Preserve as a watershed. The natural areas and associated facilities on the watershed preserve are owned and managed by the nonprofit.
Coffee Creek Watershed Preserve, which is close to Lake Michigan, has some of Indiana's most beautiful hiking paths. Three-mile circuits of trails with several links and various surface types are available. The path is excellent for photography because it has several bridges, stunning scenery, wooden boardwalks, and more.
The trails here are great for brisk hikes, leisurely strolls, and cross-country skiing in the winter. The fact that there are drinking fountains and restrooms along this Indiana trail is one of its better features.
Indiana is the perfect destination for outdoor enthusiasts seeking adventure. You can find the best hiking trail quickly and easily with our list of the finest trails. To get the most out of it, attempt several trials from the list if you can.