Colorado's national parks and monuments preserve fascinating prehistoric and archaeological sites, as well as fossil-rich areas. Many of the remarkable cliff homes, kivas, and sacred places that the Ancestral Puebloans left behind may be found in some of America's most beautiful settings.
Today, I will discuss some of my favorite national parks in Colorado that are recommended to visit at least once a year.
1. Rocky Mountain National Park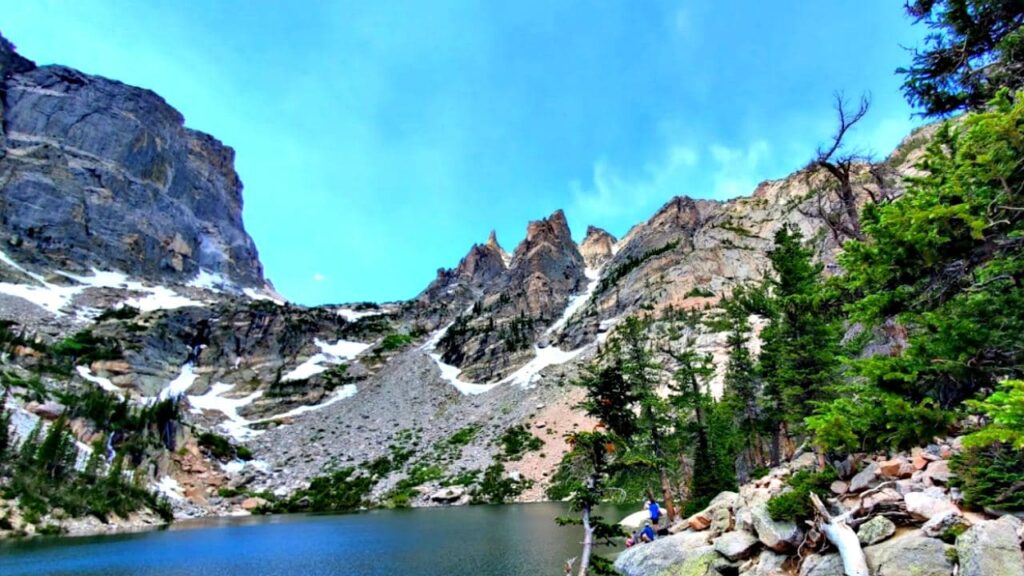 Colorado is home to various artistic panoramas, but one, in particular, shines above all; the most popular national park in Colorado, Rocky Mountain National Park. Surrounded by wilderness areas, the towering backdrop may be seen in the state's north-central portion.
Beautiful alpine lakes, floral fields, and verdant valleys encircle the park's majestic mountainous region. It's a joy to go because of the beautiful waterfalls, forests, and wildlife.
Along with driving along the beautiful Trail Ridge Road, travelers may engage in hiking, boating, mountain climbing, and snowmobiling. Despite its harsh and remote sections, comfortable campgrounds are concealed among the park's lush forested hills. If you're wondering why the place is so popular, head straight to Rocky Mountain National Park.
2. Gunnison National Park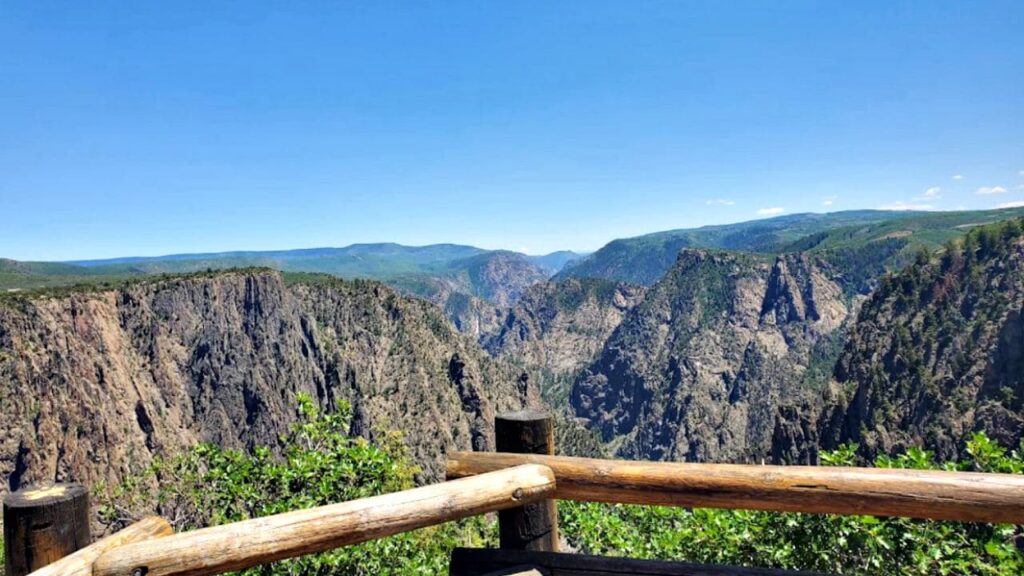 Gunnison National Park, located in the state's southwest region, has some of the state's most breathtaking views and is another top national park in Colorado. This deep, dark canyon, which lies at the meeting point of the Rocky Mountains and the rocky Colorado Plains, is very intimidating to look upon.
Outdoor activities like trekking, picnicking, and boating is particularly popular in the breathtaking Black Canyon and its surroundings. The canyon's courses and rapids, which feature some magnificent mountain climbing and kayaking, should only be attempted by experienced riders and kayakers.
It's worth going to this park at night to watch the stars at night, which makes the rocks and water seem insignificant.
3. Great Sand Dunes National Park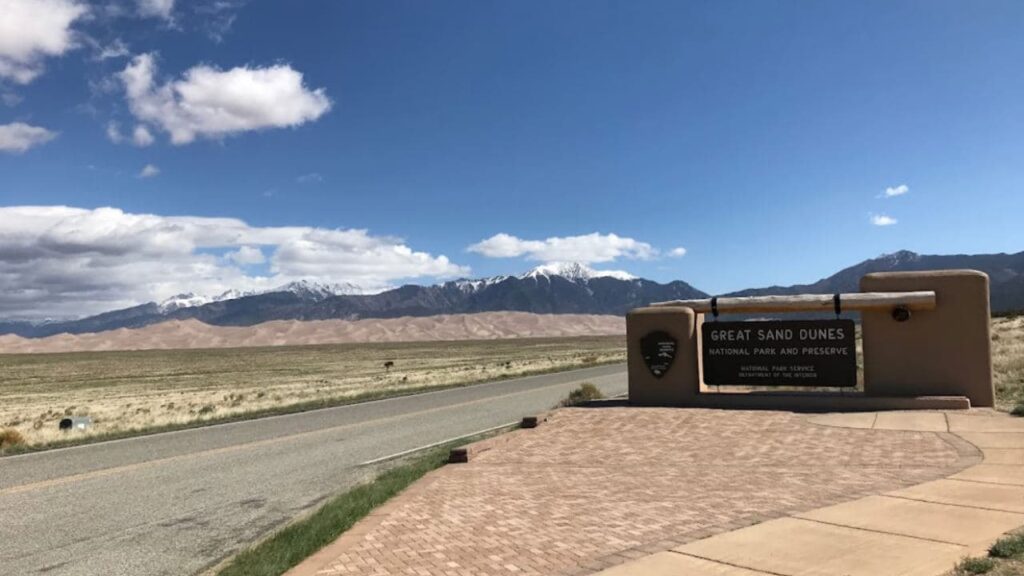 The vast expanse of sand at Great Sand Dunes National Park is breathtaking, and the park's natural beauty can be seen in every direction. It is just south of Alamosa; the frost Sangre de Cristo Mountains dominate the park.
The region's magnificent sandscapes, which include dunes that may reach heights of 230 meters, seem to go on forever into the distance.
Because of the breathtaking views afforded by Medano Creek, the vast majority of visitors choose to take their weekend's hiking or skimboarding here while taking in the vistas of the distant jagged peaks. Therefore, the magnificent dunes of the park have stayed reasonably intact for the most part as a result of these efforts.
You might also be interested in visiting the most beautiful places in Colorado.
4. Mesa Verde National Park
Mesa Verde National Park, in Colorado's southwest, is home to some of the world's most impressive prehistoric cliff houses.
Nearly 5,000 archaeological sites, including 600 cliff houses, may be found in this park. The park also protects some fascinating sceneries and animals, in addition to one of the country's most interesting and outstanding ancient ruins.
The site was abruptly abandoned, leaving the impressively well-preserved structures that may still be seen today. The park's natural environment is equally spectacular as the ancient rock formations, stone circles, and historical museums. The region's stunning scenery, including steep canyons, verdant valleys, and high mesas, provides great hiking opportunities.
5. Colorado National Monument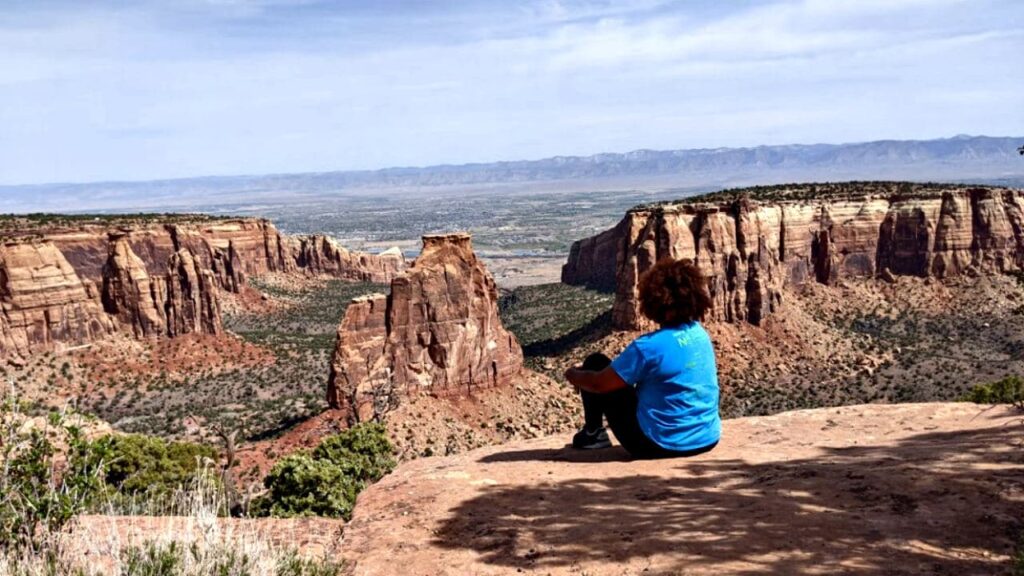 The Colorado National Monument is a must-visit, with its magnificent red granite cliffs and wide mesas. West of Grand Junction, this Colorado attraction with a wide range of outdoor activities deserves a tour that you should not miss!
Above the arid and abandoned Colorado Plains, the area's spectacular rock canyons and monoliths soar majestically into the air. One of the best ways to view the monument is by driving along the scenic Rim Rock Drive, which can also be reached by walking, biking, and horse racing.
As you travel down the scenic route, you'll be taken aback by the monument's immense scale and splendor, as well as the delicate tones and dramatic shapes of its spectacular rock silhouettes.
6. Dinosaur National Monument
It may be tough to reach Dinosaur National Monument since it is situated in what is perhaps the most isolated and hardest-to-reach part of Colorado, but the journey is well good enough to justify it because of the fascinating fossil remains and vibrant deep valleys that can be discovered in this top national park in Colorado.
In all, there are over 800 paleontological sites in the park. The Quarry Hall, which contains 1,500 dinosaur bones, is a must-see sight.
In addition to strolling down the 'Wall of Bones' and taking a skeleton home with you, you may learn all you have to know about the region's history, relics, and dinosaurs by exploring one of the numerous galleries and exhibits that are now on display there.
Tourists may enjoy scenic drives through the canyons or hike and camp in the desolate dinosaur-dotted landscapes of this region.
Check out these amazing historical sites in Colorado.
7. Florissant Fossil Beds National Monument
An outstanding and diverse fossil deposit may be found beneath a beautiful mountainous region in central Colorado, at Florissant Fossil Beds National Monument. If you want to visit the watching platform, you'll have to stroll through some lovely countryside to get there.
Since the studies began in the late 19th century, up to 1700 different species have been found. The fossils depict plant or insect life forms with fine details squeezed into small spaces to a large extent. At the center, visitors may view some of the fossils up close and learn about the fascinating history of the area's fossil bed.
Visitors may hike around the park and view magnificently preserved sequoia stumps as well as the displays.
8. Chimney Rock National Monument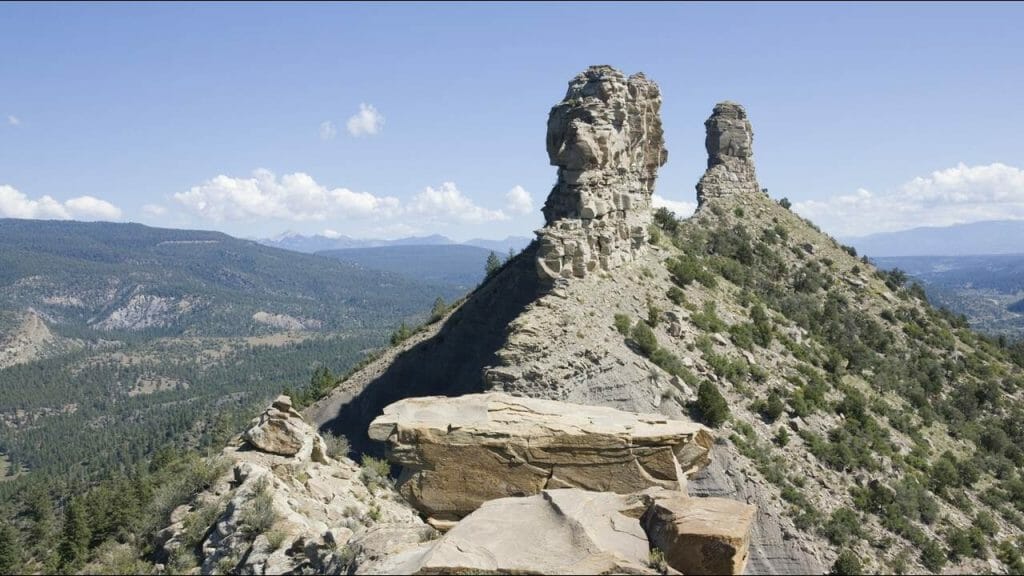 Chimney Rock National Monument, situated in Colorado's San Juan National Forest in the state's southwestern region, is another impressive archaeological site worth seeing.
Located on a prominent hilltop overlooking the surrounding countryside, the awe-inspiring Ancestral Puebloan site is a joy to see, offering magnificent views and vast panoramas.
Almost two hundred ancient homes and ceremonial buildings have been dormant on the top of a stony hill for more than a thousand years, all of which date back thousands of years. When Chimney Rock was abandoned in 1125, the people who resided there burnt the entire structure.
9. Curecanti National Recreation Area
Lying in the Rocky Mountains, Curecanti National Recreation Area is in western Colorado. It was established in 1965 and is a recognized trekking, fishing, and sailing attraction.
Curecanti is a series of three reservoirs along the Gunnison River that offers hiking, paddling, picnicking, bird watching, and salmon and trout fishing. The beautiful Curecanti Needle spire, as well as steep canyons and spectacular mesas, rise above the area's lovely beaches.
Marinas, campsites, and tourist attractions may all be found inside the Curecanti National Recreation Area. Miles of hiking trails and watersports await, making it the perfect getaway for anyone seeking peace.
10. Bent's Old Fort National Historic Site
Old Fort Bent is one of the country's oldest and most important colonial-era fortifications.
Bent's Old Fort, built by William and Charles Bent and Ceran St. Vrain in 1833, was controlled by the St. Vrain Company. Between La Junta and Las Animas, around Lamar, Native Americans and trappers used this location to market their wares. It was the only major white settlement between the Mississippi and Mexico that existed at the time of its founding.
Here, you'll find everything you need: supplies, livestock, great food, leisure, and entertainment. In 1849, disease and disaster caused the city to shut down. Fort Sill attracts 30,000 tourists each year who come to experience life in the Wild West as it once was.
The 1976 recreation of the fort drew on archeological findings as well as authentic drawings, paintings, and diaries.
11. West Horseshoe Park
West Horseshoe Park, a large expanse of grassland on the park's east side, where the Sheep Lakes are situated, is considered one of the most beautiful places in the nation.
The Horseshoe Park Lookout, which is a concrete structure on US Highway 34 at Deer Ridge Junction, is a worthwhile visit for information.
There is a huge rock ledge on the side of this turnout from which you may go to view the spectacular panorama of Fall River Canyon, Sheep Lakes, the rushing Fall River in Horseshoe Park, and Trail Ridge Road. There is also a small parking lot nearby.
12. Hovenweep National Monument
Located in a mountainous, remote part of the Southwest, Hovenweep National Monument has six ancient Pueblo archaeological settlements dating from the 13th century. Hovenweep is a Paiute word that means barren valley. It was given to this region in 1874 by intrepid explorer and photojournalist William Jackson.
In other cases, just a few rocks or shards of low wall have survived, yet the general serenity and isolation of the surroundings contribute to the allure.
Communities typically consist of many small ruins on or just below the lip encircling the head of a valley, similar to Mesa Verde National Park in Colorado but on a lesser level, and there are flat, woody mesas separated by steep-sided, narrow canyons.
13. Canyons of the Ancients National Monument
Canyons of the Ancients National Monument boast the largest home to a remarkable array of centuries-old civilizations, structures, and shrines, making it a fascinating place to visit. Arizona, New Mexico, Utah, and Utah's Canyonlands National Park share a border with Colorado.
Despite its size, this beautiful monument is home to over 6,000 such buildings, including kivas, cliff shelters, stone towers, and holy springs. The Ancient Puebloans mainly built amazing ruins from 750 to 1300 AD may be found tucked away in the valleys' arid margins. To learn more about Native American cultures and their history, you can explore the numerous museums and exhibits located around the area.
14. Browns Canyon National Monument
Visitors to Browns Canyon National Monument have long been fascinated by the monument's jagged granite cliffs, vibrant moss-covered boulders, and breathtaking mountain vistas. A 3,000-foot height range and sedimentary rock formations support a wide diversity of species and geological, ecological, and historical significance.
Whitewater rafting is the most common occurrence in Browns Canyon. The Arkansas River is the greatest way to get to Monument from the rest of the world. The secluded canyon on the Arkansas River provides a unique whitewater boating experience that allows visitors to enjoy the beauty of nature and the serenity of the area.
Browns Canyon National Monument has a wide variety of animals that may be observed with a little time and luck. The harsh, secluded terrain and constant access to water throughout the year make it a haven for big and small animals alike.
As the name implies, 'Colorful Colorado' is a haven for the United States. Regardless of where you travel in the parks listed above, you'll find breathtaking views and awe-inspiring natural beauty. When it comes to "Can't-miss experiences," this article may be able to assist you in deciding on your next trip to Colorado.