Ever wondered what it could feel like if you could also soar majestically through the sky like an eagle and view marvelous views?
Well, if you are a resident or visiting Indiana, then luck is on your side. Because Indiana offers a range of ziplines that will give you a thrilling experience while you enjoy the scenic beauties of the state.
Want to look into the options? Read this list of the best ziplines in Indiana.
1. Go Ape Zipline & Adventure Park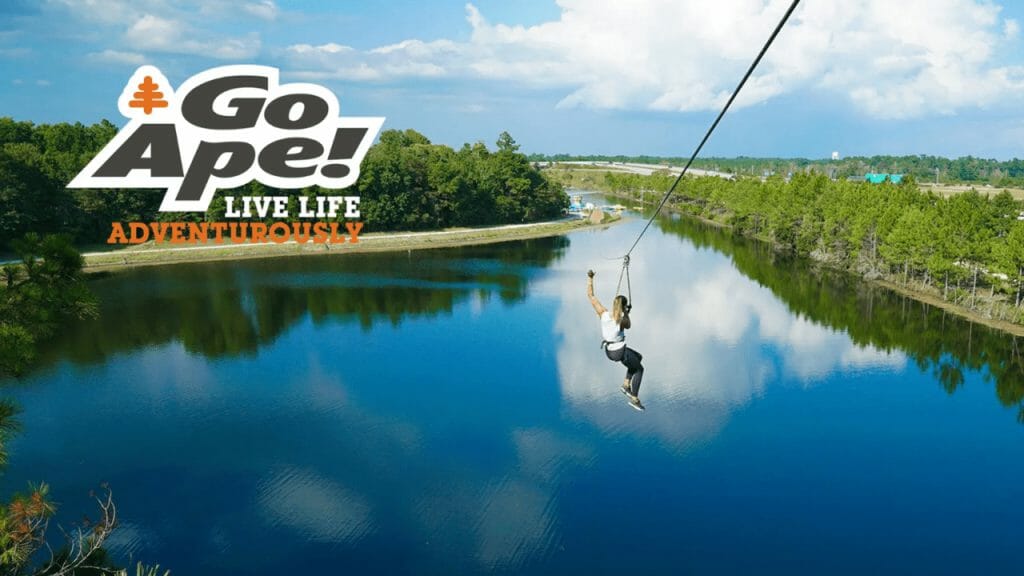 right in Indianapolis, Go Ape offers an unparalleled outdoor adventure experience unlike any other. You will have to tackle obstacles while dangling and view spectacular views. From the new perspective from above, you can explore the sights of trees and ground while you "fly" above. There are multiple ziplines with different heights. The course of the Treetop Adventure blends the way through a forest environment where you can enjoy natural wonders.
2. Lark Valley Ziplines
Featuring 10 original ziplines, Lark Valley Ziplines offers the beauty of rolling hills of Southern Indiana. They offer the Canopy Tour, which has a range from 1600-2500 feet. The ziplines are designed to be platform-to-ground, so you can start your flight on a platform and always land on the ground.
3. Indiana Zipline Tours, Inc.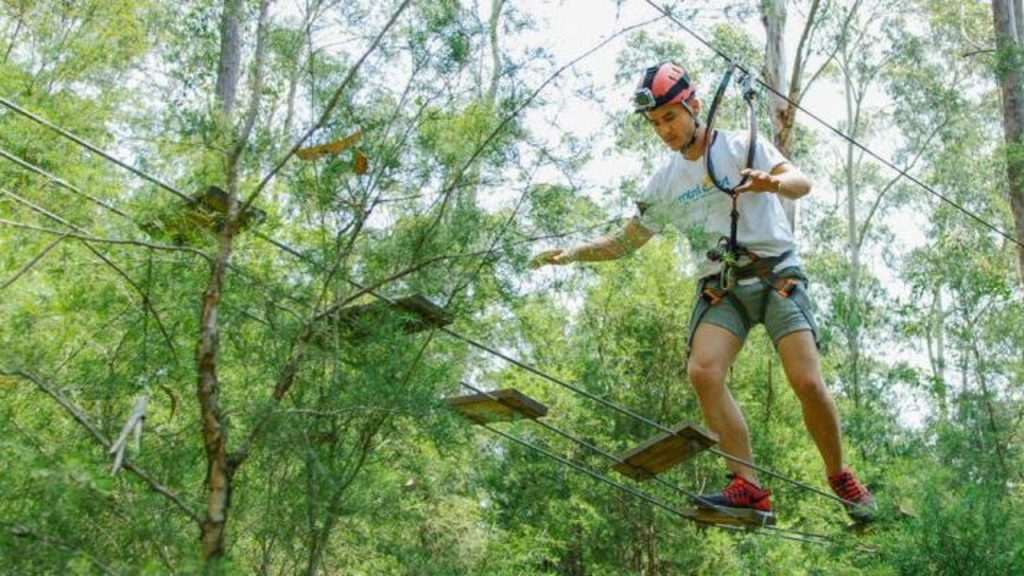 The perfect place for any age, be it 6 years or 100 years old, is Indiana Zipline Tours, Inc. for a thrill of your lifetime, the tours offer you 8 ziplines to float above. Nestled in the heart of Indiana, the ziplines are located in Crawfordsville. There is also a swinging bridge and floating platform. You can even make reservations for groups just by contacting them beforehand.
Check out these amazing hiking trails in Indiana.
4. Edge Adventures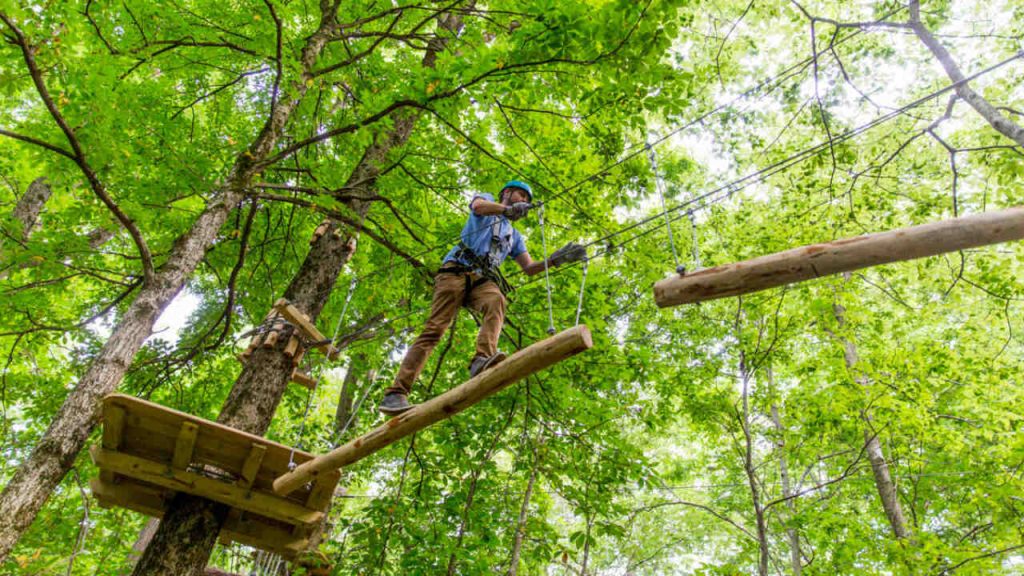 In Rum Village Park, Edge Adventures offers you outstanding views. The ziplines of the treetop trails range from 16-60 feet in the air. You can choose between a self-guided course and a guided one. The ziplines maneuver their way through various trials and according to your selection, some are packed with a combination of challenges. But even the challenges are designed in a progressive degree, so don't be afraid to try it.
5. Squire Boone Caverns Zipline Adventures
For an adventure call, choose Squire Boone Caverns Zipline Adventures. From the ziplines, you can see the remarkable view of the little valley in the Southern Indiana hills. The tour will take you over woods, fields and creeks. The 6 line canopy course is at the height of 2800 feet. The suspension bridge and other two long courses are for thrill seekers. Let me give you a heads-up that the long course ranges up to 7200 feet with two bridges, so it is certainly not for the faintest hearts.
6. Dagaz Acres Zipline Adventures
For an extreme thrill journey in Indiana, you have got to try Dagaz Acres Zipline Adventures. The ziplines are designed to increase the heartbeat of the visitors and push up adrenaline.
Five dual ziplines covering 23 acres of large area are included as their best tour. Multi-element high ropes across challenging courses are for thrill seekers. Besides these, there are state-of-the-art zip-line and other challenging courses.
Take a look at these thrilling skateparks in Indiana.
7. Edge Adventures Indianapolis
At Koteewi Park, Edge Adventures Indianapolis allows you to feel like Tarzan. Just like Tarzan used to move left to right while dangling above the ground, the ziplines of this park are going to offer you the same opportunity. The aerial adventures are amid 800 acres of dense woods but don't worry, because you will be strapped safely while you view the natural wonders.
8. eXplore Brown County
Located in Nashville, eXplore Brown County is where you can find an excellent outdoor adventure. Spanning over 1000 acres of area, you can enjoy a tour of 15 world-class ziplines. People of all ages are allowed to tour. But the Screamer Tour and Explorer Tour are the most challenging and extreme ones which are for thrill seekers. Besides this, because of the huge area, you can also try mountain bike trails, hiking and more.
9. Santa's Express Ziplines & Outdoor Activities
At Santa's Express Ziplines & Outdoor Activities, you can enjoy fantastic views from the ziplines and fly like a bird; the four ziplines of the area take you over the lake. One of the best parts of touring here is that you can get the chance to do other outdoor activities like climbing, hiking and more in the nearby Holiday World & Splashin' Safari.
10. White River Zip Lines
The newest outdoor adventure park in Indianapolis is White River Zip Lines. This aerial adventure park is located in the northeast part of the city, and you can easily make your way on any weekend. Perfect for family tours, this park offers the ideal adventure for people of all ages. You can enjoy the zipline flights and book the group packages for discounts.
11. Eagles Wings Zipline
Soar through the beautiful Hoosier National Forest lands of Southern Indiana. 8 exciting lines, including a 1100' + line. After your zipline adventure, make sure to enjoy the grounds. Bring a picnic, or just take a hike around the lake. 
If you visit any of the listed top ziplines in Indiana, then you can look forward to dangling your legs and flying like a bird while your heart thumps seeing the enchanting beauty from above. Don't let fear catch up to you and make a plan to glide and spread your wings.