Illinois's hotels are perfect for a romantic vacation, staycation or bae-cation with your person. But which of the hotels are the most appropriate for a seriously romantic time? Below are some of my top picks, based on everything from jaw-dropping skyline views and lavish room features to quality dining experiences from some of the best restaurants.
So here are the most romantic hotels in Illinois.
1. The Publishing House Bed and Breakfast
Call: +13125545857 – Visit Website – View on Map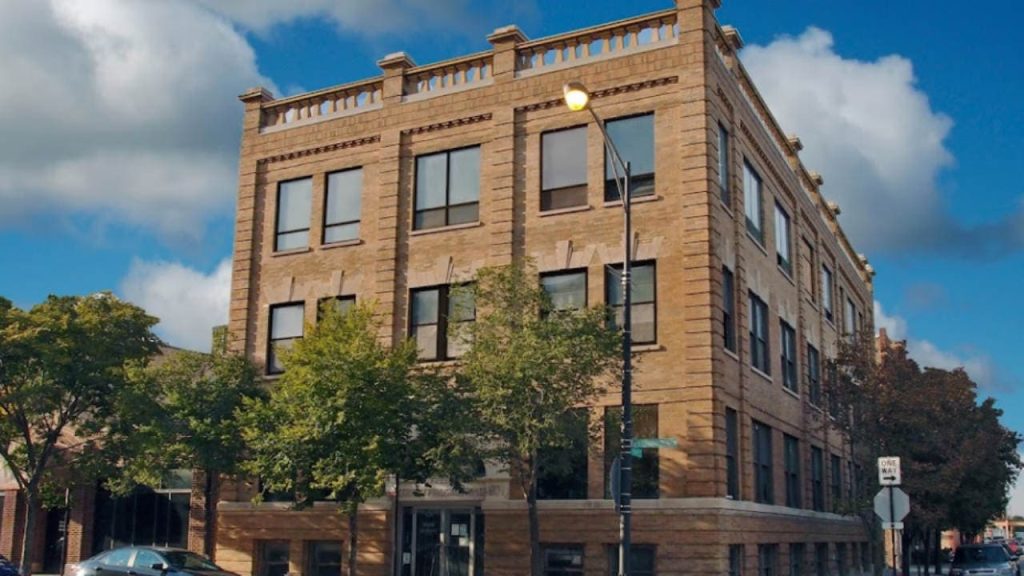 The Publishing House is one of the most distinctive and quaint boutique hotels in Chicago. And since it is housed within a historic structure that dates back 110 years, it gives you the most romantic experience you can ever find. After making your selection from one of 11 unique rooms, which range in size from cozy to XL, you may get ready to unwind.
The guests are strongly urged to make use of the unique common areas, such as the secluded reading nook and the main dining room, all of which have been tastefully decorated. Also, upstairs in the kitchen, a breakfast made from scratch will be waiting for you when you wake up in the morning.
2. Goldmoor Inn & Resort (Galena)
Call: +18157773925 – Visit Website – View on Map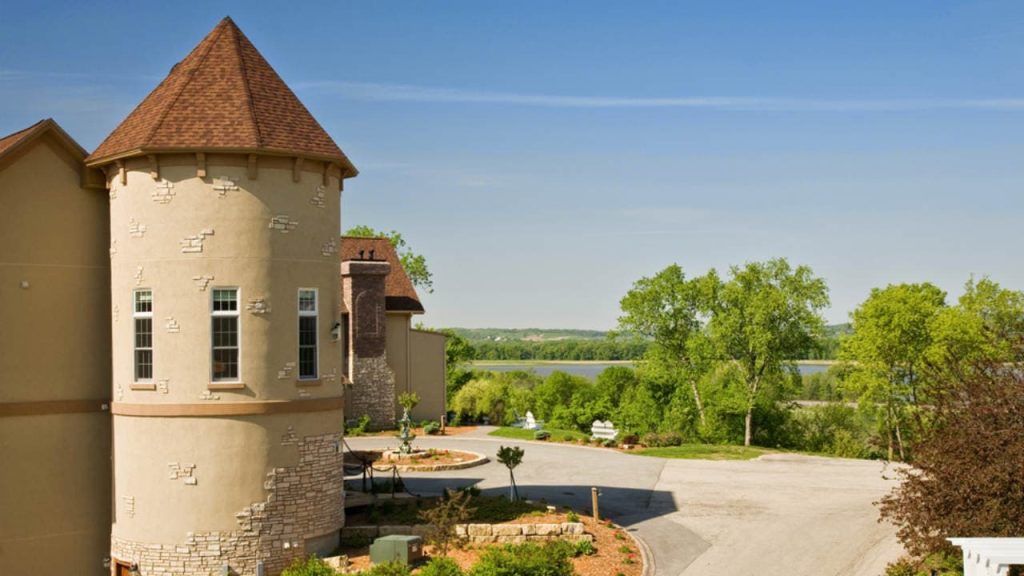 Galena's Goldmoor Inn & Resort has a garden, bar, free parking, and a restaurant. The hotel has a hot tub, has room service, and provides free Wi-Fi. There is a flat-screen TV with satellite channels, a kitchenette, a dining area, and a private bathroom with a hot tub, a hairdryer, and bathrobes in each of the rooms.
Linens and towels are supplied by Goldmoor Inn & Resort. Also, the hotel serves a traditional American breakfast every morning. Guests at the Goldmoor Inn & Resort can enjoy a variety of outdoor activities in nearby Galena, including skiing and cycling.
It's only a two-minute drive to get to the Upper Mississippi River Wild Life and Fish Refuge from the resort. The Galena Historic District and the Galena-Jo Daviess County History Museum can also be reached in around 12 kilometers. Furthermore, Dubuque International Airport is 30 minutes' drive from Goldmoor Inn & Resort.
3. INN at Longman & Eagle
Call: +17732767110 – Visit Website – View on Map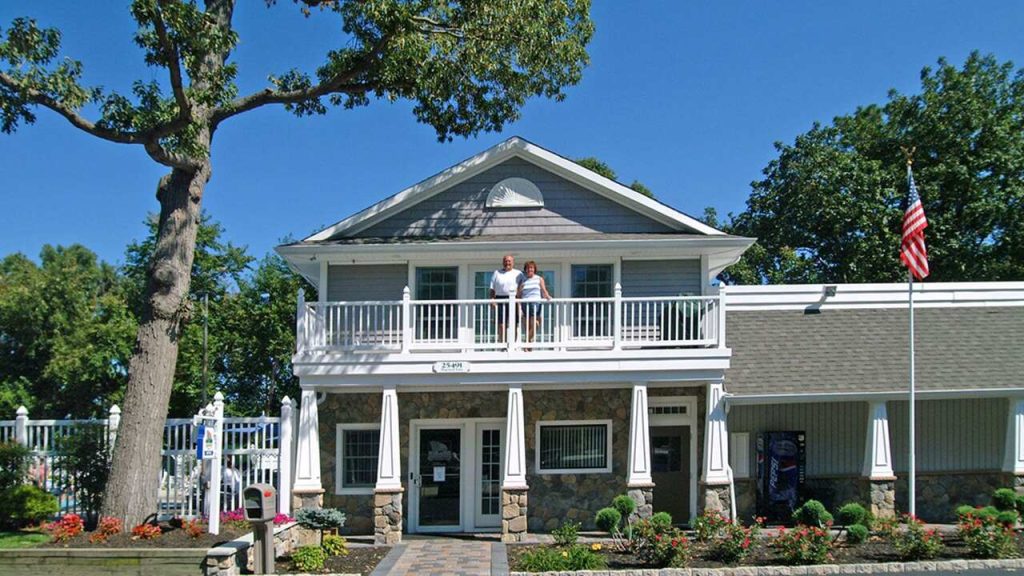 There are six guest rooms hidden above the award-winning restaurant Longman & Eagle, and not even many locals know about them. You may get a room for as little as $95 a night, making this a great choice for discreet couples.
Alluring and well-considered, but not overbearing decor can be seen throughout the INN at Longman & Eagle. Perhaps the most intimate space is Room #55, one of the largest in the inn which features a king-sized bed and a separate tub.
Learn more about the best places to visit in Illinois.
4. Viceroy Chicago
Call: +13125862000 – Visit Website – View on Map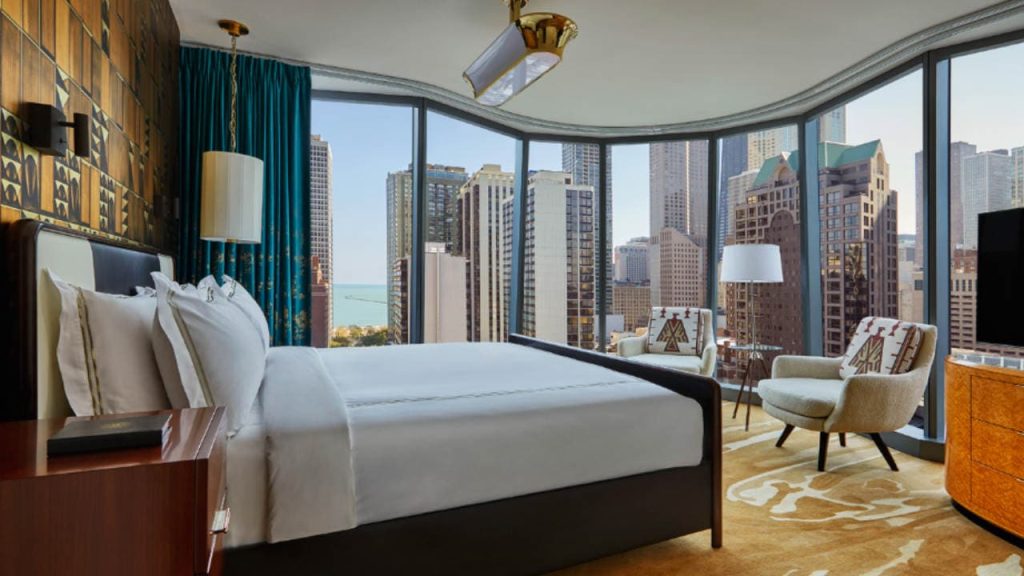 Conveniently located in the trendy Gold Coast district of Chicago, the Viceroy is a sleek and seductive hotel. The blue glass skyscraper has 18 stories and 180 rooms, some of which are rather luxurious.
Floor-to-ceiling windows, stylish gold accents, and cozy furniture make even the ordinary rooms an ideal setting for a romantic city staycation. You can make a reservation at Somerset, the ground floor restaurant, and then head up to the roof for drinks at Devereaux.
5. The Hoxton
The Hoxton is decked out with attractive furniture, locally acquired art, and subtle design details that will make any artistic couple feel at home. All 182 rooms, from the smallest to the largest, include floor-to-ceiling windows and sleek, contemporary bathrooms.
The romantic ambiance of the hotel's Cira and Cabra restaurants makes them perfect for romantic dinners. Additionally, one of the best bars in all of Chicago is located in a basement, and it is called Lazy Bird.
6. The Langham Hotel
Call: +13129239988 – Visit Website – View on Map
The Langham is consistently ranked as one of the most romantic hotels in the United States due to its spectacular location on the Chicago River and Lake Michigan, world-class cuisine, enormous ballroom, and 316 luxurious guest rooms and suites.
Indulge in a luxurious stay at this five-star hotel, where you'll find all the amenities you could want for a couple's vacation. Moreover, the luxurious Chuan Spa features a 67-foot swimming pool, a hydrotherapy Jacuzzi, and a variety of other spa services.
You might also like to check out the famous landmarks in Illinois.
7. Nobu Hotel
Call: +13127798888 – Visit Website – View on Map
The 11-story, 115-room Nobu Hotel Chicago, a member of the celebrity-favorite boutique hotel group Nobu, has opened in the West Loop. The design firm Studio K was tasked with creating an atmosphere that combines the hotel's Japanese style with the neighborhood's signature industrial elements.
There is a wide variety of room sizes available, from the standard 360 square feet of a Deluxe to the enormous 1,900 square feet of a Villa City View with two bedrooms. In addition to the fitness facility and indoor tranquility pool, the property also offers deluxe amenities such as soaking baths, steam showers, room service, and yoga mats for guests.
The hotel's namesake restaurant, under the direction of chef Nobu Matsuhisa, is a sanctuary for sushi lovers, while the hotel's rooftop bar is a chic place to unwind.
8. Waldorf Astoria
Call: +13129239988 – Visit Website
Considering going all out for your next date night? When in Gold Coast, why not indulge in a luxurious stay at this hotel that offers 890 square foot rooms on average? It's all about the finer things in life, from the 460-thread-count sheets on the mattresses to the LCD televisions set into the vanities to the marble bathrooms with soaking tubs.
Aside from the rooms, the hotel also has a spa and health club where guests can enjoy services like massages and facials in addition to swimming laps in a pool decorated with mosaic tiles and salt water.
9. Sophy-Hyde Park
Call: +17732767110 – Visit Website – View on Map
Hyde Park is one of the nicest areas in Chicago, and if you book a room at the Sophy Hotel, you'll be right in the middle of it all, with easy access to Lake Michigan and Washington Park.
Each room at this boutique hotel exudes elegance with its gleaming hardwood floors, marble-tiled bathrooms, and striking artwork. The accommodations are so comfortable that you may find yourself spending the day in bed, but if you decide to go out for dinner, the on-site restaurant Mesler Kitchen has a lovely patio.
10. Hotel Lincoln
Call: +13122544700 – Visit Website – View on Map
Lincoln Park's Hotel Lincoln is a 12-story beauty that is well-known among Chicagoans for its ritzy rooftop bar, the J. Parker. Have you ever considered staying there, though? There is a greater emphasis on relaxation than on formality in these suites, which have soft beds, unique artwork, and helpful technological conveniences.
Guests can choose between three different restaurants, ranging from the casual Kennison to the ultra-luxurious Sushi Suite 202. Regarding the aforementioned skyscraper bar: cocktails with a view of the city skyline are the ultimate romantic gesture.
11. The Peninsula Chicago
Occupying prime real estate on Chicago's coveted Magnificent Mile, The Peninsula Chicago combines Hong Kong's cosmopolitan flair with the Windy City's Midwestern charm. Travelers describe the guest rooms as comfortable thanks to their creamy color palette and plush furniture, not to mention their modern techie touches, like a bedside remote command station that controls the lights, television and room temperatures.
Whether you're coming for a romantic getaway in Illinois or merely looking for a staycation, these luxurious stays are sure to satisfy – so pack your overnight bag and prepare for a night to remember at Illinois's most romantic hotels.