Very few states in the United States are gifted with the sort of natural terrain that Connecticut has. The state is full of historical landmarks and iconic cities, and is also loved by tourists and locals for its stunning natural beauty.
Moreover, wild forests and mountain valleys are some of the most visited areas in this state, and people can also experience them using some of the best ziplines in the county.
Listed below are the best ziplines in Connecticut.
1. Brownstone Adventure Sports Park
Brownstone Adventure Sports Park is an adventure park in Portland that is full of all kinds of climbing and outdoor rope activities. Most importantly, it has the most popular ziplines in Connecticut.
The park offers a wide range of recreational activities like swimming, cliff jumping, rock climbing, rope swing and much more. Additionally, Brownstone Adventure Sports Park offers water activities like kayaking and paddleboarding.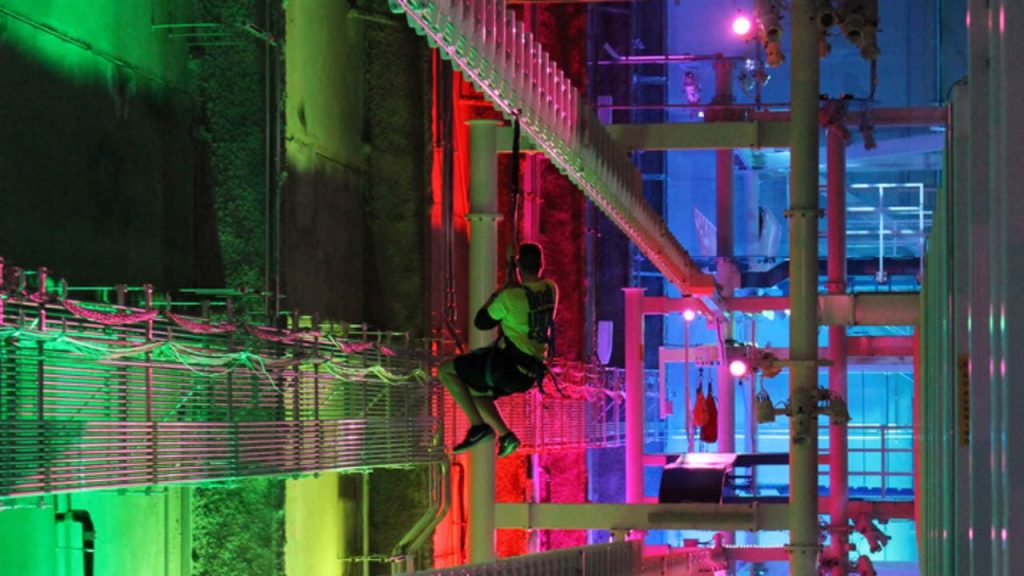 Located in the historic city of New Haven, It Adventure Ropes Course is one of the most fun tourist attractions in the state.
While acknowledging the incredible history of New Haven, you can also experience the wilderness of this iconic state through the massive ziplines in It Adventure Ropes Course. Even though the park offers other facilities as well, its ziplines are its most popular attractions.
3. HighFlyer Zipline at Foxwoods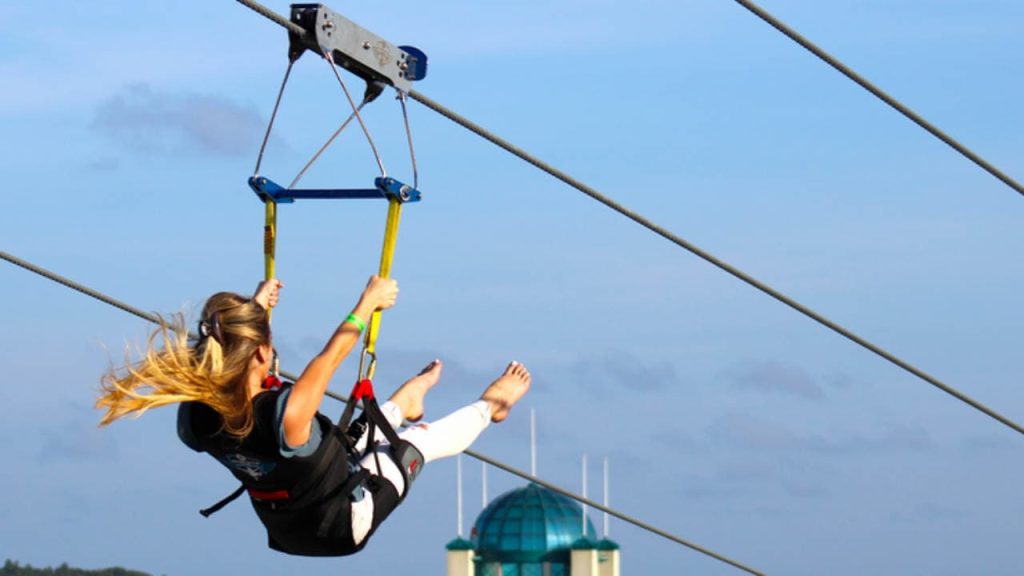 Wondering what exciting and adventurous thing to do while in Connecticut? HighFlyer Zipline at Foxwoods has just the right thing for all those people who like some thrill.
Their main attraction is the four-line zipline that starts at the top of Fox Tower, which is 350 feet above land and ends at the Museum and Research center, which is 3,700 feet away. It is the only zipline in all of America that starts off from the top of a 33-story hotel tower.
For a fun day, visit these amusement parks in Connecticut with family and friends!
4. The Adventure Park at Storrs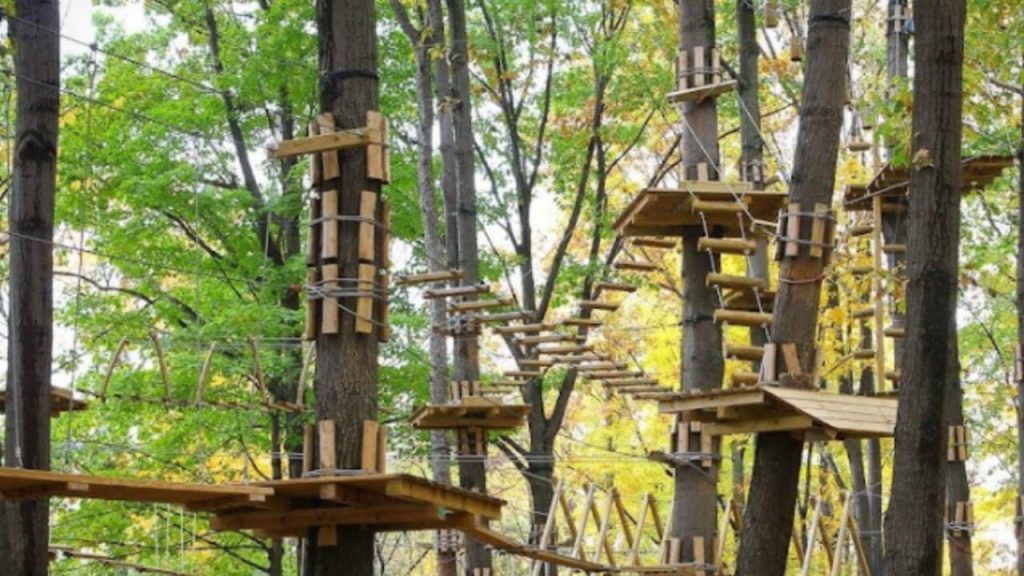 The Adventure Park at Storrs is located in Mansfield, Connecticut, and is a one-stop shop for people of every age, build and ability. The recreational activities at the park include various fun experiences like treetop tails, ziplines, outdoor axe training, etc.
The park also has an adventure playground facility for 3+ kids. They have 9 different trails, all of which are color coded referring to the difficulty level of each trail. This system also makes it easier for people to choose their own kind of adventure.
5. Urban Air Trampoline and Adventure Park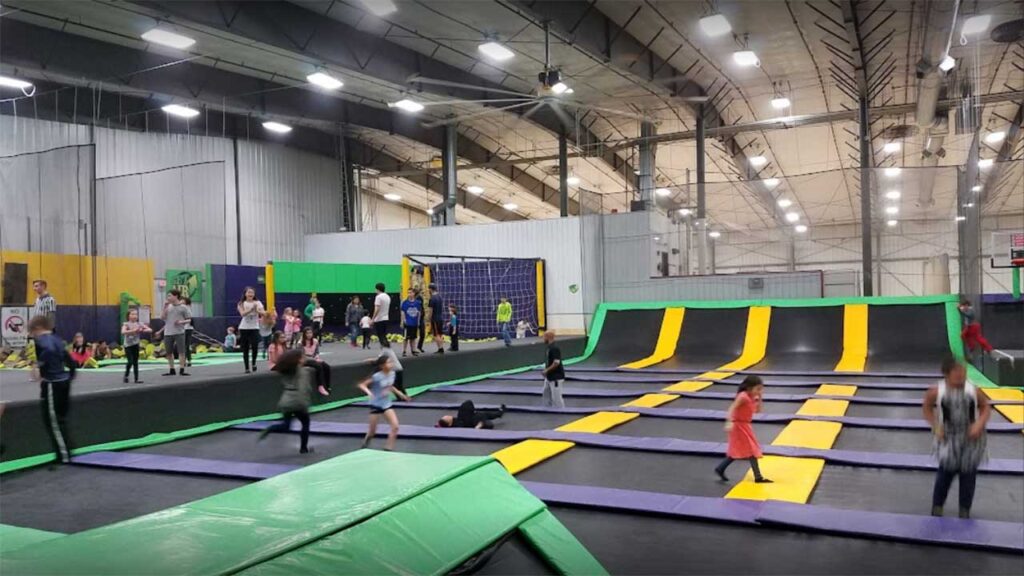 Urban Air Trampoline and Adventure Park is one of the best indoor adventure parks in the United States, having branches in multiple states like Connecticut and Arkansas. Located in Orange, the facility is primarily popular for its indoor large-scale trampoline center.
On the other hand, its ziplines and ropes come with state-of-the-art functionality and top-class security measures, making it one of the most popular adventure parks in Connecticut.
6. The Adventure Park at the Discovery Museum
Want to add some thrill and adventure to your usual hectic life? The Adventure Park at the Discovery Museum just might be the place for you. Located in Bridgeport, this 5-acre park consists of all kinds of fun and thrilling activities for people of all ages.
Their treetop trails provide an amazing experience and include ropes, ladders, bridges and other fun twists to give you the most enjoyable time. However, it's their ziplines that really steal the show and bring visitors back to the park again.
If you also enjoy hiking, then make sure to check out the best hiking trails in Connecticut.
7. Go Ape Zip Line & Treetop Adventure – A.W. Stanley Park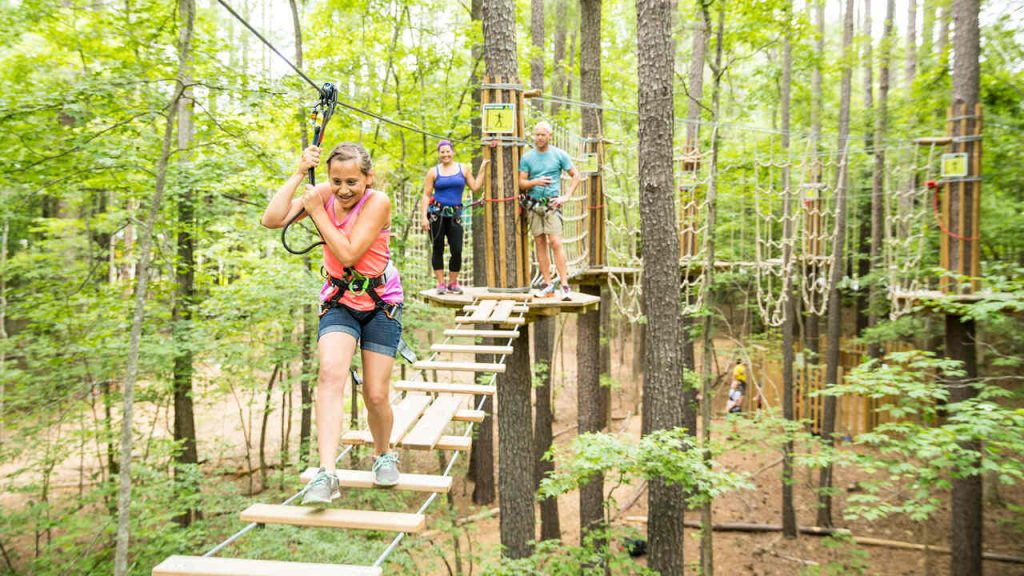 A one-of-a-kind experience, a day full of laughter and fun with your friends and family and an escape from your busy days, Go Ape Zipline and Treetop Adventure Park offers you all this and much more. It gives you a different kind of adventure without the need to go too far or anywhere too remote.
Moreover, their treetop adventure and treetop journey allows people to experience the thrill and excitement of zip lines, bridges and canopy. You can find Go Ape Zipline and Treetop Adventure Park all over America in 12 states.
8. Tree Trails Adventures: Mystic
Located in Groton, Tree Trails Adventures: Mystic is the zipline destination to choose if you're looking for an adventure. The park has various types of fun obstacles, but undoubtedly the most attractive feature is their ziplines, even the park authorities themselves proclaim it.
Tree Trails Adventures mainly specializes in course design, training and aerial rope. Moreover, the course itself ranges in difficulty from beginner to advanced.
9. Soarin' Indoors
Soarin' Indoors is one of the best indoor ziplines in Connecticut, designed to give you a thrilling and challenging aerial experience. It is a recreational center in Manchester which has numerous recreational obstacles.
However, none of them come close to the ziplines of this facility. Alongside the thrilling ziplines, other popular activities here are slacklines, wobbly bridges and twisty ladders.
10. Empower Adventure Park at Nomads
Empower Adventure Park at Nomads is an adventure center and park situated in South Windsor, which provides a wide range of aerial adventures and ziplines. Use the numerous ziplines to take a tour around the wilderness of Connecticut's forests and mountains.
This is an adventure park that is suitable for family and friends, and the staying areas are also quite amazing. Moreover, it offers top-class safety measures for children and adults.
Connecticut's wilderness and green mountainous areas, along with its stunning coastal cities, make this state one of America's most outstanding recreation states. Every year, people from all around the country visit Connecticut's wonderful ziplines to have a fun and enjoyable experience during their vacations.