Rivers flowing over sky-high mountains are the best reminders of how tiny people truly are. If you're looking for a view like that, I have a plan for you. Even if you've heard that many other countries are home to the finest waterfalls in the world, you might be wrong.
The reason? Well, I have got some of the most beautiful waterfalls in the US that will shock your brain out of your head!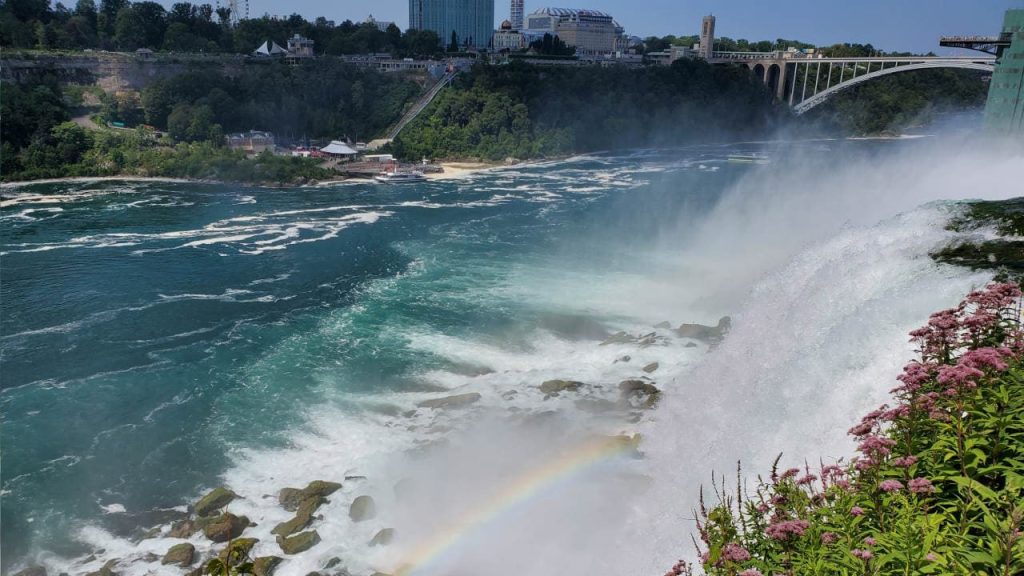 Visiting Niagara Falls, the king of the most beautiful waterfalls in the US, is a must-do on anyone's bucket list. The Niagara River roars over the Niagara Escarpment and is marked by three majestic falls, two USA and one Canadian.
According to visitors, the picturesque attraction is "Heaven on Earth." It's hard to describe the joy and euphoria of being in it. So make sure to at least come here at least once annually, especially in autumn.
2. Akaka Falls Park – Hilo, Hawaii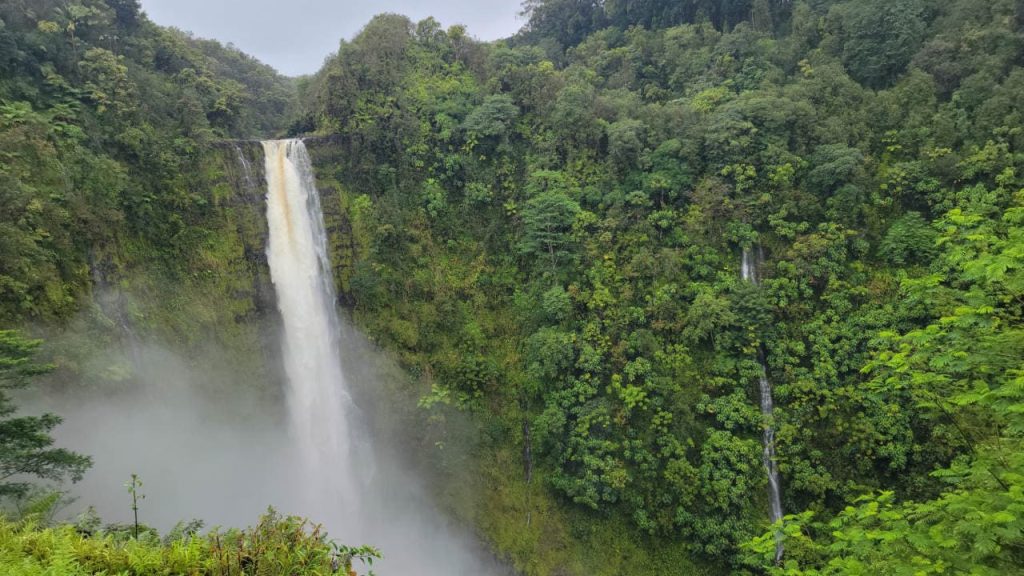 See Akaka Falls & Kahuna Falls rise from Hawaii's gorgeous tropical scenery on an easy half-mile stroll along a paved route. Along the journey to the falls, walk by wild orchids and hanging banana trees, stopping to absorb the vistas from several viewing platforms.
On a Big Islands waterfall trip, you may view Akaka Falls and other spectacular most beautiful waterfalls in the US.
3. Wailua Falls – Lihue, Hawaii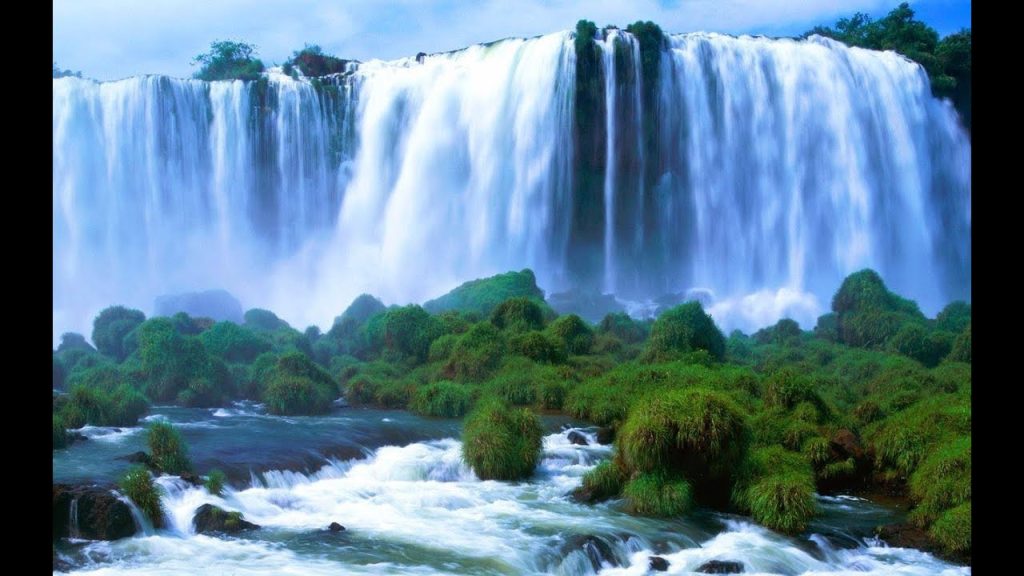 Wailua Falls, a foamy cascade only feet from a public road, is a great place to leave your boots behind. These iconic waterfalls may be familiar to you from their appearances in the opening titles of the hit TV show "Fantasy Island" or advertising materials for Kauai since they are widely regarded as some of the island's most beautiful waterfalls in the US.
Despite the lack of nearby hiking paths, the falls are worth a brief visit due to their beauty. Visit as part of a Hawaii cinema tour or a private Kauai sightseeing trip to make the most of your day.
You might also be interested in knowing about the longest rivers in the US.
4. Multnomah Falls – Bridal Veil, Oregon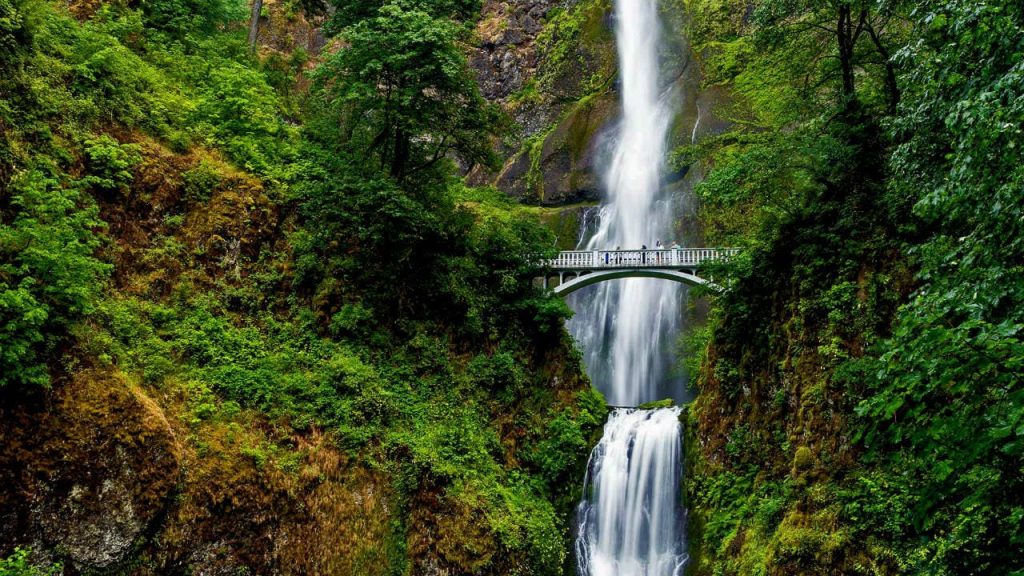 Multnomah Falls is one of Oregon's most beautiful waterfalls in the US; it is best viewed from a 20th-century stone wall stretched between two cliffs. From the bridge, you can see the upper tier, which is 542-feet tall, and the lower tier, which is 69-feet tall, from any one vantage point, offering a contrast that puts the falls' enormous enormity into perspective.
The falls can be visited on their own or in conjunction with a visit to the famous Multnomah Falls Lodge. Moreover, the falls make for a great Portland day excursion paired with the other Columbia River Valley sights.
5. Snoqualmie Falls – Snowqualmie, Washington
Snoqualmie Falls, situated just off the bustling I-90 highway, may be seen from a viewing platform approximately 200 feet out from the parking lot. These iconic waterfalls have lately gained in popularity as a result of their portrayal in the TV program "Twin Peaks," but they have always been a favored day destination for travelers from the Seattle region. Visit Snoqualmie Falls as half of a Seattle city tour.
Bushkill Falls, located in Pennsylvania's Poconos Mountains, is a succession of eight equally magnificent falls. Hike down the network of paths ranging from simple to challenging to get close up to all eight falls, or savor the views from the park's miniature golf courses or paddle watercraft as you sail over Twin Lakes. The "Niagara of Pennsylvania," affectionately known, is accessible annually from March to November.
Learn more about the deepest lakes in the US.
7. Bridalveil Fall – Yosemite, California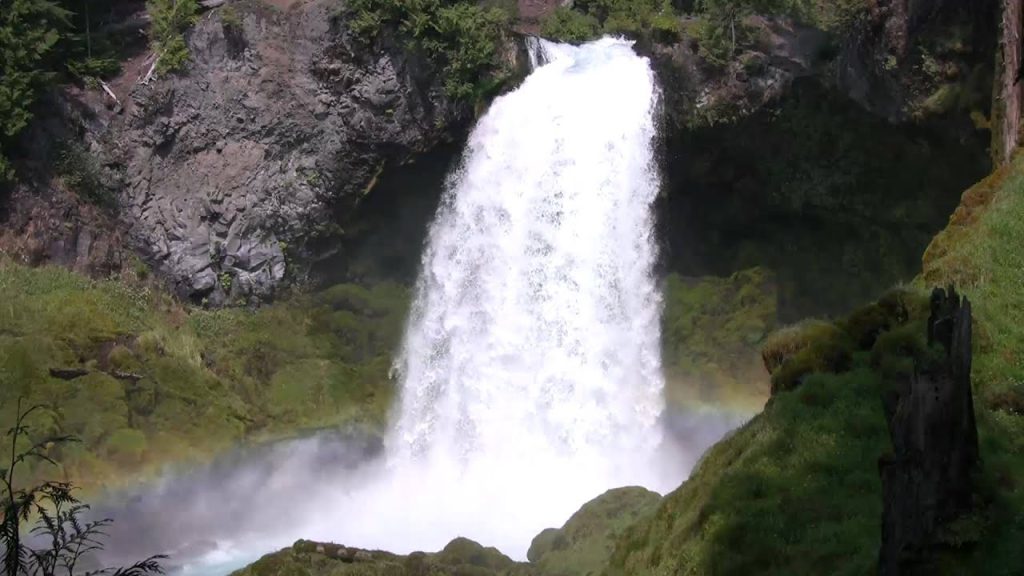 Bridalveil Fall is among Yosemite National Park's most renowned sights & most beautiful waterfalls in the US, thanks to Ansel Adams and Instagram. This well-known waterfall cascades 620 feet to the basement, with just enough water to spray tourists in the springtime and gentle golden light in the winter.
It is to be noted that the waterfall is just not wheelchair-friendly. However, it is only 10 minutes away from the main tourist parking lot down a paved trail.
8. Cumberland Falls – Corbin, Kentucky
Cumberland Falls, sometimes known as the "Niagara of the South," is a 125-foot-wide gorge of rushing blue-green water at Cumberland Falls Resort Park in Corbin, Kentucky. The falls are accessible from a couple of observation platforms just off the roadway.
Still, hiking paths allow you to extend your stay to a whole day. A moonlight bow, rainbows formed by the brightness of the reflecting light off the falls or the full moon, maybe see if you visit during a full moon.
9. Nugget Falls – Juneau, Alaska
Nugget Falls's beauty is all about its position. Placement at the end of Alaska's Mendenhall Glacier contributes to its status as one of the most beautiful waterfalls in the US. The falls are a two-tiered waterfall that originates from a glacier watercourse and flows into Mendenhall Lake.
They are commonly explored as part of such a Juneau beach trip or Mendenhall Lake cruise, despite being accessible on their own through a graveled trail.
10. McWay Falls – Big Sur, California
McWay Falls at Julia Pfeiffer Burns State Park, with its 80-foot drop directly into the Pacific Ocean, is a must-see when in the Big Sur area. Visit as a short pit break off Highway 1. You might also consider trekking to the falls for a quick and easy climb, or taking one of longer connected hiking paths for spectacular vistas of the Coast of California. Make sure to visit this stunning and one of the most beautiful waterfalls in the US.
11. Silver Falls State Park – Sublimity, Oregon
Around Silver Falls State Park near Sublimity, Oregon, quality and quantity crash on the 7.2-mile Trail of Ten Falls that leads you past ten spectacular waterfalls in a row. South Falls, a large cascade with a unique location that permits you to go right behind it for a view of the less-visited side of the most beautiful waterfalls in the US, may be the trail's most prominent feature.
12. Calf Creek Falls – Escalante, Utah
Hike to Calf Creek Falls in Oregon's Grand Staircase-Escalante Historic Site to escape the scorching heat. The bottom part of the falls, which has a relatively level six-mile out-and-back climb, a higher cascade, and more spectacular vistas along the route, is by far the most popular. For a beautiful summer day, bring a picnic and a swimsuit.
13. Tahquamenon Falls – Paradise, Michigan
The standard is set high for a destination dubbed Paradise, and Michigan's Tahquamenon Falls do not disappoint. These well-known waterfalls are divided into two equally beautiful parts. Before proceeding to the Lower Waterfalls, a set of five cascades cascading over a freshwater island, stop at the Higher Falls for a glimpse of the rust-colored & most beautiful waterfalls in the US caused by tannins leached through cedar trees upstream.
14. Virginia Falls – Glacier National Park, Montana
Hike through three falls in three miles on a journey to Virginia Falls at Glacier National Park. A moderate walk goes between Baring Falls & St. Mary Falls before reaching Virginia Falls, widely regarded as one of Glacier National Park's top waterfalls due to its turquoise waters & sparkling pools excellent for sinking your toes in.
15. Waimoku Falls – Maui, Hawaii
The journey is more important than the destination at Waimoku Falls is the most beautiful waterfall in the US at Haleakala National Park Kipahulu. The 1.8-mile Pipiwai Trail winds through towering bamboo woods and past a series of waterfalls inside a pristine tropical forest before landing you in the lower portion of the Waimoku cascade, which stands 400 feet tall. You must, however, remain a safe distance from water due to safety considerations.
16. Wailua Falls
On the island of Kauai, which is a part of the US state of Hawaii, lies a waterfall called Wailua Falls. On the South Fork of the Wailua River, not far from Lihue, are the 173 foot falls. The television show Fantasy Island's opening titles prominently display the waterfall.
17. McWay Falls
McWay Falls, an 80-foot-tall waterfall on the Big Sur coast of central California, runs continuously into the Pacific Ocean from McWay Creek in Julia Pfeiffer Burns State Park, about 37 miles south of Carmel. It is a tidefall—a waterfall that flows directly into the ocean—during high tidal.
I have done the legwork for you, and now it's time for you to set off on your waterfall adventure throughout the United States.