Practicing law is a multibillion-dollar service company. A firm's legal needs range from financial management to tax planning, lawsuits, corporate affairs, property law, labor, social policy, etc.
Whether you want to work under a law firm or get your own solutions, law firms can address your complex issues, personal problems, business problems, disputes, and many more.
Are you looking for the best law firm in Connecticut? Here's a list of the top law firms in Connecticut.
1. Silver Golub & Teitell LLP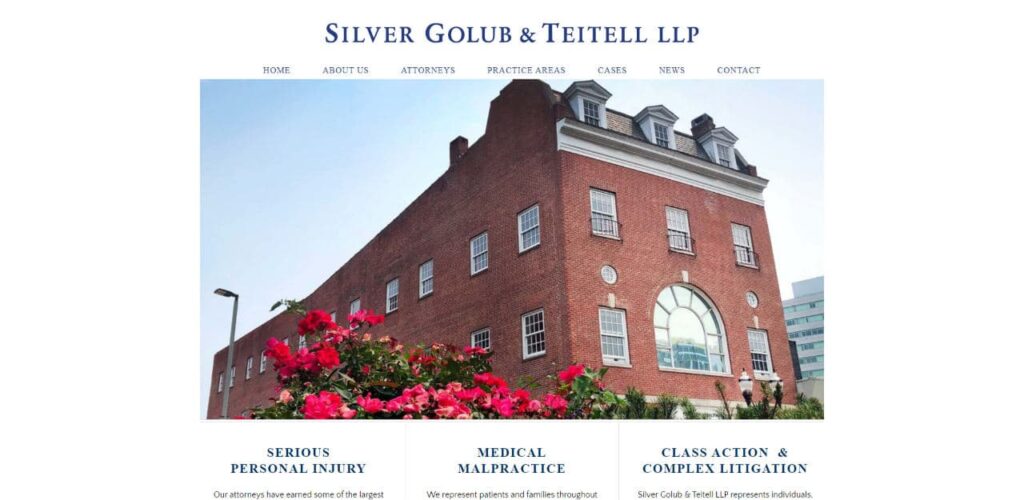 Silver Golub & Teitell LLP is a law firm based in Stamford, Connecticut, founded in 1978. This famous law firm in Connecticut is a member of the Legal Services Industry, which provides legal services to the public.
Based on a straightforward concept, this legal company has become one of the nation's top-rated medical malpractice, complex lawsuit, class action, and severe personal injury law companies.
Being a high-rated trial law firm, it works hard to deliver high-quality legal services. This law firm has a proud, successful history for its national and also international clients. It provides its clients with the best possible legal services. Some of its practice areas are:
Medical Malpractice
Serious Personal Injury
Trucking Accidents / Large Commercial Trucks & Tractor Trailers
Birth Injuries / Cerebral Palsy / Erb's Palsy
Class Action & Complex Litigation
Wrongful Death
Auto Accident
2. Cirillo Law Firm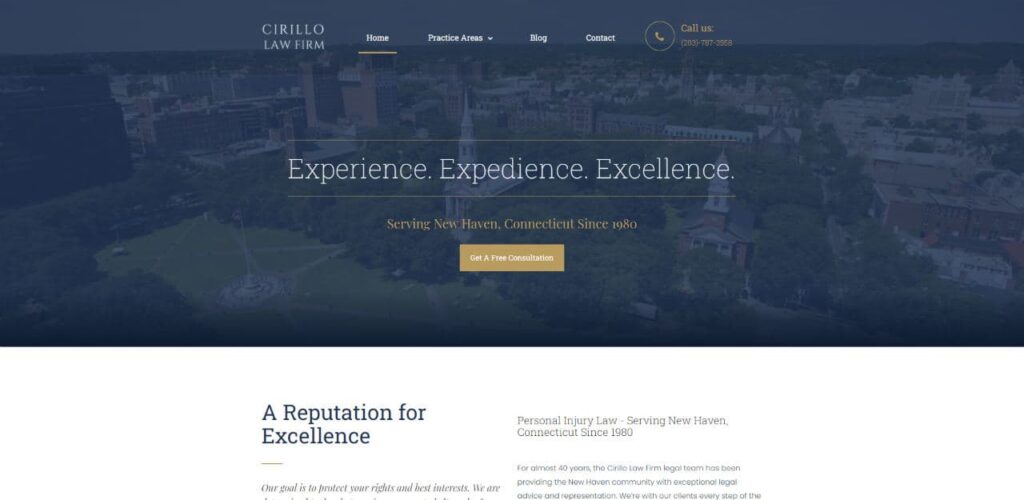 If you are looking for educated and experienced attorneys that will stand up for you and fight for the outcome you want, go no further than Cirillo Law Group. Over almost four decades, the Cirillo Law Firm, one of the top law firms in Connecticut, has provided outstanding legal counsel and service to its clients.
Throughout the process, it is putting out effort for the benefit of its customers. It offers outstanding services via technology, better resources, and years of successful legal representation. Their unrivaled services distinguish them from any other law company in the industry. The practice areas of Cirillo Law firm:
Personal Injury – Motor vehicle accidents, wrongful death, defective products, accidents on hazardous properties, etc.
Criminal Law – Drug-related crimes, assault, murder, property crime, etc.
3. Aeton Law Partners
The third top law firm in Connecticut, Aeton Law Partners, is dedicated to providing its clients with high-quality legal services. This legal firm's lawyers are highly skilled and well-respected in their field. They handle transactions, litigation, and trials. It provides legal services in business, employment, technology, insurance, and other related sites.
Also, the firm's lawyers have extensive case-handling expertise. They all have a plenty of information to help clients. You will enter into a working relationship if you choose our law firm as your legal counsel. Some of its practice areas are:
Business – business litigation and transactions, corporate transactions, etc.
Criminal Defense – drug crimes, probation violations, drug possession, larceny/theft, theft crimes, etc.
Personal Injury – wrongful death attorneys, defective products attorneys, trucking and commercial vehicle accident attorneys, etc.
You might also like to know about the best banks in Connecticut.
4. Haymond Law Firm
The Haymond Law Firm represents individuals who have been harmed. It has offices in Connecticut and New Hampshire and in Massachusetts, New York, Florida, Vermont, and Rhode Island, to name a few locations. If you have been injured due to someone else's carelessness and are seeking an expert legal company to evaluate your case, then go no further than Haymond Law Firm.
It's as though the lawyers at this firm treat each client like a part of their family. It is their only mission to stand up for the liberties of their customers at any cost. Lawyers have a lot of practical knowledge in this field. Their practice areas are:
Motorcycle accidents
Slip and fall
Car accidents
Medical malpractice
Liquor liability
Defective products, etc.
5. Kalon Law Firm LLC
The Kalon Law Firm, LLC is a law firm based in Hartford, Connecticut. Exceptional and innovative thinking characterizes the culture of this legal practice. They advocate on behalf of their clients, who may be people or organizations.
Customers and employees alike benefit from their more customer-focused and employee-oriented service. Personal injury, appeals, and insurance defense are some of the areas of practice in civil litigation.
6. Tindall Law Firm LLC
Tindall Law Firm is driven by a desire to provide its clients with excellent legal service. This law firm helps damaged families and individuals in getting monetary reimbursement for their injuries caused. It devotes a great deal of time and effort to personal injury claims to achieve a good outcome.
Tindall Law Firm and its cooperative team provide top-quality service while adhering to the highest ethical standards. Tindall Law Firm and its unified workforce. Areas of practice:
Personal injury
Criminal law
Real state
Wrongful death
Work accidents
Construction accidents, etc.
Don't miss out this ridiculous list of top richest person in Connecticut.
7. The Pellegrino Law Firm P.C.
The Pellegrino Legal Firm P.C. is based in New Haven, Connecticut, and is one of the city's oldest law companies established in 1890. This law company has been providing high-quality legal services to its customers since its founding in 1929. This organization is always there to help you with your legal needs.
The attorneys at this legal company are committed to providing a broad range of counsel to their clients. They offer their customers the highest quality legal services while also providing them with personal attention. This law company provides the most competent legal assistance at the most reasonable price. Their practice areas are:
Business law
Divorce and family law representation
Real estate law
Personal injury
Criminal defense representation
Estate and tax planning, etc.
8. Carter Mario Law Firm
Carter Mario Law Firm provides their legal service for 30 years of fighting for the injured ones in Connecticut. This law firm has the most skilled injury lawyers. Their professional team always works hard to deliver compassionate and client-oriented legal services.
If someone has been injured in an accident, then the talented and highly skilled team of Connecticut personal injury lawyers is always ready to assist them. Types of cases this law firm handles:
Catastrophic injury
Dangerous and defective products
Dangerous drugs
Insurance frauds
Medical malpractice
Motor vehicle accidents
Personal injury
Nursing home abuse and neglect, etc.
9. Ury & Moskow LLC
Ury & Moskow LLC is a business located in Fairfield, Connecticut, in the United States. It is considered to be a component of the legal services business. Since 1995, our law company has assisted clients who have been involved in difficult legal matters.
They work for the clients by using their successful experience, providing the highest quality legal service, and engaging in effective advocacy to meet their most pressing needs. This law firm has experience in a wide variety of practice areas such as:
Criminal defense
Personal injury
Employment law
Pharmaceuticals
Construction litigation
Estate planning and probate
10. Woolf Law Firm LLC
The Woolf Law Firm is based in East Hartford, Connecticut. It has spent the last two decades putting its consumers' needs first. Their lawyers are always willing to go the extra mile to defend their clients by helping them in recovering compensation.
This legal company assists clients who have been subjected to unjust discrimination at work or who have been wounded in a car accident. This law company approaches its work with a wealth of expertise, dignity, vast legal knowledge, and a strong commitment to its customers. Practice areas of this law firm:
Criminal defense
Personal injury
Assault, bonds release
Crimes against children
Burglary
Domestic violence
Drug charges
Vehicle accidents
Wrongful death
Liability, etc.
These law firms can assist you in better understanding the law, as well as your responsibilities and rights under it. They offer access to well-trained and knowledgeable law experts who can help you deal with your complicated problems at a reasonable cost, and there will be no compromise on the outcome.
11. Connecticut Trial Firm, LLC
Andrew Garza and Ryan McKeen, the founders of Connecticut Trial Firm, LLC, are first-generation lawyers with a common goal: to help and empower those who have been wrongfully injured or killed. Its goal is to lift some of your burden and guide you through a complicated process so that you can find the healing you deserve.
12. Zayas Law Firm
If you are looking for an injury lawyer in Hartford, CT who knows how to handle your case, look no further. Utilizing more than 44 years of combined legal experience, the Hartford personal injury lawyers at Zayas Law Firm are solely committed to advocating on behalf of individuals who have been injured due to someone else's negligence or carelessness.
When it comes to keeping things short and sweet, making better choices means getting better service, so, why not?