When we were kids, what was the most common fear of all of us? It is definitely either a ghost or a monster, right? When we refused to go to bed, our parents always terrorized us with these thoughts about fetching us. It could be either a ghost or a monster that crept me the most in my childhood. Just imagine how terrifying it would be if a place was completely haunted!
Anyway, today we will be finding out about the most creepy haunted places in Georgia. It is a beautiful state, but surprisingly, this state has some weird haunted places. People who have visited these places, many of them experienced para normal activities.
According to Lisa Morton, author of Trick or Treat, "Haunted houses with a Halloween motif initially appeared in America during the Great Depression as a method to get all those pesky adolescents off your property. Yes, if it had been up to you, it would have ended there."
Don't be scared but below I have gathered a list of the top haunted places in Georgia:
1. Murder Kroger
Murder Kroger, Atlanta's brutally infamous grocery store, has been one of the scariest and weirdest pseudo-haunted sites. Consequently, there were multiple occurrences of individuals being slain or discovered dead on the grounds between 1991 and 2015, and despite developers' attempts to rename it as the BeltLine Kroger, the terrifying legacy of Murder Kroger is something that residents will never forget.
The history behind this place, why it is haunted, has been brutal. Cynthia Prioleau, a 25-year-old black woman, was gunned down in 1991. The smelly corpse of a man was discovered in a car in 2002. Joshua R. Richey, an Alabama man, was shot and died in 2015.
So, as you can see, there are some unusual deaths surrounding this place and the assumptions have always been shady and mysterious.
2. Lake Lanier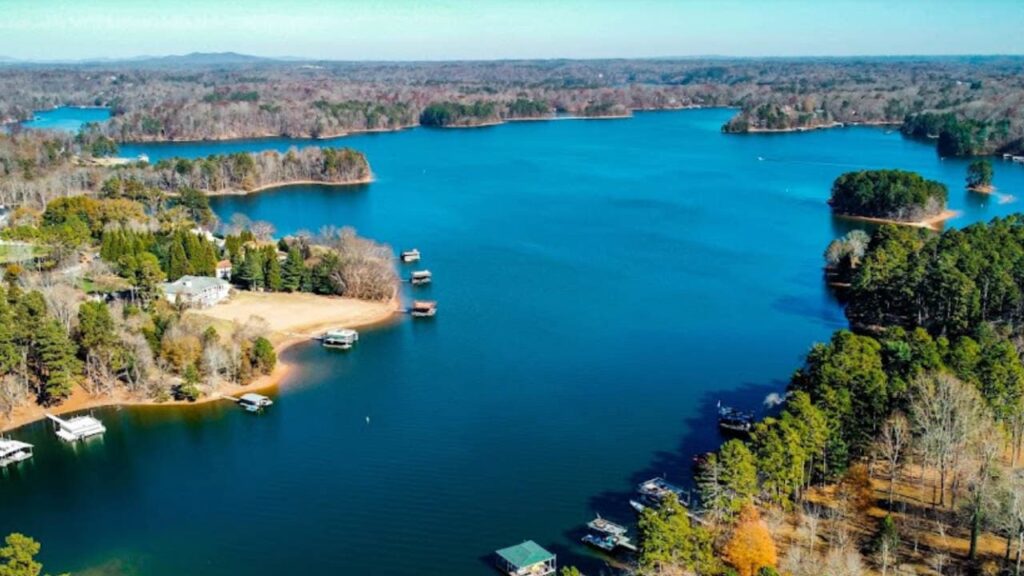 The spookiness is of the highest kind it is located in the northern part of Georgia. Despite the large number of visitors that come to Lake Lanier every year, locals are aware that the lake, which is commonly regarded as one of the deadliest lakes in the country, has a weird atmosphere about it.
The lake has been the site of one of the many child deaths, watercraft disasters, and major injuries throughout the years. Depending on whom you ask, some claim that it is downright haunted. The view of this lake gives me goose bumps and makes me feel a little uneasy.
The water is weirdly calm, and the place is very soundless. If you stand beside the lake, you will find a spooky silence, and you will feel goose bumps. Water can be terrifying if you can not swim, and just think how scary it would be if a single lake had been a proof of so many accidental deaths! creepy right? As a result of Lake Lanier horrific background, many think that the souls buried in the ghost town's graves have been haunting the area ever since Lake Lanier flooded the town.
3. The Ellis Hotel
The Winecoff Hotel in Downtown Atlanta was destroyed by fire on December 7, 1946, killing 119 people, including the 76-year-old proprietors William Fleming Winecoff and Grace Smith Winecoff. The fire was caused by a faulty electrical system.
After all, the hotel fire is regarded as the worst in the history of the United States, so it is only right that paranormal occurrences and strange happenings have continued to be reported there, even after the Ellis Hotel has taken on a new identity.
Additionally, visitors have mentioned witnessing ghostly entities in the hotel corridors and balconies, hearing noises of turmoil and rushing in the hallways, and smelling unusual odors of smoke today, among other things. The smoke detector has also been known to sound at 2:48 a.m., which corresponds to the time the fire began.
Want horror fun? Check out these haunted houses in Georgia.
4. Old Candler Hospital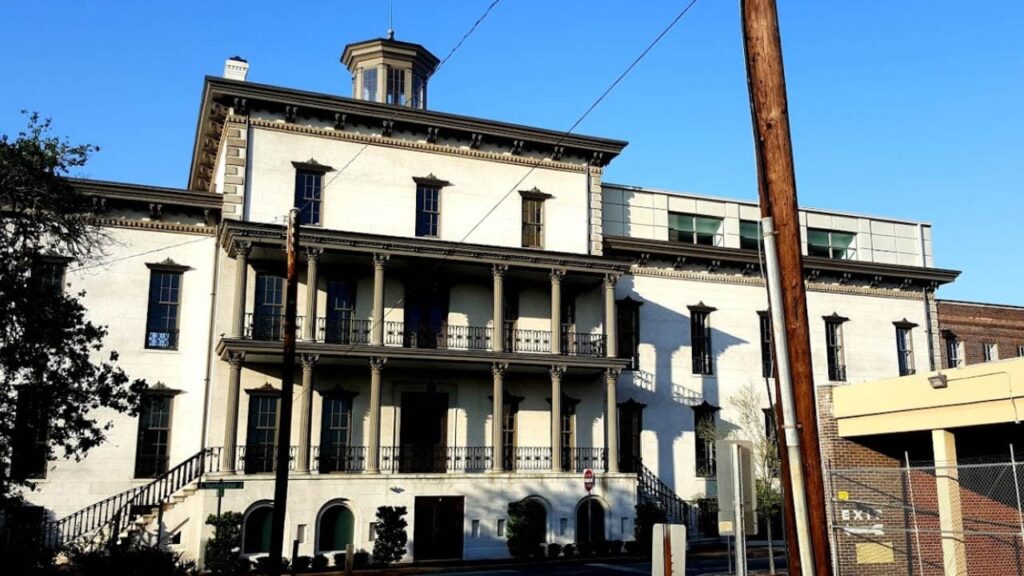 It was constructed in 1804, making it the very first hospital to be established in Savannah, Georgia. As of 2021, it will be the second America's oldest running hospital in the United States, having opened its doors in 1804. Given the fact that it has been in existence for more than 200 years, it is reasonable to presume that the location is swarming with ghosts.
The "hanging tree," a massive Candler Oak that stands outside the hospital, is a popular spot for photographers. The tree is estimated to be 300 years or older. In addition to the deaths, nearly 700 people would perish, including two physicians who were attempting to heal them. In contrast, there are some very bizarre stories that take place in Savannah, Georgia. These legends are intended to terrify both residents and visitors to the area.
The Candler hospital, on the other hand, is a structure that has been there for generations. It is one of the oldest locations in Savannah, and we will take a look at its history in this article. This hospital is one of the most terrifying locations in the entire city. This is according to the residents that live in the area, and they are correct. It was a one-of-a-kind hospital when it opened its doors in 1804 and remains so now.
5. The Historic Lawrenceville Jail
The Ancient Lawrenceville Jail, like most of the scary stories that you're going to hear, is said to have been haunted for well over a century. According to urban myth, a prisoner known Elleck had been assaulted by his slave owner, and in trying to evade the brawl, Elleck is supposed to have attempted to flee by climbing up a ladder to his lodgings on the second floor of the building.
The slave master attempted to catch up with him, but ended up tumbling off the ladder and plummeting to his death below ground. Elleck is claimed to have chosen to tell the truth about the scenario and to have confessed the entire issue to the courts in good conscience.
However, rather than recognizing the situation as a tragic accident, the courts condemned Elleck to death. It is presently a prominent stop on one of Lawrenceville's famed haunted houses, and many guests have claimed that they can still hear Elleck singing to Betsy from his jail cell on rare occasions.
6. Hay House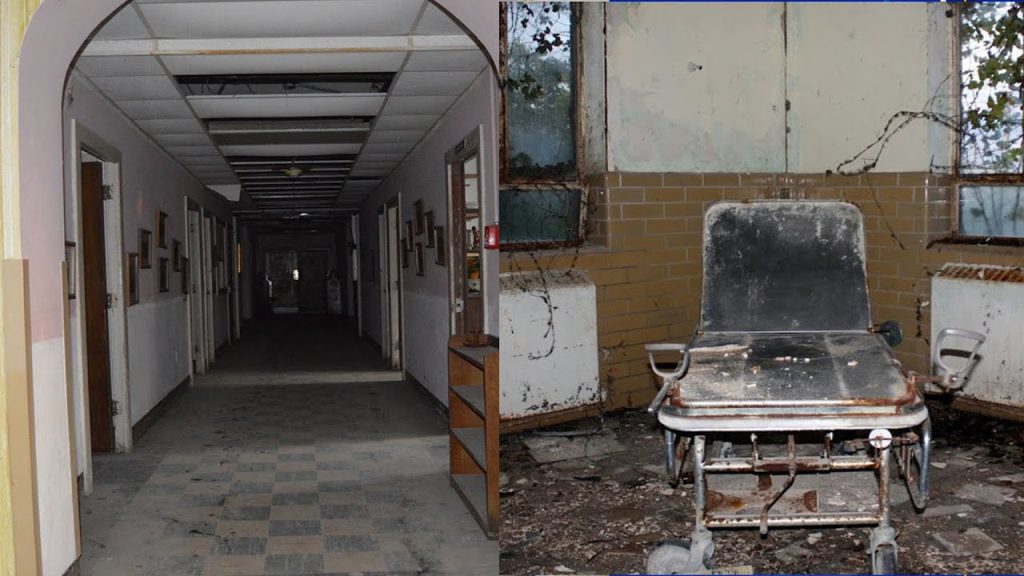 It took decades for the Hay House, an 18,000-square-foot house located in Macon, to be transformed into the town's first walking ghost tour in 2016, decades after it was designated as a National Historic Landmark for its distinctive architectural style. But what's even more remarkable is that, since the Hay House's erection in 1855, just two families have resided in the building during its entire history.
Conversely, architectural elements that are reminiscent of European architecture can be seen throughout the property, including magnificent archways, double French doors, and beautiful woodwork. Considering the home's eye-catching decor, it is the people who still stroll its corridors that might cause tourists to take a second look around.
Nevertheless, that has never happened at Hay House in the 30 years that I have been a volunteer that something incomprehensible didn't happen to the employees, contractors, or occasionally even guests," McClure remarked. "I have never seen anything like it."
Check out these creepy ghost towns in Georgia.
7. Oakland Cemetery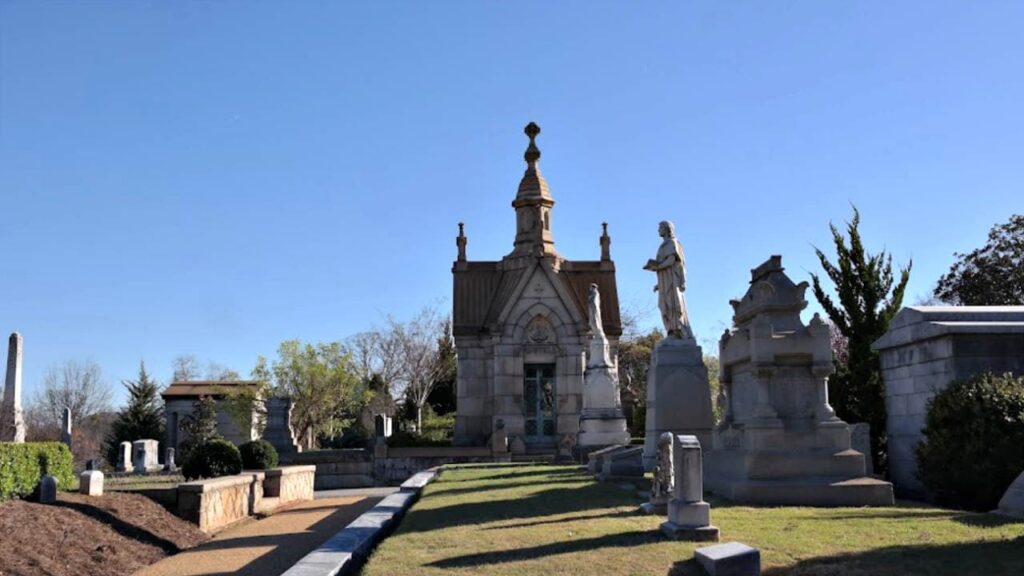 Oakland Cemetery, Atlanta's earliest public park, is the final destination of many of the state's most notable individuals and serves as the city's oldest public park. Its 48 acres, which are less than a mile from downtown, are brimming with riches – history and gardens, sculpture and architecture, ancient trees and magnolias, to name a few.
Incidentally, hundreds of people who have made significant contributions to Atlanta's history people like Maynard Jackson, Margaret Mitchell, and Bobby Jones have been cremated in Atlanta's oldest and largest burial cemetery, but then don't end up running into the ghost of a living legend while there.
8. Camp Daniel Morgan
Camp Rutledge's existence appears to have been shaped by the tragedy that culminated in 1813. Historically, European settlers and Native Americans coexisted in close proximity and frequently traded commodities. European immigrants sold Native American deerskins for firearms, knives, axes, cotton material, metal equipment, and glass beads.
Unfortunately, these exchanges had several unintended consequences, one of which was the over hunting of deer by Europeans and Native Americans alike. This resulted in a drop in the local animal population and, therefore, a fall in the deerskin trade. By the beginning of the nineteenth century, Europeans hunting on one side of the border and Native Americans hunting on the other were often engaged in combat with one another.
Thus, not only was hunting season an exceptionally hazardous time of year, but it may also have been a contributing factor to the Morgan County Massacre.
9. Central State Hospital
The Central State Hospital, which is still in operation in Milledgeville, Georgia, is the largest mental health facility in the United States, and it has been there since the late nineteenth century.
In all, there are up to 25,000 patients interred on the 2,000-acre site, which was officially dedicated as the Georgia Lunatic Asylum on July 1, 1842, five years after Georgia lawmakers approved the establishment of the state's first "Lunatic, Idiot, and Epileptic Hospital."
The fact that some of the physicians at Central State Hospital were recruited from the mental wards is an even more unsettling fact about the institution, since it implies that the prisoners were in some instances essentially assisting to manage the hospital. If it isn't enough to keep you up at night, nothing ever will.
10. St. Simons Lighthouse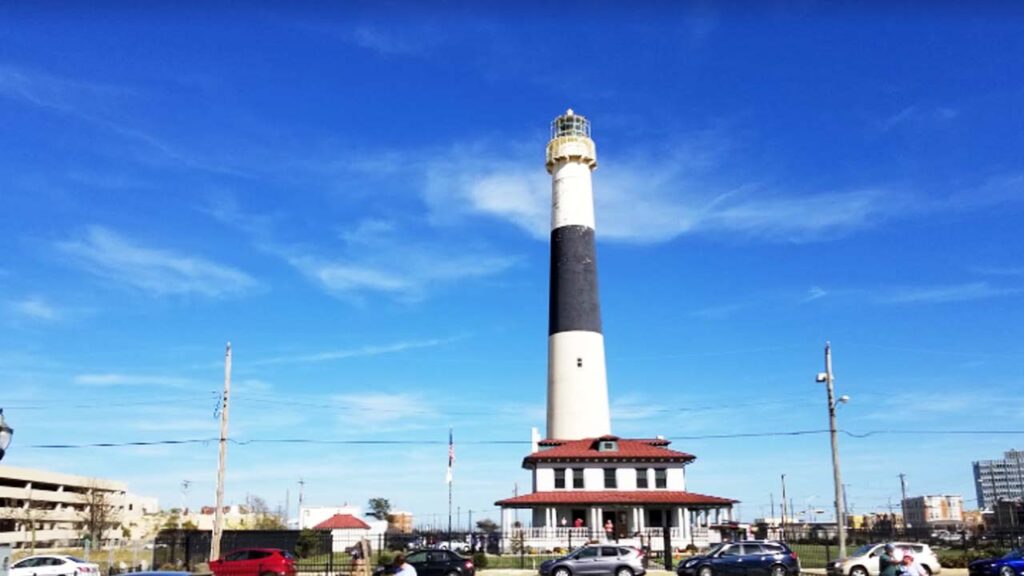 Locals say that the gorgeous St. Simons Lighthouse is haunted as a result of a brutal battle that took place in 1880 between Frederick Osborne, the lighthouse keeper, and John Stephens, the assistant keeper, who was killed in the process.
Although reports of what caused Osborne's death differ greatly, a quarrel over one of their wives finally resulted in his death, and tourists have claimed that the spirit of the killed lighthouse keeper still hovers above the St. Simons Lighthouse 141 years after their duel. There must be something about lighthouses that gives them appealing setting for numerous ghost tales in the United States of America.
Maybe it is the way the underground upper floors are generally gloomy and scary, almost like dungeons from prehistoric days, or the fact that they are often located in remote areas that contributes to this feeling. The second possibility, of course, is that they are in fact haunted by ghosts.
11. Sorrel-Weed House
Sorrel-Weed has gained the distinction of being one of the most haunted buildings in one of the most haunted communities in Georgia, a distinction that is well-deserved. The Sorrel-Weed House, which is now an official state property in Georgia, was built during the latter part of the 1830s and served as the family's house of Brigadier General Moxley Sorrel, who fought for the Confederacy during the American Civil War.
According to the name, the grounds are also stained with blood from conflicts during the American Revolution and the Siege of Savannah, thus contrary to the name, it is definitely not the most pleasant location to light up.
12. Gravity Hill
Upon entering Gravity Hill, the nightmare starts… you will discover over a dozen distinct scenes/settings spread out over 5 acres, all of which are designed to scare you. 45 minutes of spine-chilling walking ghost pathways, spooky themes, and frightening experiences to explore.
The Gravity Hill urban myth is one of several spooky tales that have emerged from California, and accounts of how it got to be so odd differ from one another. Many think that the Gravity Hill legend arose when a school bus collapsed, killing all of its occupants, while others believe that an inattentive driver was responsible for the deaths of a busload of children.
No matter what the truth of the story is, the events that take place on Gravity Hill are both unnerving and unbelievable to see. Is there a scientific explanation for the phenomenon, or is the location totally paranormal in nature? Whatever your beliefs in ghosts, the tale of the haunted hill will have you scratching your head.
In conclusion, all the places above here are actually haunted, and they are full of para-normal activities. If you want to spice up your life and crave for some adventure, then make sure to visit these places.