The state of Connecticut provides a bunch of lakes to discover, as well as streams and valleys, mountains, despite the fact that it is the third smallest state in the United States.
Here are my top picks for the finest lakes in Connecticut, where the families can cool down while taking full advantage of the stunning sceneries around.
1. Lake Hayward, Middlesex County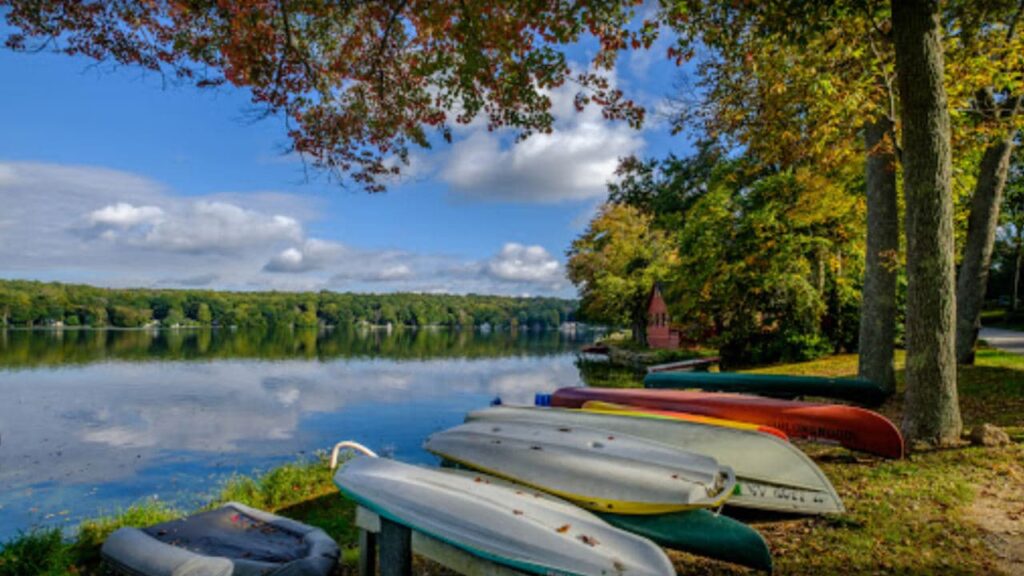 Lake Hayward is one of the most beautiful lakes in Connecticut. This lake is situated in the East Haddam town on the Eastern half of the state. This beautiful lake covers 70 hectares. It was named after the famous businessman Nathaniel Hayward – he is one of the Goodyear Tire and Rubber Company founders.
Lake Hayward has four beaches, but all run privately. It's the ideal location for spending time with loved ones or friends. Any powered engines are not allowed on Lake Hayward to maintain the environment silent and calm. You will find many private homes, cottages, stores, car parks, and a public boat launch.
2. Gardner Lake, New London County
Gardner lake is a small lake situated in New London Country. This beautiful lake sits between Salem, Montville, and Bozrah.
This lake was named after a family – who had owned a huge portion of the land nearby the lake. But the lake was expanded later. It is a natural lake of 214 hectares. A marina surrounds this lake; it has four campgrounds and many private homes.
3. Squantz Pond, Fairfield County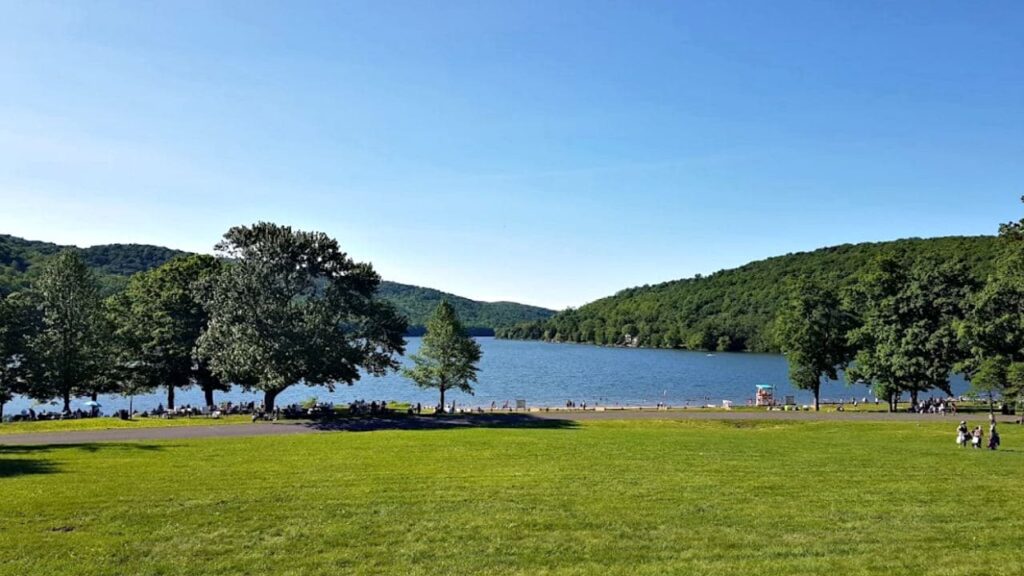 This recreational lake is situated in the Squantz Pond State Park but is known as a pond. The beautiful lake has a beach surrounded by a hill-like setting – that will work as an excellent backdrop. It's also a beautiful setting for family vacations. It is the most popular place for photographers and outdoor lovers.
This lake may be found in New Fairfield, Connecticut, near New York, on Connecticut's western edge. Though this lake is open all year round, it has more visitors in the summer seasons. It has many recreational activities such as boating, fishing, scuba diving, etc.
Love hiking? Here are the top hiking trails in Connecticut.
4. Lake Lillinonah, Fairfield & New Haven Counties
It is the second-largest Lake in Connecticut. This lake was formed in 1955. The lake sits along the Housatonic River. Six towns surround it. The 72-kilometer shoreline is a very attractive wooded area – which makes it a tranquil lake. The woods have gained popularity for bald eagles.
This lake is home to bass and northern pike. It is one of the prime fishing destinations of the state. Also, it homes two stake parks. Hiking, riding, and picnicking are just a few of the activities available at these two parks.
5. West Thompson Lake, Windham County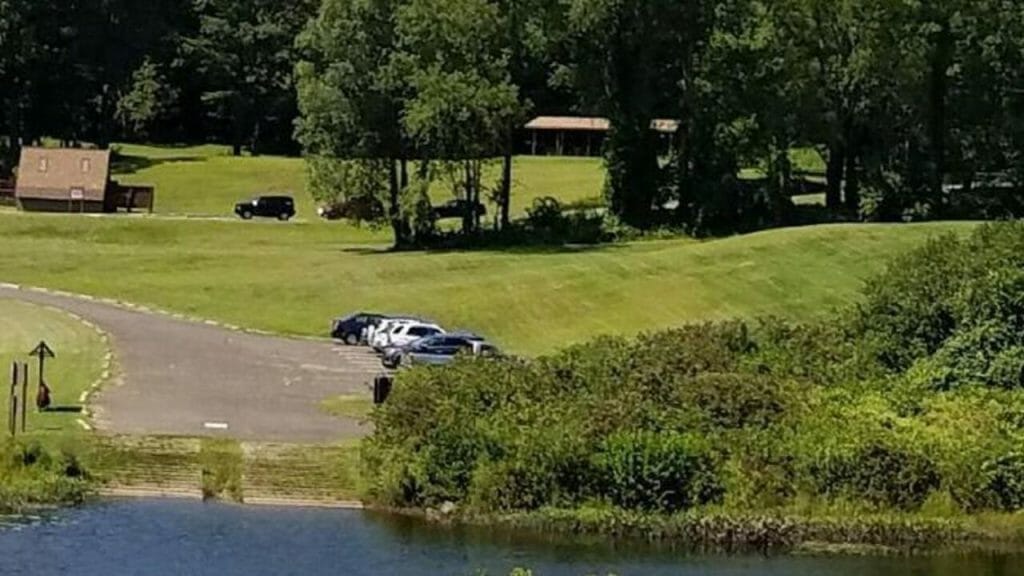 This lake is a popular recreational area. Guests at the West Thompson Lake Campground will find a tranquil setting to rest and explore the surrounding area on foot. In all, there are three distinct trail networks to choose from.
Lake visitors may engage in water sports such as boating, paddling, and sailing. On the lake's coastline, they may also play sports.
6. Lake Zoar, Fairfield & New Haven Counties
This lake was created in 1919. It offers spectacular views. This lake has bass, perch, catfish, carp, and trout. So, fishing has become the most popular activity here. Also, visitors can enjoy water skiing and jet skiing.
These are the best fishing spots in Connecticut.
7. Mashapaug Lake, Tolland County
This lake is bordered by two state parks on each side of it. It is a renowned destination for those who like the great outdoors. Visitors can enjoy fishing all year round, and they can enjoy swimming in the summer season. The beautiful lake has public boat launches and also picnic areas.
Many excursions like hiking, picnicking, skiing, and cross-country skating are available in the state's two parks (Bigelow Hollow State Park and Nipmuck State Forest).
8. Hop Brook Lake, New Haven County
For those who like fishing, it's a great place to go. Brook, brown, and rainbow trout have all been added to the reservoir's fish population. The lake permits only non-motorized watercraft. A forest surrounds this lake. Many species of animals may be found in this woodland.
This lake is surrounded by a forest. This forest is home to many wildlife. If you want to go hiking, then it can be a perfect destination. In addition, if you're fortunate, you may see a white-tailed deer in the woods.
9. Lake Saltonstall, New Haven County
It is yet another gorgeous lake in Connecticut. Trails for cycling, hiking, and cross-country skiing are available on the property. You may also take pleasure in viewing a variety of birds and other animals.
Swimming is not permitted at Lake Saltonstall at any time. However, if you have permission, you may go fishing in this area.
10. Saugatuck Reservoir, Fairfield County
This is one of the most popular and beautiful places for fishing in Connecticut. It is surrounded by a park – which is a fantastic place for hiking and to breathe in the fresh, clean air. Hunting is allowed in the reservoir's six trials, which are spread across the property.
11. Crystal Lake, Tolland County
The lake has gained popularity for Sandy Beach, and it is a favorite summer tourist destination. Among the most fun things to engage in on the sandy beach are surfing and sunbathing.
But to enter the sandy beach, there is an admission fee. The rest of the lake's shoreline is surrounded by residential properties.
12. Lake Waramaug, Litchfield County
The shoreline of this lake is well-developed with boathouses, homes, etc. There are also commercial properties, a state park nearby the lake. This state park is a great place for fishing, camping, swimming.
13. Bantam Lake, Litchfield County
Bantam Lake is the largest lake in Connecticut. Due to the abundance of species of birds in the northern end of the lake region, it is a wonderful destination for bird enthusiasts of all kinds. This lake is home to two public beaches and Litchfield Hills Rowing Club.
14. Candlewood Lake, Fairfield & Litchfield Counties
This lake has acquired popularity due to the many leisure activities, including boating, fishing, swimming, and boarding. Visitors come to this location to enjoy scuba diving and to learn more about the underwater environment.
15. Mansfield Hollow Lake, Windham & Tolland Counties
The Mansfield Hollow Dam was responsible for the creation of this lake. Sailing, fishing, and other things are among the best sports on the lake. Along the lake's coastline, there are many picturesque picnic spots to choose from.
All sorts of water sports may be enjoyed in any one of the more than 3,000 gorgeous lakes, rivers, and dams found across Connecticut. In addition to swimming, boating, fishing, kayaking, hiking, and camping. Also, don't forget about the fantastic hotels and local restaurants. Always double-check the security rules for a new area before going out!