Viewed by many as the ultimate holiday destination, Florida is one of the crown jewels of America's tourist attractions. One of the largest states in the US in terms of population, most cities in Florida offer a multicultural environment and sunny climate.
Alongside its beautiful weather, America's Sunshine State is also renowned for its vibrant nightlife and glamorous lifestyle. Additionally, this state is full of white-sand beaches, spring break parties, wetlands, lakes and Bohemian enclaves. Furthermore, this famed state is home of landmark destinations like Disney World.
In fact, some places in Florida attract tourists from all across the world due to their luxurious holiday facilities and scenic nature. So, these are the most beautiful places in Florida.
1. St. Augustine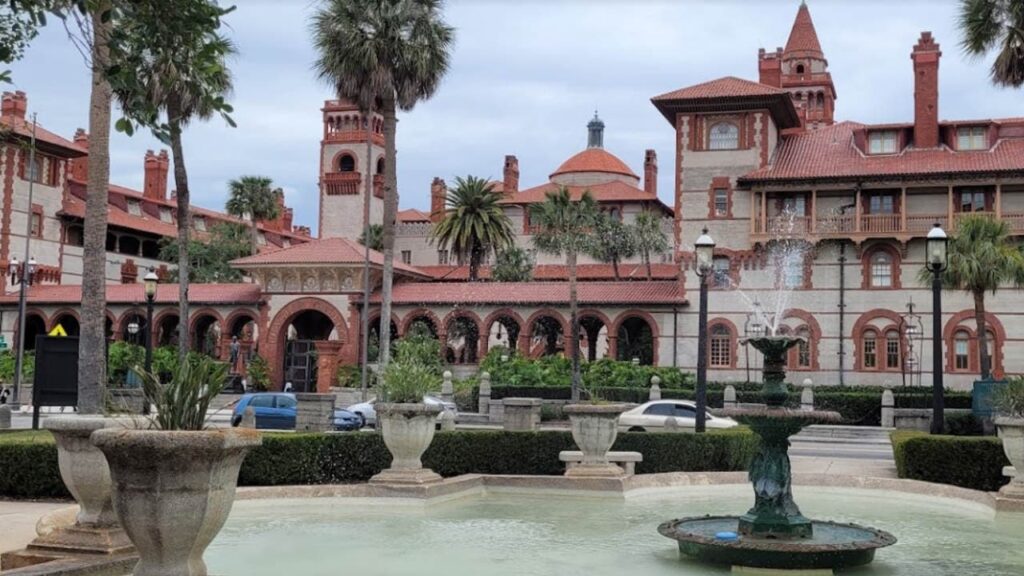 St. Augustine, known to be the oldest city in the US, is one of Florida's most beautiful landmark destination. Renowned for its stunning Spanish colonial architecture, this city is home to many beautiful and historic monuments and buildings.
Moreover, art fanatics can find incredible art galleries and museums like the Lightner Museum in St. Augustine.
2. South Beach
South Beach is perhaps the most popular tourist attraction in Florida. It is situated in Miami, one of Florida's largest cities, and is famed for its vibrant and glamorous lifestyle.
Additionally, the sunny beaches and recreational amenities along the shorelines make South Beach one of the best places to visit in Florida. Furthermore, this area is full of luxurious hotels and old, historic buildings.
3. Everglades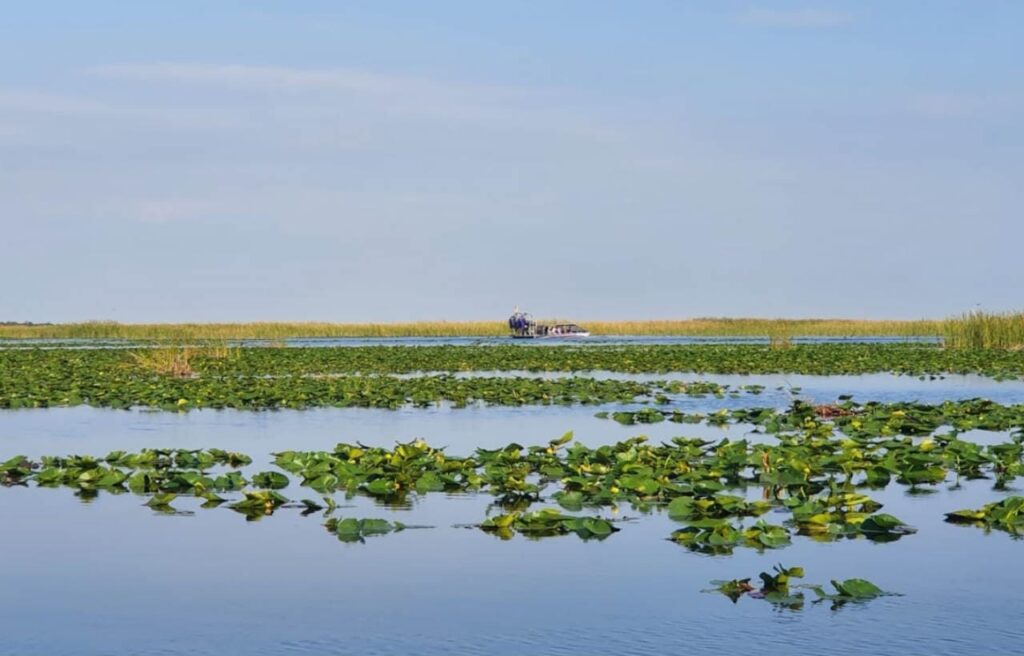 Everglades is renowned for being the largest subtropical ecosystem in the US and is one of the most beautiful places in Florida. This natural region is full of wetlands, lakes and recreational parks.
Moreover, Everglades National Park is home to unique wildlife, cypress forest and wetlands. The Everglades flows from Lake Okeechobee and is referred to as "the river of grass".
Read out this interesting article about the historical sites in Florida.
4. Crystal River
Crystal River is a unique coastal city in Florida that is famous for its natural springs. In fact, the city is primarily fed by these natural springs which consist of many gentle manatees.
Alongside manatees, you can also swim with many other gentle giants of the sea in the Crystal River. Crystal River's beautiful and friendly aquatic life, along with its stunning beaches make this city one of the Florida's biggest attractions.
5. Amelia Island
Amelia Island is an awe-inspiring coastal escape that was named after the British Princess, Amelia. Situated in Nassau County, Amelia Island has a rich history that involves the historic warfare between pirates and the British Empire.
Additionally, Fernandina Beach's downtown features unique stores and restaurants that offer scenic views.
6. Sanibel Island
Located in Southwest Florida, Sanibel Island is famed for its beaches and rare shells. Sanibel Island is mainly known for its fancy resorts, boutique stores and stunning art galleries.
Moreover, Sanibel Island is the perfect destination for those who are looking for an up-close experience with aquatic animals like dolphins and sea turtles.
Check out these best places to visit in Florida.
7. Caladesi Island State Park
If you are looking for a scenic state park with stunning recreational amenities and relaxing services, then Caladesi Island State Park is the perfect place for you.
Situated in the city of Dunedin, this state park is quite well-known for its coastal activities like kayaking and swimming. Furthermore, Caladesi Island State Park white-sand beach is one of the best beaches in the state.
8. Fort Lauderdale Beach
For those who are looking for a beautiful place to visit with lavish staycation facilities, Fort Lauderdale Beach is a must-visit in Florida. This beach is full of lavish resorts and glamorous beach activities. Moreover, Fort Lauderdale Beach is home to wide boardwalks and many cultural landmarks.
9. Biscayne Bay
Biscayne Bay, the largest estuary in Florida, is a famous water body located on the Atlantic Coast. Firstly, this lagoon offers scenic sunsets with a sight of the vibrant downtown Miami.
Moreover, Biscayne National Park is home to beautiful swamps, coral reefs and has access to emerald islands. Popular activities around Biscayne Bay include boating, swimming and kayaking.
10. Clearwater
Located in Florida's Gulf Coast, Clearwater is one of the most beautiful places in Florida and a must-visit for tourists. Renowned for its sunny weather and stunning beaches, Clearwater is one of the best beach destinations in the United States.
Furthermore, Pier 60 in Clearwater is a popular fishing destination has features live music at night.
11. Florida Keys Scenic Highway
If you are looking for a road trip destination is Florida, then the Florida Keys Scenic Highway is quite simply unmatched. Cruise on this beautiful 110-mile highway that provides awe-inspiring scenic views of the blue ocean.
Alongside offering one of the most beautiful drives in the world, the 43 keys of this place also provide music, art and cuisine.
12. Key West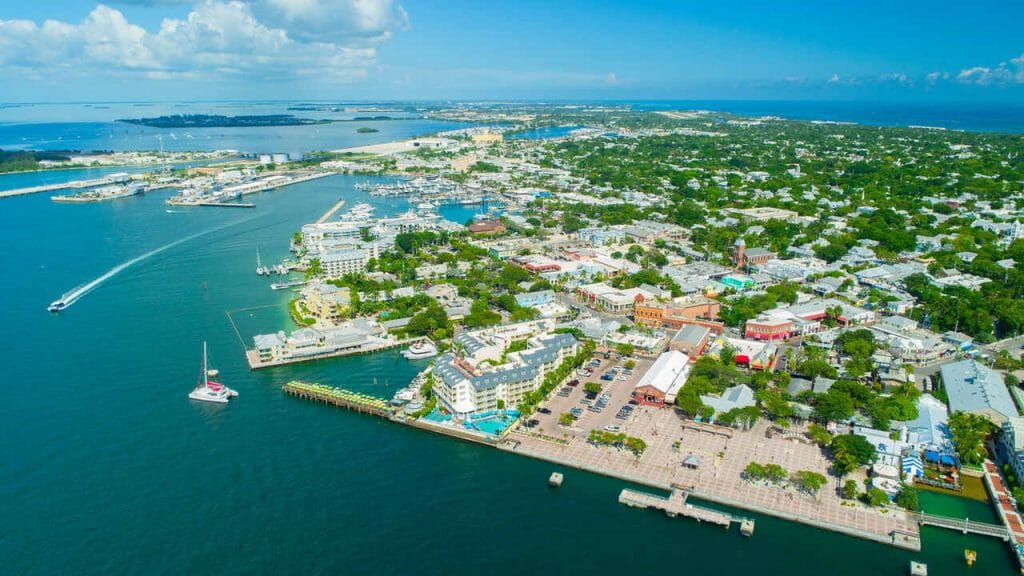 Key West, a unique island city, offers a wonderful blend of natural beauty, culture and history. Situated close to Cuba, Key West is a multicultural region with an amazing climate and coastal shores. Additionally, this beautiful getaway holiday destination has been home to some very well-known authors.
13. Boneyard Beach
Situated on Big Talbot Island, Boneyard Beach is one of the most beautiful places in Florida to visit. A unique beach that is full of driftwood, Boneyard Beach is called "photographers paradise", for its picturesque views.
Additionally, this beach features scenic hiking trails that lead you to destinations that are perfect for enjoying a relaxing sunset.
14. Dry Tortugas National Park
When it comes to landscape views, Dry Tortugas National Park is one of the most beautiful places, not just in Florida, but in the US. Situated close to Key West, this park comprises 7 islands.
Surrounded by the picturesque blue ocean, Dry Tortugas National Park is famous for its aquatic activities like boating, sailing, swimming and kayaking.
15. Vero Beach
Vero Beach is one of the most beautiful white-sand beaches in the United States. Situated along the Atlantic Coast, Vero Beach offers a tranquil environment and a historic downtown.
Moreover, this beach provides a small-town feel for its visitors who can enjoy all sorts of water activities around Vero Beach. It is one of Florida's highest ranking beaches.
16. Clearwater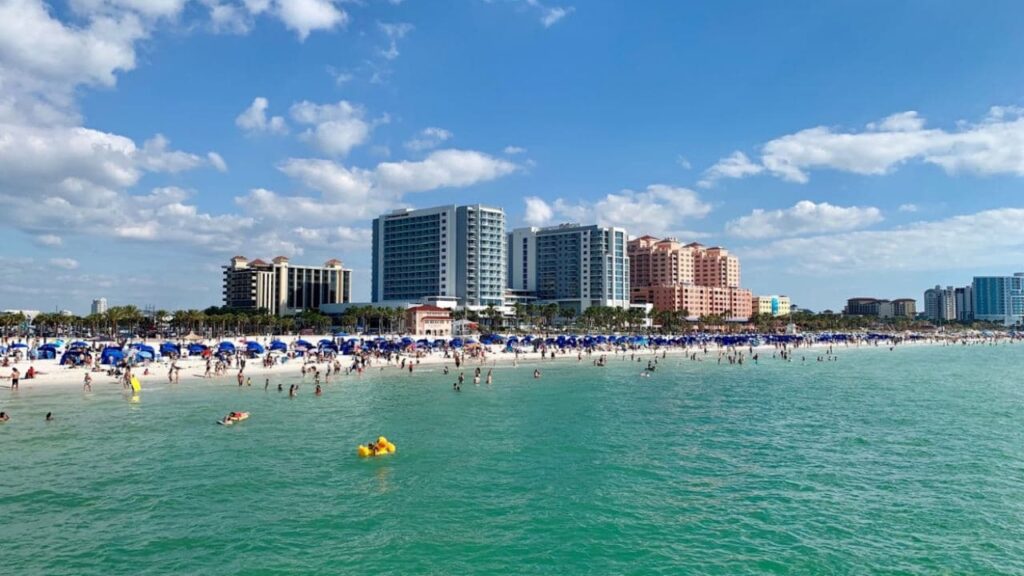 Situated between the Gulf of Mexico and Tampa Bay, Clearwater is a popular destination for its spectacular 3-mile-long beaches, warm weather and narrow reef. It is one of the best destinations for family trips. You and your family can explore the fancy hotels, bars, restaurants, and resorts.
17. Daytona Beach
Traveling 51 miles from Orlando, there is Daytona Beach along the Atlantic coast. Want to know what this area is most popular for? Because of the Daytona 500 NASCAR race that is held at the Daytona International Speedway.
People across the area come and enjoy watching the speed racing. Besides the car races and sandy beaches, you can also visit the Daytona Lagoon water park for a breathtaking aqua fun time.
18. Pensacola
The westernmost city of the Florida panhandle, Pensacola is an old coastal city. This ancient city has charming features that attract visitors, especially photographers. It is one of the remotest areas, so one can enjoy the quiet and safe atmosphere of the city.
Due to its vast coastal regions, most of the beautiful places in Florida are white-sand beaches, islands or small coastal cities. These places are famous for their fancy holiday services and natural scenic views. Interestingly, all of these places have unique features that set them apart from others.