Cemetery always regards as spooky and scary places. People often wager to spent the night in the cemetery. Though the cemeteries are referred to haunted, yet they are called the windows into the lives of those who walked before us. Not every cemetery is creepy and haunted; instead, some are old, historical, and interesting. Cemeteries are the necessities for every civilization, and the bigger the nation is, the more cemeteries are there.
There are fifty states with 144000 graveyards in the US, and some cemeteries are more than four hundred years old. From the mid-nineteenth century, the popular rural cemetery movement encouraged people to use cemetery and burial grounds as landscapes and public parks. As days go by, one's final resting place evolved, and now they are treated as historical landmarks. By seeing and learning about these cemeteries and people buried there, you can learn about their time and their works, making today's world as it is. There are plenty of historic cemeteries in the US.
Among them, I picked 10 of the oldest cemeteries in the US to learn about these not-so-spooky but interesting places and their unfound history.
1. Charter Street Cemetery (1637), Massachusetts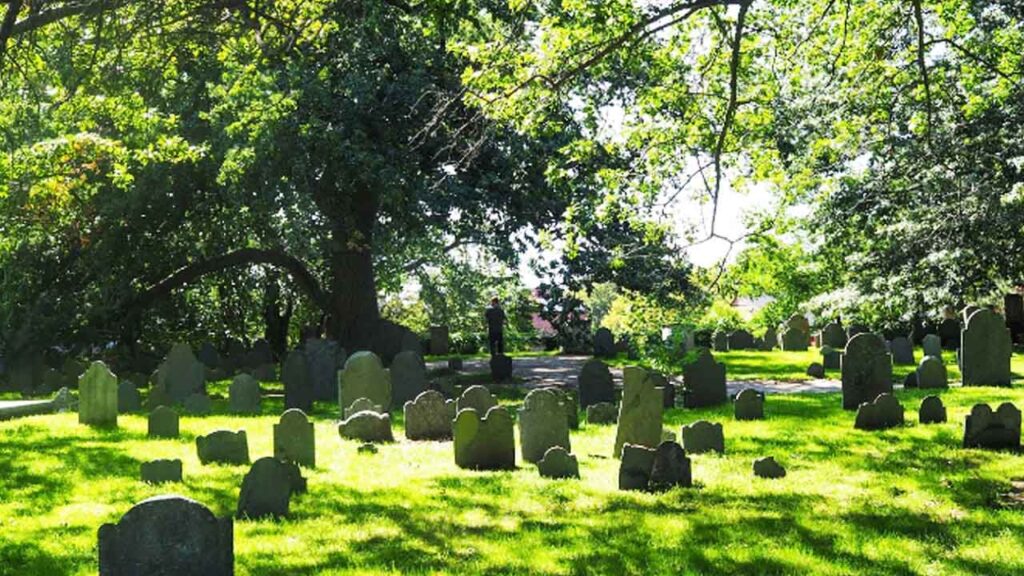 Charter Street Cemetery (Old Burying Point Cemetery) is the oldest cemetery in the US which was established in 1637. It is situated in Salem, Massachusetts. It is also the first cemetery ever founded in the US. The earliest headstone is dated back to 1683, also the latest marked 1881. Before 1717 it was a private cemetery owned by the Wade family.
According to the record, 600 people are buried there—however, only 485 headstones to be found. Various types of people were buried there, including fallen soldiers, slaves, and nobles. Unlike nobles, the slaves were not granted tombstones in that unjust era. Granite was used for most of the tombstones. Massachusetts Governor and Revolutionary War figure John Brooks, Sarah Bradlee Fulton, a Revolutionary War heroine, Judge John Hathorne – these notable and hated figures are also buried here. Because of the Salem witch trial, which cost 19 innocent women's life these people are hated. Those innocent girls did not get a proper burial. Because of his cruelty towards those who he hanged, this cemetery is rumored to be haunted by Judge Hathorne's ghost.
In the event that a ghost haunts it, many ghost-hunters and curious and brave tourists come to this most haunted place in Massachusetts. If you are a brave soul, you may also find yourself at this haunted cemetery searching for a ghost.
2. Myles Standish Burial Ground (1638), Massachusetts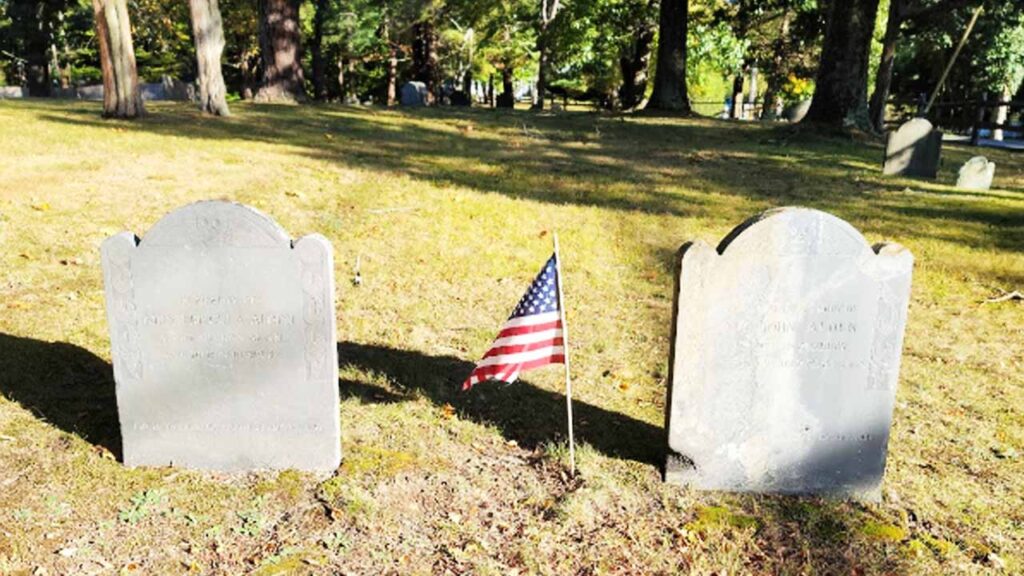 Situated in Duxbury, Massachusetts, Myles Standish Burial Ground (Standish Cemetery) is one of the oldest cemeteries was ever built in the US. It was established in 1638. Moreover, it is the oldest maintained cemetery, according to the American Cemetery Association. It is the second oldest cemetery in the US.
The Plymouth Colony was the very first on to land on Duxbury in 1627. In 1938 the burying ground was established and used shortly after. However, due to the lack of markers, 17th-century residents' exact graves are unknown and the oldest extant craved tombstone dated back to 1697. Approximately 130 gravestones are marked in the cemetery. The surviving tombstones dated from 1760 to 1770, and only 34 of them pre-dated from 1750.
The original burial ground was neglected and forgotten over time. New Englanders took great interest in the Pilgrim History in 1858, and it has become a tourist attraction in the late 19th century.
The cemetery is named after the leader of the pilgrim militia, Myles Standish. As time goes by, it has become a landmark and historical interest.
3. North Burial Ground (1700), RHODE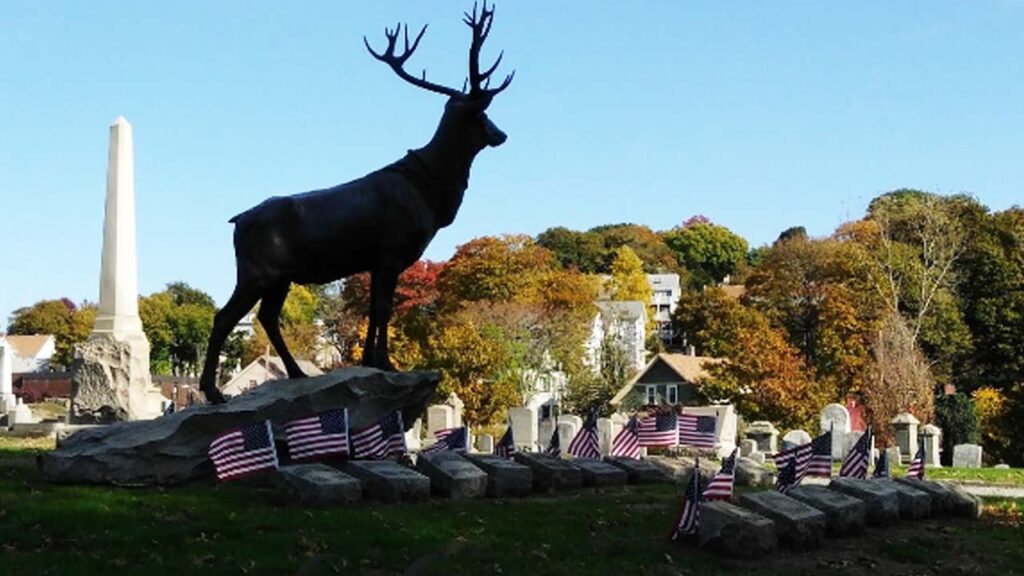 The third oldest cemetery in the US is the North Burial Ground. It is the first public cemetery in Providence, Rhode Island, established in 1700. However, the first official burial took place in 1711. By 1736 only 14 people were buried. Now it has more than 40,000 tombstones and the largest municipal cemetery in the territory.
North Burial Ground has prominent citizens' tombstones, including Rhode Island governors, mayors, civil war, and revolutionary war leaders. John & Nicholas Brown, Stephen Hopkins, Horace Mann, Nicholas Cooke, Gregory & Ebenezer Dexter, and Samuel Bridgham are some of the notable figures resting there.
Also, this cemetery provides a rich history of its inhabitants' three centuries of artistic gravestones, monuments, and symbolic tombstones. The special Gothic, Baroque, Beaux-Arts and Federal Architectural features of the design display and layout present the visitors an education in that field as well.
Now this cemetery has become the economic and educational strong point for the city of Providence. A wide range of people, including tourists and historians, are now interested in this significant cemetery.
4. Old North Cemetery (1730), New Hampshire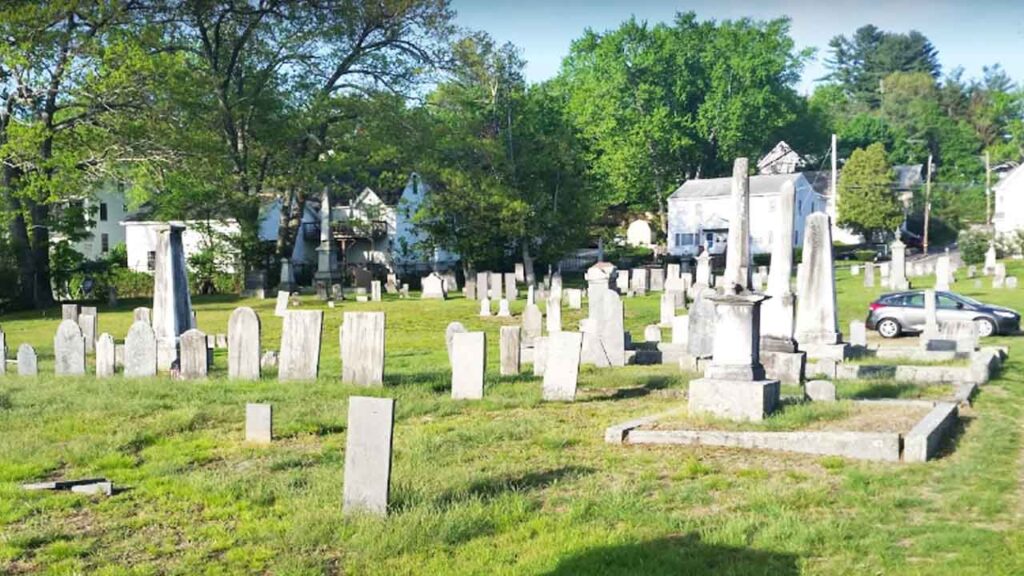 It is said that in Old North Cemetery, American legends rest in peace. In my list, the Old North Cemetery is the fourth oldest cemetery in the US. Here lies the prominent figure of American history, along with President Franklin Pierce. Also, various notable governors, industrialists, senators, revolutionary war veterans, abolitionists, lauded religious leaders, and military generals are resting here.
It was dated back to 1730 as Concord's first burial ground. It provides Concord's history of nearly three centuries. It also has many mausoleums, monuments, tombstones which shows the architectural significance of New Hampshire.
Nearly 250 cemetery's prominent tombstones and monuments are John Wright's work, who became famous for his carving. Old North Cemetery is now an important historical place reserved for tourism.
5. American Cemetery (1737), Lousiana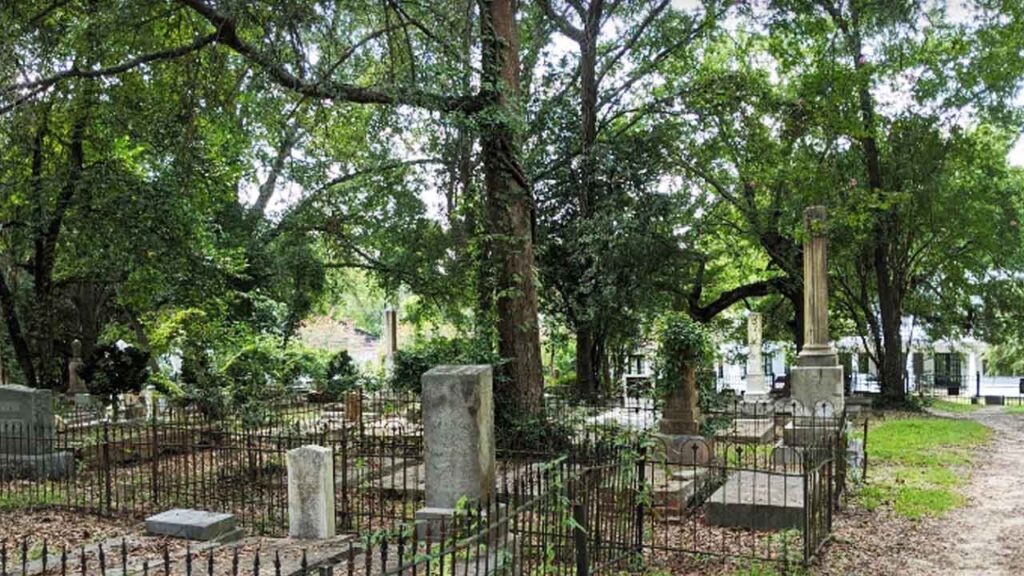 Established in 1737, American Cemetery is the cornerstones of the Natchitoches community in Lousiana. It is the fifth oldest cemetery in my list.The cemetery has a historic landscape filled with trees and wildlife. According to historians, the official cemetery was founded in Fort St. Jean Baptiste. All residents at that time in the fort were buried there.
It was almost forgotten around the 20th century, and a group of local women brought it back to the public eye. After a certain amount of time, it was also used for the movie Steel Magnolias. This cemetery gives Natchitoches a link to their past. The citizens, for fifty years, have been involved with its historic preservation, and now it becomes a historical tourism site.
6. Ste. Genevieve Memorial Cemetery (1787), Missouri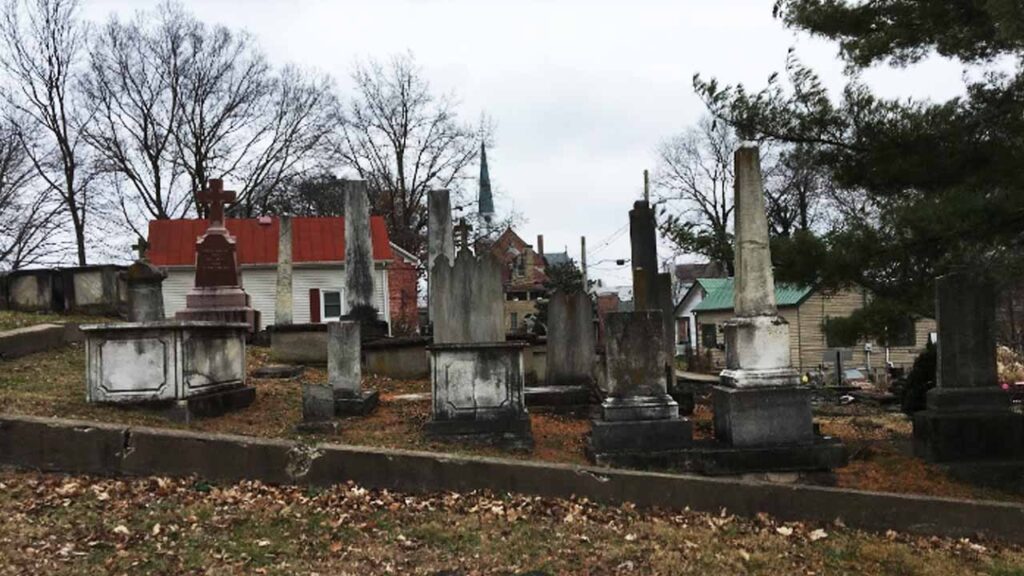 The sixth oldest cemetery in the US, Ste. Genevieve's Memorial Cemetery were founded in 1787. iIt s the resting place of a variety of people. After 3500 people were buried there, it was closed down in 1880.
It is divided into three sections – Catholic burials, Lutherans, and Protestants.
It is the final resting place of 50 native Americans and notable US senator Lewis F. Linn, Odile Pratte-Valle, and many other Missouri pioneers. According to local records, almost half of those were children under six years old.
7. Saint Louis Cemetery (1789), Lousiana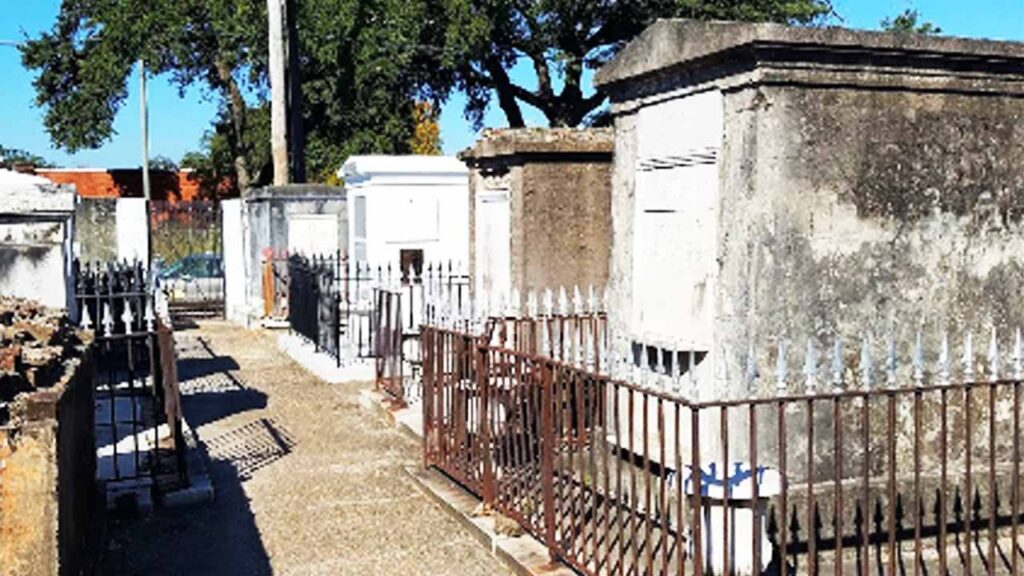 Saint Louis Cemetery is the most historic cemetery of New Orleans. It was established in 1789. It is located near French Quarter and the oldest cemetery in New Orleans.
The Spanish Consul instructed that the cemetery must be situated far from the French Quarter in the fear that death might infect the living. It was divided by religion – Catholic, non-Catholic, Protestant, and Afro-Americans.
Many famous people of Louisiana are buried here in this very cemetery. Marie Laveau, the Voodoo Queen, Bernard de Marigny, Barthelemy Lafon, and so many others. Though he is still alive, notorious actor Nicolas Cage commissioned a pyramid grave for himself. It has become a significant historical place. It is the seventh oldest cemetery in my list. Despite being such old, it's one of the largest cemeteries in United States.
8. Greenlawn Cemetery (1821), Indiana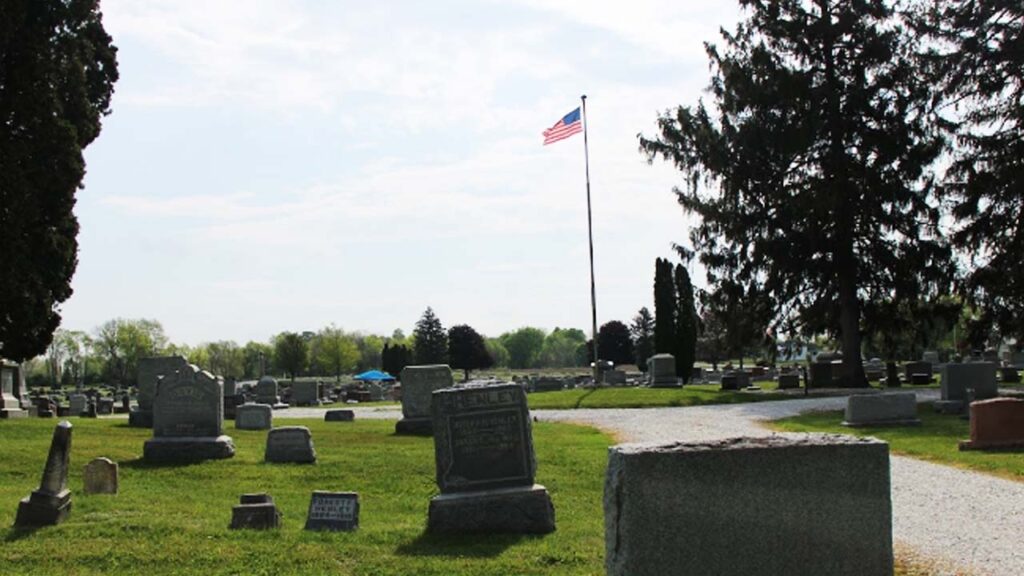 Two hundred twenty-five years old, Greenlawn cemetery holds fascinating history within it. It was established in 1821 in Vincennes. The Confederate prisoners and the prisoner-of-war camp north of Indianapolis were buried in this cemetery. It also contained the remains of a Union and Confederate soldier. Many artifacts are found during the closure of Greenlawn. Before the turn of the 20th century, the graves are moved elsewhere as grave robbing, and body snatching became a profitable business.
9. Calvary Cemetery (1848), New York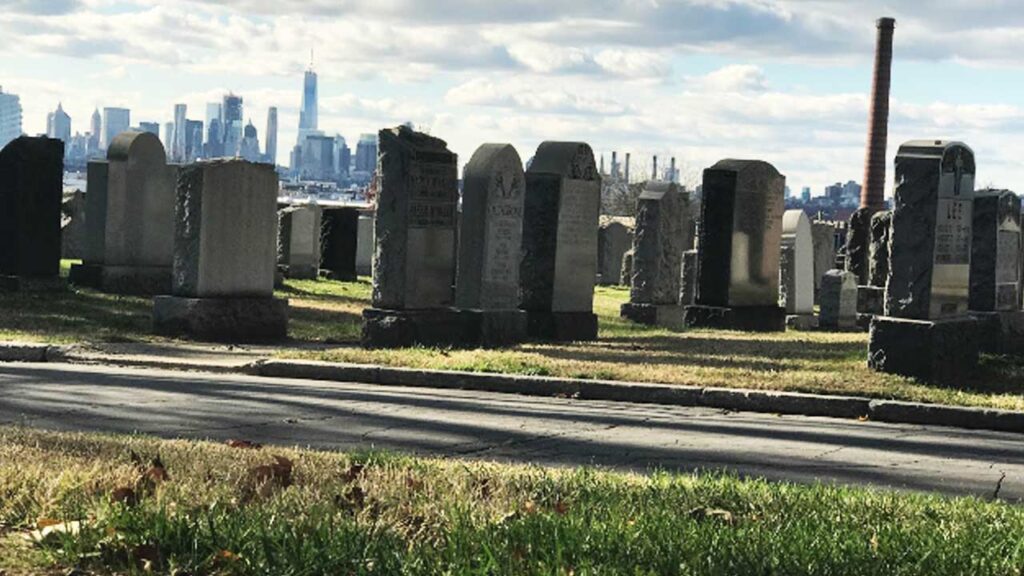 It is a Roman Catholic Cemetery established in 1848 in Queens, New York. The Trustees of Old St. Patrick's Cathedral on Mott Street, Manhattan, established this cemetery due to the Cholera Pandemic. It is described as the most important cemetery in New York. It has more than three million burials and is America's largest cemetery.
A Chapel is located in the First Calvary and has become a historical place and interest of many tourists.
10. Arlington National Cemetery (1864), Virginia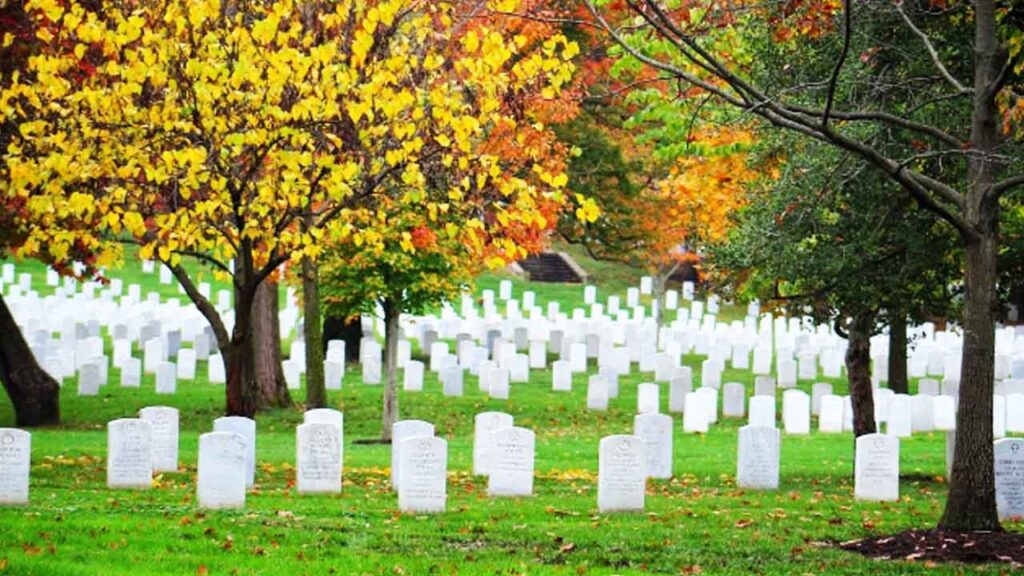 The tenth oldest cemetery in the US is Arlington National Cemetery, located in Virginia. This cemetery mainly holds the grave of fallen soldiers in various wars. It is a national cemetery. Arlington was the property of Washington and later Custis Lee. Later it was confiscated without proper process by the government, and later on, it was returned to the heir of Custis Lee, who sold it back to the governor of Virginia. From that time onwards, this burial ground saw many historical events. To acquire land for the burial ground Army's Quartermaster General closed the Freedman's village, and it became the burial ground for the fallen soldiers.
Now in this era, it has become a historical site like every other oldest cemetery.
Spanish Novelist Carlos Luiz Zafon once said, "All true stories begin and end in a cemetery." From these cemeteries in the US, you can see the beauty and harsh truth of the centuries and how these graves standstill to make you remember your ancestry. Your work makes you everlasting among the next generation, and cemeteries are the remembrance of such histories throughout the centuries.