The people who live in California are fortunate since their state is home to a few of the most upscale outlet malls. At these locations, you'll discover a number of stores that sell the greatest products available from well-known brands at prices that are far lower than elsewhere. Buy as much as you can for your closet without making a significant dent in your savings!
The following is a list of the greatest outlet malls in California, including both upscale designer boutiques and hip local boutiques.
1. Camarillo Premium Outlets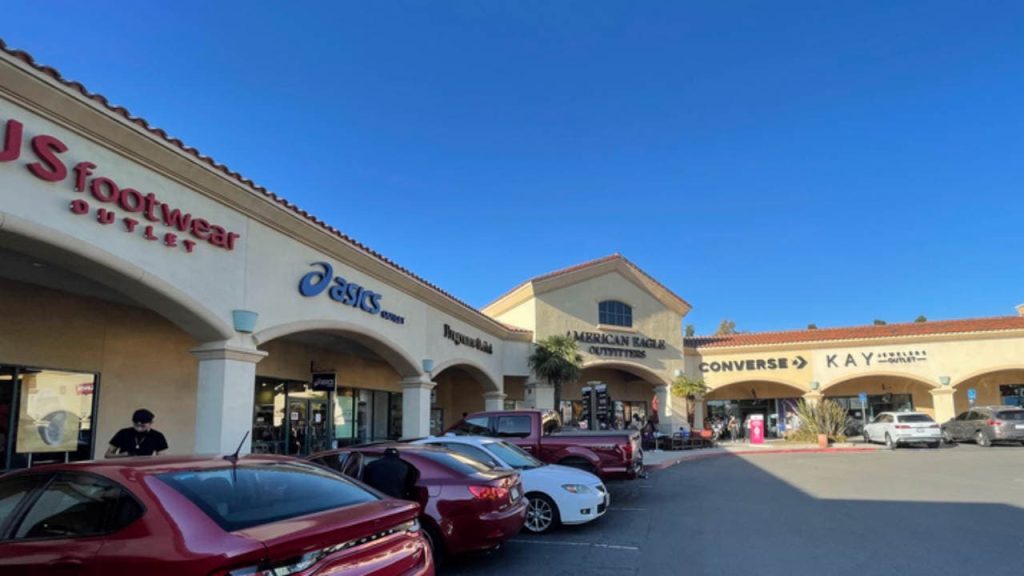 First on my list of outlet malls in California is the Camarillo Premium Outlets, which is located just west of LA. Offering a huge variety of brands such as Michael Kors, Kate Spade, Ted Baker and Tommy Hilfiger, it's got all you need for a fun day of shopping.
Housed inside beautiful Mediterranean buildings, this outlet mall's 150 stores are sure to keep you busy for hours! As it is in a convenient location, it's a great stop on the way to LA if you're planning a trip there. This is one of the best outlets in California, and a lovely place to wonder around.
2. San Francisco Premium Outlets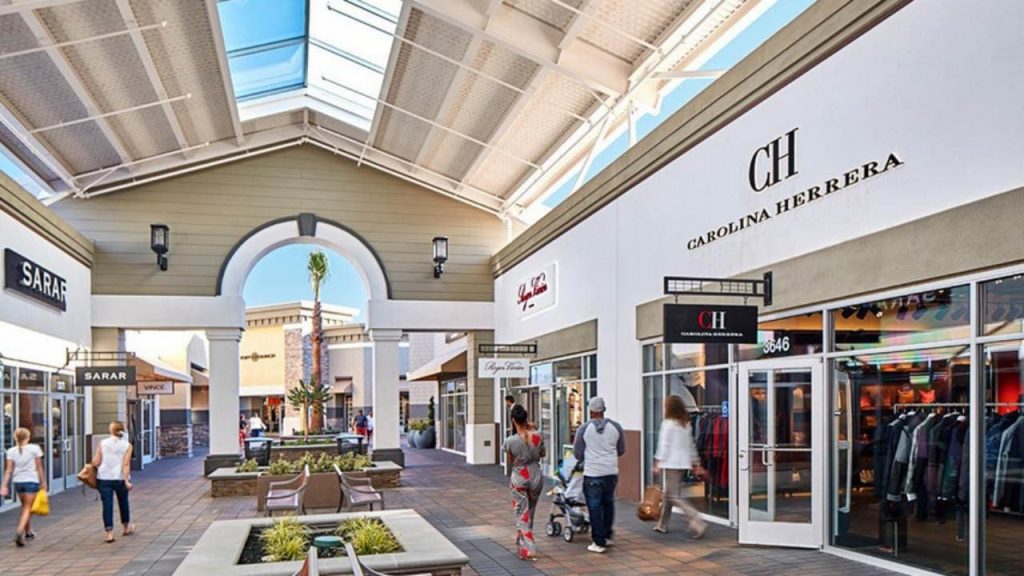 Next on my list of outlet malls in California is a massive outlet mall that houses fashion and homeware – San Francisco Premium Outlets is a sight to behold. A member of the Simon Center chain, this mall is easy to find and has more than 180 brands to discover.
It's not only adult clothes that are on offer here, they have plenty of choices for kids and teens too! Some top brands are Prada, Burberry, Gucci and Versace. With amazing discounts to be had, it's well worth the visit.
Another plus? This mall has a shuttle service that runs directly from Downtown San Francisco. So, if you're a family that loves to snatch a bargain whilst seeing the best of big cities, then this is the perfect outlet mall for you!
3. Las Americas Premium Outlets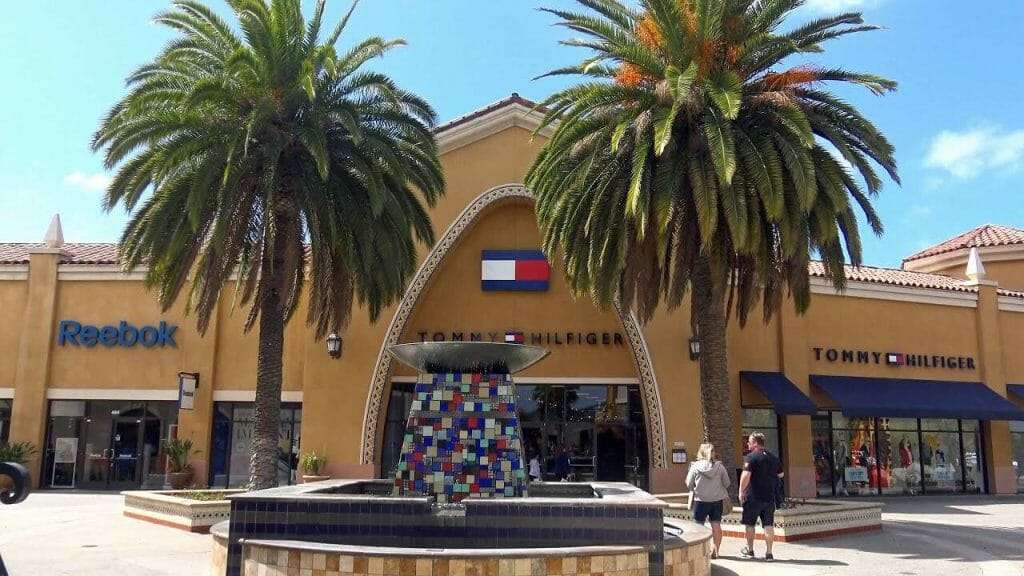 Las Americas Premium Outlets is the next suggestion of outlet malls in California. If you're in the San Diego area and looking to do some outlet shopping, then head over to Las Americas Premium Outlets.
A well-established outlet mall in California that opened back in 2001, this expansive shopping haven spans half a million square feet. Attracting a mix of shoppers from both Mexico and the states, it's a diverse day out for the whole family, so a great choice if you're looking for outlets in California.
With fabulous low-priced finds from over 120 brands, you're sure to pick up some new kit at this mall. This mall also has a huge food court, so you won't find yourself waning at any point during the day.
You might also want to try visiting these farmers markets in California.
4. Desert Hills Premium Outlet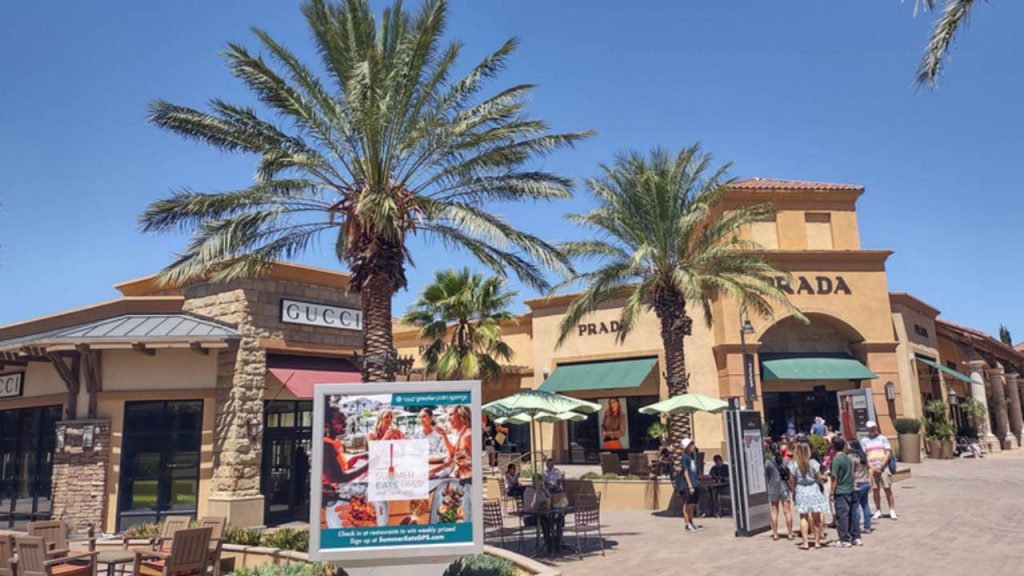 Located in southern California, this outlet is the pinnacle of high-end outlet shopping. Jimmy Choo and Dior are just 2 of the 130 brands on offer here, so whether you love your shoes or your couture, the variety here will speak to you. Just minutes from Palm Springs, this is the perfect getaway spot for savvy shoppers.
5. Inland Empire Outlets
Next on my list of outlet malls in California, it's Inland Empire Outlets. An undeniably colossal outlet mall, Inland Empire Outlets is the home to more than 200 stores. Located in San Bernardino County, it's got great deals for men, women and children.
With a huge selection of stores to suit every budget, it's worth spending the day sifting through stores to find that perfect item. If you want to spend all day shopping, this is one of the outlets in California for you!
6. Citadel Outlets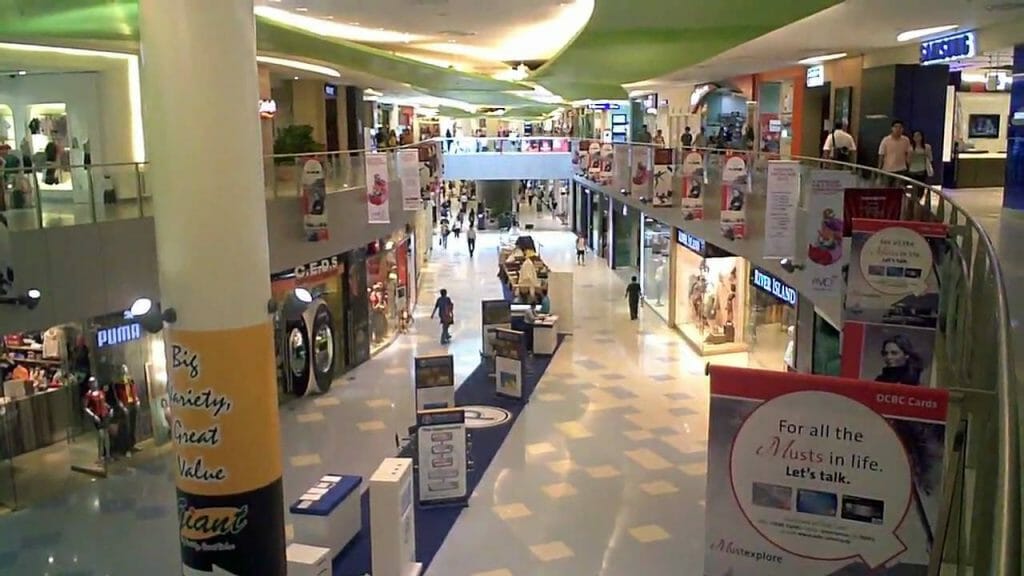 Located near central Los Angeles, Citadel Outlets is on my list not only for its massive range of stores, but also for its unique style. Located behind an exotic 520-metre façade that looks straight out of Ancient Babylon, it's truly a sight to behold.
You can accompany the kids to Gymboree and the Disney Outlet or spend the day by yourself at the designer stores. You'll love this place, it's one of my favorite outlets in California.
Love antique items? Check out these antique stores in California.
7. Gilroy Premium Outlets
84 miles south of San Francisco is the Gilroy Premium Outlets. With deals on everything from Calvin Klein to Lululemon (Athleisure fans rejoice!), the limit to what you can snap up here is endless.
With its annual festival, a major attraction at this outlet mall, it's earned itself the title "Garlic Capital of the World". Along with the mall's 150 stores, make sure to check out the festival also. All in all, this is one of the outlets in California you definitely want to try.
8. The Outlets at Orange
The Outlets at Orange is less than 10 minutes from Disney's mythical Magic Kingdom. There are not only stores with offers at this mall. You can catch a movie at the massive IMAX 3D cinema or can relax and rejuvenate at the Burke Williams Day Spa. With plenty to do here, you certainly won't be bored!
9. Vacaville Premium Outlets
Vacaville Outlet mall is an open-air mall just off the I-80 and is a great place to pick up some bargains. With stores including Adidas, Clarks and Converse, it's the perfect mall to get some new kicks. Moreover, with endless stores on offer here, you're certain to find something even if you're not a shoe fanatic.
10. Outlets at Tejon
Truly the place to make a day out of shopping, Outlets of Tejon is a family-friendly outlet mall that will meet all your shopping needs. A favorite amongst jewelry lovers – this is the place to find that perfect designer watch or engagement ring.
This is one of those outlets in California that locals love. After you've visited the stores, why not stop by the massive food court? There is Don Pericú's which serves some excellent Mexican food if you're in the mood for some tasty tacos.
11. Ontario Mills
Ontario Mills is in eastern Los Angeles. It is an internationally renowned shopping complex in Southern California. It is also known as the only indoor outlet shopping complex with more than 200 stores. In addition, it is the home to a variety of local and international brands, featuring all sorts of goods.
As it houses several renowned eateries, you can always take occasional breaks while you go about on your shopping spree. Some brands you will likely find in this mall include H&M, Michael Kors, Saks Fifth Avenue, Coach, RH Outlet, and The North Face, among others.
12. Hollywood & Highland
This is usually a major stop for most people who visit Hollywood since it is located in proximity to the Dolby Theatre as well as the Chinese Theatre, one of the famous buildings in California. It is also the home to several classy boutiques and restaurants.
Additionally, it is often used as the venue for various concerts and competitions during the holiday seasons, making it one of the busiest shopping joints in California.
When people go shopping, they often spend just as much time looking around as they do in making purchases. So, the fantastic malls in California are the ideal destinations, regardless of whether you are in desperate need of window shopping or the actual shopping.