Florida has some of the greatest outlets in the country, ranging from exclusive upscale retail malls to massive cheap stores, both indoors and outdoor.
Utopia for shopaholics, there's no better spot to delight in shopping. But there is one element they share: excellent retail.
So, I came up with the following list of some exquisite outlet malls in Florida without having to empty your wallet beforehand.
1. Sawgrass Mills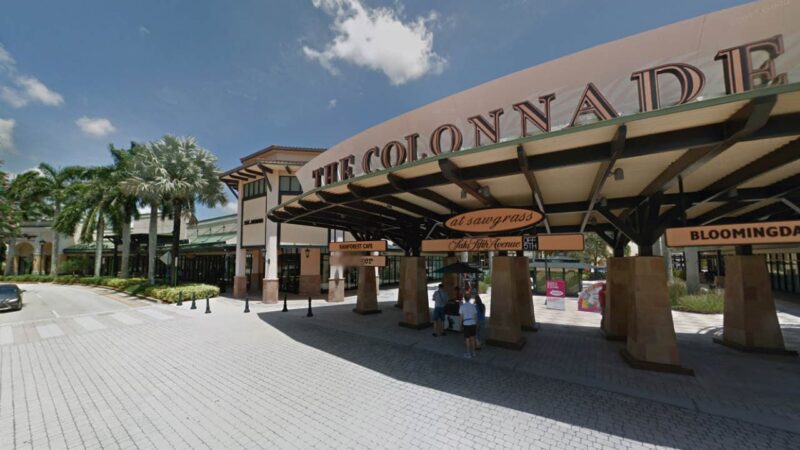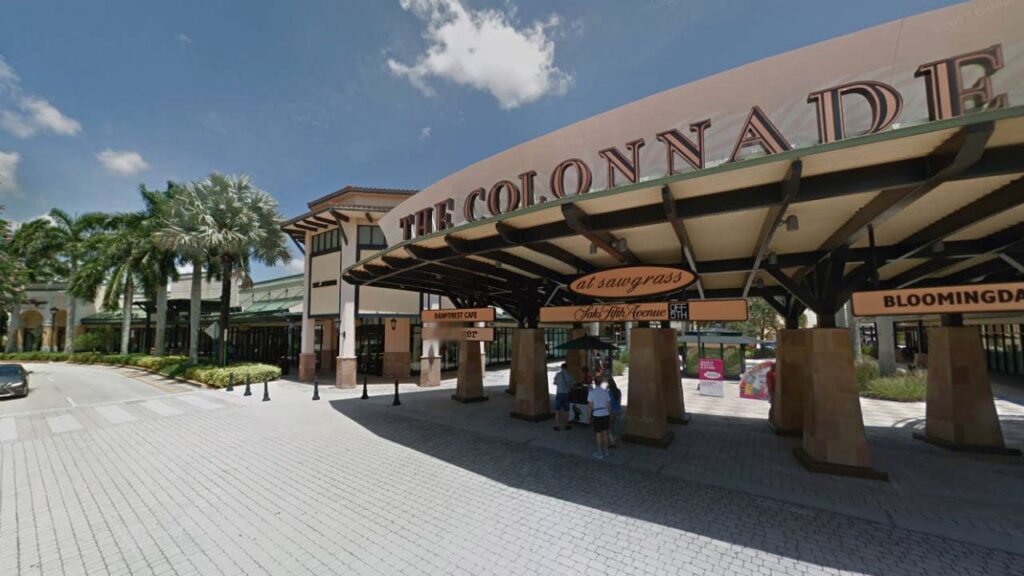 Sawgrass Mills, another famous budget-friendly location, is an outlet mall in Florida that provides daily savings of up to 70% off. You'll love shopping here with names like Tory Burch, Jimmy Choo, and Prada.
This is the 11th largest mall in the United States and the country's largest one-story outlet mall. Every year, tens of thousands of visitors from all over the world visit this location, eager to spend and explore.
2. Orlando International Premium Outlets
It's difficult to leave Orlando International Super Outlets without a grocery bag or two, with over 180 big merchants and fantastic prices at the Outlet mall in Florida.
Behind Sawgrass Mills and Orlando Parkway, Premium Outlets is one of the city's major outlet malls. It is home to some of the most well-known businesses and well-known worldwide stores. You may enjoy daily deals of up to 65% off every day.
3. Aventura Mall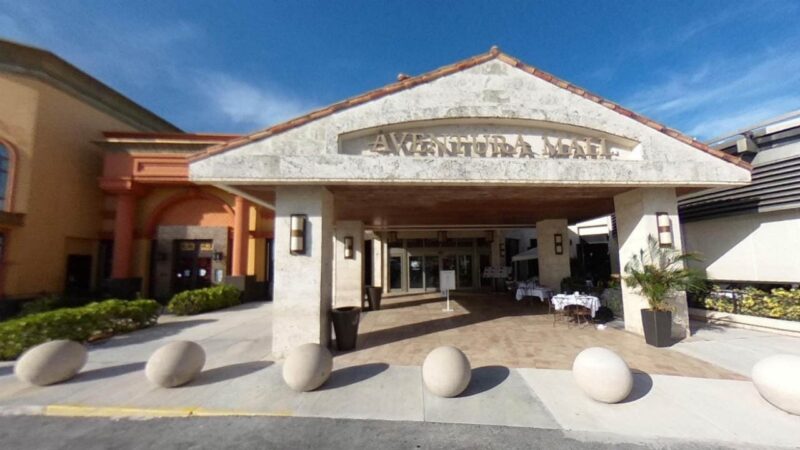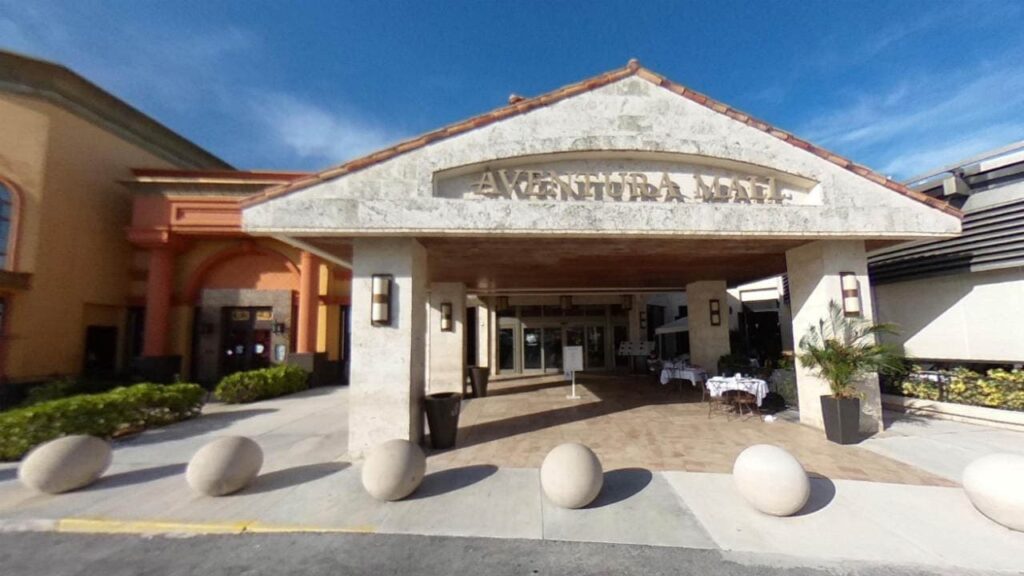 Aventura Mall in Miami is an affluent indoor mall featuring luxury stores and high-end entertainment amenities. It is known as Florida's largest retail mall.
The stylish and simple furnishings ooze luxury and elegance and greet visitors. Expect to see high-end retailers like Louis Vuitton and Gucci, along with high-quality food options that will keep you fueled.
Love fresh vegies? Check out these fresh farmers markets in Florida.
4. Orlando Vineland Premium Outlets
Orlando Vineland Premium Outlets is an outside outlet mall in Florida with year-round savings, a must-see for budget shoppers. This area is home to many high-end merchants and local grocery stores that all offer fantastic deals and discounts.
You can surely shop 'til you drop here without blowing a hole in your wallet. Apart from shopping, you may take a stroll through the mall's beautiful courtyards.
5. The Mall at Millenia
The Mall at Millenia, dubbed a "world-class indoor retail mall," offers a shopping experience unlike any other outlet mall in Florida. The interiors of this mall are sleek and attractive, with glass ceilings and gorgeous fountains.
The mall offers a variety of high-end stores such as Gucci and Versace, keeping with a luxury ambiance. There are also several local brands and retail stores.
6. Tampa Premium Outlets
This is a fantastic option for outlet malls in Florida. Are you planning a trip to Florida and will be passing through Tampa? Then you must visit the Tampa Premium Markets in Florida!
This outlet mall in Florida is situated on Grand Cactus Drive, close to several of Tampa's tourist hubs, including Busch Gardens and the Academy of Science and Industry.
You might like to visit these antique stores in Florida to buy or sell vintage stuffs.
7. Cordova Mall
The largest and most luxurious retail mall in the Pensacola region is Cordova Mall. Cordova Mall, which includes H&M, Carter's/Osh Kosh B'Gosh, Chico's, Jos LOFT. A Bank, The Buckle, Sephora, and Old Navy, is anchored by Belk, Dillard's, Dick's Sports Equipment, Dollar Stores, Bed Spa and Beyond, and World Market.
Are you looking for a delicious supper to accompany your shopping spree? Some of the fantastic great restaurants at Cordova Mall include Pieology, Panera Café, Red Robin, and Moe's Southwestern Grill.
8. Ellenton Premium Outlets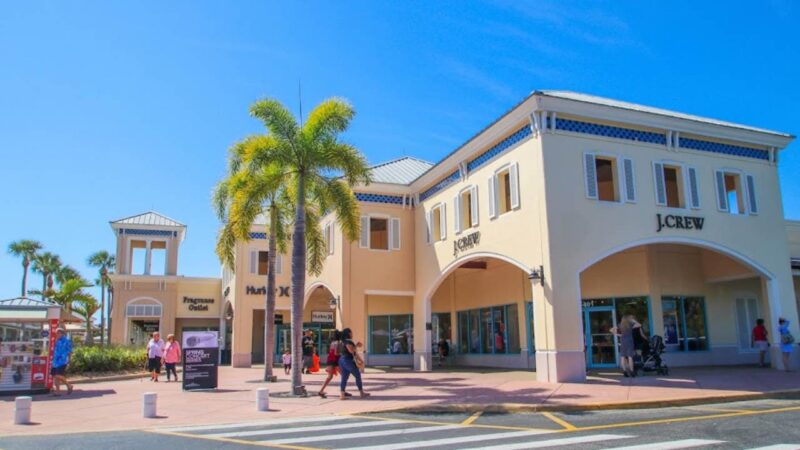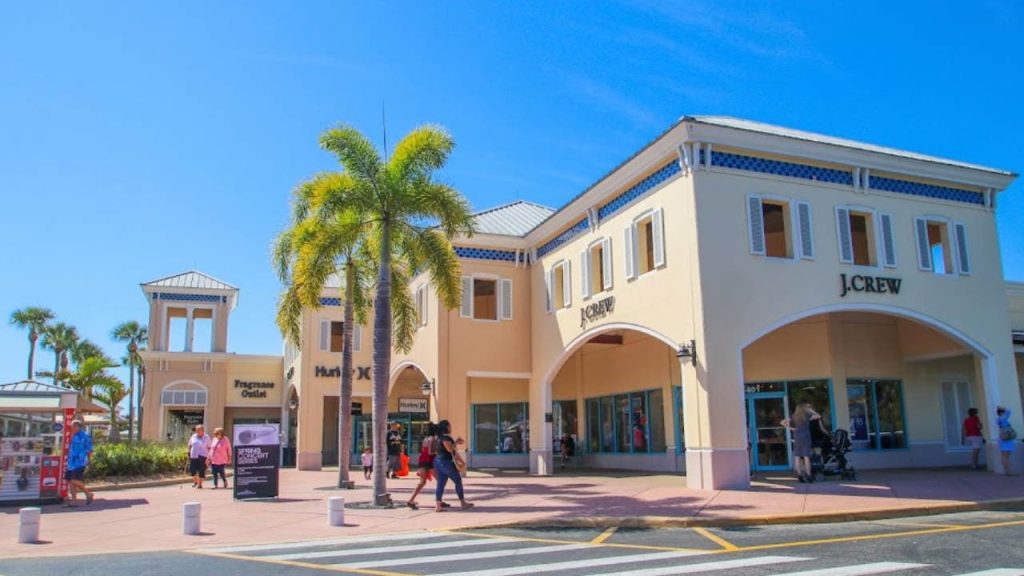 At Ellenton Premium Outlets, you may indulge in a shopping trip that is both healthy for your soul and excellent for your money. This is an outdoor outlet mall with over 130 businesses to pick from.
It's also one of the largest outlet malls in Florida. There's plenty with so many alternatives to choose from. You can't leave without buying anything, whether women's clothing or sports equipment.
9. St. Augustine Premium Outlets
St. Augustine Premium Outlets has it all: a wide range of goods, low pricing, and wonderful meals. This is an outdoor outlet mall in Florida with over 85 brands to choose from. It is a well-known shopping attraction in the area, attracting hundreds of customers from the surrounding areas.
You may expect to find renowned fashion labels like Coach and Polo Saint Laurent, as well as well-known sportswear companies like Nike and Under Armour.
10. Edison Mall
Edison Mall, a renowned regional mall among locals, features treasured local companies that we can't get enough of. The mall, which opened in 1965 and has undergone multiple restorations and extensions, presently comprises 133 stores and a leisure center.
Edison Mall is frequently packed with people eager to buy and explore. This location has deep roots in the neighborhood and is usually a popular hangout spot for residents.
11. Silver Sands Premium Outlets
The Silver Sands Premium Outlets are next to our favorite outlets in Florida. It is located near Destin, is one of Florida's top outlet malls.
It's one of the outlets in Florida that tends to draw tourists straight off the beach due to its closeness to one of Florida's top beaches. Silver Sands is the place to be if you're searching for a more relaxed appearance while outlet shop!
12. Florida Keys Outlet Marketplace
The Florida Keys Outlet Center may not be as large as the rest of Florida's malls, but its bargains are incredible. It has over 50 stores and offers some of the best deals anywhere. There is no better way to buy than here, offering daily savings of up to 40%.
The mall also features excellent food options that will satisfy your hunger. What are you waiting for? Prepare to shop and dine your heart out at the Florida Keys Outlet Complex.
13. Vero Beach Outlets
Vero Beach Outlets, one of the greatest outlet malls in Florida, takes the final slot on our list of the greatest outlets in Florida. This is the place to go if you want to look good for less money, with over 60 designer outlets to choose from.
Vero Beach Outlets has amazing sales all of the time, so if you're in the neighborhood, it's a good idea to stop by and check what's going on.
14. The Colonnade Outlets
If you're looking for stores in Florida that carry a wide choice of brands, the Colonnade Outlets is the place to go. You'll be able to wear to nines without spending a fortune, thanks to stores like Michael Kors, Tory Burch, and Gucci available like other outlet malls in Florida.
Why not give the well-known Primark a try if you're looking for fantastic bargains? If you become weary and hungry, just stop by one of the many cafés for a tasty snack.
15. The Florida Mall
With 1.7 million square feet, the Florida Mall is Florida's 3rd largest mall, behind Aventura Mall and Sawgrass Mills. Has over 20 million visitors each year, the mall is as popular as Universal Studios. It has about 300 stores that cater to a wide variety of budgets.
Everywhere from Michael Kors to JCPenney may be found here. They have over 30 restaurants and a large food court, so you'll have plenty of energy to go throughout this massive mall.
Tourists from all across the globe come to Florida every year, eager to buy and discover. Because these malls offer an unique buying experience since they are so different and appeal to a wide variety of prices. Trust me, once you have started shopping, you won't have any choice but to buy at least one thing from these shopping paradise!