People are turning to antique stores more and more to find those one-of-a-kind timeless pieces that enliven their home. After all, decorating with antiques is a great way to practice sustainable design.
However, it can be quite hectic to navigate the antiques market since it requires a lot of thought—from knowing where to shop to what to look for and, more importantly, what to avoid.
So, here are the antique stores in California; whether you're looking for some leisurely Saturday afternoon entertainment or you're on a serious buying trip to fill your home, you're bound to head home with a unique find from these remarkable antique stores.
1. Sherman Oaks Antique Mall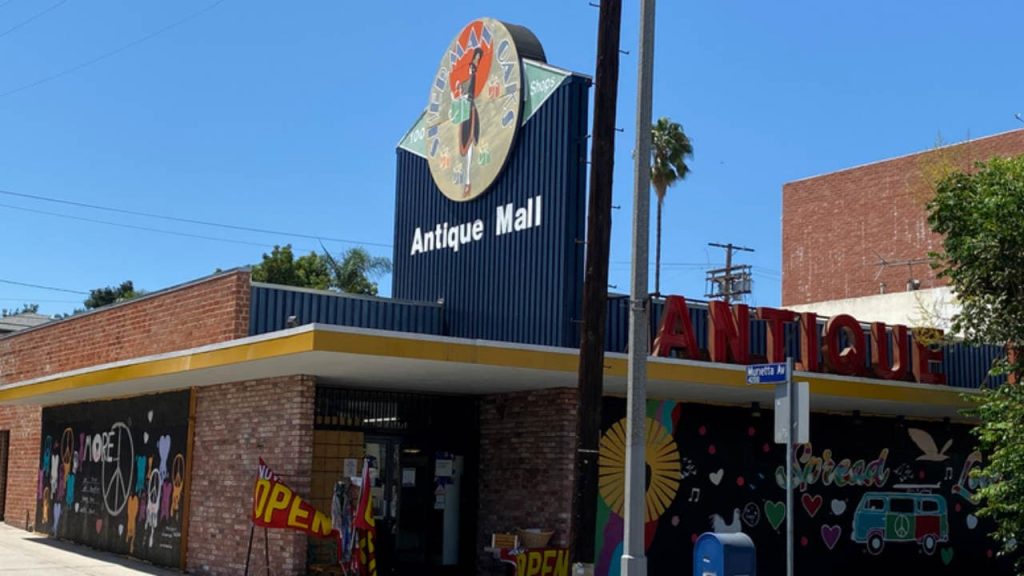 Located in the most popular city in California, this antique shop is not only one of the most remarkable antique stores in Los Angeles but also in California. This indoor antique mall features more than 100 vendors who exhibit the most vintage décor pieces, furniture, jewelries and many more.
Here, you will discover many things which will drive you to the 80s and trust me, you won't regret your time here. You can purchase any type of vintage things from a different price range. Antique buyers from around the globe return time after time to shop their eclectic mix of antiques and vintage clothing and collectibles.
They have everything from Vinyl Records to Mid-Century Furniture. You'll find all styles from the 19th and 20th century; Victorian Antiques, Art Nouveau Antiques, Art Deco Antiques, Arts and Crafts, Mid-Century Modern, Kitsch and so much more.
2. The Mart Collective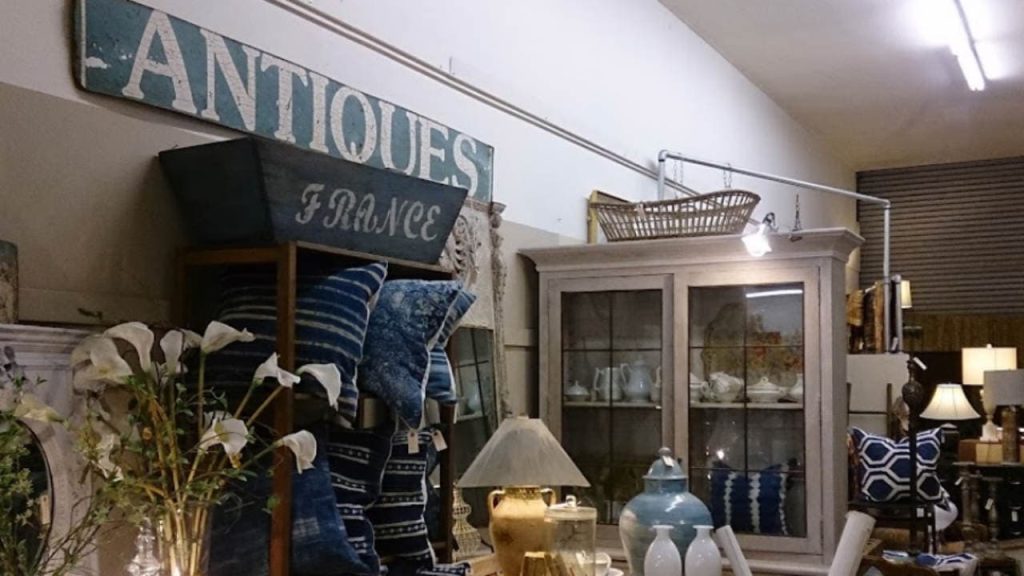 The Mart Collective is a large shop with 120 spaces and showcases featuring 90 dealers of antique, vintage, modern, and contemporary goods. The Mart is located in Venice, California, in a bright 16,000 sq. ft. building that has high ceilings, skylights and a free parking lot behind the building.
Strolling the aisles, you'll find everything from mid-century modern furniture to costume jewelry, from iconic designer goods to decorating basics. They also have a huge volume of collectibles, postcards, artwork, cultural artifacts (like typewriters, cameras and books), one-of-a-kind gifts, oddities, curiosities and much more.
3. King Richard's Antique Vintage Center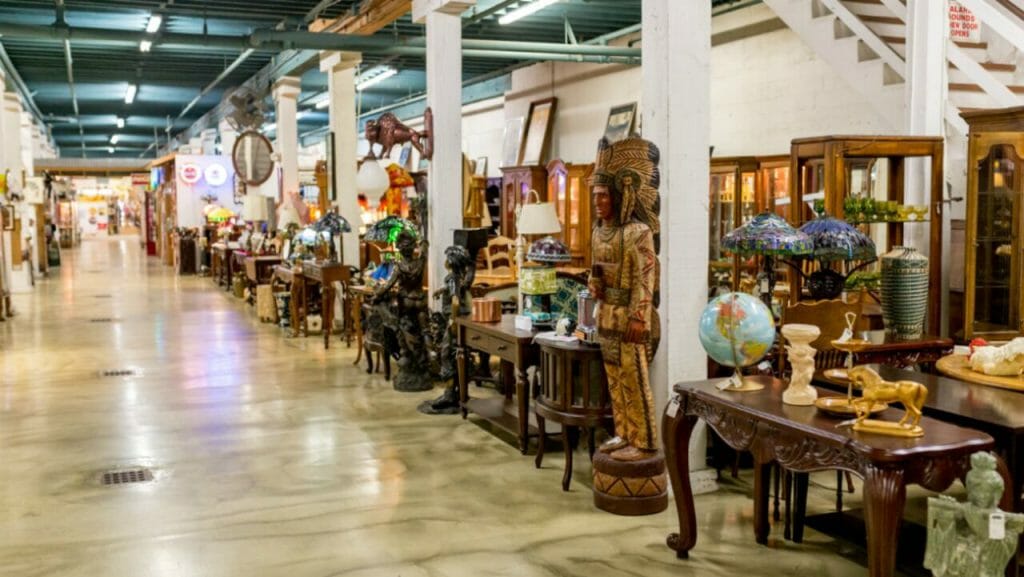 King Richard's Antique and Vintage Center in Los Angeles, California is 57000 sq ft of shopping treasures inside a century old historic packing house. In a 114-year-old building that once housed a citrus packing house lies the largest antique store in all of California.
Among the antiques, you'll find a wide variety of treasures. Other items include furniture, depression glass, tapestries and linens, Civil War antiques, books, jewelry, and much more, with new products arriving daily.
You might also want to try visiting these farmers markets in California.
4. Gums Mall-Antiques & Collectables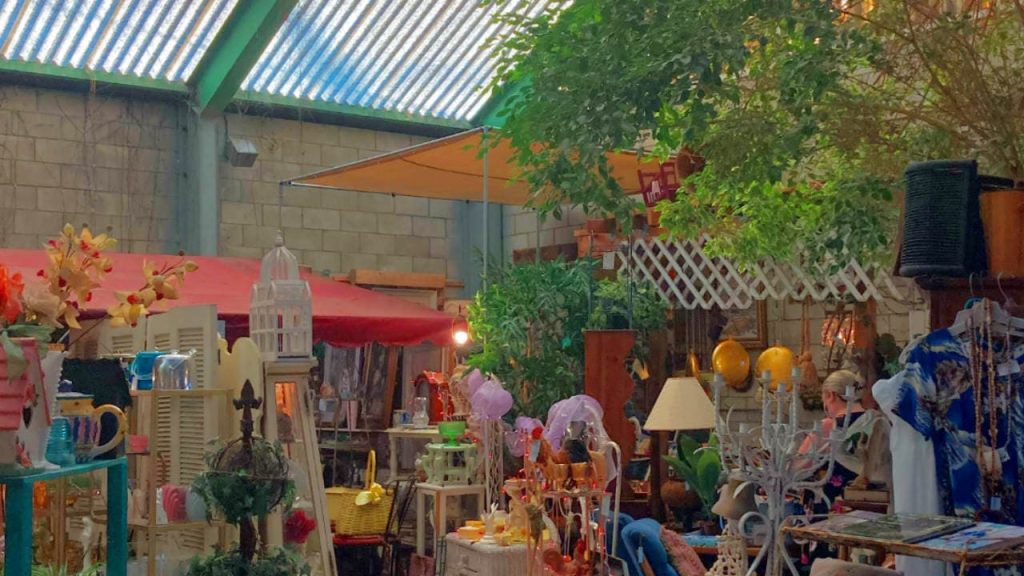 You can spend hours at this antique shop, which has been converted from a modest family business. Over 100 vendors can display and sell their wares at Gums Mall-Antiques & Collectables, which has plenty of space.
Rare collectibles, vintage apparel, excellently preserved antique furniture, records, tools, and just about any other type of antique can be found here. If you're lucky, you just might come across something you never would have thought to look for!
5. Orange Circle Antique Mall
This is a fantastic antique mall situated just off Orange Plaza. You will surely enjoy spending an afternoon wandering the stores with this one standing out as having a fantastic collection of antiques and pop-culture memorabilia.
You will even manage to pick up some vintage Disney glasses which you can place proudly on your bookcase back home. If you are into vintage Americana, this is a great place to pick up some vintage license plates, flags, records and lunch boxes.
6. Studio Antiques & Vinyl
This shop is nestled away in the quaint city of El Segundo, just south of the Los Angeles International Airport, in Los Angeles, California for the last 25 years. Here at Studio Antiques, they offer the widest variety of antiques, collectibles, furniture, china and glass in Southern California.
Moreover, they have been online for over 14 years and have sold treasures to every part of the world! This place is well known to the public as a perfect place to find that unique piece of furniture or decorative item that allows you to express your personality in your home.
They carry every style imaginable from Victorian, Arts & Crafts, Art Deco to Mid-Century Modern. In addition to their extensive furniture collection, you will find everything from ironwork, stained-glass, artwork, mirrors & more!
Learn more about the dairy farms in California.
7. Sunset Bazaar
Located in Los Angeles, California, this colorful storefront shop has antique artwork, furniture & light fixtures for every room in your home. And of course, you might have guessed it by its name, this place offers the best scenic view of sunset.
Vintage and antiques make up the bulk of what's for sale at this shop, but you'll occasionally find newer consignment items. All the objects are in excellent condition, even those that are decades old.
8. Cannery Row Antique Mall
It is one of the largest antique & collectibles malls on the Central Coast. Located in a historic cannery building, there are over 100 antique dealers brimming with vintage rarities. This mall has also been voted as Antique Mall of the Year by Professional Antique Mall Magazine.
9. Old Barn Antique Mall, Inc.
It's the largest and most diverse antique mall with 10,000 square feet of area featuring over 75 dealers. It's located in the oldest historic district in California, San Juan Capistrano.
This mall offers everything from Western to Tiffany to art to sports-related to gold & diamonds to costume jewelry to Asian antiques to everything! You will find everything from $1 to $10,000 here.
10. Antique Plus
Antique Plus is a small family-run business based in West Los Angeles, CA. Since 1986, their store has been a favorite source of quality antiques and collectibles, specializing in vintage doorknobs, hardware, Venetian mirrors, paintings, jewelry, rugs, decorative iron crafts, furniture, stained-glass and crystal chandelier pieces, among 10,000 unique items.
11. Cannery Row Antique Mall
Over 100 antiques and collectibles dealers. Two jammed packed floors under one roof. The Largest Antiques Mall on California's Central Coast. Established – 1995.
Dealer owned and operated. Located in the 1927 Carmel Canning Company Warehouse B in the heart of historic Cannery Row.
12. Solvang Antiques
Solvang Antiques, widely regarded as one of the best antique shops in the nation, has been dealing with international customers for 40 years. They provide furniture from the 18th and 19th centuries, as well as a magnificent collection of beautifully repaired antique clocks, watches, and music boxes, as well as decorative items, vintage lighting, sterling silver, and priceless antique and estate jewelry.
Buying vintage is not only loads of fun, it's also a great way to minimize the carbon footprint and live a more sustainable life. Regardless of whether you live in California or just visiting, it's worth checking out these antique stores.