Florida is viewed by many as a luxury state due to its glamorous lifestyle and vibrant entertainment facilities. Home to many recreational amenities, this state is famous for its white-sand beaches and diverse wildlife.
Moreover, Florida, referred to as the Sunshine State because of its beautiful sunny weather, is also home to wonderful RV parks. In fact, RV camping is one of the most popular outdoor activities in this incredible state.
There are so many of these parks, that it's hard to choose one. So, we compiled a list of the best RV parks in Florida.
1. Ichetucknee Springs State Park
Ichetucknee Springs State Park is one of the most popular state parks in the country and one of the best RV parks in Florida. Spanning a massive 2,241 acres, this highly-rated state park is perfect for RV camping. Every site in this park is a secluded area and comes with electric RV hookups.
Additionally, these RV campsites also come with fire places and picnic tables. Situated close to Ichetucknee River, you can enjoy activities like fishing and kayaking as well.
2. Bahia Honda State Park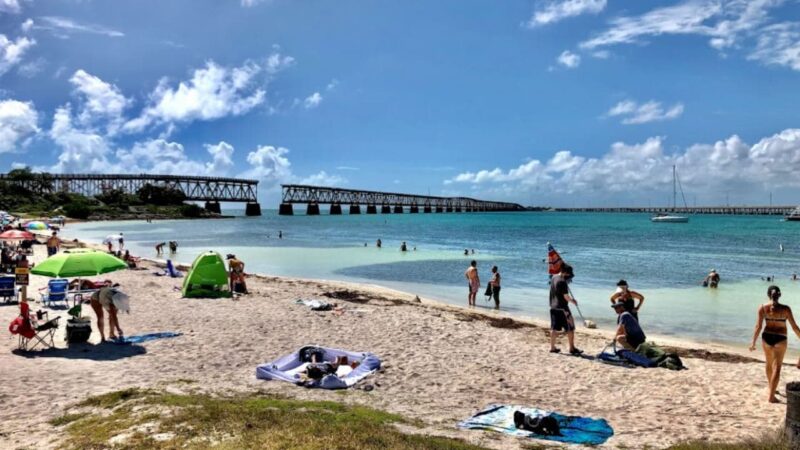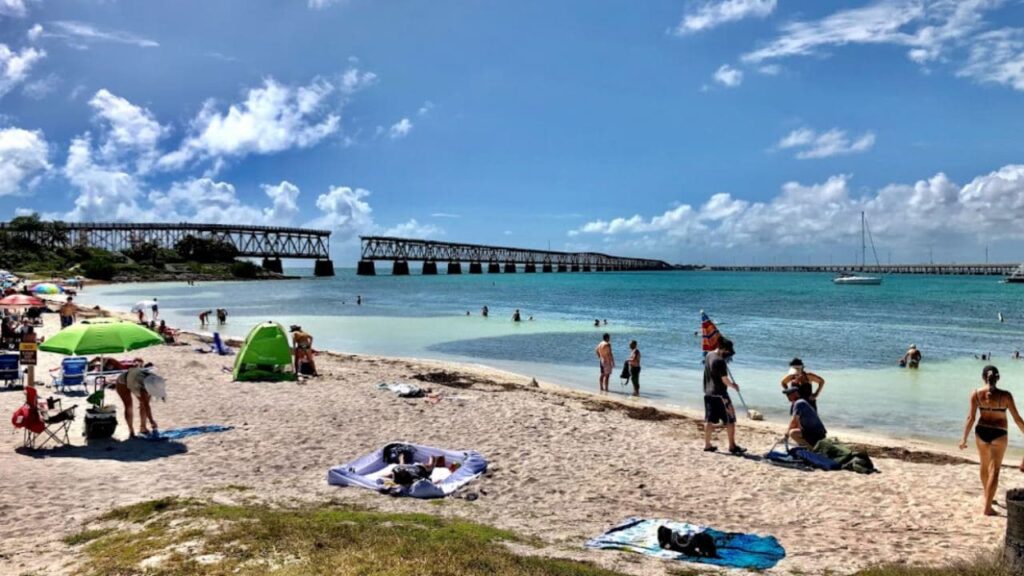 Bahia Honda State Park is a beachfront RV park that comes with incredible scenic views and tranquil surroundings. Encompassing over 500 acres of land, this park is full of RV sites that come with electricity and water.
Additionally, this park is quite famous for snorkeling and kayaking. The historic sites inside the park make Bahia Honda State Park one of the most popular state parks in Florida.
3. Anastasia State Park
Anastasia State Park is a stunning 1600-acre state park that has around 140 campsites. Many of these campsites come with RV hookups, making it one of the most versatile choices for RV camping.
Because, alongside campsites, this state park offers electricity, clean water, fire ring, picnic tables and grills. Furthermore, this beachfront RV park is perfect for enjoying a stunning sunset.
You might also like to read about the public hunting lands in Florida.
4. Gilchrist Blue Springs State Park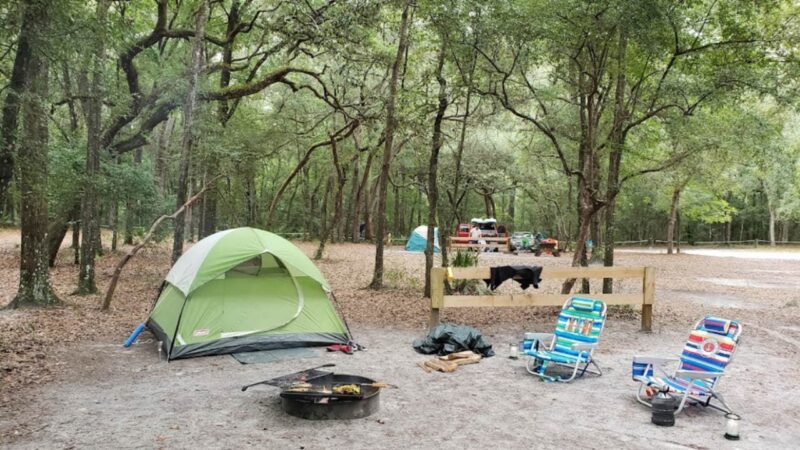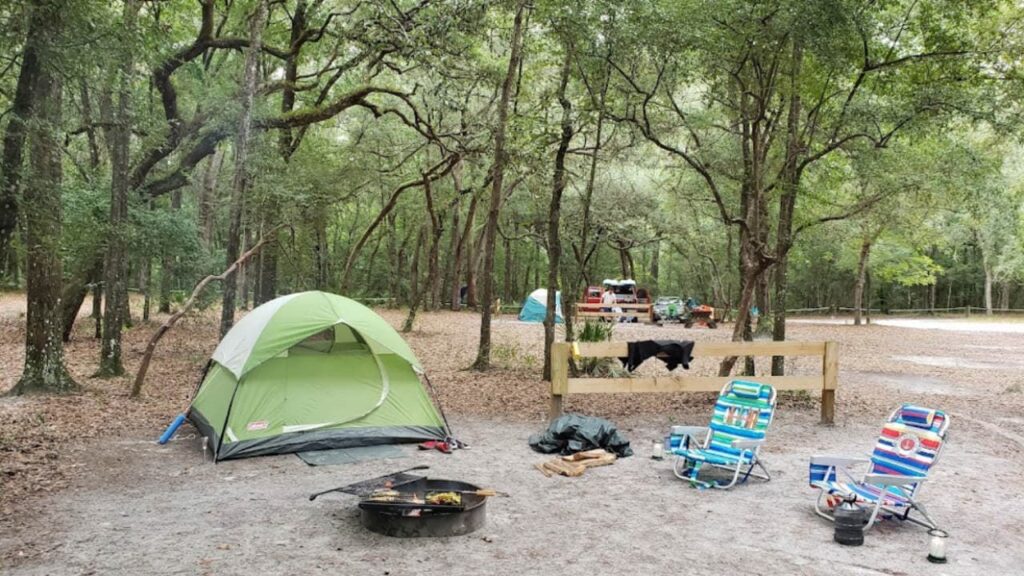 A relatively new state park in the state, Gilchrist Blue Springs State Park is one of the best RV camping sites in Florida. Situated in High Springs, this RV park consists of 17 RV hookup spots.
Moreover, you can enjoy stunning amenities like camping, fishing and picnic tables. Furthermore, electricity and water are provided within the camping costs.
5. Florida Caverns State Park
Situated in Marianna, Florida Caverns State Park is a unique RV park. Spanning an impressive 1,500 acres, this state park comprises 38 RV parks. Interestingly, it is one of the few RV parks in Florida that provides access to caves.
Alongside these mysterious caves, Florida Caverns State Park also provides outdoor activities like fishing, boating and canoeing.
6. Topsail Hill Preserve State Park Gregory E. Moore RV Resort
Located in Santa Rosa Beach, Topsail Hill Preserve State Park is not just a park but also a fantastic RV resort. Situated along the beach, it offers more than just RV hookups.
If you like RV camping in coastal surroundings, then this is the park for you. Get lost in the tranquil nature of this 1,640-acre state park, while enjoying top-notch RV hookup services.
Check out these superb camping spots in Florida.
7. Koreshan State Park
One of the most affordable choices on our list, Koreshan State Park is nestled in the green forests of Lee County. Situated alongside Estero River, this park is home to numerous cultural and historic sites.
Despite being relatively small, this park has a wide range of amenities that include biking, kayaking, canoeing and wildlife viewing.
8. Fort Pickens Campground
Located in Pensacola Beach, this RV park comes with awe-inspiring scenic views and relaxing amenities on the beach. Additionally, it has around 200 campsites, many of which come with RV hookup services.
Other facilities in this park include toilets, showers, clean water and many more. Furthermore, most of the sites in this location are sheltered by large oak trees.
9. Kissimmee Prairie Preserve State Park
If you want an RV camping experience along with rare wildlife animals close by, then this is the perfect destination for you. Kissimmee Prairie Preserve State Park is a massive 54,000-acre state park that is renowned for being home to several endangered species.
Furthermore, the incredible landscape of this park along with its wildlife makes Kissimmee Prairie Preserve State Park a photographers dream.
Thinking of setting up camp on high ground? Have a look at these mountains in Florida.
10. Turtle Beach Campground
A beachfront campground where campsites are nestled in beautiful palm trees, Turtle Beach Campground offers one of the most luxurious RV camping experiences in Florida. The campsites come with fire places, picnic tables, electricity and other services.
Moreover, guests can easily take a stroll on the beautiful beach nearby and enjoy the amazing scenic views during the sunset.
11. Destin RV Beach Resort
Destin RV Beach Resort is a wonderful RV park that also comes with the facilities of a resort. Some of these facilities include a swimming pool, entertainment rooms and stunning RV campsites.
Moreover, Destin RV Beach Resort also provides private beach access as it is situated just across from Miramar Beach.
12. Flamingo Campground
One of the most natural and secluded RV parks in Florida, Flamingo Campground is perfect for just getting away from the hustle and bustle of the city and getting lost in nature.
Despite the secluded nature of this park, its RV sites are quite beautiful and receive cell phone signals. Additionally, crocodile and manatee sightings are quite common in this park.
The majority of the RV parks on our list come with a lot of facilities than just RV camping. They are home to beautiful lakes, swamps and are usually situated along stunning beaches. Alongside the luxurious beachfront RV parks, Florida also comprises RV parks situated in secluded areas as well.