Florida is one of the biggest tourist destinations not only in the US but also in the world. Situated along the US peninsula, Florida has innumerable beaches and serene waters capes.
Whether you want to beat the heat, or you want to enjoy doing a ton of outdoor activities, camping in any of the wonderful campgrounds in Florida will rejuvenate you.
We know it can be overwhelming to choose a camping place, so to help you make your decision easily, here is the compiled list of the best campgrounds in Florida!
1. Ichetucknee
If you intend to spend the summer in Florida, Ichetucknee is the perfect place to be. From renting a canoe or kayak and paddling down the river, you can enjoy the chilling splashes of the river. The area is home to a diverse variety of water birds, so you will be lucky if you spot 3 to 4 species.
Ichetucknee is an ideal family playground. With both primitive and advanced facilities, you can choose how you want to camp. If you visit during spring, you can scuba dive through the Blue Hole. It is the best attraction for certified divers who want to level up their scuba diving experience.
Another aspect to Ichetucknee is a great camping ground because there are easy transportation facilities, so you can park your RV or vehicle and camp as long as you want.
2. Anastasia State Park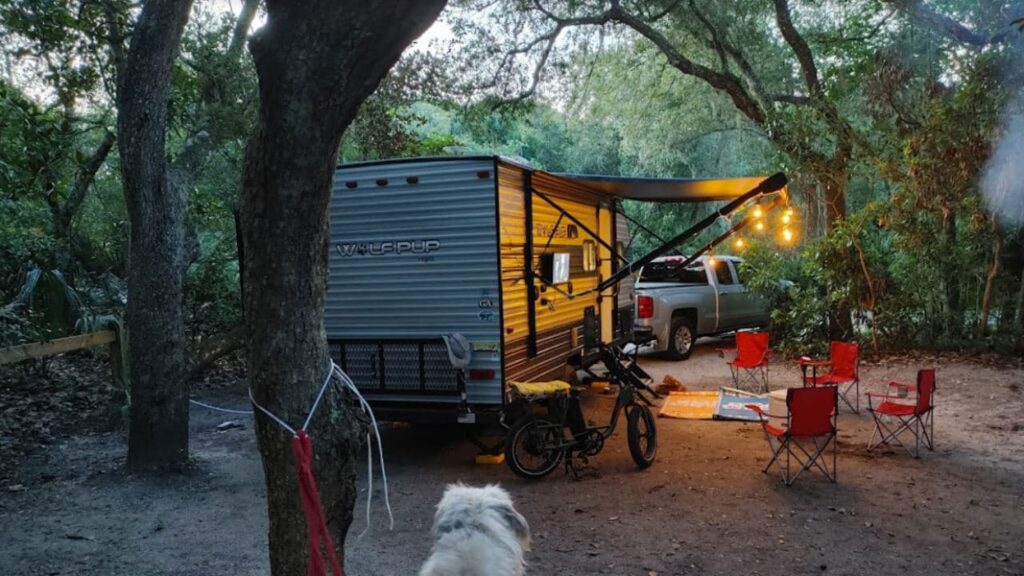 Encompassing 1600 acres of vast land on a peninsula on the Atlantic coast, Anastasia State Park is a fantastic camping ground. It is home to abundant wildlife and also boasts over 4 miles of white sandy beach. You can explore the nature trail and ancient sand dunes after you set up your tent.
In the case of activities, maritime hammock exploration is one of the best ways to expand your knowledge and love of nature. You will be appalled that nature transitions from one season to another. For camping, there are 139 campsites available only a short walk away from the beach.
A picnic table, grill area, and a small gift shop are also next there for the visitors. Some other things to do in the state park are mountain biking, swimming, bird watching, hiking and many more.
3. Paynes Prairie
If you are looking for a secluded plot in Florida, Paynes Prairie is a must-go place in Florida. For exploratory souls, Paynes Prairie is nestled with abundant wilderness and natural habitat. You can enjoy primitive style camping. The massive plot of 21000 acres of this park is designated a National Natural Landmark.
The cultural history is also a great aspect of this park. Over 270 species of birds live amid the wildlife; along with bison, alligators, horses and other wild animals. You can access the camping sites through the Chacala Trail. Be prepared for a rough camping experience!
Check out these epic bike trails in Florida.
4. Bahia Honda State Park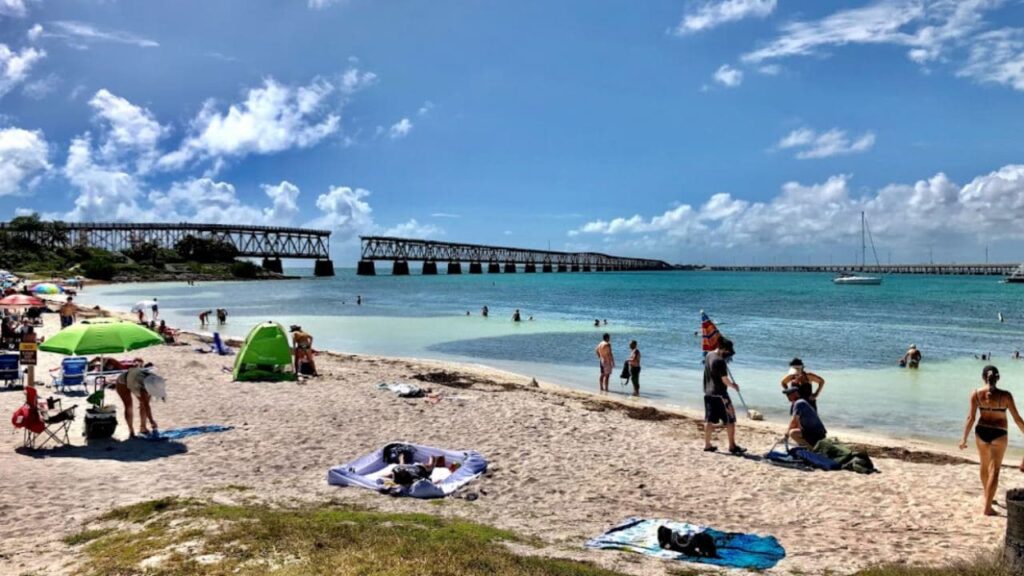 One of the most renowned parks in Florida's southernmost part is Bahia Honda State Park. The beautiful beaches of the park offer you the opportunity to do snorkeling and diving. Watching the enchanting sunset from the shore as you sip your hot cocoa beside your tent would be an unforgettable experience.
The Bayside of the park has 8 campsites along with grills, water facility and picnic tables. A small restroom nearby the camping grounds makes it convenient for the campers to enjoy camping fully. The campers also have access to the bathhouse at Buttonwood.
5. Camp Venice Retreat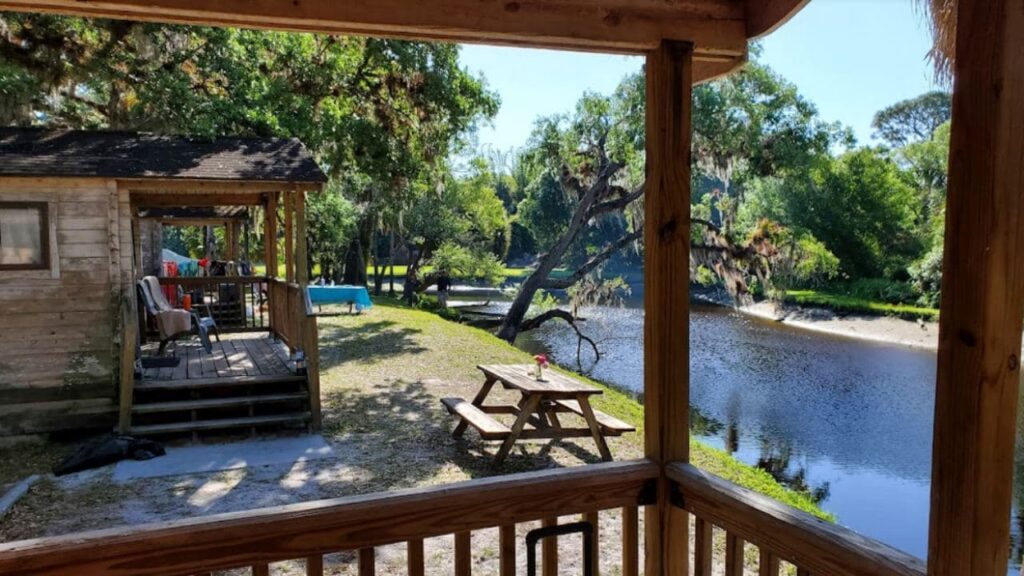 If you are intending to take your RV along with you for your camping, Camp Venice Retreat is a great choice. Rental cabins are also available, and you can enjoy the oak hammock along the Myakka River. To escape from the hustle of city life, you can visit this incredible place any time of the year.
They offer seasonal packages of family-friendly campsites. There are a lot of activities to enjoy, along with swimming, bird watching, canoeing, and fishing. You can sip lemonade in the shade along the waterfront. This park, with an RV parking facility, also provides other amenities such as water, modern restrooms, electricity and waste connections.
6. Wekiwa Springs State Park, Apopka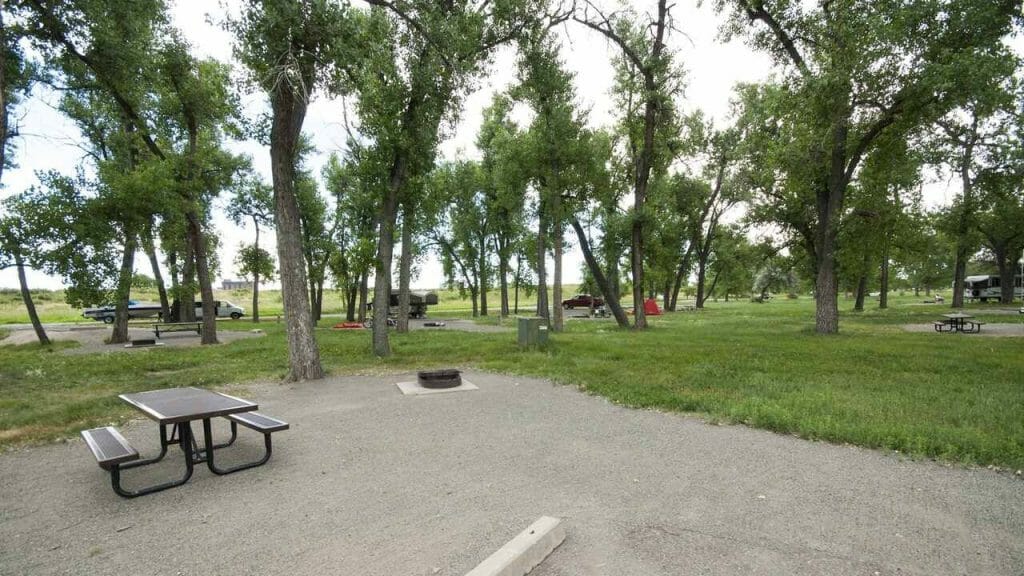 In Apopka, the best choice to escape from the bustle of Orlando city is Wekiwa Springs State Park. The main attraction of the park is none other than the Wekiwa Springs that gush water from the Wekiva River. The camping site is developed separately from some areas as the area is also inhabited by the Timucuan tribe.
Along with 13 miles of trails, you can hike or bike while enjoying the gorgeous views of the greenery areas. The park provides both primitive and full facility campgrounds, so it can accommodate all types of visitors. One of the best features of the park is the bubbling springs that usually have a cool temperature of 72 degrees year round.
You can also have a visit of these amusement parks in Florida.
7. Dry Tortugas National Park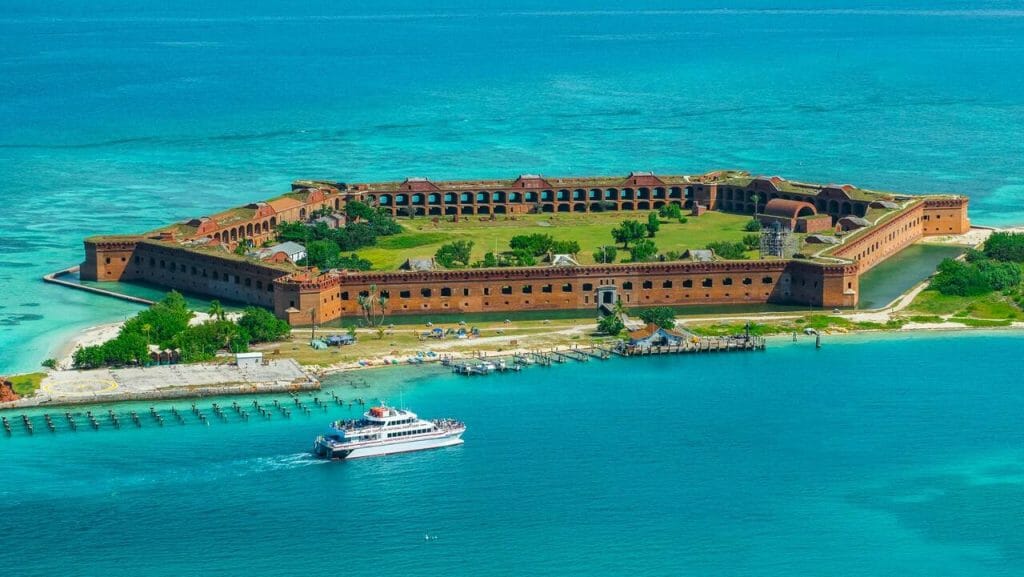 Dry Tortugas National Park has incredible camping grounds, and it also protects the 7 Dry Tortugas Islands. This park, set in the Gulf of Mexico, is the most isolated place with pristine coral reefs and abundant sea life.
This national park is home to the large breeding grounds for innumerable species of tropical birds. Along with camping, you can enjoy picnicking, scuba diving, kayaking, fishing and numerous other activities. You can also visit the Dry Tortugas Biosphere Reserve through renting a boat.
8. Fort De Soto
Ranked as the nation's best beach by Dr. Beach, Fort De Soto is a campground area with stunning white sandy beaches. With 7 miles of gorgeous beach, you can entertain yourself by kayaking, fishing, and swimming in the waters. You can get the best canoeing experience on the 2.5 mile recreational canoe trail.
Fort De Soto consists of wetlands, mangroves and abundant native plants. For bird watchers, with over 328 species of birds, the views are incredible. For campers, boat facilities along with lifeguards are also offered along with proper camping facilities.
9. Fisheating Creek Outpost
Along the free flowing stream of Lake Okeechobee, Fisheating Creek Outpost is one of the most popular family-friendly camping grounds. With canoe and kayak rentals, the campers can get set for a fun time. There are over 50 RV sites available and the camping areas have electric, water and sewer connections.
With over 120 sites spread across the massive land, the campers have access to toilets, showers and picnic tables also. The primitive tents are situated at the northern side of the entrance, which is also close to the waterfront and swimming hole.
10. Alafia River State Park
For those campers who are looking for a challenging and adrenaline camping experience, Alafia River State Park is the best place to start. Along with challenging off-road cycling trails, even expert cyclists love chasing the adventure and picturesque views of this incredible park.
This massive park area was originally a phosphate mine. Because of the extraordinary topography, the land area experiences massive shifts in elevation. There are designated campgrounds that are surrounded by peace of Florida's wildlife. Most of the camp sites are equipped with water, electricity and other equestrian amenities.
11. Florida Caverns State Park
One of the great parts of the Florida State Parks System is the unique Florida Caverns State Park. It is situated near Marianna, Florida. You can camp and proceed to enjoy cave tours in this beautiful park. The Blue Hole spring is one of the main attractions of the park where you can canoe, fish and boat.
The 35 campsites in this 1,319 acre massive land area. Along with RV hookups, there are water and electric facilities as well. Visitors are also allowed to bring their horses while camping.
12. Ocala National Forest
Ocala's most renowned campsite is Ocala National Forest. With its scenic views and magnificent wildlife, Ocala National Forest is the best site for all kinds of campers. Be it the campers who want to enjoy a laid back time, the area offers full-service sites.
For those who want a rough style of camping, walk-in tents are one of the most primitive camping sites. There are also cabins available for big and small families. If you are looking for any entertaining activities, air-boating, skiing, canoeing, fishing and other outdoor activities are also available.
As you can see, you will not run out of options when it comes to finding incredible campgrounds in Florida So don't overthink and pack your bag to head to the sunshine state to enjoy camping amid the expansive beaches, exhilarating parks and natural charms of Florida.