Iowa is a Midwestern state in the United States that is associated with a proper western American culture. The state is renowned for its beautiful gardens and natural recreational areas, but is home to some incredible pieces of world-class modern architectural works.
Iowa is home to some incredible well-organized, and beautiful designed skyscrapers that soar through Iowa's sky. These buildings usually serve multiple services, including commercial and residential.
The tallest buildings in Iowa are listed below.
1. 801 Grand – 630 feet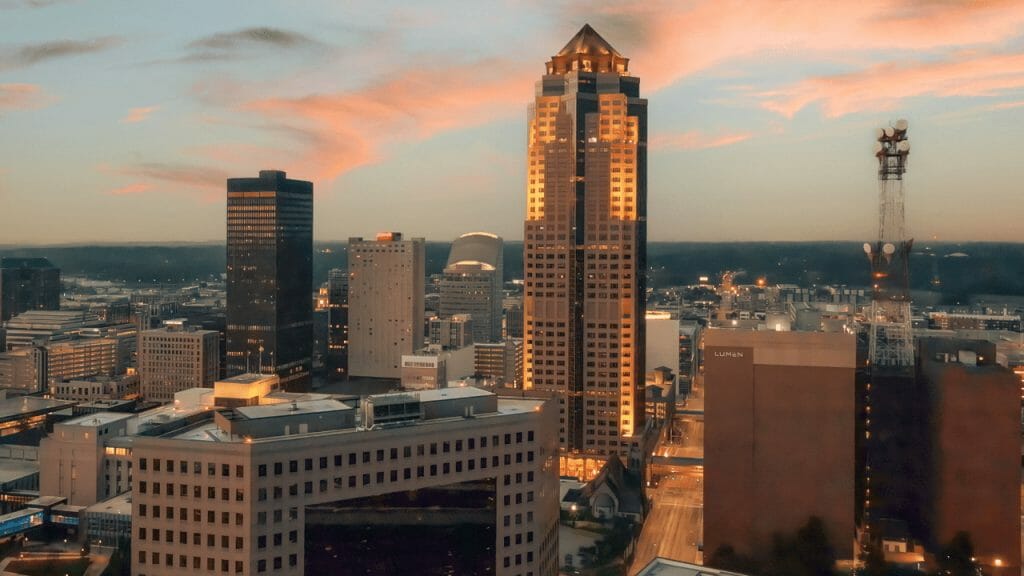 Previously referred to as the Principal Building, 801 Grand is a commercial building in the state capital, Des Moines. Built in 1991, this skyscraper is the tallest building in Iowa. 801 Grand building was designed and constructed by HOK architectural firm and consists of 45 floors. The building is owned and operated by Principal Financial Group.
2. Ruan Center – 460 feet
Ruan Center is one of the tallest buildings in Iowa, situated in the state capital of Des Moines. It is a 36-story massive commercial skyscraper that towers above the busy metropolitan area. Most of its spaces are used for offices. Found in 1975, Ruan Center used to be the tallest building in Iowa for 16 years until the construction of 801 Grand.
3. Des Moines Marriott Hotel – 365 feet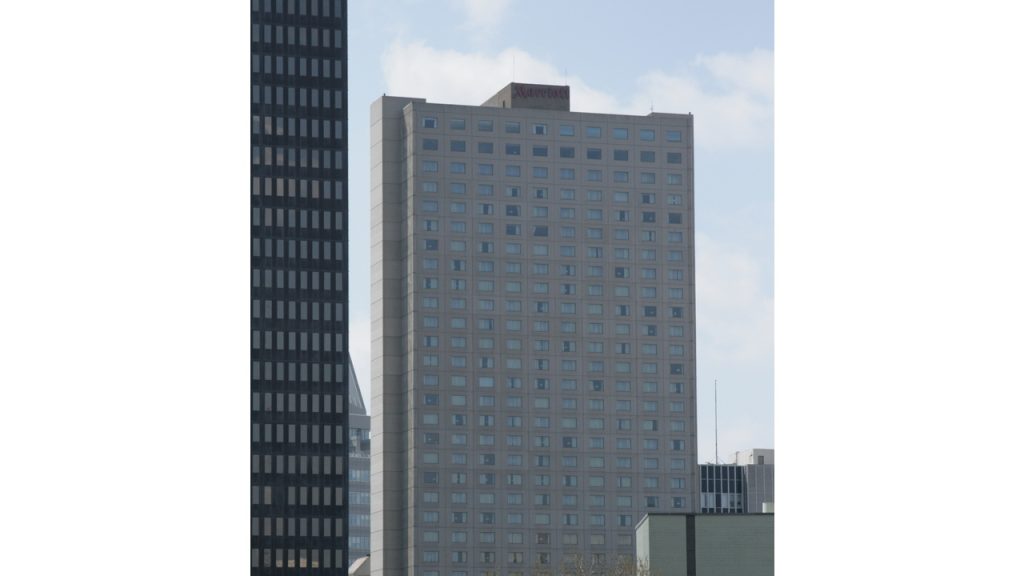 Des Moines Marriott Hotel in Des Moines is one of the most luxurious attractions of Iowa's most influential city, its capital. Built in 1981, this hotel is the tallest hotel in Iowa and has been for over 40 years now. It is the center of luxurious accommodation and entertainment in Des Moines. The hotel itself consists of 33 floors and 4 elevators, and is owned by Marriott International, a global hotel company.
These are the most expensive cities in Iowa.
4. Financial Center – 345 feet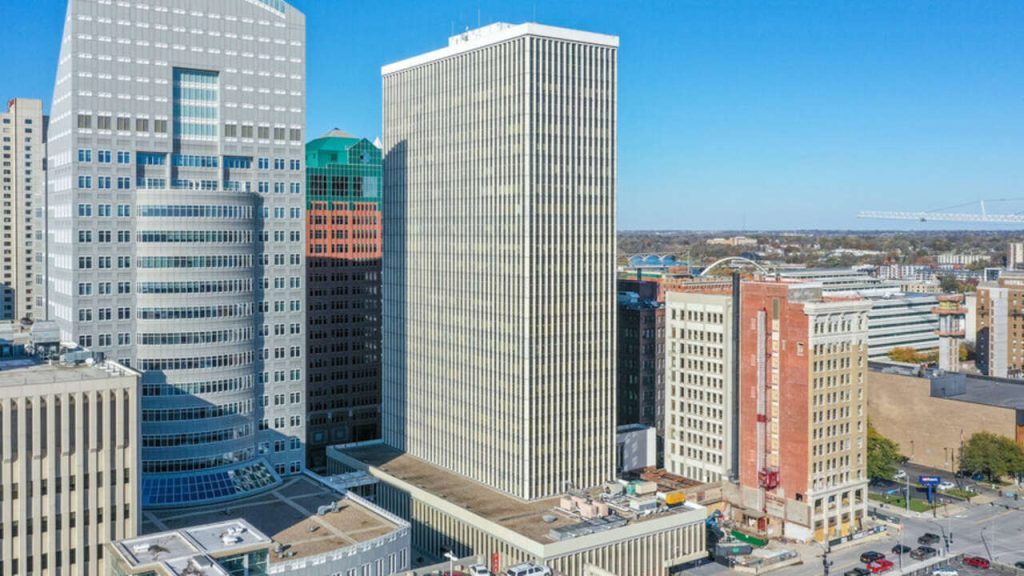 Financial Center, as the name suggests, is one of the most important financial office buildings in the state in terms of its economy. This 25-story huge skyscraper was built in 1973, and is one of the oldest buildings on this list. This financial firm is located in Des Moines, and is one of the best financial institutions in Iowa.
5. Plaza Building – 340 feet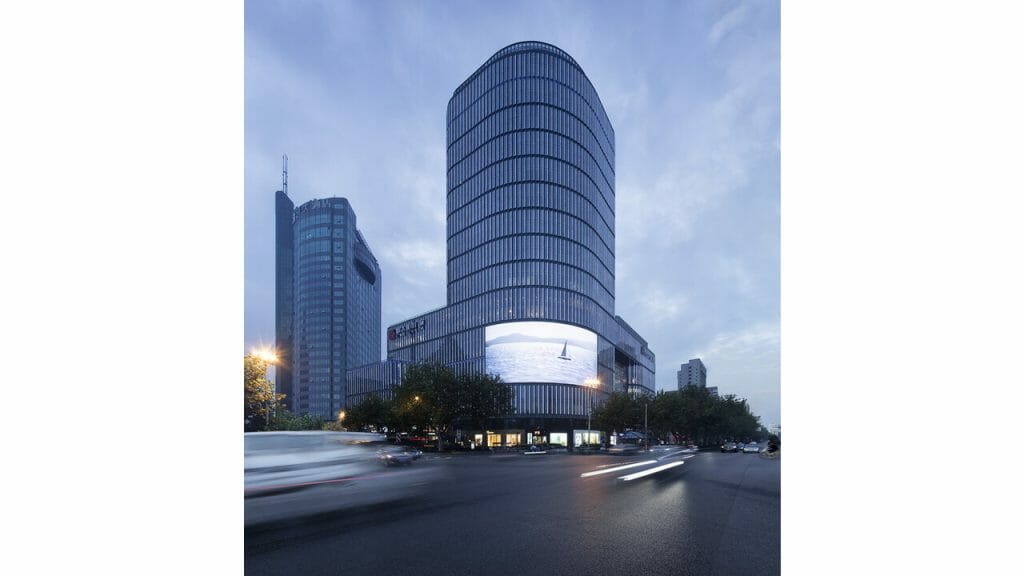 The Plaza Building is the tallest residential building in Iowa, designed to provide top-notch permanent residences like condos, apartments and more. This 25-story huge skyscraper was built in 1985 in Des Moines as a massive residential complex that housed thousands of people. Moreover, there are three elevators and also a big swimming pool on the third floor.
6. HUB Tower – 325 feet
Keeping up with the trend above, HUB Tower is also a massive skyscraper based in Des Moines, the state's largest and busiest metropolitan area. This well-designed building was built in 1986, and is currently used for office spaces and commercial uses. This 25-story building in the capital of Iowa is also one of the state's most eye-catching buildings.
These are the best home builders in Iowa.
7. EMC Insurance Building – 325 feet
A relatively new entry on this list, EMC Insurance Building was constructed in 1997, a lot later on from most of the buildings on our list. It is one of the biggest insurance firms in the state, and the tallest insurance building in Iowa. Founded in 1997, EMC Insurance Building consists of 19 floors and numerous elevators as well.
8. Equitable Building – 318 feet
Founded in 1924, Equitable Building is one of the oldest buildings on this list. It primarily has office spaces and was named after the insurance firm Equitable of Iowa.
This 19-story skyscraper has soared to the skies above, comprising an imposing size. Found in 1924, it is the oldest and still the second-tallest building in Iowa. Unsurprisingly, Equitable Building is also located in Des Moines.
9. Alliant Tower – 285 feet
Alliant Tower is the tallest building in Iowa outside Des Moines. Located in Cedar Rapids, it is the biggest commercial office tower in this riverfront city. Alliant Tower, the 21-story skyscraper was constructed in 1972, and celebrates its 50th anniversary this year.
10. Iowa State Capitol – 275 feet
Situated in the state capital, Des Moines, Iowa State Capital is the tallest government building in Iowa. This unique, massive building consists of 4 floors. The building itself was constructed back in 1884, making it the oldest building on our list. The whole property around this building is 17 acres.
11. Davenport Bank and Trust – 255 feet
Davenport Bank and Trust Company was for much of the 20th century the leading bank of the Quad Cities metropolitan area and the surrounding region of eastern Iowa and western Illinois. It was at one time Iowa's largest commercial bank, and the headquarters building has dominated the city's skyline since it was constructed in 1927 at the corner of Third and Main Streets in downtown Davenport, Iowa.
It was acquired by Norwest Bank of Minneapolis in 1993 and now operates as part of Wells Fargo following a 1998 merger of the two financial institutions. 
One interesting observation from this list is that the majority of the tallest buildings in are commercial buildings that are built in Des Moines, the most commercial city in the state. These buildings don't just provide an economic benefit for the city, but are also tourist-attractive landmarks as well.