When thinking of a destination for wedding, visions of sandy beaches, turquoise waters, and lush tropical foliage come to mind. Hawaii is that classic tropical paradise – and so much more.
With towering mountains that disappear into the mist, warm weather year-round, unparalleled vistas, and some of the best beaches in the world, Hawaii is the perfect place to have your dream wedding.
Consider this your ultimate guide to the unique wedding venues in Hawaii, with locations spread across four of the islands. Read on to learn what makes place worthy of hosting your special day.
1. Haiku Gardens
Call: +18082470605 – Visit Website – View on Map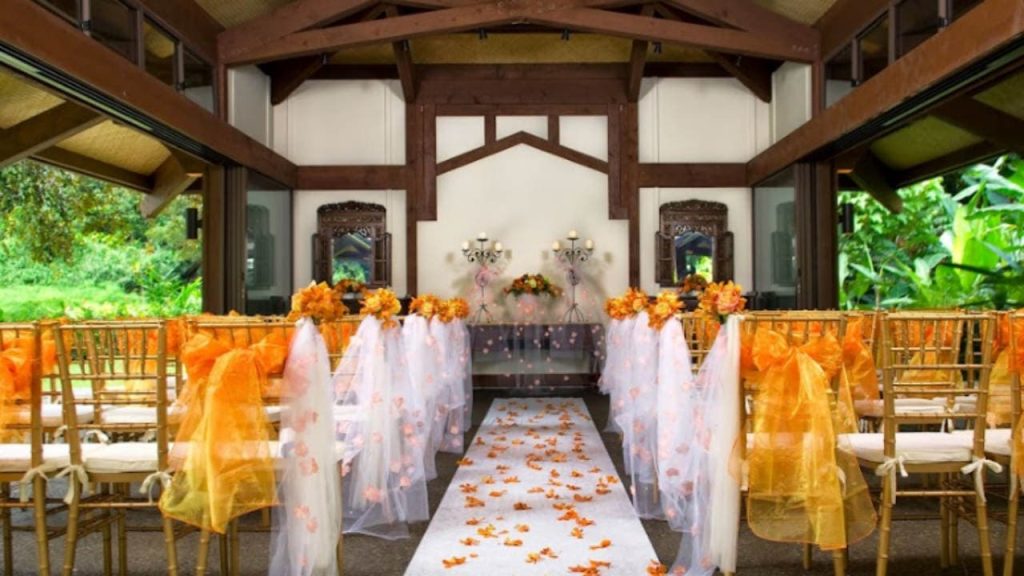 Located on the windward side of Oahu in Kaneohe, Haiku Gardens is your own private paradise. This four-acre garden property is nestled at the foot of the Koolau mountains, which serve as a gorgeous backdrop no matter where on the property you choose to say "I do."
Ceremony locations range from the private botanical garden, an elegant gazebo, or their newest option: an open-air chapel surrounded by lush tropical foliage.
2. Ho'omaluhia Botanical Garden
Call: +18082337323 – Visit Website – View on Map
The name of this garden venue located in Kaneohe means "a peaceful refuge." It's easy to see why; with a tranquil lake, an abundance of tropical plants, and dramatic views of the mountains, this venue offers the perfect option for an outdoor wedding in paradise. Choose from ceremony locations like the terrace and gazebo, the butterfly garden, or the palm garden.
3. The Honolulu Ridge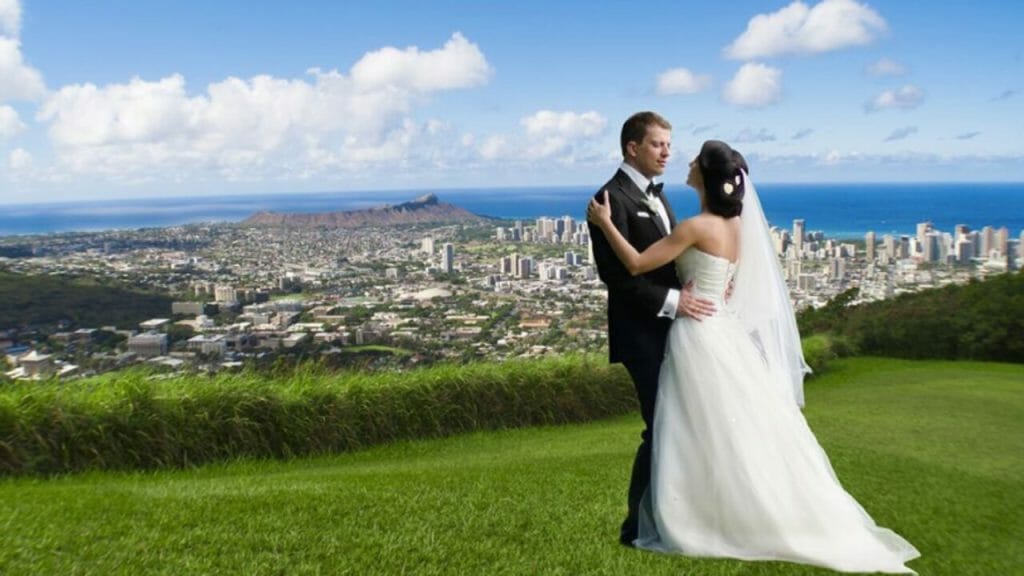 For show-stopping panoramic views of Waikiki, Honolulu, and Diamond Head, look no further than the Honolulu Ridge. This historic venue and private estate offers an unrivaled overlook of the city and ocean. Use the historic home with vaulted ceilings for a small reception, or opt for the Panoramic Deck with breathtaking views.
Take a look at these golf resorts in Hawaii.
4. Koko Crater Botanical Garden
Call: +18085227060 – Visit Website – View on Map
It doesn't get much more unique than getting married in the crater of a blooming (and dormant) volcano. Koko Crater Botanical Garden provides a mixture of tropical and desert environments, with views of the ocean while you're surrounded by exotic and endangered plant life – like a cactus and succulent garden. Guests can enjoy exploring the trails before settling in for a simple reception amongst the rare landscape.
5. Kualoa Ranch
Call: +18082377321 – Visit Website – View on Map
When you set foot on Kualoa Ranch, it'll probably look familiar – that's because movies and TV shows like Lost, Hawaii Five-0, 50 First Dates, Jumanji, and Jurassic Park were filmed here.
The grandeur of the mountains and the valley open up to sweeping views of the Pacific and Mokoli'i island in the distance. For your ceremony or reception, choose from areas like the gardens, a lawn with an oasis-like feel, the foot of the mountains, or a secret island.
6. Queen Emma Summer Palace
Step into a piece of Hawaiian history at this former summer retreat home to Hawaii's royal family. Located in the lush Nu'uanu Valley, this historic residence catches the eye with its bright green shutters and quaint ambiance. The Emmalani Hale (Hawaiian word for "house"), built from volcanic rock and framed with large windows, offers an intimate reception space.
Again, the Prince Albert Terrace makes the perfect location for a ceremony tucked away in the garden. Guests are free to explore the colonial-style house at their leisure as they take in the tranquil surroundings.
Take a look at these stunning golf courses in Hawaii.
7. Hilo Hawaiian Hotel
Call: +18089359361 – Visit Website – View on Map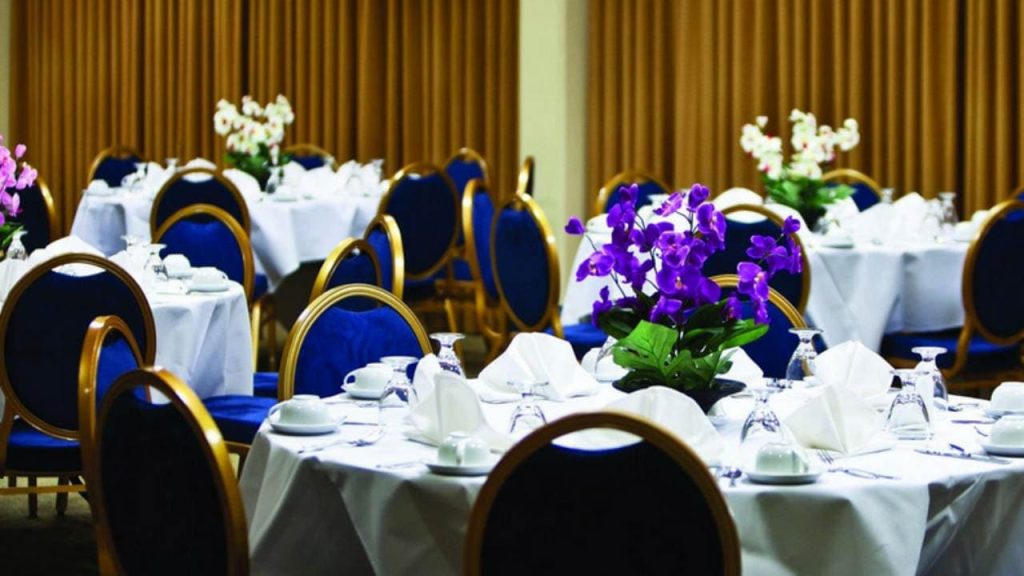 Perched right on the edge of Hilo Bay, the Hilo Hawaiian Hotel offers views that can't be beat – the summit of Mauna Kea, the town of Hilo, and Coconut Island are all visible from the hotel grounds. With an expansive lawn that goes right up to the ocean, you can say your vows in the heart of Hilo just steps from the water.
8. Kahua Ranch
Call: +18082377321 – Visit Website – View on Map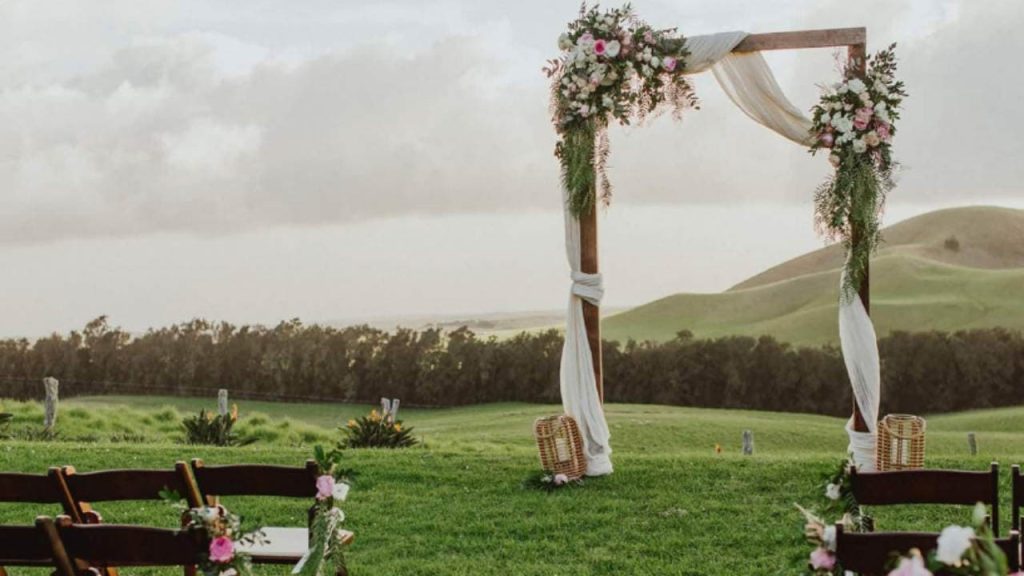 Located in the northern part of the Big Island, Kahua Ranch sits high in the Kohala Mountains, giving expansive views of the land and seascape below. The ranch showcases the diverse geography of the island, with both the rainforests and the desert nearby.
This off-the-beaten-path venue has spaces ranging from a covered deck with an attached working barn to an ocean-view lawn with a historic ranch chapel. At nighttime, treat your guests to stargazing and find out why the Big Island is one of the best places on earth to catch amazing vistas of the heavens.
9. Sheraton Kona Resort & Spa at Keauhou Bay
Call: +18089304900 – Visit Website – View on Map
On the Kona side of the Big Island right by Keauhou Bay sits the Sheraton Kona Resort & Spa. Get married at sunset on the black lava cliffs by the ocean or choose the Bayside Lawn surrounded by palm trees and plants. The charming open-air chapel with a sea-green roof and white exposed beams looks out directly to the ocean and offers panoramic views of the bay.
10. Hulihe'e Palace
Call: +18082337323 – Visit Website – View on Map
Hulihe'e Palace's beautiful oceanfront location makes it the perfect venue for a sunset wedding or intimate reception. Built in 1838 as the Hawaiian royalty vacation residence, the palace still exudes historic charm with its green shutters, redwood pillars, and signature Hawaiian koa furniture.
Welcome your guests like royalty in the spacious entry hall and usher them out to the lush lawn to celebrate your special day right by the ocean.
11. Waimea Plantation Cottages
Call: +18083381625 – Visit Website – View on Map
Waimea Plantation Cottages is the perfect location for you if you're looking for a historic setting and an oceanfront wedding destination. Get married next to the cottage beneath the 100-foot-tall Banyan tree as a gentle ocean breeze drifts through the air. Also, create a perfect reception with your selected wedding planner and enjoy the day with your family and loved ones.
12. Aulani, A Disney Resort & Spa
Call: +18664434763 – Visit Website – View on Map
Aulani, A Disney Resort & Spa is a beautiful golf resort and spa that offers guests all sorts of amazing amenities. This resort features the Ko Olina Golf Club, which consists of a stunning 18-hole golf course with multi-featured greens, water hazards and scenic views.
Also, the restaurant there serves all kinds of incredible cuisines and dishes. It is located in Kapolei, and is the most popular golf resort in Hawaii.
13. Travaasa Hana
Positioned above Hana Bay on the eastern tip of Maui, Travaasa Hana is surrounded by rolling fields and plenty of palm trees. If a sunset ceremony has always been your dream, Hamoa Beach provides the perfect backdrop, with a traditional luau, tiki torches, and dancing to follow. You can also host your cocktail hour in the guest house.
Even though a wedding is a lovely event in and of itself, it needs a spectacular wedding location to be effectively celebrated. Choose any of these wedding venues and have a magical and unforgettable day with your partner.