Looking for your dream destination wedding amid the breathtaking views of Colorado? The picturesque beauty of meadows, fantastic venues with mountain views or ecstatic colorful fields of wildflowers, Colorado can be your ideal dreamlike place to say "I do".
To find your iconic wedding venue, I have jotted down the best wedding venues in Colorado.
1. Garden of the Gods Resort and Club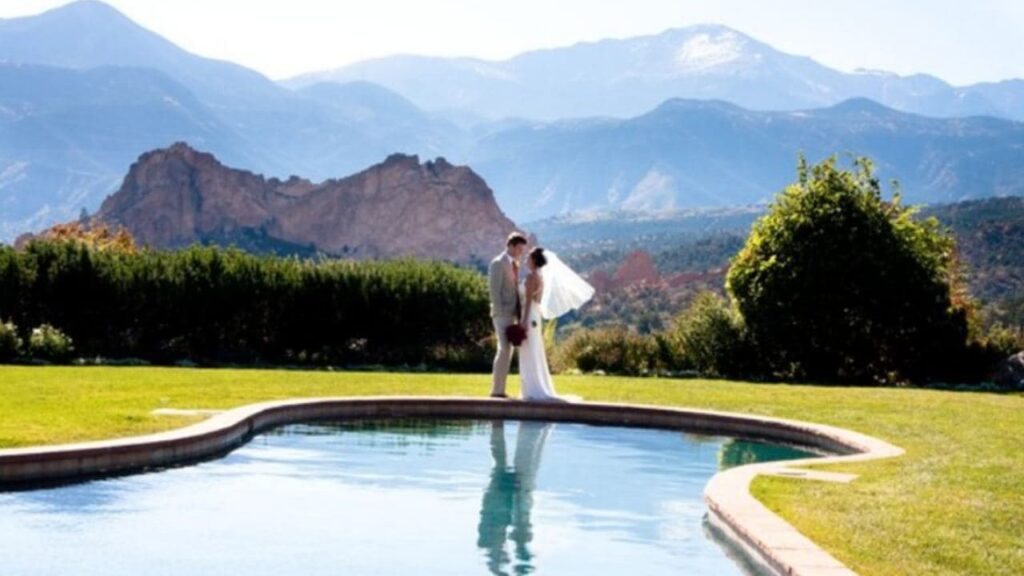 With an extraordinary view from the Rocky Mountains, Garden of the Gods Resort and Club is the iconic resort for holding an unforgettable wedding. The resort, located in Colorado Springs, Colorado, offers stunning vistas. There is a massive ballroom that boasts floor-to-ceiling windows giving dramatic effects in the pictures.
There is an attached terrace overlooking the fantastic mountain views and the venue also has a variety of fantastic amenities, like a green room, caterers and more. If you want a mixed venue with indoor grandeur and outdoor simplicity, it is the perfect place for your wedding.
2. The Little Nell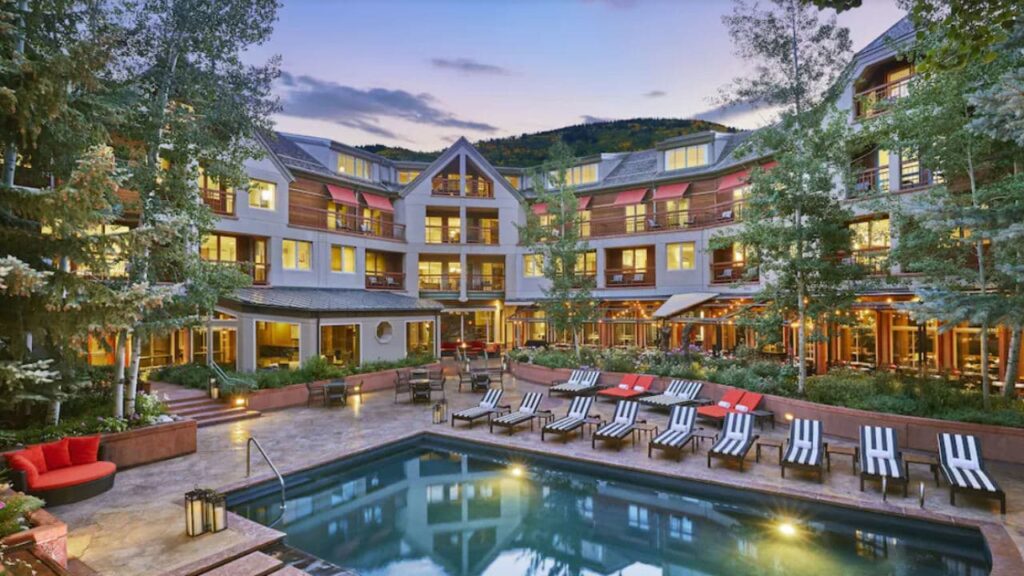 The Little Nell is Aspen's only five-star and five-diamond resort where you have to ride up Aspen Mountain to reach. To hold your wedding ceremony amid the awe-inspiring beauty of nature within luxurious surroundings, this is the right place for you.
Imagine saying yes to your life partner at an elevation of 11,212 feet. The site holds around 280 guests and offers amenities. The special feature of the venue is that it has a dedicated Wedding Deck on the Silver Queen Gondola.
3. The Pinery at the Hill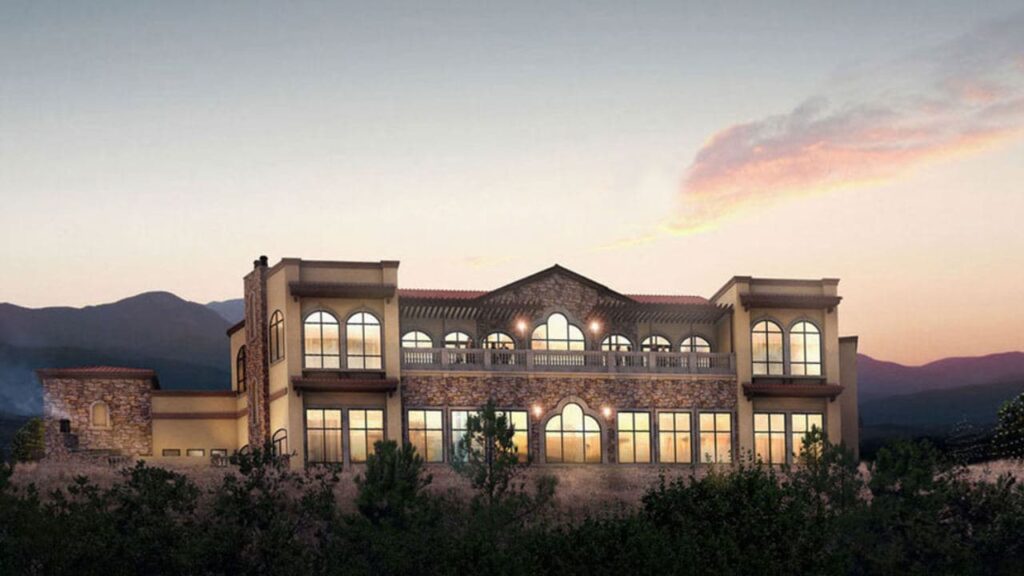 Personalized service and an intimate indoor luxurious setting, The Pinery at the Hill is the correct place for you. It is an award-winning venue due to its timeless style and incredible service.
You will have the opportunity to decorate your wedding hall with The Pinery's in-house floral company. They can provide the design and décor you desire within a suitable budget along with featuring a theme you decide on.
You might also like these waterfalls in Colorado.
4. The Manor House
To tie the knot in a southern-style mansion, The Manor House is for holding a wedding like a fairy tale. It was built in 1914 by billionaire John Shaffer. This 6-acre venue is voted as one of the most beloved wedding venues in Colorado state.
You can reach the location taking a minute from downtown Denver. It accommodates 150 guests and shines like a beautifully restored mansion. This minor is the perfect fairy tale venue with its elegance, comfort and grandeur.
5. Stonebrook Manor Event Center and Gardens
To say "I do" beneath a private place beneath a vine-covered arbor, Stonebrook Manor Event Center and Gardens is a beautiful resort with cozy cabins. Knotty pine woodwork and a fireplace add to the simple and aesthetic wedding experience.
If you are considering a higher budgeted venue, this is the place for you to have an elegant wedding with spacious ballrooms and manicured grounds.
6. Black Forest by Wedgewood Weddings
With sweeping gorgeous views and refreshing beauty, Black Forest by Wedgewood Weddings is built for special days. The venue allocates 300 guests and has an exquisite chapel for the beloved couple to exchange vows.
Situated in Colorado Springs, you can enjoy the natural beauty of the Mountain States with a picturesque backdrop. The venue is ideal for celebrating and enjoying your wedding under the crystal chandeliers of the gorgeous ballroom.
Check out these wonderful ski resorts in Colorado.
7. Ski Tip Lodge
Imagine a rustic lodge like you read in a storybook in an alpine setting. Ski Tip Lodge is the real-life venue that fits your imagination. You can celebrate the wedding on a lakeside patio and lawn.
This place gives you a romantic essence with the stone fireplace open in winter. A great advantage of this venue is that they offer in-house catering from an exceptional culinary team. With the welcoming staff and incredible ambience, you can have a sweet and romantic wedding here.
8. The Loft Music Venue
Located in Old Town Colorado Springs, The Loft Music Venue is a premiere venue. You will love the ambitious vibe of this venue and enjoy live music while slow-dancing with the partner of your dream.
There are separate halls for guests and versatile packages for every type of wedding- grand or intimate. You will not find any other perfect place to twirl under the string lights and enjoy melodious tunes at your wedding.
9. Wellshire Event Center
The place for memorable events for amazing people, Wellshire Event Center is the ideal place for holding your union with your spouse. Built in 1926, this wedding center is Denver's landmark location.  
With a beautiful setting and ample space for guests, this venue radiates charming beauty, making it the ideal location for your spectacular wedding.
10. Ken Caryl Vista by Wedgewood Weddings
Good luck finding a better venue with breathtaking Valley and alluring Rocky Foothill Views than Ken Caryl Vista by Wedgewood Weddings. Your 400-450 wedding guests will be mesmerized by the delightful garden with lavish pines and breathtaking mountain views.
You have the option of holding both indoor and outdoor weddings. There is a secluded area of garden setting to exchange vows and a grand ballroom for wedding parties. Additionally, the choice of three ceremony areas is only found in this venue to get the best of both worlds.
11. Creekside Event Center
An elegant farmhouse located in Colorado Springs, Creekside Event Center is one of a kind wedding venue with its 6 unique indoor and outdoor spaces. The venue accommodates 300 guests and provides you with packages by professional wedding designers.
The packages include food caterers and theme decorations. As for the blessed couple, they can perfectly groove beneath the sparkly lights of the gorgeously designed patio.
12. Christies of Genesee Wedding and Event Venue
Christies of Genesee Wedding and Event Venue is an exceptional venue for your memorable Colorado wedding. Reservable, it is a day and night – use site and has a reception hall for 150 guests.
This venue is an affordable and unique place. It won The WeddingWire Couples' Choice Awards. How so? With its excellence in services, professionalism and high quality is demonstrated for every wedding taking place at this venue.
13. Villa Parker
Located south of Denver, stands Villa Parker, a Mediterranean estate. This venue will awestruck 200 guests with its vibrant gardens, incredible views, grand entrance and ivory archways. The lovebirds can recite their vows with astounding views of the horizon.
A special feature of this venue is the twinkling courtyard and the massive ballroom. The place is decorated with a terracotta-tiled roof and elegant iron chandeliers hang inside the huge ballroom. This Tuscan countryside wedding venue will give you an unforgettable experience of one of the most significant days of your life.
14. Wild Basin Lodge & Event Center
To complete your love story's commitment and begin a new phase of your life, Wild Basin Lodge & Event Center is one of those places on earth that gives you a sense of awe and romance.
The 13 acres of private and meticulously landscaped site is the best place for your dream wedding. You can see the stunning Rocky Mountains as the backdrop of your unforgettable day and enjoy the refreshing quiet beauty of nature. Don't forget to capture your lovely moments in this gorgeous venue.
15. Lyons Farmette
If you are looking to hold an intimate wedding while escaping to the refreshing countryside, Lyons Farmette is the perfect place for you. It is a chic site for nature and art lovers. It is a renovated farm where you can arrange locally grown food for your guests and hold your wedding on an organic farm.
This place gives a rustic feel in the gorgeous landscaped groups of the countryside. The wedding deck is surrounded by flower – bloomed gardens and an estate with a capacity of 125 guests.
Weddings are a sacred and beautiful event for every individual. This special event deserves a special place that remains in the best memories of both the bride and groom, even the guests. The mentioned list of the wedding venues in Colorado is compiled through extensive research and positive reviews of hundreds of people. So, choose your ideal venue from where you will start a journey in your life happily!