Whether you're planning a small, intimate wedding or a large, extravagant affair, Alabama has the perfect venue for you. Many farm and barn wedding locations can be customized to fit your rustic or country-themed wedding. If you're searching for a more refined setting, consider one of the stunning historic homesteads or manor houses for your special event.
Outdoor weddings are a popular choice in Alabama because of the state's excellent weather, and you'll find a wide variety of wedding locations that can accommodate your ceremony under the stars or in a gorgeous garden.
So, if you're still dreaming of the perfect southern wedding, take a look at these perfect wedding venues in Alabama.
1. The Sterling Castle
Call: +12056699486 – (View on Map) – (Visit Website)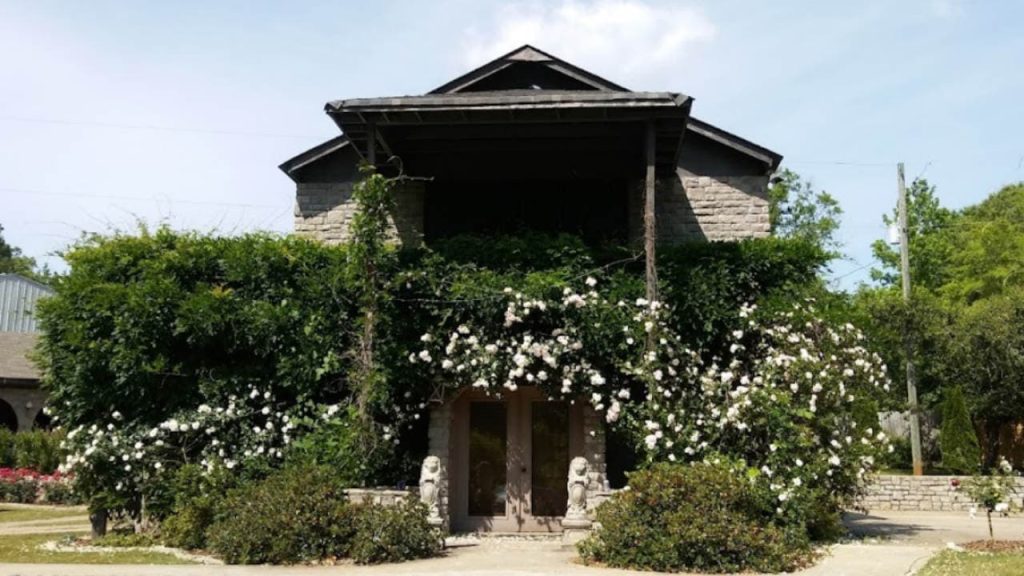 Sterling Castle (about 15 miles from Birmingham) has transitioned from a large family home to a private, family-owned business in its second life as a wonderful wedding location.
The stunning exterior of the castle provides a beautiful backdrop for your wedding photos, and the venue may be used for both your ceremony and reception. The castle itself can accommodate up to 50 people for informal occasions, while the neighboring reception area can accommodate 300 people.
At Sterling Castle, your personal wedding planner will ensure that every element of your dream wedding is painstakingly prepared and matched to your budget.
2. Annabella At Cedar Glen
Call: +12568525808 – (View on Map) – (Visit Website)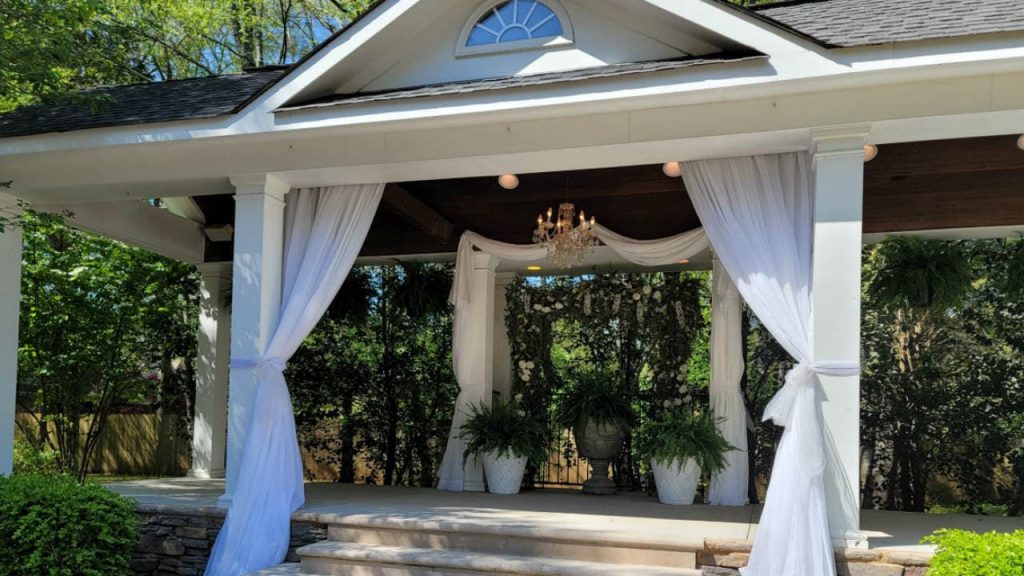 The Annabella At Cedar Glen wedding venue is one of the most beautiful and stately in the Huntsville area. It features a total of 5,600 square feet of indoor and outdoor space available for wedding reservations, making it the ideal location for wedding ceremonies and receptions.
Annabella At Cedar Glen has two outdoor wedding venues, a gorgeous bridge, and a garden filled with fragrant flowers. It also offers in-house event planning, making it simple and stress-free for the happy couple to plan their special day.
3. Grand Hotel Resort and Spa
Call: +12519289201 – (View on Map) – (Visit Website)
The Grand Hotel Resort and Spa is an excellent choice for large and small weddings, with a beautiful site overlooking the Gulf of Mexico. They have a team of wedding and event planners who are experienced in collaborating with couples to guarantee that their dream wedding is successfully executed.
Most couples opt to marry in the expansive gardens surrounding Point Clear before heading indoors during their celebration at one of many gorgeous venues. The hotel also hosts your rehearsal dinner, bridal spa day, and even a goodbye brunch.
You might also want to know about these top rated beach resorts in Alabama.
4. Burritt on the Mountain
Call: +12565362882 – (View on Map) – (Visit Website)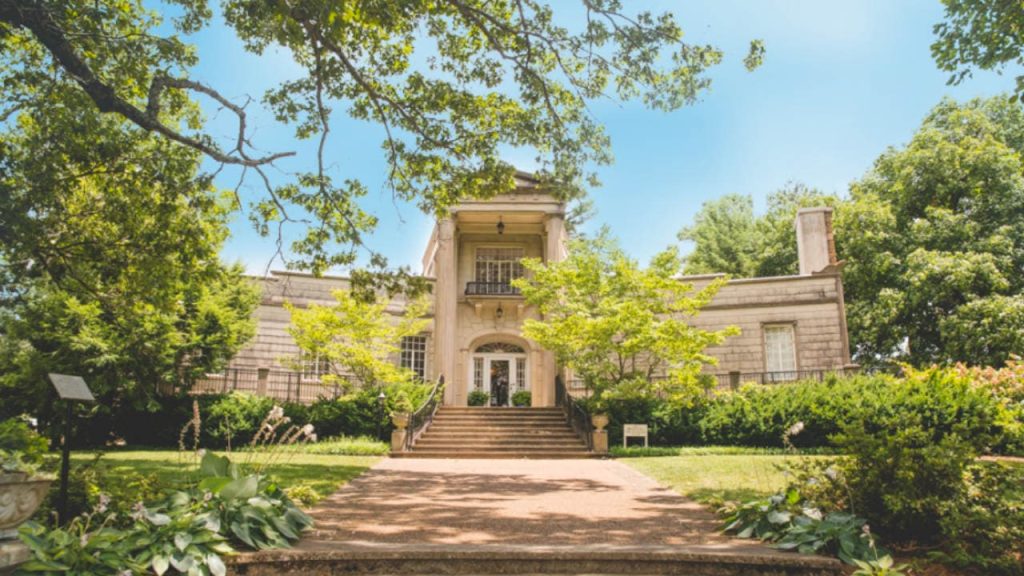 Burritt on the Mountain in Huntsville is a beautiful wedding venue with a spectacular indoor and outdoor event area that can hold an amazing wedding ceremony and reception. Wedding ceremonies and receptions can be held in several event locations on the grounds, including the Baron Bluff, the Gazebo, the View, and the Church.
All of these sites exhibit some of the most gorgeous aspects of the land, and they are all available for couples to utilize. When it comes to wedding venues, Burritt on the Mountain is most known for its panoramic vistas and endless photo opportunities, and when clients book this spot, they may cooperate with their favorite local vendors.
5. Applewood Farm
Applewood Farm, set on a gorgeous 80-acre property with vistas of rolling hills and farmlands, is a fantastic wedding venue for nature lovers. The Crystal Chandelier Barn, which boasts a dance floor and a professional stage for your DJ, can seat guests. Standing room for up to 200 people is available at the venue.
Despite the fact that the majority of couples prefer to have their ceremony outside at one of the many lovely locations, the barn is large enough to handle both the ceremony and the reception in the event of inclement weather.
Couples can hire their own wedding organizer or leave all the arrangements to the experienced Applewood Farm director, who will take care of everything and relieve you of all the worry of preparing your perfect wedding.
6. The Ledges
Call: +12568830860 – (View on Map) – (Visit Website)
The Ledges is one of the most luxurious wedding venues in Huntsville and beyond, offering endless vistas of the Tennessee Valley and its surrounding landscapes for a wedding ceremony and reception that is both beautiful and charming in the outdoors.
The Ledges is one of the most luxurious wedding venues in Huntsville and beyond, providing endless vistas of the Tennessee Valley and its surrounding landscapes for a wedding ceremony and reception that is both beautiful and charming in the outdoors. In addition to its old European-style building, which includes a castle surrounded by exposed beams, rolling vegetation, and antique wood elements and finishes throughout the internal amenities.
The venue is also distinguished by its location. Inside the indoor event area at The Ledges, seating for up to 250 people can be accommodated, and in-house food services can be arranged for an extra level of convenience.
Check out the most romantic hotels in Alabama.
7. Fountainview Mansion
Call: +13347044451 – (View on Map) – (Visit Website)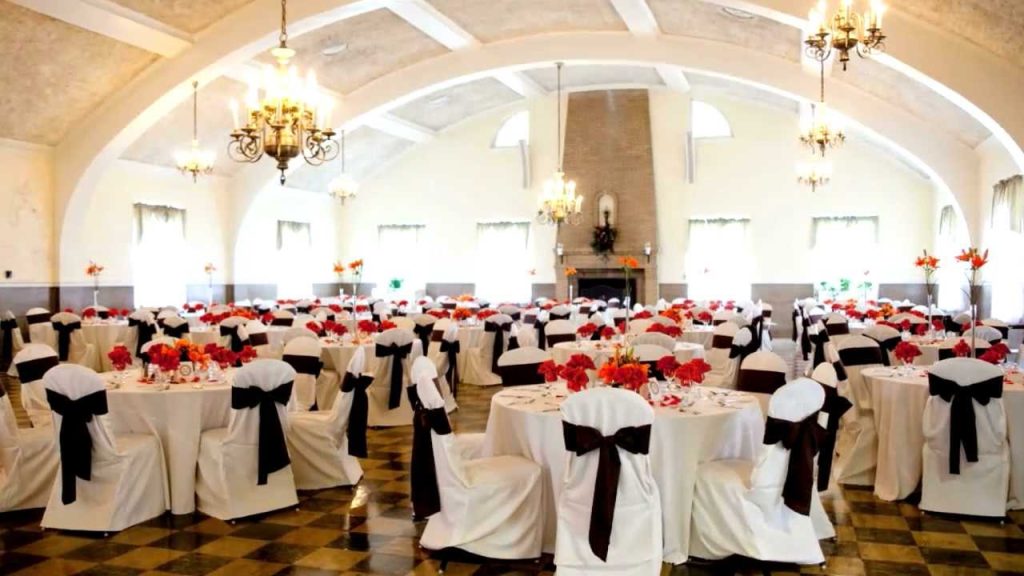 The Fountainview Mansion in Auburn, which sits on a picturesque hill, is the perfect setting for an elegant, old-fashioned wedding. As an additional perk, Fountainview Mansion offers beautiful overnight accommodations for both the wedding party and guests from out of town.
With a variety of all-inclusive packages, couples can have their rehearsal dinner, wedding ceremony and reception at the Fountain view Mansion with no need to worry about anything but showing up and enjoying themselves.
These packages include everything from venue rental to wait staff and a cake-cutting service. Moore's Mill Club provides all the cooking, and you can choose from a variety of bar options, all of which come with a bartender.
8. Historic Rucker Place
The Historic Rucker Place is an all-inclusive wedding location with a dash of southern charm. This location, which dates back to 1900, retains much of its original splendor. That way, your guests will remember your wedding for years to come.
An intimate ceremony can be held on the front porch, which has a wraparound railing for pictures. A total of 2400 square feet of outdoor space is available behind the home for use as a ceremony or reception location.
To get a sense of the site's history and beauty, take a tour. You can begin arranging your dream wedding with their team of planners, chefs, and waitstaff as soon as you're prepared.
9. Gabrella Manor
Call: +12058339754 – (View on Map) – (Visit Website)
Spanish-style Gabrella Manor features an elegant Great Room with antique stained-glass windows and an ivy-covered staircase for a dramatic bridal entrance. There are also balconies inside the estate that overlook the Great Room, making it a perfect wedding site.
For the perfect wedding day, the manor provides everything you need under one roof, including on-site dining, flowers, décor, and even professional photographic services. It's possible to have beautiful outdoor ceremonies before heading inside the Grand Hall for a memorable reception.
10. The Donnelly House
Call: +12053695772 – (View on Map) – (Visit Website)
The Donnelly House is a premier wedding venue in Birmingham, located on the city's outskirts. Indoor and outdoor event facilities totaling 12,000 square feet are available for rent, ensuring that you have everything you need to host your dream wedding.
This venue features marble flooring, neoclassical architecture, and magnificent gazebos, as well as a lot of southern charm throughout. The cheerful and professional personnel will take care of everything.
Moreover, the bridal suite allows you and your wedding party to prepare for your big day in privacy while your guests mingle and take in the sights and sounds of the surrounding splendor. At this venue, the only thing you'll have to worry about is having a good time.
11. Aldridge Gardens
Call: +12056828019 – (View on Map) – (Visit Website)
Aldridge Gardens in the City of Hoover is a lovely place to exchange wedding vows in the midst of nature's splendor with your loved one. The wedding planner at Aldridge Gardens will work directly with the bride and groom to ensure that your special day is exactly as you envisioned it to be.
Before moving on to the gorgeous outdoor pavilion or Aldridge House for your reception, there are a number of excellent options for holding the ceremony outside. Moreover, there are a variety of all-inclusive wedding packages to choose from, and your wedding planner will recommend trusted caterers and other service providers.
12. Bridge Street Gallery and Loft
The BridgeStreet Gallery And Loft in downtown offers a sleek and contemporary setting for your wedding reception. Sleek transparent drapes filter natural light into the open-floor galleria, which has a white backdrop ready for your personalization.
Your out-of-town guests will appreciate the venue's capacity of 200 people and the fact that several downtown hotels are within walking distance. It would be a breeze to plan your dream wedding because of their long-standing relationship with local businesses.
Actually, it won't take long for you to fall in love with this ultra-modern downtown location and begin making wedding plans.
Wedding venues range in style from grandiose palaces and estates to quaint bed and breakfast inns. Due to Alabama's prominent history in the civil rights struggle, it is feasible to select unique wedding locations. If you're looking for a romantic wedding location, look no further than Alabama's wedding venues.