Your wedding is one of the most important and special occasions of your life. To make this day more memorable, you can hold your wedding in Connecticut, where you can choose a beautiful location with many diverse options.
Starting from lovely parks to an incredible riverfront overlooking the Connecticut River, you can exchange vows with your better half in any spectacular venue in Connecticut.
To make it easier for you to choose your wedding venue, I have jotted down the best wedding venues in Connecticut, so you can make reservations and have your dream wedding.
1. Pond House Cafe
Call: +18602318823 – Visit Website – View on Map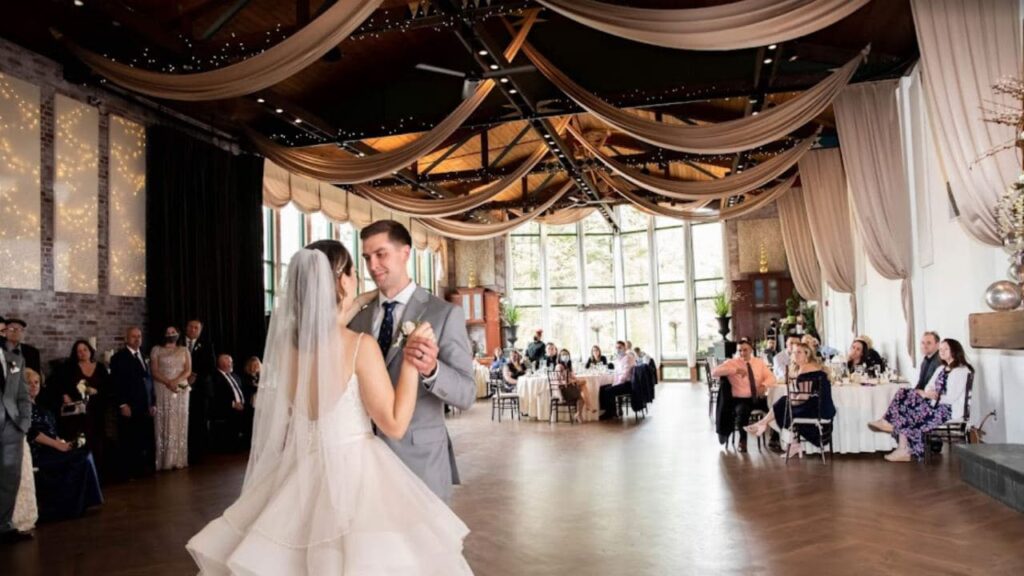 Pond House Cafe is a unique wedding venue on this list with its unique interior. With its exposed brick walls and its large stone fireplace, this venue is for those who want a rustic feel to their wedding.
The exposed metal beams right across the high peaks of the wood paneled ceiling give a countryside look. This café was once an industrial mansion which presently has become elegant with a greenhouse mixed area.
The huge space called the Garden Room is filled with pretty flowers and plants and can accommodate up to 170 guests. There is also a lovely outdoor terrace where you can hold the wedding ceremony as it is surrounded by a scenic pond.
2. The North House
Call: – Visit Website – View on Map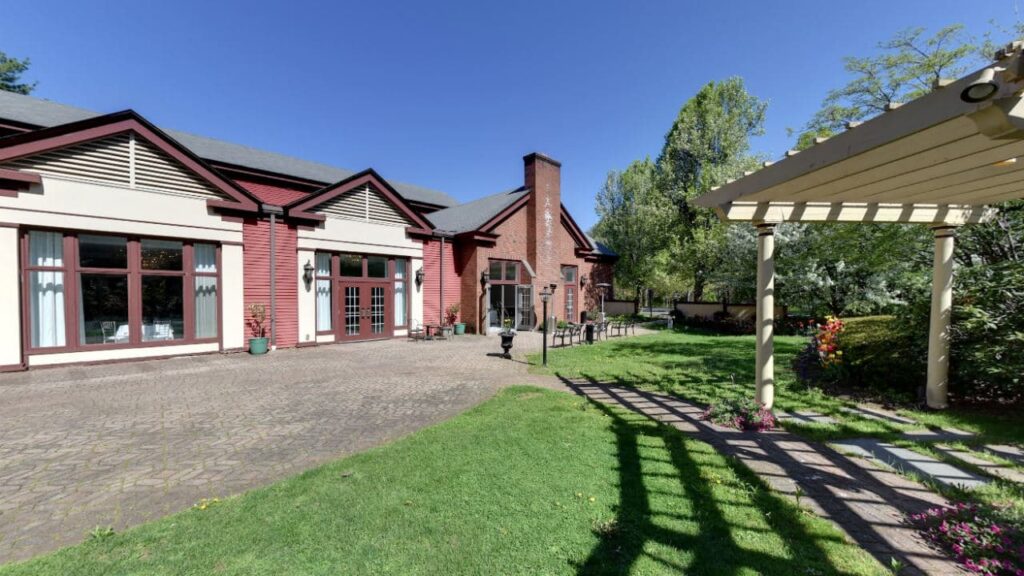 The North House is the perfect American style wedding venue. It is a lovely restaurant with a refined atmosphere where you can add craft beer and tasty cocktails from their menu. As a wedding venue, this place has no barriers. You can decide to do whatever theme or style you want to.
This place has a history of 250 years, and you can do your wedding shoot in the huge elegant foyer. The venue has a marvelous staircase, giant crystal chandeliers and a beautiful view. The setting gets A star and so does their five – star food. Do not forget to book their Gourmet hors d'oeuvres for your wedding cocktail bar.
3. Saint Clements Castle & Marina
Call: +18603420593 – Visit Website – View on Map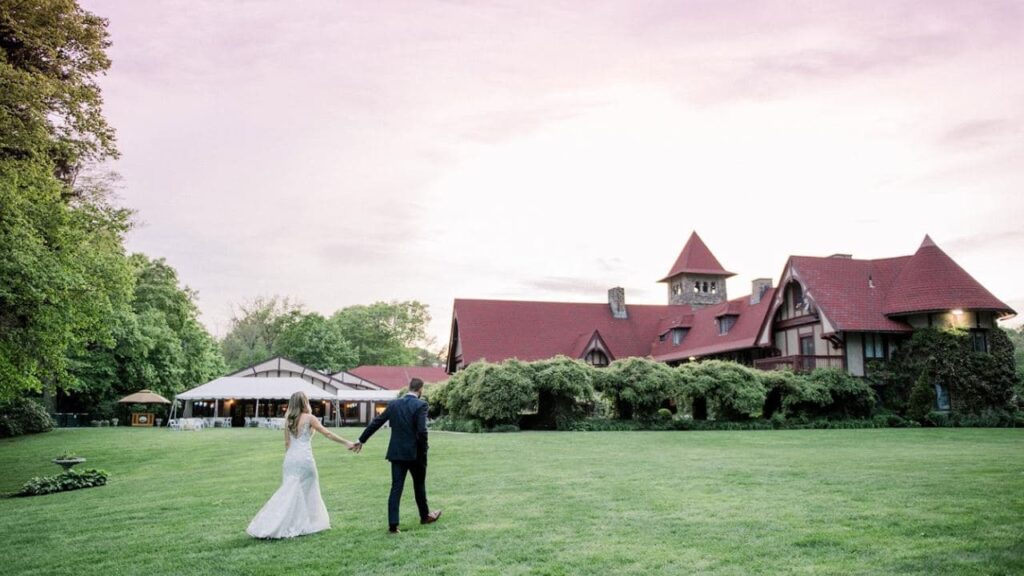 Saint Clements Castle & Marina is a beautiful wedding venue just one mile away from the gorgeous Connecticut river. This venue is for those who want a fairy tale-like experience. With its ivy covered tower, magnificent gardens, larger red roofs and Tudor style exterior, this place is one of a kind.
There are over 90 acres of massive grounds that can be customized and decorated as elegantly as you like. It also includes grand ballrooms for holding separate wedding parties. A perfect add-on for the wedding couple is that they can rent a horse – drawn carriage and fully fill their romantic fairy tale story.
Even you can arrange wedding in these amazing golf resorts in Connecticut.
4. Delamar West Hartford
Call: +18602318823 – Visit Website – View on Map
When it comes to holding a gorgeous wedding at an affordable price, you can opt for Delamar West Hartford in West Hartford. This wedding venue is great for its large accommodation opportunities as well as wedding parties.
Delamar West Hartford is an elegant style hotel with 50 to 100 varied rooms for intimate guests to check in before the wedding. Then there is a large space called the Mystic Ballroom, which can accommodate over 400 guests.
This reception area boasts gorgeous crystal chandeliers and large opulent window hangings that give a grandeur feel to your beautiful wedding, and you can enjoy this impressive setting while dancing with your partner on the huge dance floor.
5. The Society Room of Hartford
Call: +18605240796 – Visit Website – View on Map
Looking for an incredible place within a tight budget? Go ahead with The Society Room of Hartford. You can enjoy dancing and merriment in this ornate huge ballroom. The place had giant windows with red velvet curtains and then there was a rounded second floor balcony which swept a grand staircase.
At night, with the lightning, you will think it is Cinderella's ball as it is such a spectacular wedding venue. Additionally, there is an on – site catering service which ensures top quality food at your wedding without you having to worry about it.
6. Saltwater Farm Vineyard
A magnificent wedding venue in Stonington, Connecticut is the Saltwater Farm Vineyard. It covers over 100 acres of land with a private airport. The hangar of the venue can be used as a restaurant as well. You can enjoy the view of the vineyard from the terrace and hold your reception party downstairs.
The spot has a romantic ambiance unlike any other place that makes the wedding setting more extraordinary. You can customize several aspects, like the decoration, entrance and so on, and the staff will help you create your dream wedding.
Take a look at these exclusive golf courses in Connecticut.
7. The Glastonbury Boathouse
Call: +18606524640 – Visit Website – View on Map
The Glastonbury Boathouse is an exquisite wedding venue with its sweeping porches overlooking the Connecticut river. It is a banquet hall for holding a grand gathering with your family, friends and loved ones to join the ceremony of matrimony.
This spot holds a special wedding for every couple with its magnificent grandeur and impressive beauty. You have the option of choosing your own vendor and making specifications for your wedding venue. The Boathouse has appointed talented caterers to help you create an exquisite meal for your wedding day.
8. Farmington Club
Call: +18606331285 – Visit Website – View on Map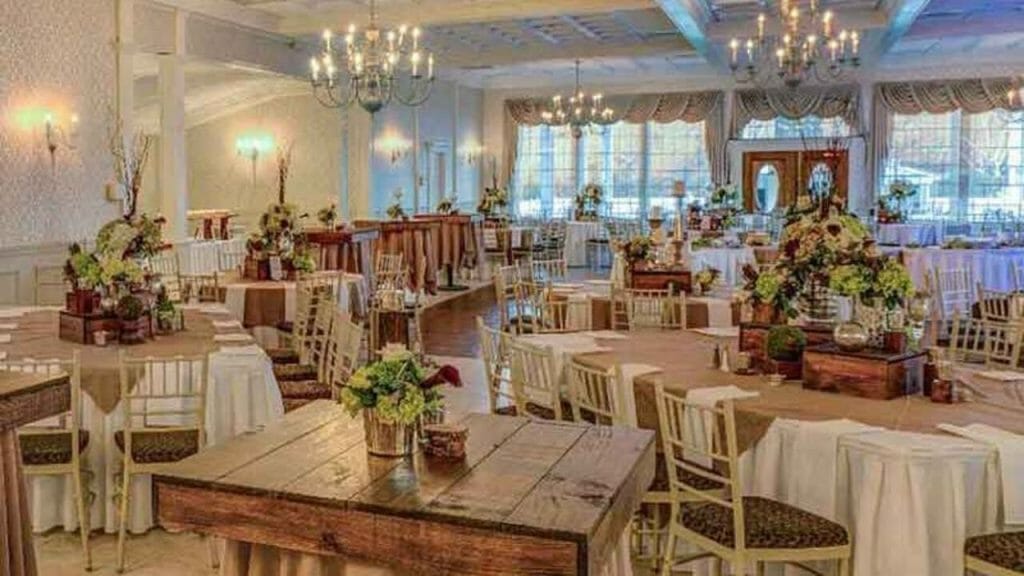 Located in Farmington, you will find a premier wedding spot named Farmington Club. It was once a tennis and swim club that was only open to its members, but over the years, it has become a popular wedding venue. The venue accommodates over 250 guests and has two separate lovely dining halls.
There is a massive outdoor picnic area, so for those who want to exchange their wedding vows under the open sky, it is the right place for them. The massive outdoor area can accommodate up to 1000 guests. This venue is also a perfect spot for holding cocktail receptions with a beautiful gazebo to take wonderful couple pictures.
9. Riverfront Boathouse
Do you plan to hold an intimate yet high-end wedding ceremony? The Riverfront Boathouse might be your perfect choice for it. This wedding venue has the capacity to accommodate 150 guests in the boat house which is a part of Riverfront Recapture. The space has a massive space with wooden ceilings and warm welcoming lighting and, to top it all off, you can enjoy a spectacular view from the venue.
This unbeatable riverside location is a bit on the costlier side due to its exquisite spot. In the outdoor wedding area, there is a tenting option for 1000 people. There are several add – ons like patios, AV equipment, catering and more.
10. Preston Ridge Vineyard
Call: +18605240796 – Visit Website – View on Map
Preston Ridge Vineyard is an exclusive wedding venue in Preston, Connecticut. It is one of the most popular spots due to its easy accessibility. The vineyard is a family – owned location and is a comfortable venue for all types of weddings.
For a countryside wedding experience with country scenic views, choose this 60 acre land. Your guests will love taking photographs and relaxing amid the fresh air of the vineyard and, along with the barn, there is a complementary open – air tent.
You can invite more than 170 guests and have an unforgettable wedding in this romantic atmosphere. The prime factor of this place is its attentive staff that will keep all your demands in check. There are additional services as well, like a dressing suit, two winery staff members, cocktail bar and more.
11. Tiffany Juliet House
Call: +18606331285 – Visit Website – View on Map
A fantastic wedding venue in Hartford is Tiffany Juliet House. There is no factor in this place which will make you want to reject this incredible venue. It is an 1865 Victorian house with a spectacular setting of grandeur and luxury.
Both the interior and exterior of this venue, you will be awed by its view. It has a sunny yellow exterior and an exquisite interior that wins the heart of every lover to hold their wedding in this place. As a matter of fact, this venue has won several awards for being a top wedding venue.
Their top-rated facilities and impressive food arrangements make them the best wedding venue. Additionally, you can also have the chance of getting significant discounts on definite days of the week.
12. Tastebuds Banquet Facility
Call: +5016035463 – Visit Website – View on Map
Located in East Hartford, Tastebuds is a classic banquet hall where you can choose impressive packages to lessen the hassles of wedding arrangements. Tastebuds has been a popular wedding venue for their incredible packages where all of them include an inclusive 5 – hour open bar, fresh flowers, wedding cake and even a wedding coordinator.
They help you plan every detail for your perfect wedding. They even happily accommodate any dietary needs, so you can craft a customized menu for your lovely guests. The key advantage of all this is that they make the packages very affordable, so you can enjoy a relaxing time.
13. United Banquet Hall
Call: +18603420593 – Visit Website – View on Map
With 5000 square feet of space, United Banquet Hall is a gorgeous wedding venue to begin the new phase of your life. The gleaming hardwood floors with great lounging are the right place to hold your grand wedding. For a memorable wedding, this venue has all the key features.
A huge parking area for guests, PA system for having a groovy party and great staff are its impressive features. You can rent many wedding essentials like centerpieces, tableware, cutlery and more so that you do not have to spend extra cash.
14. Bond Ballroom
Call: +18605195572 – Visit Website – View on Map
For a vast area overlooking Hartford's spectacular skyline, Bond Ballroom is the perfect choice with its impressive 5000 square feet wedding area space. You will be applauded by the gorgeous ballroom, which is one of the largest dance floors in Connecticut, measuring 20×40 feet.
You can even book rooms for your family and friends along with your nuptial suit. There are a total of 350 rooms for guests. The place offers different packages including customizable arrangements, so you can have a themed wedding if you want one.
A plus factor of this venue is that it is part of Hilton Homewood Suites, so you can have a luxurious stay as you start a new journey of life with your partner.
15. Tyrone Farm
Tyrone Farm is an excellent wedding venue in Pomfret, Connecticut. It is a 170 acre area that boasts gorgeous gardens, lawns and even spectacular hilly views. You can choose to have your wedding ceremony in the rustic Chestnut Barn or under the tent of Bluestone Terrace.
Either choice is fantastic as you can hold your reception for over 130 guests. The area looks best when it is lit throughout with fairy lights, which give an unforgettable night for the newlyweds and the guests who attend the wedding. As the venue allows one wedding per week, they guarantee you privacy and top service.
16. Pomfret Center
Pomfret Center Features a historic estate surrounded on 14 acres of manicured grounds. Additionally, it offers romantic ceremonies overlooking the 3-acre pond ,al fresco celebrations in the enclosed and a stone-walled Spanish Garden.
South Farms features a stunning pastoral views can be found from every corner of this rustic venue and working farm. It has exquisite modern events facility nestled within the historic Sam Paletsky Barn. You can exchange vows on the expansive lawns framed by lush natural landscaping and rolling hills at this venue.
Weddings are an unforgettable day in our lives and to make this memory as beautiful as it can be, choose any of the spectacular places from this list of the best wedding venues in Connecticut.