I've compiled the ultimate list of top ziplines in Illinois for adrenaline junkies. The state is abundant in forests, beautiful bodies of water, and natural beauty.
So why not try out the zipline? Whether you want to go on canopy tours or self-guided short tours, this list has the best of the best, so don't hesitate to check it out!
The following is a list of the best ziplines in Illinois.
1. Grafton Zipline at Aerie's Resort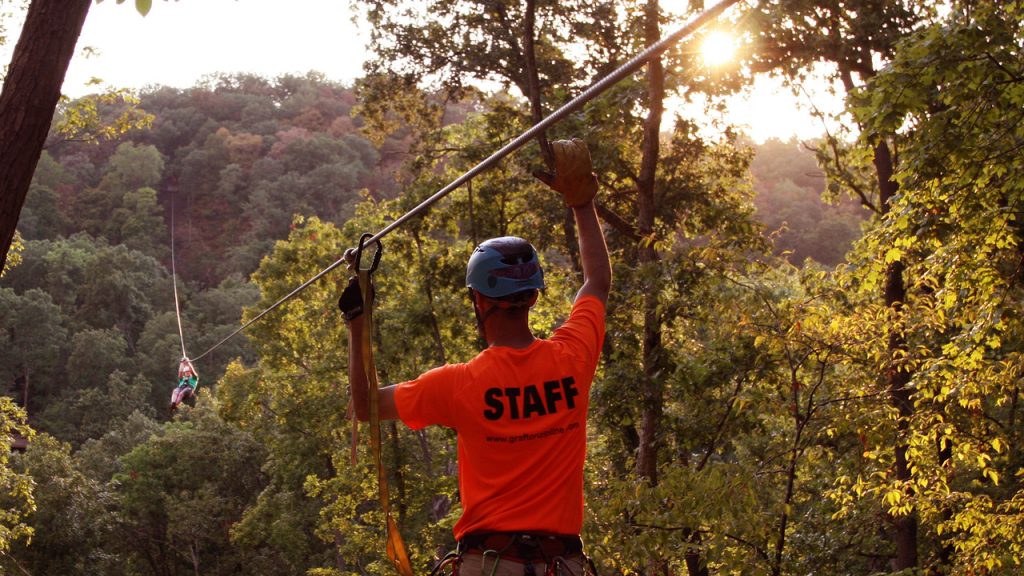 Try Grafton's newest attraction, a zip line, for a mind-blowing and heart-pounding experience. It offers those with enough courage a spectacular river perspective and hours of enjoyment. The 1.75-mile length of the nine zip lines should be completed in around two hours. The Baby Bear, the first of nine zip lines, is the shortest at only 300 feet in length.
The Soaring Eagle is the highest at 2,000 feet and offers amazing vistas as it descends 250 feet. Both the third zip, Deer Hollow, and the last zip, Barn Burner, are 1,500 feet long. The River Run (5th zip), the Gobblers Knob (6th zip), the Limestone Leap (7th zip), and the Road Runner (2nd zip) all have heights of 1,300 feet, 1,200 feet, 1,000 feet, and 700 feet, respectively.
2. Chicagoland's Canopy Zipline Tour
Zip You will have a memorable experience with Chicago Canopy Tours. Lifelong memories will be made as a result. The tour features 8 distinct wires that range in length from 150 to 1,000 feet and include two 800-foot dual racing cables.
Each cable is around 85 feet above the earth and offers spectacular views of the river valley below. You are about to embark on an adventure that will make you scream and laugh like a child once more in your very own personal Chicago wilderness.
3. Long Hollow Canopy Tours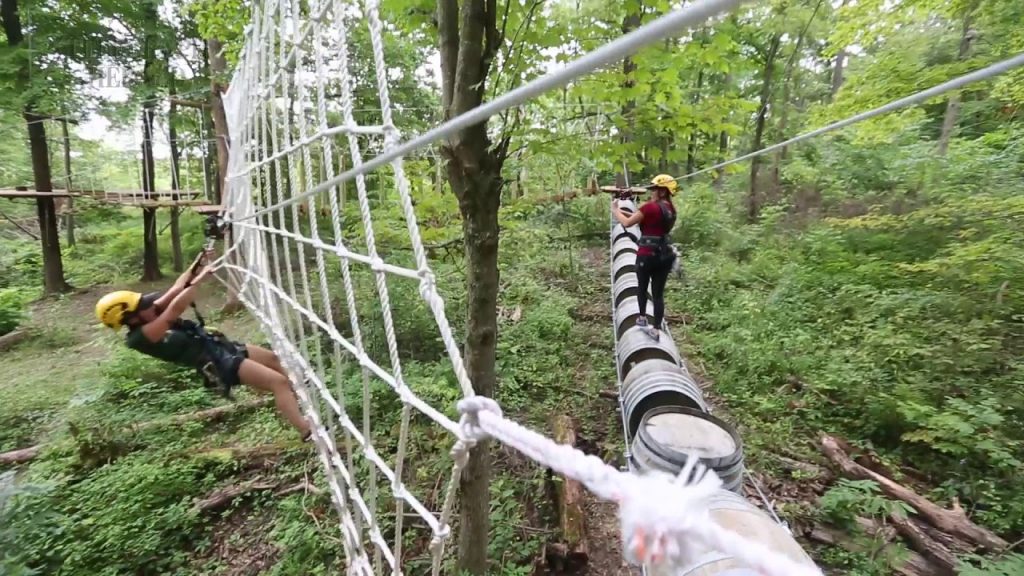 On June 16, 2016, Long Hollow Canopy Tours began offering its services. Aerial adventure pioneer Bonsai Design created the first Canopy Tour, which has been hailed as thrilling, pleasurable, and alluring. All throughout the course, you can see how meticulous they are. As they proceed through the course, participants can select to navigate easy, medium, difficult, or extreme elements.
Their personnel has received in-depth training, and daily and yearly inspections are conducted on all of their courses. The training programs are kept up to ACCT requirements. The courses' engineering has taken every precaution to reduce risk.
Love nature? Well, you'll love these stunning hiking trails in Illinois.
4. Shawnee Forest
Shawnee Bluffs Canopy Tours, an amazing zipline adventure that provides you an overhead view of the incredibly diverse Shawnee Forest, the only National Forest in Illinois, allows you to traverse the Shawnee Forest Canopy at speeds of up to 40 miles per hour. The Shawnee National Forest encircles the 83 acres of stunning private land where Shawnee Bluffs Canopy Tours is located in the little town of Makanda, Illinois.
Up to eight different ziplines can be experienced, along with floating suspension bridges, short excursions through the forest's pathways, and the chance to take in the sights and sounds of nature as you get ready to take on your next zipline run.
People who have participated in a variety of zipline tours across the world have rated Shawnee Bluffs Canopy Tours as one of the best ones they have ever had. It is a special combination of breathtaking natural scenery and heart-pounding excitement.
5. The Forge Adventure Park & Ziplines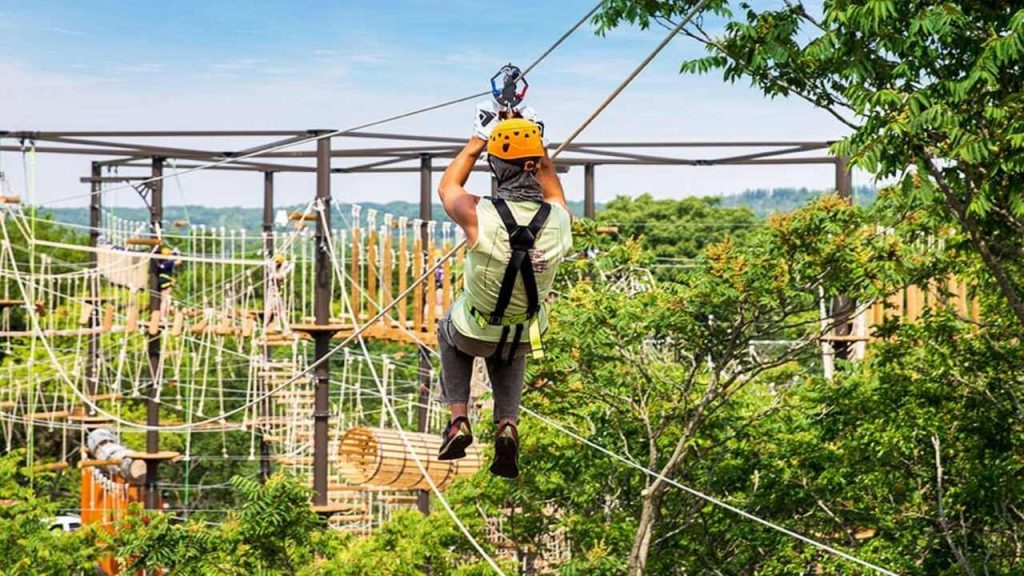 The greatest aerial adventure course in the country will make its debut this summer in Lemont, Illinois, thanks to the installation of America's tallest zipline tower. Daredevils can enjoy breathtaking vistas of Illinois's prairie countryside by taking the tri-state region's longest zipline tour.
The Forge Adventure Park & Ziplines, situated on more than 300 acres of historically significant terrain, offers a variety of activities for thrill-seekers, including ziplines, climbing walls, high ropes courses, mountain biking, hiking trails, flatwater paddling, and fishing.
The Chicago area park has more than 260 activities and many routes to take, including the tallest zipline in North America, which stands at a proud 120 feet and boasts two 90-foot towers. Flying between 850 and more than 1,000 feet over a forest canopy and over a picturesque quarry, this adventure will also be the longest zipline in the tri-state region.
6. Zip Rockford
inside Alpine Hills Park, to be precise. Visit this brand-new tour that EBL installed with its patented dual racing zip lines! There are five zip lines in total, with lengths ranging from 150 feet to 1,000 feet for the side-by-side racing lines! both on land and in the water! also features a suspension bridge a la Indiana Jones and a 55-foot Tower Jump as an option! 2.5 hours are spent on the tour.
The affordable, seasonally open facility is engineered, state-approved, and runs in accordance with ANSI/PRCA American National Safety Standards.
Take a look at these must-visit zoos in Illinois.
7. Kenosha's Aerial Adventure Park
The distance between Chicago and Milwaukee is less than an hour, and there is a unique flying adventure waiting for you there. You'll find yourself pushing your limits as you swing, climb, balance, traverse, and zip-line through our treetop adventure's nine courses. The Bristol Woods Park, a component of the Kenosha County Park system, is where our ropes course is situated.
There are more than 4 kilometers of hiking paths and the Pringle Nature Center located within this 200-acre park.
8. American Obstacle
The Creek Bottom Run brings the wild woods to life as you over two sky bridges and soar through the treetops on three different zip lines while keeping an eye on two picturesque lakes. As you sail above, make an effort to catch a look of the local fauna. All of this may be reached via our spiral staircase, or the particularly fit can scale our 35-foot climbing wall to reach the zip platform.
Everything listed, including 6 distinct zip lines, a 40-foot climbing wall, kayaking, 2 sky bridges, and more, is included in the cost. The excursions are split into 2 distinct courses for your comfort, so you aren't stuck in the air for long periods of time in the summer heat. All in all, it takes about 3 to 4 hours; you can finish half of it to save time and money.
The first zip line park constructed in Illinois, American Obstacle is accredited by the ACCT and the State of Illinois, and it offers courses and certified guides.
9. Urban Air Adventure Park
They have trampolines, dozens of them in fact, and some of the coolest trampolines around, but Urban Air Adventure Park is much more than a trampoline park. But when it comes to indoor entertainment for all ages, they have elevated the indoor trampoline and Zipline park concept with a wide range of activities and attractions. Our Urban Air Adventure Parks are each distinctive. Even better, consider setting up your upcoming family trip close to one of their parks.
You will adore their high-flying adventure park activities if you have always wanted to soar. Their Sky Rider allows you to view all of the adventure park attractions from above as you fly from the ceiling. Urban Air is expanded beyond a trampoline park thanks to Sky Rider. You get to see a birds-eye perspective of the park below while securely fastened in.
At Urban Air Adventure Parks, however, there are other ways to fly as well, including indoor skydiving, ropes courses, and a leap of faith.
10. Go Ape Zipline & Adventure Park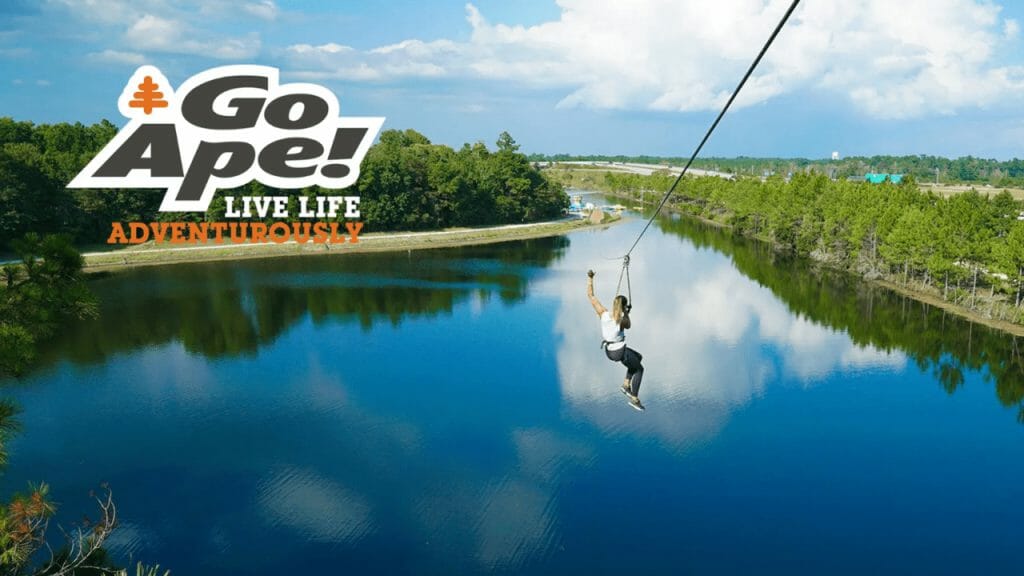 The Go Ape Zipline & Adventure Park allows visitors to view the Forest Preserves from a fresh perspective. placed close to Western Springs on the Cook County The two to three hour trek through the forest canopy on the seven-acre Go Ape course includes five exhilarating zip lines totaling 2,837 feet in length, a double Tarzan swing that allows two people to swing from 30 feet and land safely in a cargo net at the same time, a series of rope ladders and bridges, and 40 obstacles that are located 40+ feet up in the forest canopy.
The Go Ape Treetop Journey Course features two zip lines that are 20 feet above the ground, more than 18 obstacles, and entertaining tree-to-tree crossings.
11. Bemis Woods South
Bemis Woods offers a wide range of activities such as birding, hiking and biking, and plenty of open space and groves for picnics. Amenities at this 480-acre site include paved and unpaved trails, a canoe launch and an exhilarating adventure course.
There aren't many mountains or wilderness places in Illinois. However, it does feature a few ziplines and adventure parks that attempt to mimic the exhilarating sensation of ziplining and treetop excursions.