For adrenaline thrill seekers, I am here with the ultimate list of top ziplines in Georgia. The state is packed with forests, beautiful water bodies and natural charm. So why miss checking out the zipline? Whether you want to take canopy tours or self-guided short tours, this list contains the best of all, so don't wait and check it out!
Here is a list of the top ziplines in Georgia.
1. Unicoi Zipline & Aerial Adventure Park
Located in Helen, Georgia, Unicoi Zipline & Aerial Adventure Park offers certified and eco-trained zipline guides. The ziplines will take you through an unforgettable experience where you can view and learn about the forest life.
Moreover, you should visit these ziplines not only because of the fantastic views, but also the opportunity to explore the forest habitat, as well as the history and local fauna.
2. Callaway Gardens TreeTop Adventure
For an exceptional experience, the 19 different obstacle tours of the Callaway Gardens TreeTop Adventure offer the best ziplines. From 30 feet up in the air, you can view the forest floor and have an unforgettable experience. Also, you have the option of a self-guided zipline tour, so for thrill seekers it is the best zipline.
3. Lake Lanier Canopy Tours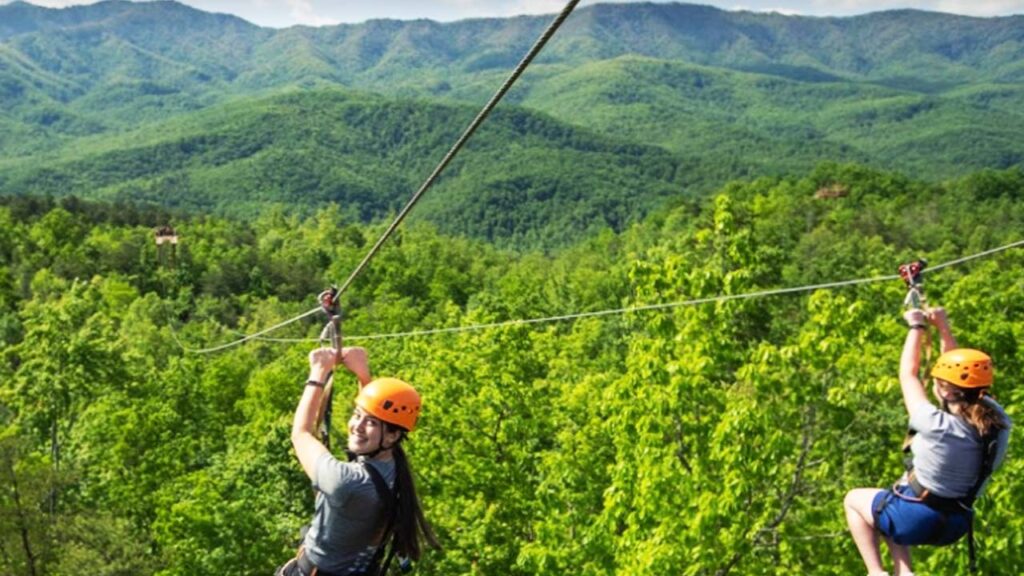 Lake Lanier Canopy Tours offer multiple zip line options that will fascinate any enthusiast. The prices per person are quite reasonable. You can take the hour-long canopy tour that takes you over a sky bridge and four lines. On the other hand, the three-hour tour is packed with taking you over 14 lines and giving you an incredible experience across the water.
Make sure to have fun at these most popular amusement parks in Georgia.
4. Historic Banning Mills
In Whitesburg, the ziplines of the Historic Banning Mills are truly adrenaline-packed. It contains the fastest and longest zips with names like Flight of the Falcon and Screaming Eagle. All the zip tours are guided. The place also has the tallest freestanding climbing wall of 14 stories. How about trying it out?
5. Nacoochee Adventures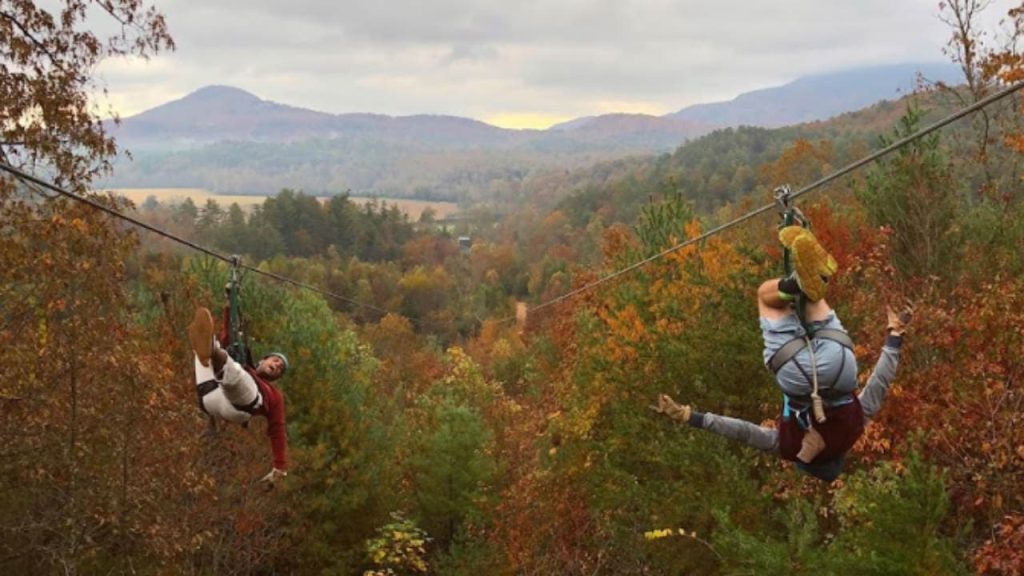 The Zipline Tours at Nacoochee Adventures take you gliding through the trees. You can choose from 4 different touring options. For example, you can choose tours running from 30 minutes to 2 and a half hours. It also offers the longest ziplines in the country, over 70 feet in the air.
6. Zipline Canopy Tours of Blue Ridge
With two different zipline options, you can choose to take a longer tour of 2 and a half hours which has 13 lines and three sky bridges. But you can also pick the 1-hour canopy tour. Moreover, the Blue Ridge's Aerial Adventure Park offers different attractive activities like climbing walls, tight ropes and suspended bridges.
If you also enjoy biking, then make sure to check out the epic bike trails in Georgia.
7. The Sandbar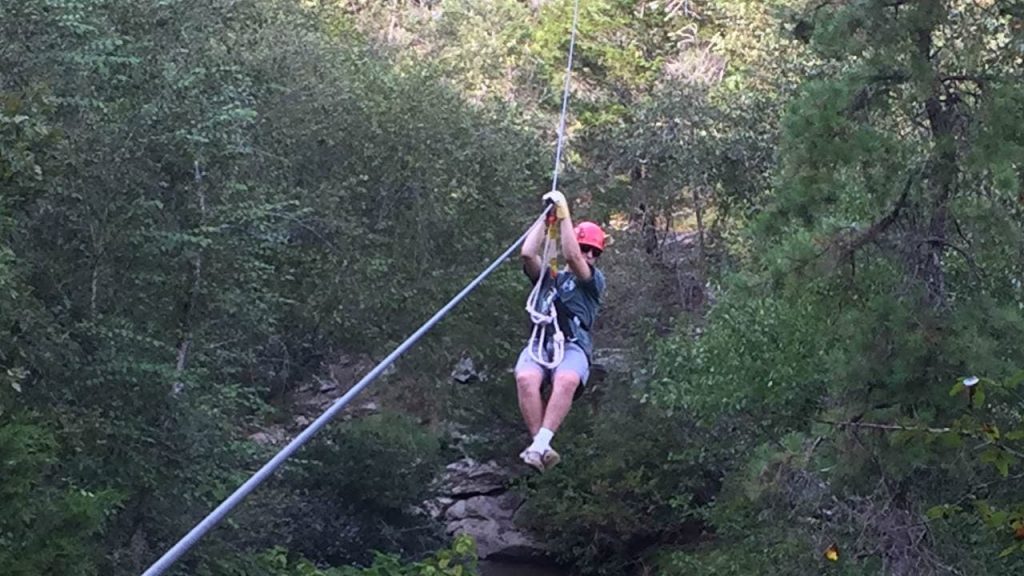 For a nonstop thrilling experience, Zipline Canopy Tour at the Sandbar is a must-try. They offer two ziplining options; you can choose either five or ten-line tours. The tour takes you through forests, over Broad River and Mill Shoal Creek. Witness the stunning waterfalls of the creeks while you enjoy riding through the thrilling course.
8. Amicalola Zipline & Aerial Adventure Park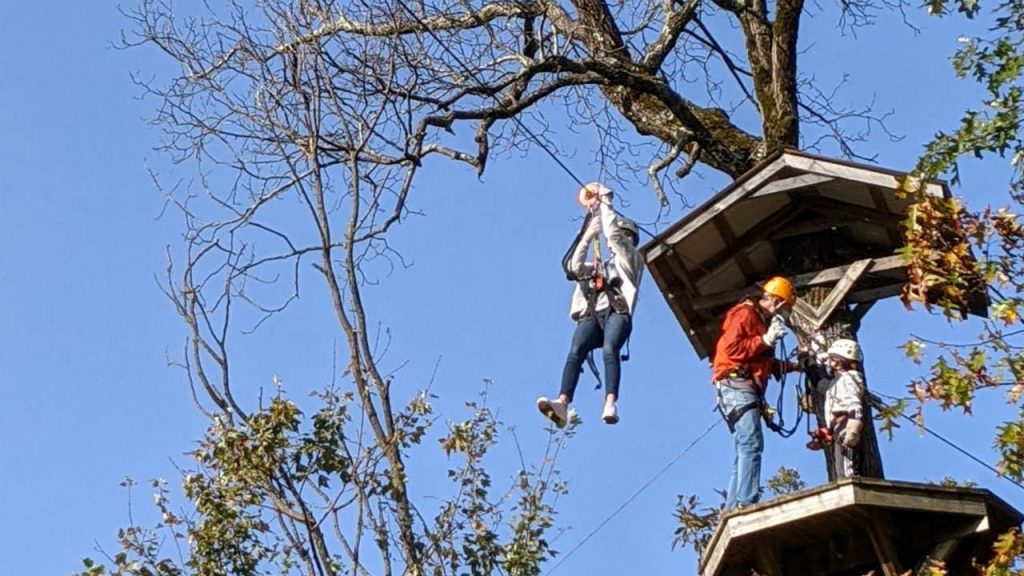 Ziplining at Amicalola Zipline & Aerial Adventure Park will surely make your day. Located in Amicalola Falls State Park in Dawsonville, Georgia, it is an affordable and fun option.
The tour will take you through the safari of the North Georgia Mountains. Also this place offers a variety of courses within a wide range of prices.
9. Treetop Quest
For an affordable zipline, you can visit the Treetop Quest. It has kid-friendly ziplines and the Chick'Pea Course has a trampoline to intensify the fun load. The obstacle course has a medium and challenging version, so anyone can enjoy it.
A self-guided experience is also available where you will be given detailed instructions and equipment, and you can then let yourself loose and enjoy a great ride.
10. Pettit Creek Farms
Cartersville's Pettit Creek Farms is a family farm that you can visit for a whole day for fun. The canopy tours and available aerial adventure courses are the highlight of the farm. Encompassing 80 acres of farm area, the area is covered with trees.
For enjoying the natural beauty, you can take the Zipline Canopy Tour, which is the most highly recommended zipline by visitors. Also, the obstacle course above the ground makes it the best ride for people of all ages.
11. Chattahoochee Nature Center
The Zipline Canopy tour features 7 ziplines that stretch up to 500 feet, and you'll be up to 55 feet in the air. You'll even get to zip twice over the Beaver Pond! You'll also find 12 challenge elements on this 1-1.5 hour tour. This tour is for those who are ages 8 and up, and kids must be at least 60 pounds.
12. Historic Banning Mills
Historic Banning Mills is for the adrenaline junkies out there. It's not everyday you can zipline at a place that holds world records. This awesome place in Whitesville, GA is home to the World's Longest Zip Line Canopy Tour! There are plenty of tours and ziplines to choose from here, so you're sure to find the one that's perfect for you and your crew. Free photos are included!
13. Unicoi Aerial Adventure Park
At Unicoi, you'll find three levels to their zipline course. The Level 1 Zipline Canopy Tour is perfect for family-friendly fun. This level includes 6 zip lines, 4 suspension bridges, and a 40-foot-tall staircase. You must be at least 8 years old and 50 pounds to participate. This level takes about an hour.
If the adventure of ziplining is included in your bucket list, then the ziplines in Georgia offer the best of the best experiences. The zipline tours are packed with unforgettable views and enjoyable tours so why miss it!