When it comes to outdoor activities in Colorado, the list goes on and on. Among them there are fishing, hiking, paragliding, horseback riding, etc. One of the top activities that you cannot miss is going on a zipline tour.
You will ride a zip line where you will be able to sail above the ground and enjoy a breathtaking experience, and of course a harness will also be attached all the time.
For seeing Colorado's unique sceneries, here is the list of the best ziplines in Colorado.
1. Royal Gorge Zipline Tours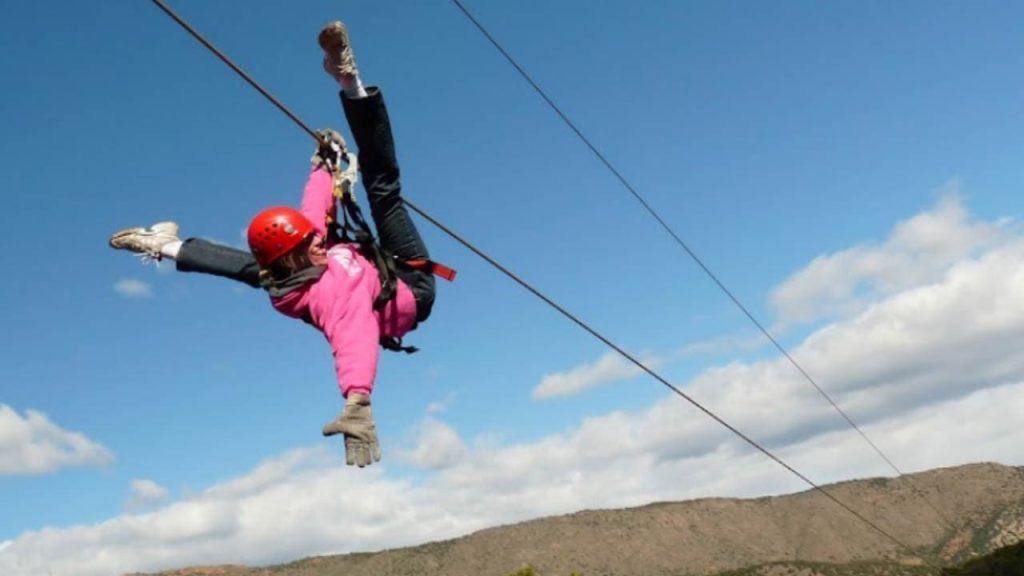 For enjoying 20 different exhilarating lines which you can access at any time of the year, is the fantastic Royal Gorge Zipline Tours. They offer two different styles of zip line tours.
One is the classical course that is an amazing adventure, another is the extreme course which follows a higher level tour. The longest zipline of Gorge Zipline Tours is a 1000-foot dual zip line that will give you an unforgettable experience.
2. Top of the Rockies Zipline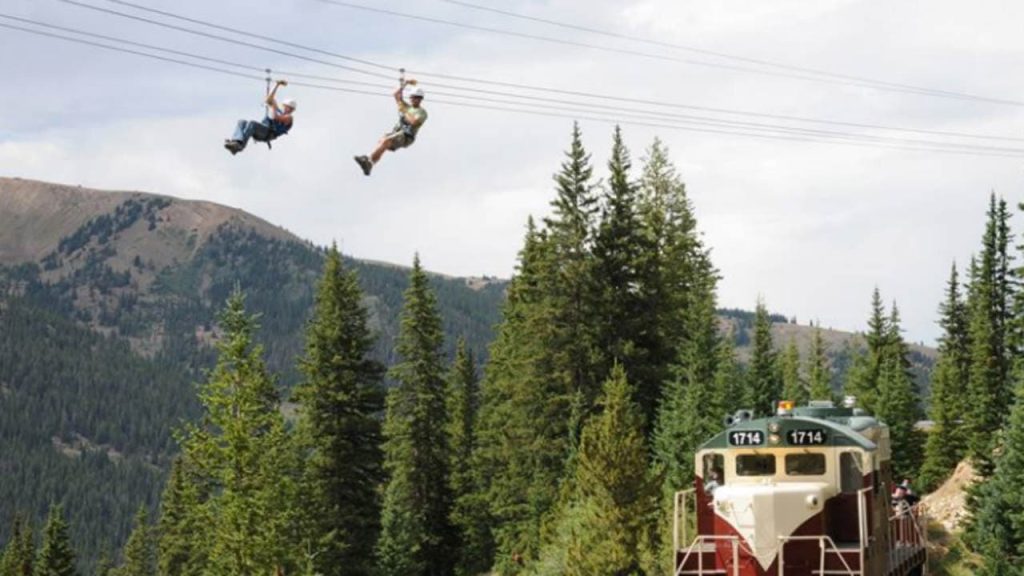 Located in Leadville, Top of the Rockies Zipline is one of the top ziplining spots in Colorado. The visitors get the chance to select two or five – hour ziplining expeditions.
There is also a part of the zipline which passes over a running train. For a memorable experience, you need to try this one out. With the high elevation of 11200 feet above sea level, the view from the top will be breathtaking.
3. AVA Cliffside Adventure
Denver, Colorado's AVA Cliffside Adventures is one of the closest zipline tours to the Mile High City you can visit for an incredible experience.
With over six different thrilling lines, trying AVA Cliffside Adventure is a golden opportunity. Moreover, there are several aerial obstacles that will intensify your experience. However, you can tour from March to November only.
If you also like hiking, you might find it necessary to know about the wonderful hiking trails in Colorado.
4. Durango Adventures and Zipline Tours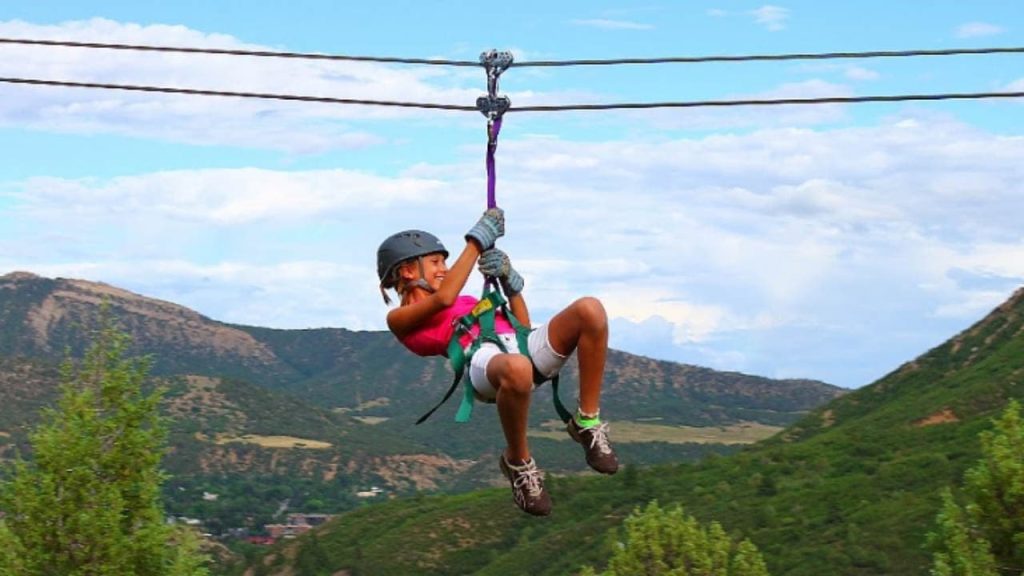 Known as 12 Zipline Tour, Durango Adventures and Zipline Tours offer you a thrilling experience and boast fantastic views. The scenic views of the San Juan Mountains are enchanting and on the other side, you can view the ponderosa pine forests.
It is open to the public almost all the year. Regularly, there are three tours starting from 9 am and the rest are at 1 and 4 pm. Remember to wear closed-toe shoes while packing for the trip as sandals are not allowed.
5. Captain Zipline
Captain Zipline is not only a zipline hot spot but also an adventure course. This zipline is the largest aerial adventure park in Colorado with 9 adventurous courses suited for different skill levels. You will enjoy the stunning views from different lengths of zipline that cross over a rocky canyon.
6. The EDGE Ziplines & Adventures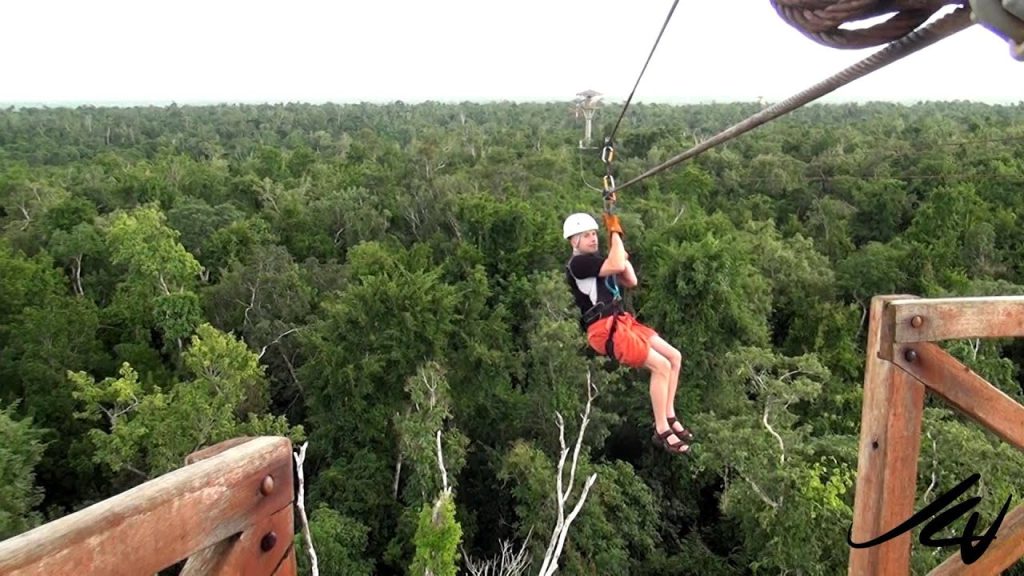 For the fastest zipline experience, you need to head to the EDGE or Castle Rock Zipline Tour (former name). With 10 ziplines, riders can gain speeds of up to 50 miles per hour.
Located in Castle Rock, Colorado, it is one of the popular places to visit with friends and family. You can enjoy a 1500 dual racing zipline with your friend or race to the Adventure Tower to compete with your sister; this place is for all.
Love to parks? Then check out the best water parks in Colorado!
7. Soaring Tree Top Adventures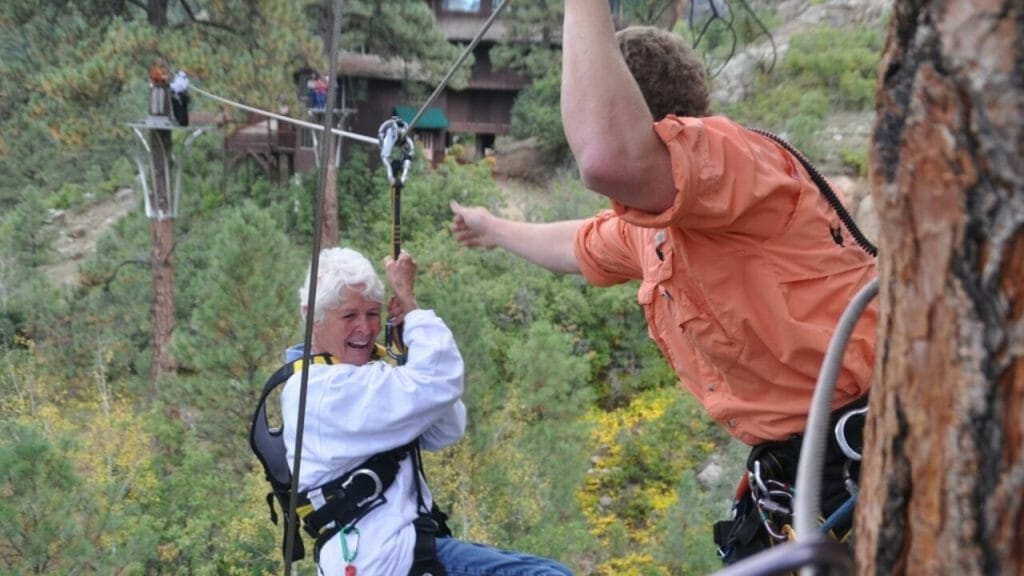 For a thrilling experience and to enjoy the magnificent views of the San Juan Mountains, Soaring Tree Top Adventures is a great place to try out. With a 27-line zipline course, you will spend hours here. It is open from May to October, so plan accordingly and go for an unforgettable adventure.
8. Denver Adventures
Just 30 minutes west of Denver, you will find Denver Adventures, which is one of the longest and fastest ziplines in Colorado.
For a one-stop adventure, it is the perfect spot that offers a variety of guided tours. You can enjoy hiking, rock climbing and whitewater kayaking besides ziplining. For the passionate thrill-seekers, this is the ultimate spot for a long, exhausting yet amazing experience.
9. Adventures Out West
Just outside of Colorado Springs in the town of Manitou Springs, Adventures Out West is set to give you a fantastic adventure with unforgettable scenic views.
From the five-line zipline course, you can choose to enjoy the beautiful views of the surrounding mountains and Pikes Peak. What makes this one a unique one is that it has the slowest line in the world named Cliff Hanger.
10. Glenwood Springs Zipline Adventures
For adrenaline seekers, Glenwood Springs Zipline Adventures offers the coolest and scenic ziplines right above the Colorado River. It is one of the most popular Colorado Adventure Centers.
Not only can you enjoy crazy ziplining tours, but they also offer high ropes challenge courses and rock climbing walls for all. So, don't miss out on this and start planning to enjoy a great time of your life.
11. AVA Ziplines
This AVA Zipline location in Buena Vista should not be missed for those who love zip lining. Known as AVA's Mountaintop Zipline tour, this tour has seven zip lines and even a dual zip line where you can race your friend. If you're looking for more out of your stay in Buena Vista than just a zip line tour, inquire about AVA's adventure packages. Enjoy both rafting and zip lining in one day or any of the other fun activities offered like a three-hour train ride or a rock climbing session.
12. Adventures Out West
Adventures Out West may not offer as many lines as some of the other zip line tours on this list, but you're experience here is sure to be unforgettably scenic. Located just outside of Colorado Springs in the town of Manitou Springs, Adventures Out West has a five-line zip line course that offers views of Pikes Peak and the surrounding mountains.
13. Castle Rock Zipline Tour
If you're looking for fast zip lines, then head to Castle Rock Zipline Tours in Castle Rock, Colorado. This tour is home to 10 zip lines where riders can gain speeds up to 50 miles per hour. Challenge your friend to the 1,500 dual racing zip line or test your balance on the sky trek and adventure tower. Since Castle Rock is only 40 minutes south of Denver, Castle Rock Zipline Tours is a popular option for those visiting or living in Denver.
Consider this list of top ziplines in Colorado as your ultimate destination guide. Choose any of the listed places and go on a journey of thrill and adventure and see stunning landscapes.