Family ziplining is an activity that all family members enjoy collaboratively. Planning a trip may be difficult if everyone in the family expects to participate that they will want. It's much more stunning when you do it in Alaska because of jaw-dropping mountain ranges and rough terrain, which compose the scenery.
If you are ready to take a heart-pounding adventure and feel the blow as you rush down a zipline at a fast speed, consider this article as I have compiled some best ziplines in Alaska to find the right one for you.
1. Denali Park Zipline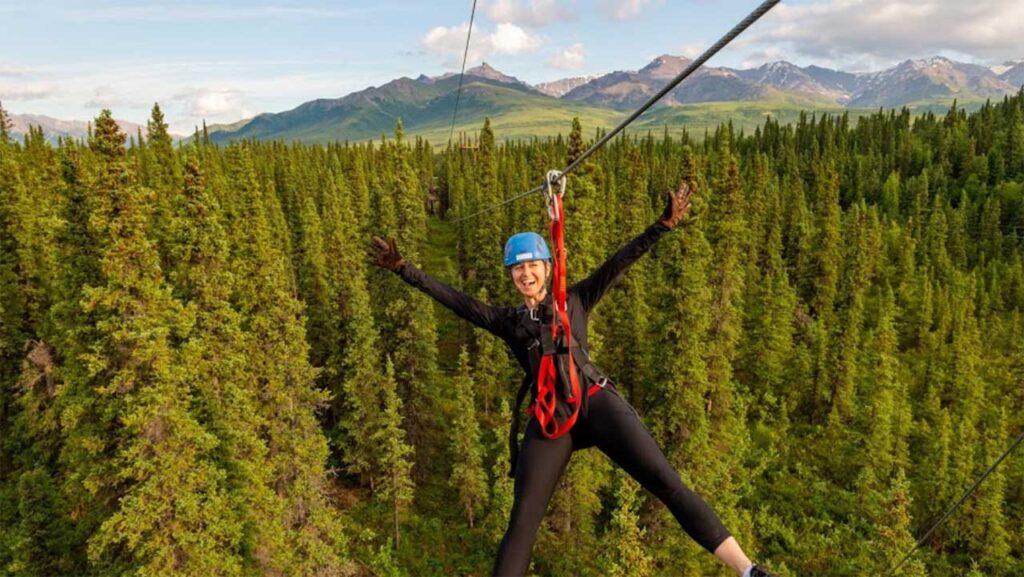 A beautiful ride underneath a canopy of trees is what you get when you go on the best zipline in Alaska, Denali Park Zipline. The Park is unusual because of the ride on this zipline trip above the tree line. You can enjoy a 3-hour ziplining experience with breathtaking visuals of the Tun­dra Range and the Alas­ka Range. Being enjoyable and challenging, this trip takes you through the cloud forests and over the tundra.
2. Alpine Zipline Adventure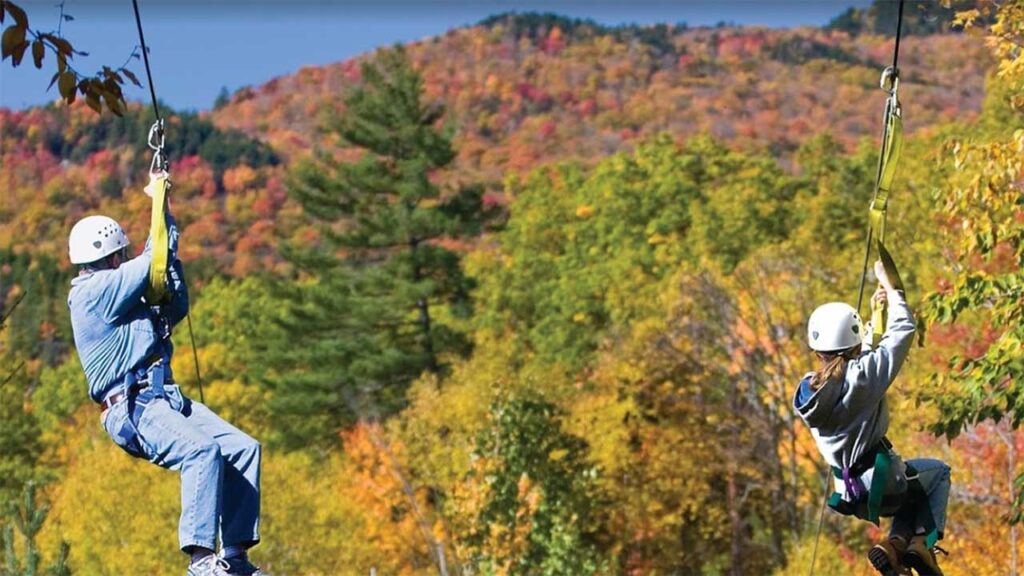 This amazing and second best zipline in Alaska awaits you and your families in Juneau, Alaska's heartland. This route from Eaglecrest Ski Area via Tongass National Forest has seven zips. Your guides will meet you at Douglas Island and prepare you for your ride through the woods.
The longest Alpine zipline reachs 600 feet. You'll arrive in a treehouse of an artistic view, cross a suspension bridge, and finish the journey with certain ax tossing. It's a family affair!
3. Stoney Creek Canopy Adventures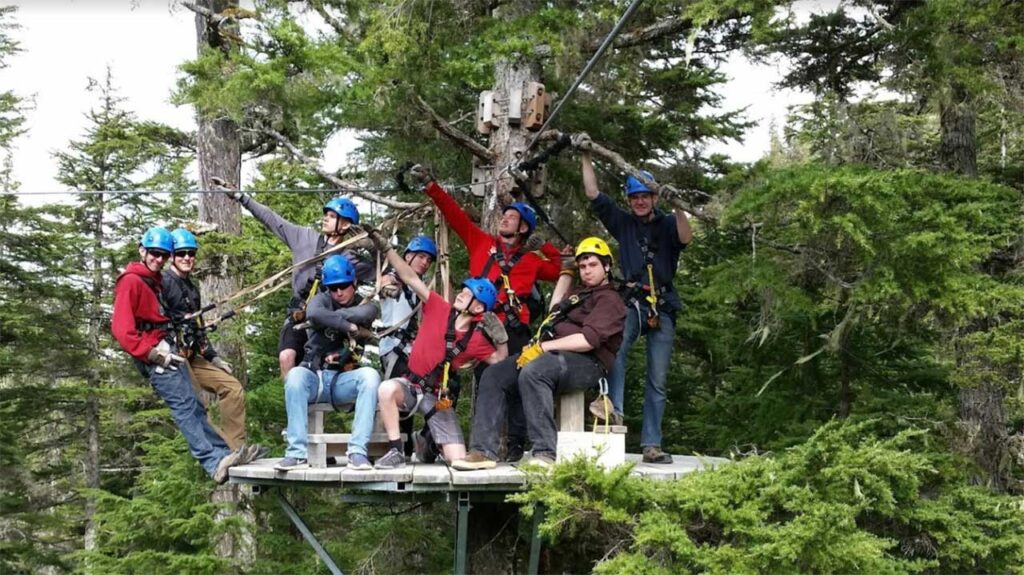 The Stoney Creek Canopy Adventures is the third best zipline in Alaska that presents a mixture of 8 zip lines, three suspension bridges, and two rappels. Drive through the brilliant canopy of the tropical rain forest of the North Pacific. Experience the old developing forest and view the Kenai Mountains from the highlands. Feel a unique zipline adventure in Resurrection Bay's seaside jungle with four sky bridges in three hours.
It is located in Seward. So if you're ten or more aged, you may go along. The wonderfully constructed track and eco-friendly trip are only minor aspects of Alaska's experience.
Love hiking? Check out these popular hiking trails in Alaska.
4. Rainforest Canopy & Zipline Expedition
The Rainforest Canopy & Zipline Expedition is a must for adventuresome people. This exhilarating zip line trip in Tongass National Forest will take you up to 135 feet beyond the earth. Three suspension bridges high above the forest floor and 6000 feet of magnificent canopy and ground pathways. There can be just nine individuals in each group, so you get individualized attention from your guides.
This tour is for skilled zipliners attempting a new test. The captivating 16-mile round trip tour picks up and drops off near the Ketchikan cruise docks. After a comprehensive briefing, your experienced guides will send you into the treetops, where you'll fly above the ground.
5. Denali Zipline Tour, Talkeetna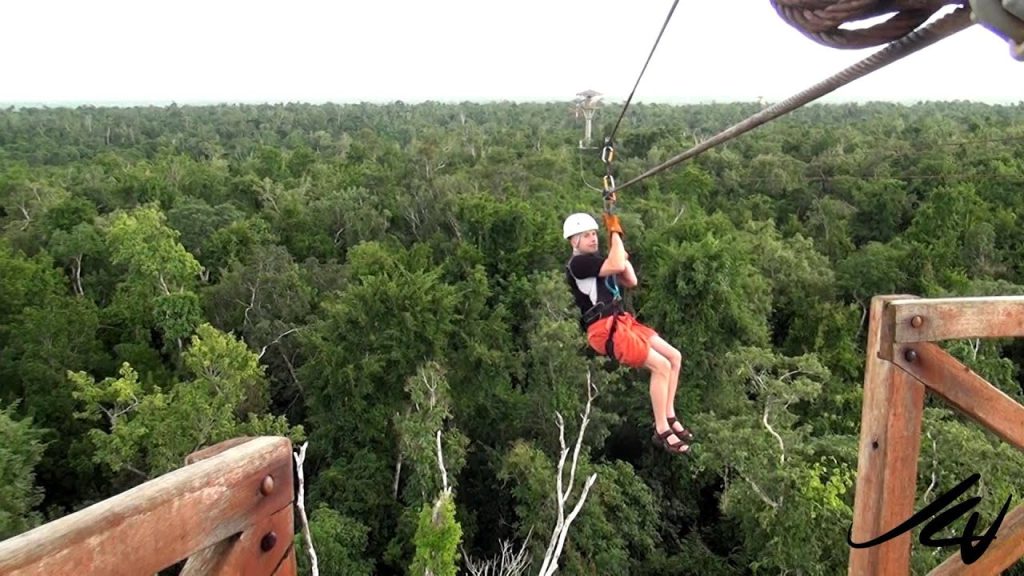 Inaugurated in 2012, Mark Wildermuth was behind the concept of Denali Zipline Tours. Keep rising in the air on a 3-hour Talkeetna zipline tour. The zips, which start at around 15 meters from the ground, gradually increase higher and culminate in a zipline of 600 feet. Your captain will give you comprehensive guidance and facilities to enjoy your flight safely.
Accompanying the journey, you will experience various views over the Alaskan Range, Denali Glacier, and Ruth Glacier, with views over the Susitna River and the Chulitna Valleys. And naturally, you're going to go up to the birch, cottonwood, and spruce trees in the boreal jungle — the world's most enormous ecosystem and critical habitat for songbirds departure.
6. MICA Guides
MICA Guides has been providing guided treks and climbs on the majestic Matanuska Glacier since 1999 and it is a very known zipline in Alaska. Our guides can assist you in strolling on a glacier or learn to ice climb. Or take your glacier trip to the next level with a helicopter tour.
MICA offers all essential gear, transportation to and from the glacier from our base camp, and in-depth training on glacial transit and climbing technique. We are a tiny, enthusiastic business that tries to provide the most remarkable experiences for our visitors!
Have a look at these stunning amusement parks in Alaska.
7. Half-Day Klondike Rock Climbing, Rappelling, and Ziplining Tour from Skagway
This Skagway Rock Climbing, Rappelling, and Ziplining tour gives authentic Alaskan range adventure. On this thrilling tour, you will climb rock walls with your guides, rappel down a cliff face with your principles on the belay, and zipline in Skagway, Alaska.
Your knowledgeable mountain guides will find the perfect wall for any ability level, whether you've never climbed or had a pass to the local bouldering gym. After your climb, ziplining in Skagway Alaska is an unforgettable experience with mountains soaring above and the Tongass rainforest surrounding you. This Skagway ziplining and rock climbing adventure are sure to attract you!
8. Skagway Grizzly Falls Ziplining Adventure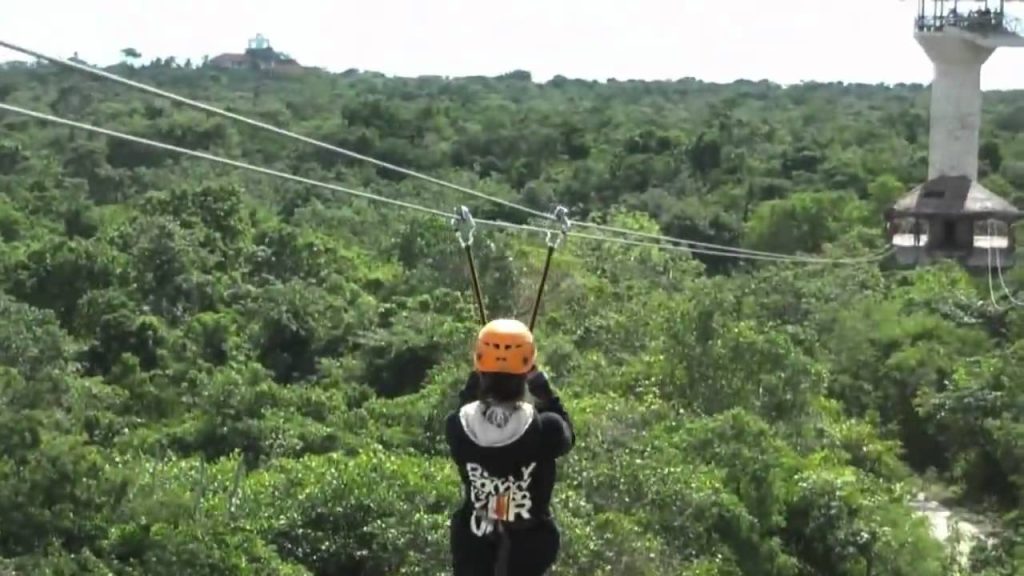 Speed through glacier waterfalls and incredible landscapes in Alaska on the Grizzly Falls Ziplining Expedition. This 4-hour trip is something for nature enthusiasts as well as thrill-seekers. Because of the picturesque natural environment between massive spruces and cedars, Skagway is probably one of the most famous zipline tours along the Alaska cruise road.
In the canopy, you get 11 zipline stations with a view of glacially-fed cascades and mountainous rainforests. Professional guides prepare you with the equipment and information you need. You will then tour the country from the trees. It is a suitable place for parents with children six years and over the age.
9. Alaska Canopy Adventures
Enjoy the Tongass National Forest's upper canopy on a zipline trip that includes flying through an old-growth forest, strolling over a sky-bridge, and a tea stop. A shuttle will transport you to Eaglecrest Ski Area on Douglas Island, across the Gastineau Channel from Juneau. Your zipline experience begins with centuries-old Western hemlock and Sitka spruce.
There are many expert guides on the first platform. There is one captain for six people at a time, so you get private attention while floating 100 feet above the ground. Take in the view from an aerial walkway above a rushing salmon-spawning creek toward the end. After the adrenaline-pumping zip line activity, you'll get a chance to concentrate on the skill of ax throwing. Finally, board the shuttle back to Juneau, having conquered the Tongass treetops!
Perhaps you are interested in visiting the national parks in Alaska.
10. Bear Creek Zipline Adventure
Bear Creek Zipline Adventure provides zipline and rising fun on over 50 acres of beautiful wooded environment for everyone. Enjoy seven zip lines, ten tree platforms, and two rappelling components on this eco-rainforest experience. Leaving Ketchikan, visitors need to travel 8 miles to the Herring Cove rainforest reserve. Take a 4*4 Unimog up the steep slope to the outfitting shelter.
Soon you'll be flying through trees, taking in the jungle sights. Visit the Alaska Raptor Center's Ketchikan display to view their magnificent birds of prey up close, and explore the historic Fleenor Sawmill. Overall, it is highly suggested for friends and family trips.
11. Glacier View Adventures
(View on Map)
Nothing beats flying over a glacially sculpted valley. There are two ziplines, including the new G2, Alaska's fastest zipline with peak accelerations of nearly 60 mph. The G2 begins atop a slope over 250 feet above Matanuska River. See the view, then take off and fly. Most individuals find it challenging to start from the launch floor. Enjoy Glacier View, two hours from Anchorage along the beautiful Glenn Hwy. ATV tours, glacier treks, ziplines, and luxury camping, and so much more to do.
12. Alaska Mountain Guides Adventures & Chilkat Guides
(View on Map)
Alaska Mountain Guides is owned and operated by Alaskans who love showing tourists their home state. Every visitor is treated like a friend; thus, trips are planned around preferred leisure activities that are accessible and inspirational places.
A 15-mile route just outside of Haines is an exciting way to start your Alaska trip. AMG Guides are pleasant, helpful, and very informed, owing to their remote work settings.
Every zip line is genuinely different for adventurous enthusiasts, from sprinting through trees and glances of old sites to rising over the water and seeing animals below – it is the ideal mix of pictorial views and adrenalin-pounding excitement. Ziplines can be useful, but they are a fantastic amusement source. So every adventurous person should try the ziplines mentioned above if you plan to visit Alaska very soon.