Home to just over 3 million people, the state of Iowa is one of the United States' less-known gems. The state is a natural haven for people who love living in tranquil surroundings. Moreover, the lack of commercialization and digitalization in most areas of Iowa has made many of its best cities relatively affordable.
So, based on things like standard of living, crime rates, environment, facilities and affordability, these are the best cities to live in Iowa.
1. Ames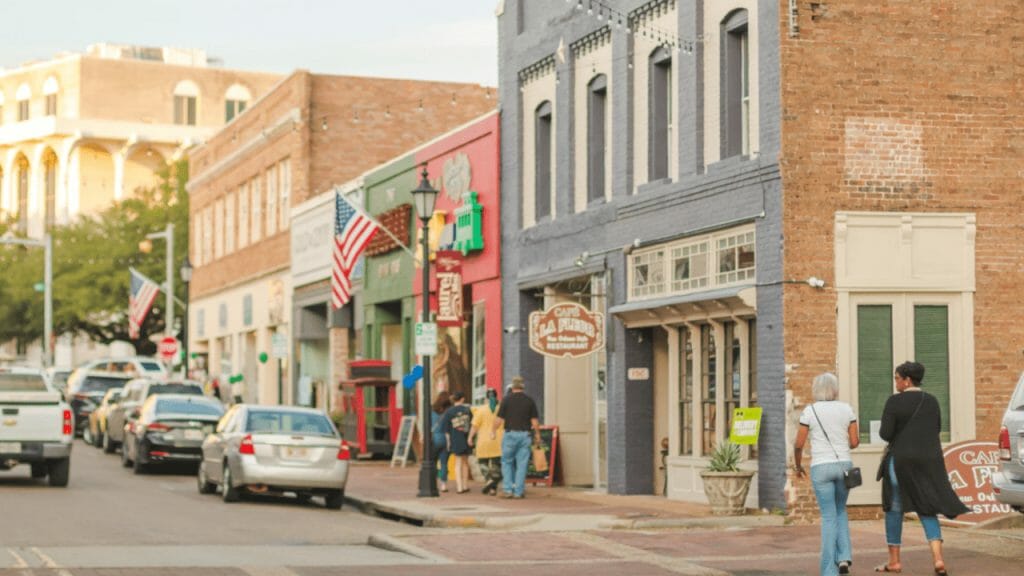 Ames is located in Story County's western region, and is situated quite close to the capital of the state, Des Moines. Route 35, which quickly links motorists to Kansas City and Minneapolis, passes directly through the city of Ames and makes commuting more convenient in this city.
Moreover, the cost of living in Ames is extremely low, especially its renting rates. In Ames, the average monthly rent per room is only $785, which is around $150 cheaper than the national average.
2. West Des Moines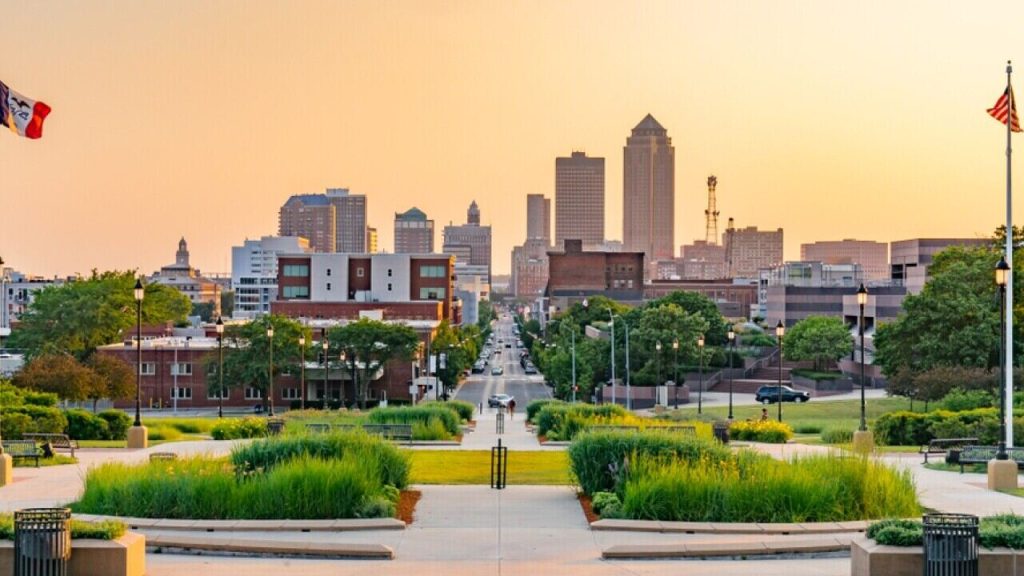 West Des Moines, as its name suggests, is a suburban city situated on the western side of Des Moines, the state capital. It is a great place for people that have to travel into the CBD for employment opportunities.
A decent variety of evening activities, inexpensive housing and safe living environment have elevated West Des Moines as one of the best cities to live in Iowa. The city has over 61,000 residents.
3. Mount Vernon
Due to having only 4,500 people, Mount Vernon feels more like a small community rather than being a city. Rent in Iowa is often considered to be quite affordable, and it is the same case in Mount Vernon as well.
This is a very reasonable city for people looking to buy some time before finally making an investment in their own house, because of its cheaper rent rates.
Check out this list of the cheapest cities to live in Iowa.
4. Clive
More than 16,000 people reside in Clive, a city in Iowa which is located in both Dallas and Polk counties. There are numerous employment options in this area, which is situated north of the stunning suburban city of West Des Moines.
There are many amenities available to residents due to the neighborhood's proximity to the capital and its calm nature. All the people living here can enjoy the many parks and recreational areas that are available to the public.
5. Johnston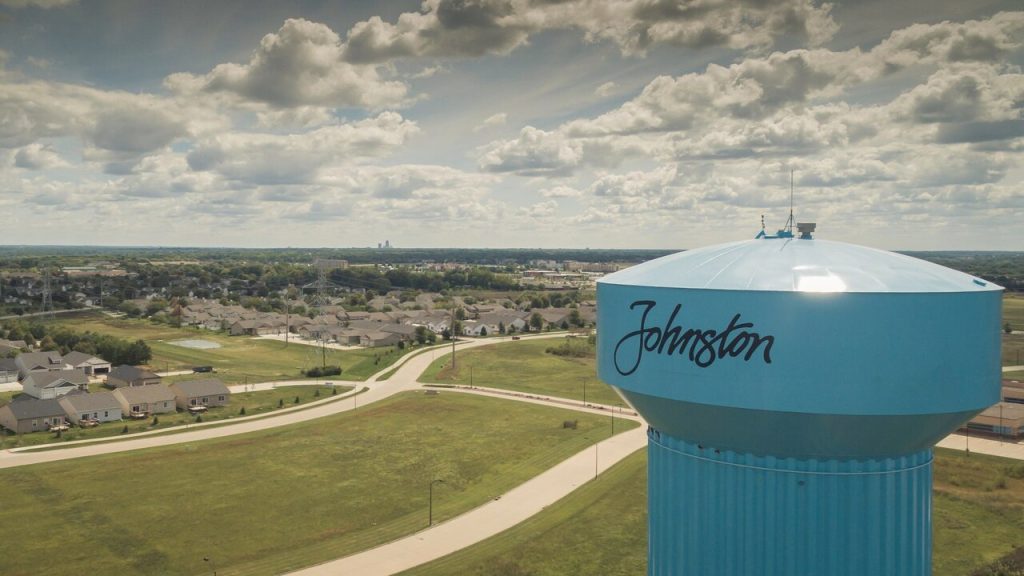 Johnston has a population of 19,550, and is located entirely in Polk County. In the past 10 to 20 years, this city has undergone tremendous socio-economic development. Johnston, which formerly belonged to Des Moines as a minor suburb, is now a separate city of its own with a sizable population. The city caters to Iowa's affluent population as it has an average annual income of $90,000, which is matched by the $237,000 median price of houses.
6. Coralville
Coralville boasts one of the broadest selections of real estate in Iowa. You can find a home for yourself or your family at almost any reasonable price in Coralville, which also has low crime rates, convenient access to transportation highways and great state-run schools. This city caters a lot to the millennial population of Iowa, due to great schools and affordable property prices.
These are the biggest cities in Iowa.
7. Bettendorf
There are few cities in Iowa that provide a stunning aerial view like the one Bettendorf offers. It is a lovely suburban city, consisting of an affluent group of residents along the Iowa-Illinois border. Interestingly, 21 percent of all of its population are children, making it one of the best suited cities in Iowa to raise kids.
8. Iowa City
Most people commonly mistake Iowa City as the capital of the state, because of its name. Despite not being the capital, it nevertheless has 71,800 inhabitants and is a vibrant, renowned city. Iowa City has a relatively diversified population in terms of racial makeup and socioeconomic status.
Moreover, it offers great real estate options all the time, and those wishing to rent have many possibilities as well. Although it is part of a metropolitan area, the average rent per bedroom is $865, relatively affordable.
9. Ankeny
Ankeny has had a sharp rise in population over the last 15 years, enabling the city to maintain its freshness and keep growing. This city is currently undergoing significant socio-economic developments. A rise in the availability of stores, recreation and institutions has also occurred with this development.
10. Waukee
With around 17,000 residents and almost no crime, Waukee is one of the securest cities to live in Iowa, making it a fantastic place to raise a family. The typical household income is $77,200, which is more than the state average of Iowa. At $189,500, the median price of homes is also slightly greater than the state average, highlighting its affluent lifestyle. If you're willing to spend a little extra, Waukee offers great value for your money.
11. Burlington
Burlington is a thriving city with an affordable cost of living, with the median home price being $108,000. Enjoy a round of golf while taking in the beauty of the Mississippi River, or visit nearby gaming zones. The Art Center of Burlington is a great place to hone your artistic abilities, whether it's pottery making, painting or drawing.
The above list consists of the best cities to live in Iowa based on affordability, safety, quality of life and quality of institutions. Choose a city that fits your desires properly. Like if you are a millennial trying to find an affordable way of living in Iowa, go for Coralville. However, if your priority is raising your kids in an excellent environment, then go for a city like Bettendorf.