If you've come to this page, you're looking for a great pair of shoes while also helping to keep employment and families in the United States. Kudos to you!
There are so many awful boots on the market that it's hard to keep up with them all. I've seen it all when it comes to bad boots: bad arches support, slippery soles, bad lasts. So I absolutely know how hard it is to pick a pair of good boots.
To save you from this trouble, I have listed the top American boot brands. Here are the criteria I used to determine the greatest boots before I go into my list of favorites. For me, the most important considerations were price, performance, fit, and aesthetic appeal.
1. Red Wing Iron Ranger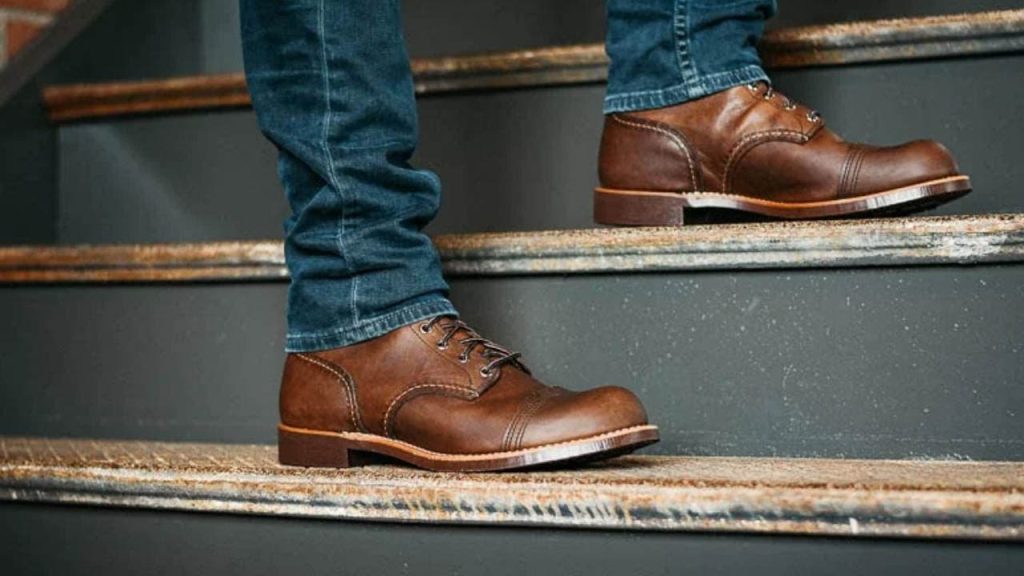 Red Wing Iron Ranger is undoubtedly the most popular American boot brand right now. For more than a century, Red Wing has been making boots in Red Wing, Minnesota. In the United States, the Iron Ranger boot is one of the most recognizable, and it takes its design cues from the work boots worn by ancient iron miners in the Midwest.
In addition, the Red Wing Iron Ranger is a hard-wearing boot that may be worn for both work and style. In addition to its water-resistant qualities, the Goodyear welt may be easily reworked. A leather and cork mid-sole means that the boot will continue to break in and become even more comfy over time while remaining sturdy. It's a more fashionable work boot than most others.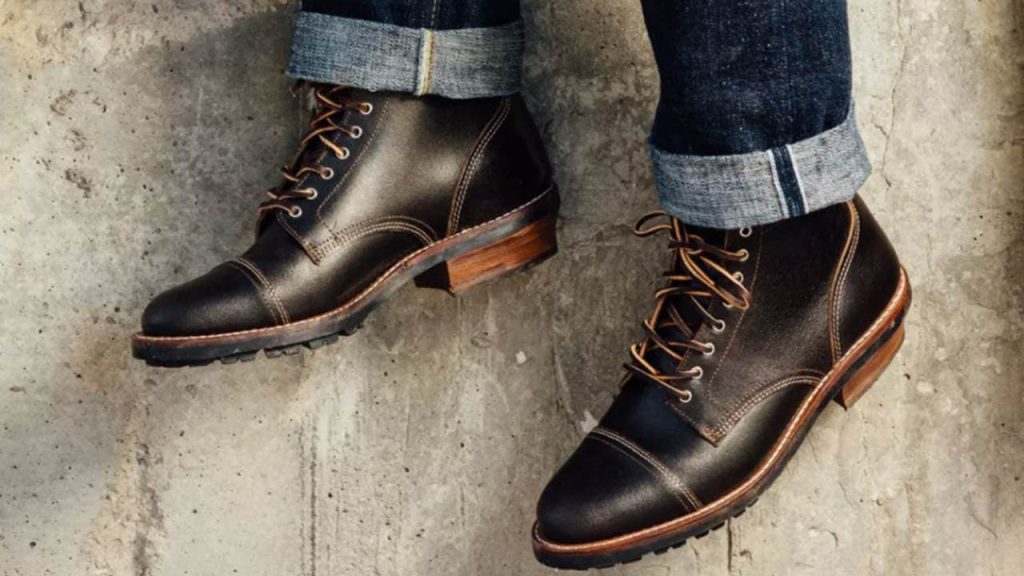 Thursday Boot Co's Vanguard brand is the only one that is now manufactured in the United States, thus it didn't make the cut for my top pick. In León Guanajuato, Mexico, they make the remainder of their boot line. Still, the quality of this boot is astounding, especially in light of its modest price.
The Horween Chromexcel exterior and Horween Glove leather lining are featured on the Vanguard. The upper and toe box have triple stitching, making this shoe just as robust as even the Red Wing Iron Ranger but $100 less expensive. And it also has a more pointed toe and a slimmer shape. The Thursday Vanguard is an American-made masterpiece if you're searching for a dressier-looking boot.
The Vanguard is made in the United States using leather from Chicago-based Horween. In many ways, it's similar in many ways to the Red Wing Iron Ranger, although it costs a lot less money. It's easier to wear with skinny jeans because of the pointed toe and narrow form.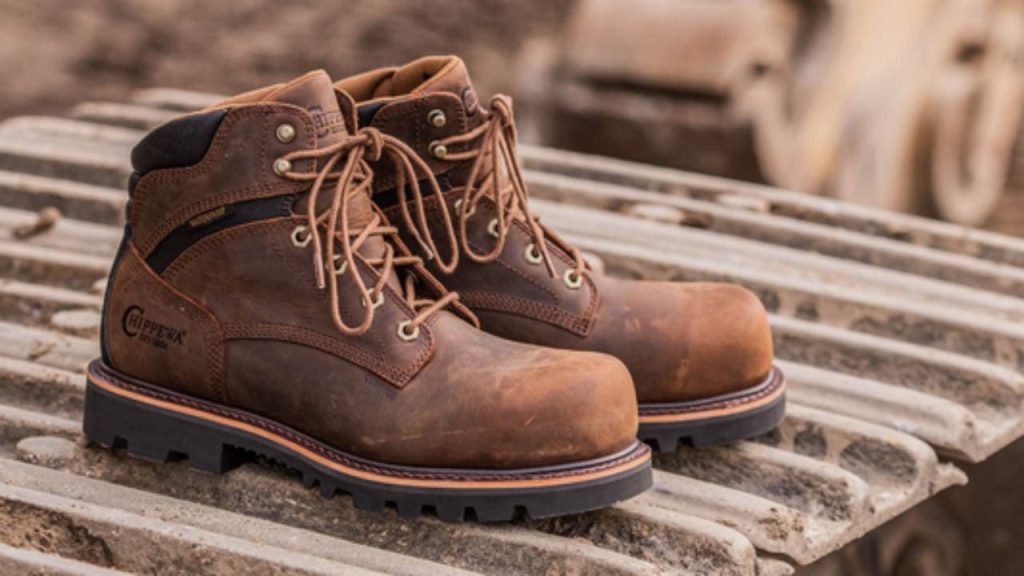 If you're looking for a pair of boots that will last, rather than buying the ones made in China or India, you should buy American-made boots. Despite its unappealing appearance, the Thorogood Moc Toe is excellent value for the money, and it's built like a tank.
The triple-stitched top and 360-degree storm welt keep your feet dry and safe, while the wedge sole gives a wealth of protective clothing and electrical resistance. Even after a lifetime of grueling wear and tear. Also, the Goodyear Storm welt is virtually waterproof.
For the Moc Toe, 8″ shaft and work boots are available options. The toughened polyurethane used in the MAXWear wedge sole is abrasion-resistant, so it doesn't wear out as quickly as ordinary wedge soles.
You might be interested in knowing about these popular bike brands in USA.
4. Oak Street Campus
The Oak Street plant in Chicago is the only one in the United States that manufactures all of its components in-house, unlike many other American-made products. In addition, Horween Chromexcel or Horween Orion suede are used to make the Campus Chukka, and both are filled with oils and waxes to increase water resistance while also developing a beautiful patina over time.
Chukka boots don't come much cuter than these. Using Horween leather retains the company's roots in Chicago. With such a Dainite rubber sole, the Campus provides outstanding traction in rainy conditions.
Since 1979, this footwear has been made entirely in Portland, Oregon. This makes sense, given how wonderful it is to go hiking in Portland. In addition, a Dri-Lex or Gore-Tex upper and a fiberglass shank provide this boot with outstanding water resistance and support without adding excessive weight.
One of the most highly-regarded backpacking boots ever is Danner's Mountain Light. If you're planning on hiking the Appalachian or PCT, this is the only choice for you. The shank made of fiberglass is thin and light, but it nevertheless provides excellent arch support.
In both dry and rainy conditions, the Vibram Kletterlift outsole performs admirably. Re-creating a stitch-down garment is simple and provides some weather protection.
6. Abilene Bison Leather
Despite its roots in the American West, the majority of Western-inspired boots are manufactured outside the United States. A few hand-built and custom choices are available in the United States, but they can cost as much as $1,000 for a pair. But I'm not interested in that.
These boots, which include bison leather uppers, are tough and durable. In addition, the Cuban heel, which is great for riding, is a favorite of mine. A pointed toe and a classic stitching pattern create a versatile boot.
You might want to know more about these American backpack brands.
7. Nicks Handmade Americana
Some people believe that Spokane, Washington-based Nicks Handmade boots are the best boots ever manufactured. Custom-made to order, they can take up to six months for delivery. In addition, when firefighters leap out of a plane into a raging inferno, they rely on the Nicks Hot Shot boots, and I'm confident they'll do the same for me.
These are crafted from 6.5 oz leather, which is a thicker leather than most. Users can get these custom-made to fit your foot in every way possible. If you have unusually shaped feet, this is an excellent choice.
8. Thorogood Steel Toe Moc
Two to three years is a reasonable lifespan if you're working in harsh situations and wearing these every day. There aren't many better options for less than $200. The Tobacco leather is my favorite because of the way it matures the best of all the classic colors.
In addition, because of the polymer sole's abrasion resistance, it doesn't wear out very rapidly. An 8-inch version is available if you need greater heel support and protection for your job.
9. Danner Trophy
There are few pairs of the Danner Trophy in your size, but once you do, you'll be shocked at just how warm these American-made boots are. In addition, even in the most extreme conditions, these boots will keep your feet warm and dry thanks to their 600 g of padding and 10″ shaft length.
It's at least good for your feet. These boots also keep your feet dry thanks to their stitch down design and waterproof treated leather. Danner is known for its high-quality insulated boots, which are hard to come by in the United States.
When it's snowing, the leather's waterproofing comes in handy. Keeps snow and muck off from the bottom of your boots thanks to the self-cleaning sole.
10. Grant Stone's Brass Boot
Topping our list is the greatest moc toe boot, a timeless casual style that can be worn with everything. One-of-a-kind and extremely versatile, Grant Stone's Brass Boot is the company's first attempt at manufacturing a work boot type boot.
Moreover, Grant Stone is generally famous for creating really excellent footwear that is a bit more formal than this—the brass boot. That doesn't necessarily imply that it's ideal for an electrician job, but it does imply that it's roomy, sturdy, and muscular, and that it looks well with a variety of other clothes.
Aside from that, this moc toe is only slightly more refined than your ordinary moc, allowing men to wear them in the same way they would jeans and a T-shirt. Eventually, the Brass Boot is a terrific choice for those who don't have many boots and want a single pair that goes with everything. Its leather is of exceptional quality, making it a great investment.
11. Thursday Boot Company Vanguard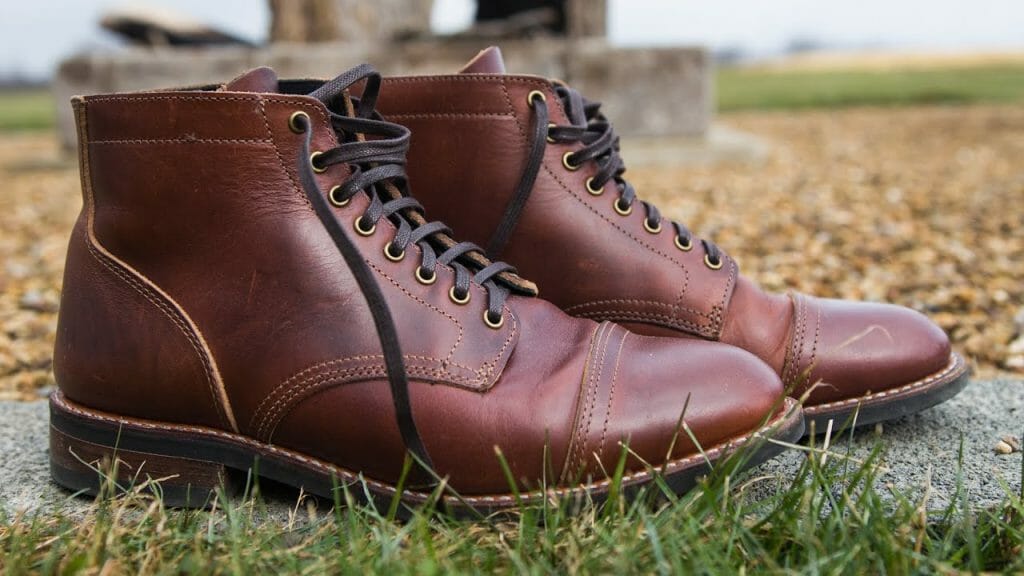 Want the most bang for your buck? The Vanguard is the best value American made boot at $265. Thursday Boot Company is an American company that was founded in 2014 and while most of their boots are made in Mexico, their Vanguard and Logger boots are completely made in the United States.
12. Parkhurst
Parkhurst, based in Western New York, is as one of the most criminally underrated boot brands. Known for a great combination of dressy and workboot, most of their boots cost around $350. That's a remarkable price given they're made in the US with more premium materials than we've seen on this list so far, like Dainite soles and leather from Horween and CF Stead.
The quality of several boot companies has declined as a result of the outsourcing of their manufacturing. When you're trying on boots in a store, it's easy to miss things like fabric that creases too quickly or heels that fall off after a few weeks. To avoid this, you are welcome to refer to the brands I mentioned.