Are you looking for a tranquil and scenic campground in Illinois to camp at? Well, then you should be glad to know that Illinois is home to hundreds of stunning campgrounds, and they are situated in secluded and peaceful locations.
Whether you are looking to camp in tents, while sharing stories with your friends sitting around a campfire, or you are looking to enjoy your weekend with your family in a scenic, relaxing destination, you will be able to do these things in Illinois's top camping places.
So, these are the best campgrounds in Illinois.
1. Shabbona Lake State Park Campground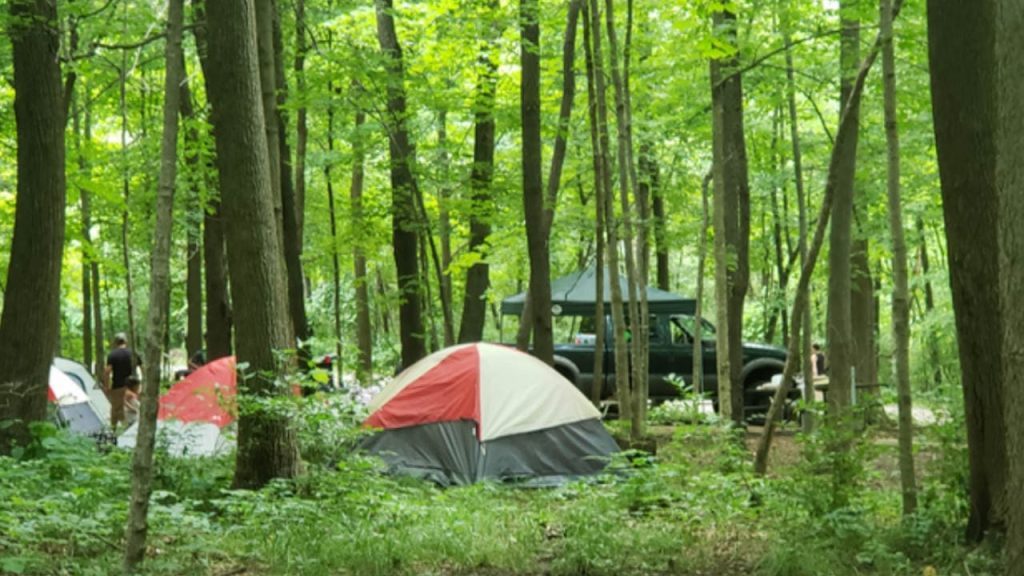 The Shabbona Lake State Park Campground is a massive 1,550-acre campground in DeKalb County, which is renowned all across Illinois. The Indian Creek was dammed during the 1970s to form Shabbona Lake, a beautiful man-made water body. This campground got its name from a Potawatomi chief named Shabbona.
2. Camp Bullfrog Lake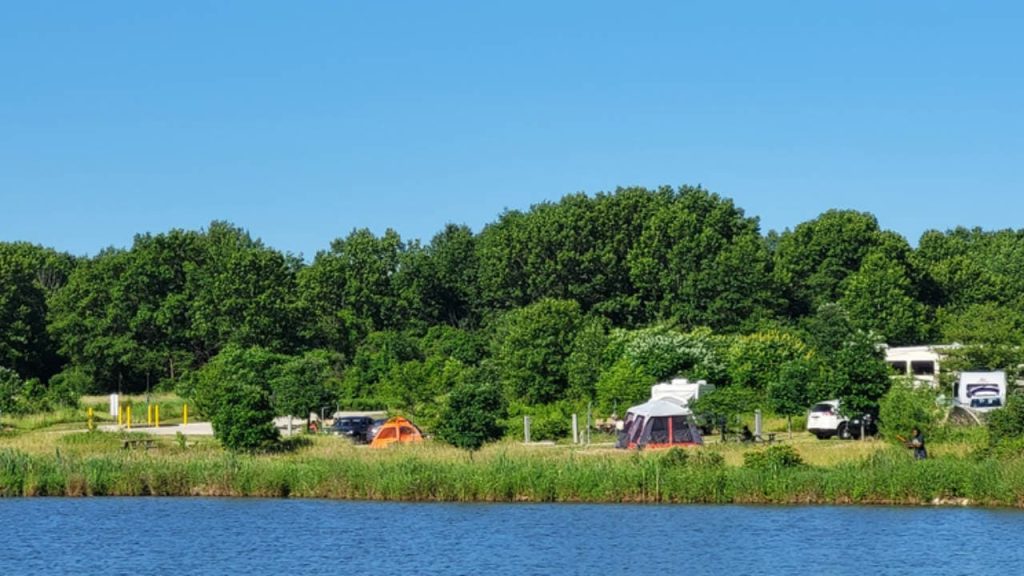 Campsites, recreational centers, and water-based entertainment including kayaking and fishing are all available at Camp Bullfrog Lake throughout the year. This campground is situated quite close to the steep Palos Preserves, and is popular for providing natural amenities like birdwatching, mountain biking and hiking.
3. Fish Lake Beach Camping Resort
Fish Lake Camping Resort is a huge lakefront campsite and RV park that has a lot to offer. Some of its best features include a swimming pool, beach access, kid-friendly programs, angling, laundry and much more. This is the best campground in Illinois for those who love fishing, and presents opportunities to catch fish like blue gill, crappie, bass, northern pike, bass, catfish and more.
Have a look at these awe-inspiring hiking trails in Illinois.
4. Double J Campground
The Double J Campground offers 120 fully-equipped hookup campsites with complimentary Wi-Fi and cable Television as part of its camping services. Moreover, pull-through campsites come with contemporary, secure connections that are fully furnished and are available here. This campground's sites each have 30/50 amp electric, water, septic hookups and have a picnic table as well.
5. Hi-Tide Beach & Campground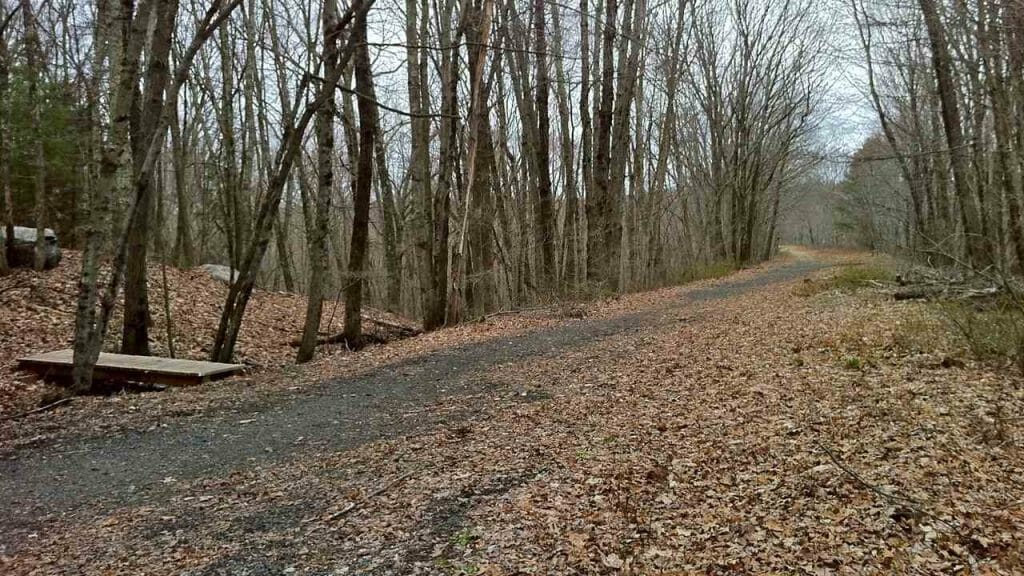 Seasonal campsites can be weekly getaways for some people or extended summer holidays for others in this campground in Leland. Visitors will have a blast here no matter how they want to spend their time at Hi-Tide Beach and Campground. Additionally, Hi-Tide Beach & Campground offers cabin rentals, campsites, RV hookups, pool and much more.
6. Chicago Northwest KOA Holiday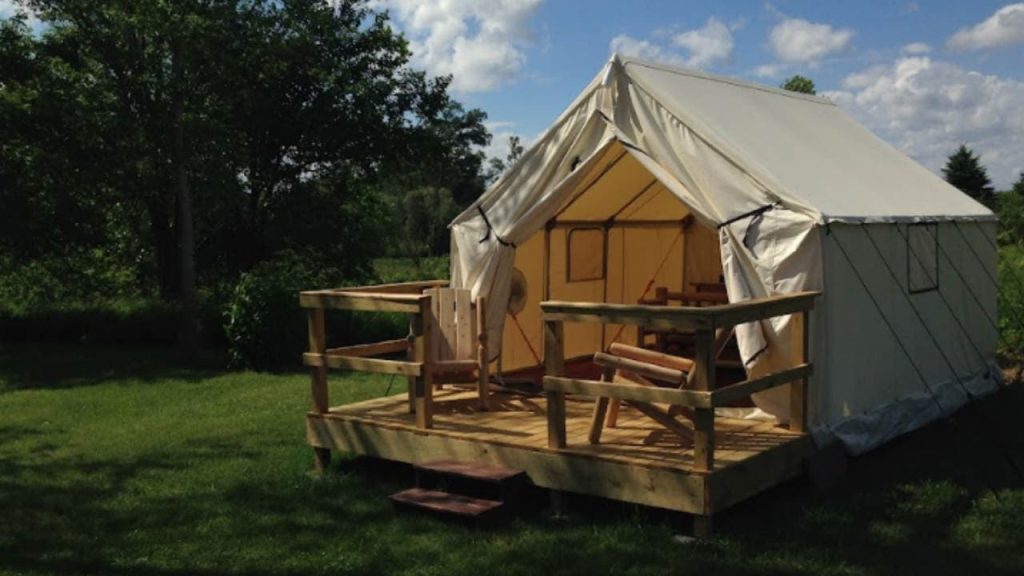 Have a tranquil camping trip in a welcoming and tranquil rural environment. Chicago Northwest KOA Holiday provides a range of rental options, including fully furnished mobile homes, improved RV sites, sheltered tents and premium cabins.
There is free Wi-Fi available everywhere around the campground. Recreational facilities include an enormous playground, a swimming pool, a mini-golf course and much more to allow you to have a complete camping experience.
Check out these amazing bike trails in Illinois.
7. Lena KOA Holiday
Discover the reasons behind the love of campers of all generations in Illinois for this campground. Lena KOA Holiday is ideally situated for holidays or getaway trips in the town of Lena.
Nearby amenities in this park include hiking, angling, golfing, biking trails and antique stores. Take advantage of this campground's well-known obstacles, the double tube slide and Jumbo Jumper.
8. Okaw Valley Kampground
Okaw Valley Kampground is a family-run, comprehensive campsite, situated in Brownstown, Illinois. This campground is committed to giving guests a memorable vacation, and is open all throughout the year. Additionally, at Okaw Valley Kampground, visitors can choose from a wide range of options including tent camping, RV sites with 50 amp hookups and cottages.
9. Prairie Pines Campground
There are 95 campsites at Prairie Pines Campground, and every one of them has electric, septic, and water connections. Accessible restrooms for disabled people, and also showers and washing services are available throughout the camping season, which runs from April through October. However, tent camping is not permitted in this area.
10. Pine Country RV & Camping Resort
Located in the beautiful town of Belvidere, the emphasis of the amenities at Pine Country RV Campground is on families and recreation. Sit by the bonfire, take a walk through the forest, or relax by the lovely outdoor swimming pool while you take in the stunning scenery of the surroundings here.
11. Matthiessen State Park
Matthiessen State Park is a beautiful place to go for a hike, with its winding paths through the woods, scenic vistas of the river, and other outdoor activities. Be sure to visit the canyons, and bring water shoes with you, since you will likely find yourself wading through some puddles while you explore them.
Choosing a campground for a vacation in Illinois can be a real headache for many people due to the abundance of choices. By providing information about the amenities and services you are looking for, I hope this list will help you to select the campground that's right for you and your family.