Illinois is a hiker's paradise. One of the reasons for it being the ideal state for hiking is because it has tons of RV campgrounds. The forested areas of Illinois are also featured with big enough places to accommodate the large mobile homes of hikers, explorers and travelers. So your transportation will remain safe as you explore the unique landscapes.
To find out the best RV parks in Illinois, read the list below.
1. Chain O'Lakes State Park
The Chain O'Lakes State Park is the ideal campground that offers a variety of campsites to fit all types of budgets. You will be impressed with the amenities you can enjoy in this park.
Some notable amenities include drinking water, picnic tables, lean showers and restrooms, a camp store and more. Soaking up the last rays from the sun sets is one of the best feelings you can enjoy in this park.
2. Starved Rock State Park Campground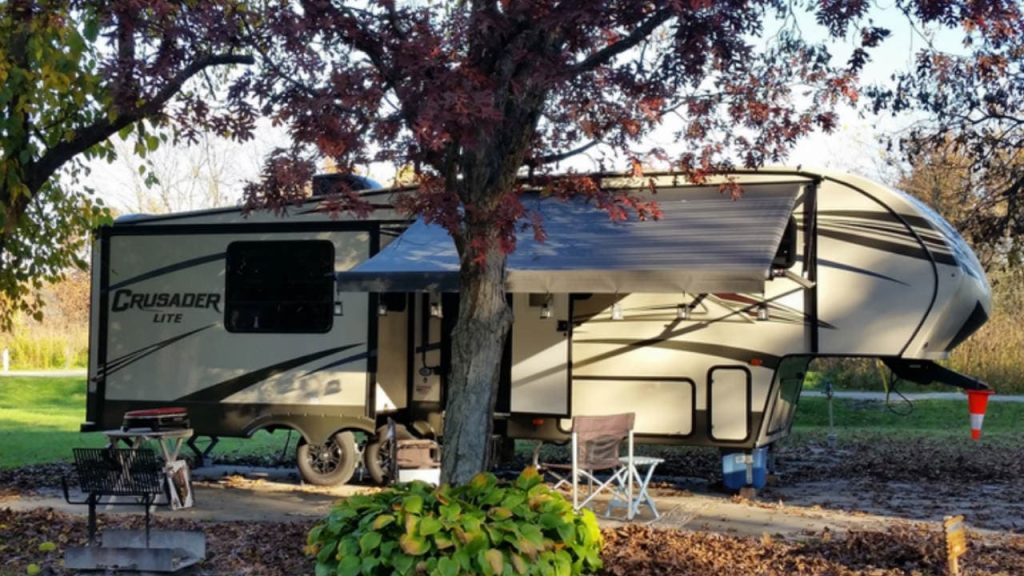 Starved Rock State Park Campground is a stunning natural area that is filled with refreshing creeks, winding trails and rugged canyons. The surrounding area is magnificent, for which it was voted as the top attraction in Illinois.
The spacious RV campground features a lot of amenities like clean restrooms, shower houses, dump stations, picnic tables and more. After 13 miles of trails, the park also features waterfalls and sandstone overhangs.
3. Ferne Clyffe State Park
Located in the Shawnee National Forest, Ferne Clyffe State Park is a massive campground with RV facilities. The outdoor enthusiasts love this park because of the rocky terrain.
Through the equestrian trails of the park, you can enjoy horseback riding. Moreover, this park features limestone bluffs, hiking trails, beautiful sceneries and caves.
Enjoy camping with family and friends at the best campgrounds in Illinois.
4. Rock Cut Campground
By traveling only 10 miles to the northeast of Rockford, you can find Rock Cut Campground, which is a well-equipped campground. You can hike or bike on the trails of 40 to 50 miles.
The campground features electrical hookups, grills, water faucets, dump station, restrooms and more. In the area, there's also Olsen Lake which is perfect for water activities like swimming, kayaking, fishing and canoeing.
5. Illinois Beach Campground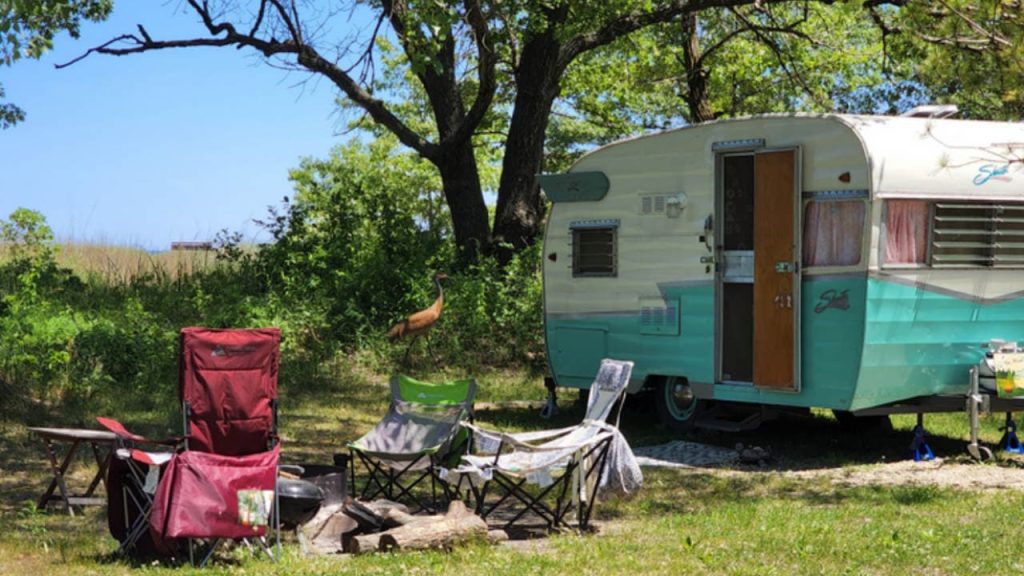 Right along the shores of Lake Michigan, Illinois Beach Campground is a wonderful place for nature lovers and bird watchers. You can also find rare wetland birds in the area. With a diverse wildflower species found in this campground, exploring the habitats of this area is interesting.
6. Garden of the Gods Recreation Area
Garden of the Gods Recreation Area is one of the most photographed destinations in Illinois. This stunning campground has panoramic views of vast sandstone formations and forested areas. For RVs, there are hookups and large areas to park at a low rate.
Along with restrooms and drinking water, the area also has Wi-Fi connectivity. Overall, this area is the standard RV park that is likable for every visitor.
You might also like to have fun in the best amusement parks in Illinois.
7. Shabbona Lake State Park
Shabbona Lake State Park is an ideal place for enjoying water based activities. You can have a blast while fishing, swimming, canoeing and kayaking in the Shabbona Lake.
You can also enjoy a classic camping experience in this park where you can park your RV tension-free. The clean bathrooms, fire ring and all-time electricity are few of the great features of this park. Additionally, pets are also allowed here.
8. Elk Creek State Recreation Area
If you are looking for a massive camping area, Elk Creek State Recreation Area is a fantastic choice to take your RV along. The campsites here are well-equipped with firewood and other amenities. With its massive campground, there is also plenty of space for outdoor activities like volleyball, basketball, picnic and more.
9. Giant City Park Campground
Giant City Park Campground provides great options for camping with RVs. The breathtaking beauty of the natural forests surrounding the area is amazing. Two of the main and most popular hiking trails are Devils Stand Table Trail and Giant City Nature Trail. For experienced hikers, the area has the famous 12-mile Red Cedar Trail loop.
10. White Pines Forest State Park
White Pines Forest State Park offers camping spots for RV-owner tourists. This park is surrounded by huge forestry and gorgeous Illinois bluffs. Because of the stunning local geography, camping in this park is guaranteed for a good time.
You can drive your RV through the streams and pull up right to the creek bed. An additional feature is that there are seven marked trails through which you can hike and stroll.
For adventure enthusiasts, Geneseo Campground is one of the best RV camping spots to explore the magnificent Illinois beauty. Right off Interstate 80, you can easily navigate your RV to this campground as it is a full hookup RV site. Through this area, you can also get access to local attractions and restaurants.
Venturing in the unknown is quite a challenge. But if you want to hike or camp in different parks in Illinois, then this list of the best RV parks in Illinois is something you need to check out this season. After reading this, don't delay your fantastic hiking trip!