An excellent option to get away from it all is to go on a camping trip in Iowa. Camping out with friends and family to tell spooky tales and toast chestnuts is a classic summer activity.
Campgrounds suitable for tents, trailers, recreational vehicles, and comfortable cabins abound across the state of Iowa, proving that the Hawkeye State has much more to offer than just plains of cornfield.
Let me take you by the hand and show you what it's like to go camping in some of the best campgrounds in Iowa while you sip your hot beverage and stay under your warm blanket.
1. Pikes Peak State Park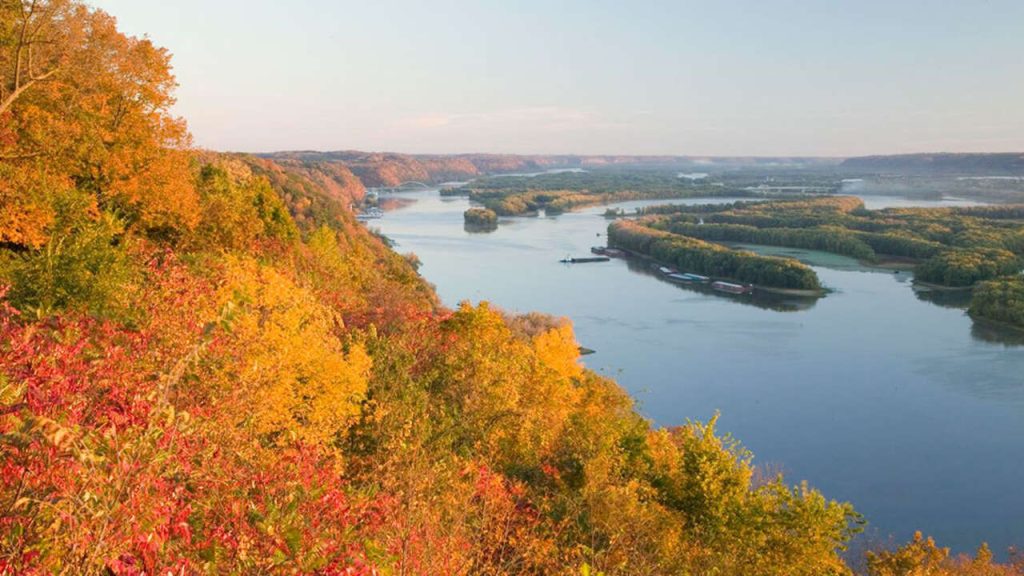 There are several great state parks in Iowa, but one of the most well-known is Pikes Peak State Park. The stunning panoramas of the Mississippi River are the site's primary draw. This RV park is the best campground in Iowa, and one of the best in the nation.
Over eleven miles of paths wind across the park's varied landscape of verdant valleys and breathtaking cliffs. This is the place to go if you're in search of excellent trekking and stunning scenery. The park is most famous for Bridal Veil Falls, one of the most beautiful waterfalls in all of Iowa.
The park has a number of campsites, both electric and non-electric, to accommodate campers. There are also washrooms with showers and dumping stations for your use. Reserving a spot in advance is highly recommended. Campers may purchase various drinks, ice, and trinkets at the park food stand, which is conveniently placed near the campsite.
2. Maquoketa Caves State Park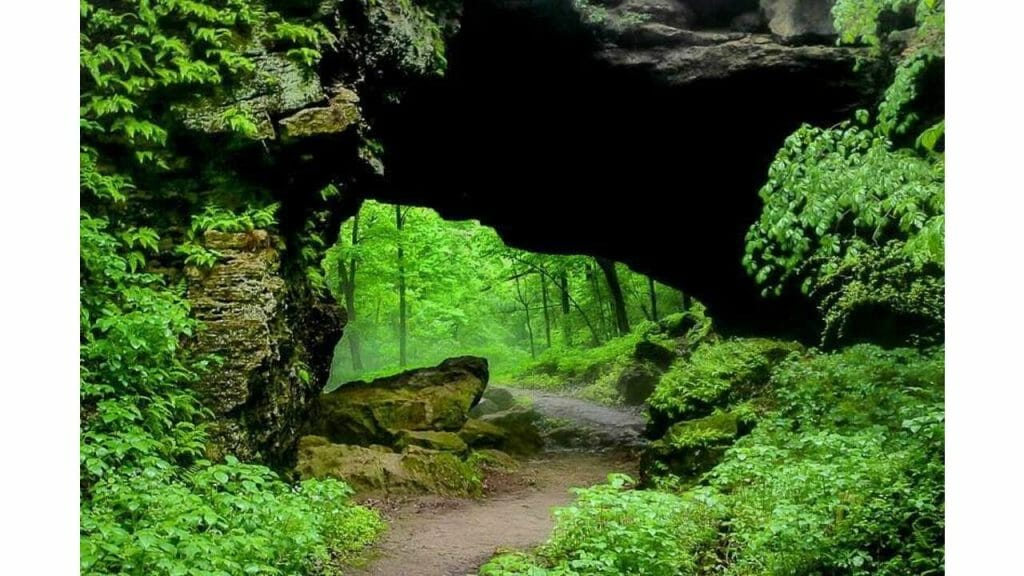 Maquoketa Caves State Park may be reached in a little over an hour from Cedar Falls. It is the second-best campground in Iowa.
It's one of Iowa's most visited parks, and it's known for being a little more daring and out-there than others in the state. The lovely pine trees and modern conveniences make for a memorable camping experience in Iowa. If you like, you might choose a hike-in site that is more rustic.
If you are in the mood for a night out on the town, Cedar Falls also has several excellent dining options. Vegetation on the rocks and in the backdrop may be seen at the bottom of these stairs at the cave entrance.
3. Backbone State Park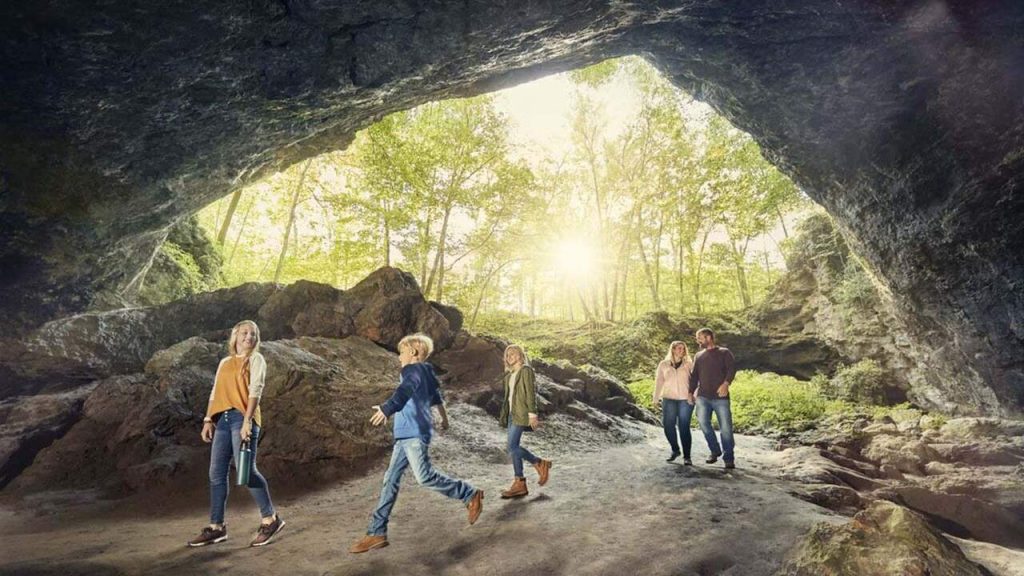 With more than 21 kilometers of trails, Backbone State Park is an ideal campground in Iowa for hikers of all skill levels. It's a top spot for trekking in the Hawkeye State.
The Devil's Backbone, a high and narrow ridge in the park, inspired the name of Iowa's first state park. This South Lake Campground has both traditional and non-electric sites, in addition to all the standard facilities.
Six Pine Campground, located close to the west gate, offers primitive camping with no hookups. There are also four cottages available for rent on the premises if you're looking for something a little different.
Check out these fantastic zoos in Iowa.
4. West Overlook Campground
West Overlook Campground is in the Iowa River Valley, which lies just to the north of Iowa City. This campsite in Iowa is fantastic.
Located on the western side of the Coralville Lake Dam, this Iowa campground provides the standard fare along with playgrounds for the kids. The beach, a picnic area with a shelter, a volleyball field, and a playground are all available to you.
The campground in Iowa is surrounded by dense woodlands teeming with wildlife. The area is great for a variety of outdoor pursuits, including fishing, swimming, boating, and hiking. There are 89 regular electric campsites available. RV with its awning extended, and some patio furniture set up outside. We lost the RV in the woods.
5. Bellevue State Park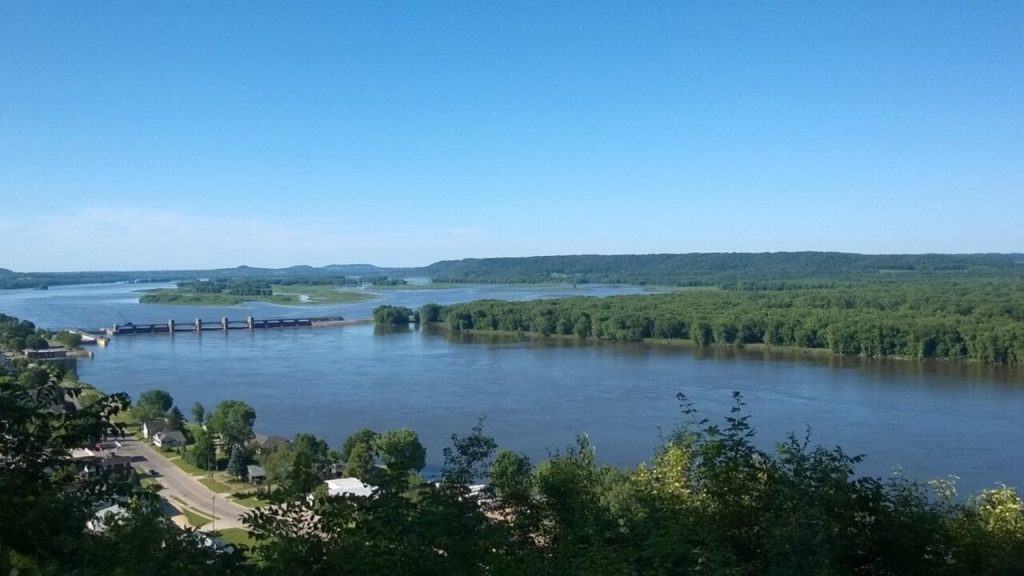 Some of the best views of the Mississippi River can be had at this park in Iowa. Limestone bluffs with stunning vistas may be found in this park. As a bonus, it has a wealth of historical artifacts and archaeological sites.
There are two distinct sections to the park. Campgrounds may be found in the Nelson Unit, as well as the adjacent Dyas Unit.
The Nelson Unit is home to approximately two kilometers of pathways and a butterfly garden. Indian mounds built anywhere from 500 B.C. to 1200 AD may also be seen in the park.
Among Iowa campgrounds, the one at IA provides all the amenities need.
In the early dawn of a gorgeous Summer day, a path leads to a garden filled with butterflies. One of the Iowa campgrounds is located here.
6. Des Moines KOA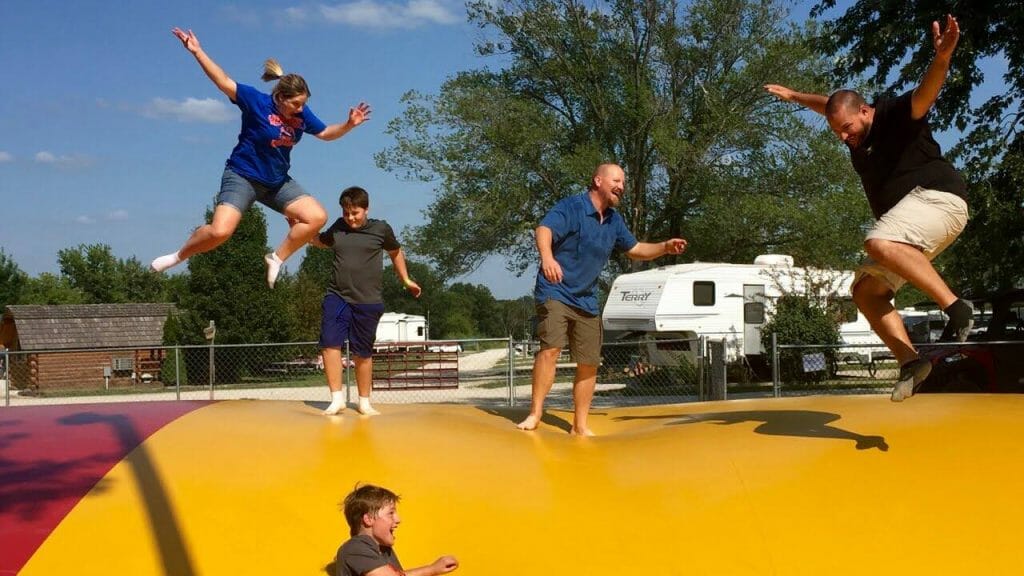 Des Moines KOA is in close proximity to Winterset, where John Wayne was born and where the Bridges of Madison County was set.
As far as Des Moines RV parks and campsites go, this one is highly recommended. The area is great for families since there is so much to do.
Des Moines camping is fun because of all the extras like jumping pillows, trampoline basketball, and paddle boats. Des Moines is home to a campsite perfect for adventure seekers.
The property is located in tranquil farmland in Iowa.
Group of pals cuddling together by the fire on a chilly night. In the backdrop, there are light bulbs.
Also have a look at these thrilling bike trails in Iowa.
7. Stone State Park
Campsites are common, but the fact that this one is amid a city nature preserve sets it apart. Located on the outskirts of Sioux City, this campsite is a great option for a relaxing weekend trip in Iowa.
There are electrical hookups at each campsite, as well as all the standard conveniences. A huge camping area suitable for youth groups and many chalets are also available. Reservations are recommended, but walk-ins are welcome if there are still seats available.
8. Clear Lake State Park
This Iowa campground is perfect if you're dreaming of a beach getaway. Clear Lake is a well-liked watering hole in Iowa.
There are more than 50 acres to explore, but visitors are drawn to the 900 feet of pristine sandy beach. It's possible to engage in each water sport imaginable, and there are a plethora of picnic areas to boot. Even though they provide first-come, first-served sites, I highly suggest making a reservation for this busy campsite.
In the off chance that you forget anything, the nearby city of Clear Lake is a pleasant diversion.
9. Cherry Glen Campground
This Iowa campground includes more than 125 sites and is part of the 26,000-acre Saylorville Lake Project.
More than half a hundred kilometers of water are being channeled up the Des Moines River Valley for the Saylorville Lake Project. The lake is a fantastic place for water sports like boating and swimming, and it's surrounded by some beautiful hiking paths that showcase the Midwest landscape. A disc golf course is just one of the extras at this fully-equipped campground.
10. Arrowhead Park
This 147-acre park is perfect for those who want to take their kids outside and play. The region around Neola provides a wide variety of fun things to do in your spare time.
Playgrounds, basketball and volleyball courts, hiking paths, and opportunities to see animals may all be found at this Iowa RV park.
Cabins are available for rent if you're looking for a little more comfort than the tent sites, and the campground has both traditional and non-electric campsites. A summer campfire is the perfect setting for a gathering of friends and family.
11. Pulpit Rock Campground
Pulpit Rock Campground is located just two miles from Decorah, Iowa. If you're looking for a nice place to camp in Decorah, Iowa, go no farther than this location, which is located right in the middle of small-town America.
This is an excellent camping spot in Decorah, Iowa. The scenery when out on a bike ride or hike is just stunning, and there are a ton of fun activities to do in the region. Or, you may hire a kayak and paddle the Upper Iowa River for a few hours.
A white RV parked near to some impressive trees in the woods, with two persons emerging from the RV.
12. Gull Point State Park
Being a part of the Iowa Great Lakes Region, this location has so many options for outdoor recreation, you'll have a hard time picking just one. The beaches are beautiful as well.
The campground is one of the most popular in the lake's region, thus booking in advance is highly recommended. This location offers both electrical and dry camping options. To camp at Okoboji is to experience pure happiness.
This is an excellent location for water sports and boating because of its proximity to Okoboji. With so many paths available, cyclists and hikers are spoiled for choice. This campsite in Okoboji is one of the best options for a relaxing camping trip.
Are you excited to spend your next holiday exploring the various campgrounds in Iowa?