When most people think of Iowa, caves probably were not the only thing that came to mind. On the other hand, there are a number of fascinating caverns and cave systems in Iowa.
Iowa's caves provide a wide variety of experiences, from leisurely boat rides through subterranean caverns to serious cave diving challenges for seasoned explorers.
Let's find out some of the most wonderful caves in Iowa for a neat yet scary experience.
1. Maquoketa Caves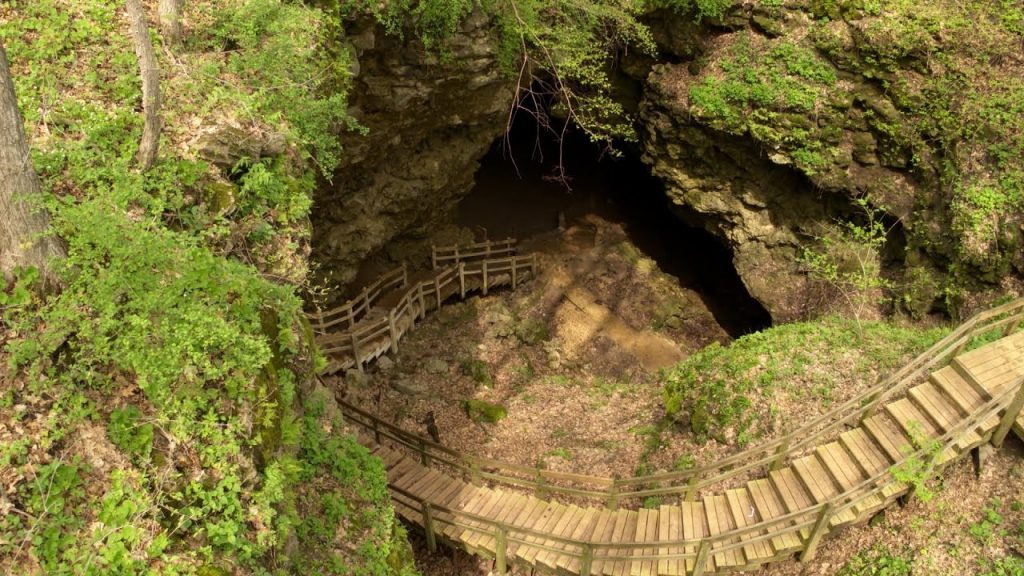 The first thing that comes to my mind when visiting the most suitable cave in Iowa is Maquoketa Caverns in Iowa; these are the places to go if you prefer your caves on the grandiose and awe-inspiring side. There are 13 caverns to explore in Maquoketa Caves State Park, which is located in a really one-of-a-kind setting.
From the impressive 1,100-foot Dancehall Cave, the longest public, wild cave in Iowa, to smaller ones you may need to crawl into, Iowa has it all. The caverns include a path system that makes it simple to travel between them. Those interested in exploring the little caverns should do so with the use of their own lighting devices. Caves, vista points, and impressive geological features like "Balanced Rock" and "Natural Bridge" are all connected by a network of well-maintained hiking trails.
The Natural Bridge and Balanced Rock are both must-see attractions inside the park, and their respective routes total 6 kilometers in length. The trails in Iowa, however, may be rainy and muddy, so pack accordingly.
2. Decorah Ice Cave In Barbara
As the biggest ice cave in the Midwest and the second most wonderful cave in Iowa, Decorah Ice Cave is indeed a sight to see.
This is unlike any other cave in Iowa. And it's in a little town that may well be the prettiest in all of Iowa. In the winter, water slowly seeps down the chilly rock walls, freezing to form a layer of ice. There is a cave inside the beautiful Barbara Barnhard VanPeenen Memorial Park. It also has a freshwater spring, eight acres of thick prairie grass, and several hiking routes in addition to the ice cave.
One of the best places to see caves in Iowa and a great place to spend a weekend in the Midwest, because both the park and the cave are free to enter.
3. Spook Cave Near McGregor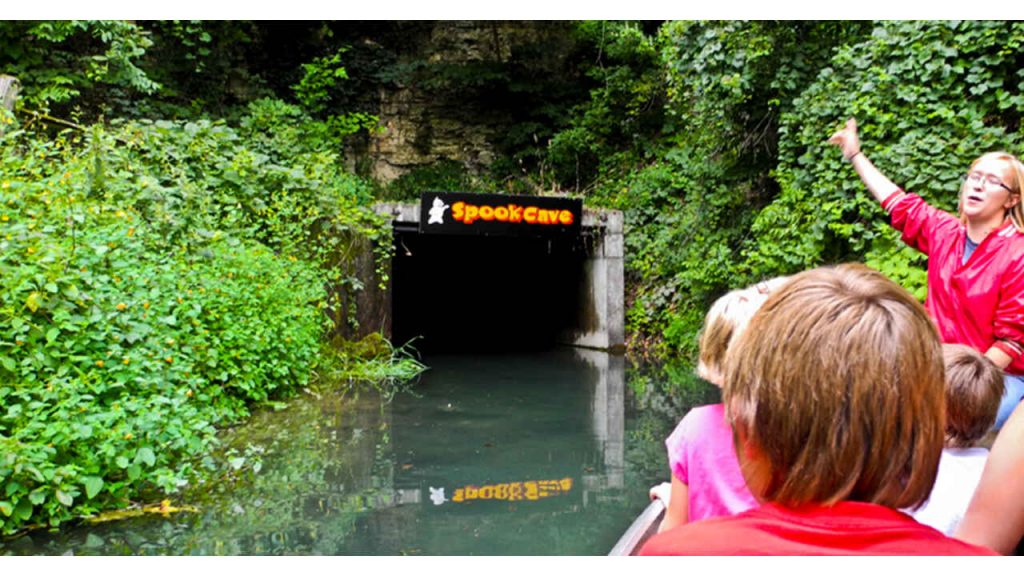 Spook Cave got its name because of the unexplainable sounds that were said to emanate from inside. It turned out to be nothing more than water rushing through a spring.
Although the cave is mysterious and fascinating to explore, the trip involves a boat ride through the rock-like tunnels under the surface, and it is quite enchanting. Some of the most well-known Iowa waterfalls are accessible at the correct seasons.
You will be captivated by your guide's tales about the discovery, development, and history of the natural limestone cave and the region around McGregor as you explore the biggest chamber, which is 30 feet high and 100 feet long.
A couple of times, you'll have to lean forward to avoid hitting your head on the cave ceiling. If you are in search of unique Iowa camping options, there is a campground on the premises.
Check out these stunning hiking trails in Iowa.
4. Ice Cave And Horse Thief Cave
There are a few caves in Iowa that are must-see; one of the state's oldest parks; the bowl-shaped Horse Thief Cave is one of them. The locals claim the cave gained its name because it served as a hideout for horse thieves. Those interested in exploring the park's caverns may do so through a network of well-maintained, multi-use trails.
Despite the fact that there is a lot more to do at this 394-acre park than explore caverns, I will restrict this article to the caves in Iowa. The entrance to the cave is unobstructed, and once inside, you may go through a few tunnels, but you might want to bring a torch.
Getting inside the ice cave requires climbing a few stairs and squeezing through a narrow opening. There's enough space to move, but it's tight, and you'll definitely want a torch for this cave.
5. Cave At Backbone State Park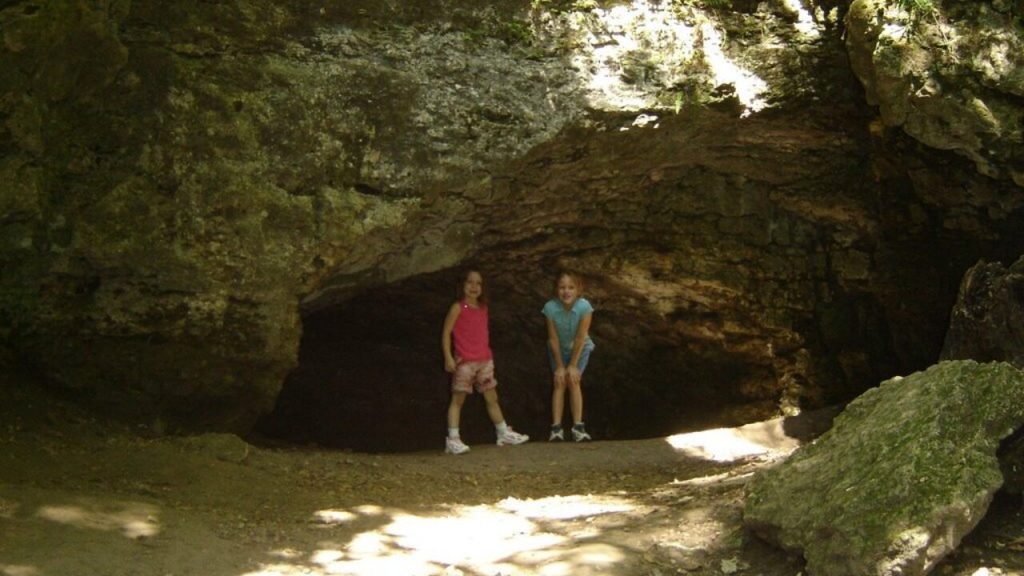 This cave in Iowa could be perfect if you want to go cave exploring and do other outdoor activities at the same time.
Backbone State Park, Iowa's first state park, is home to some of the state's most interesting natural features. Caves, sinkholes, karsts, and freshwater springs abound in this area. There are a total of 201 acres to discover. The Maquoketa River formed a steep bedrock ridge that resembles a backbone, and this feature is the inspiration for the park's name: The Devil's Backbone. It's 80 feet tall, so the views from the top are sure to wow.
There is a trekking option in this 21-mile park that will appeal to everyone. After that, you may either belly crawl inside the cave if that's your thing, or relax here for a bit. This cave is not for anyone who is uncomfortable with close quarters.
6. Crystal Lake Caves In Dubuque
Iowa is home to a cave known as Crystal Cave, which you have probably heard about. The Dubuque caves are arguably the first ones that come to mind when one imagines subterranean caverns.
There are caverns to explore, mineral formations like helictites and stalactites, and other cave dwellers to meet.
You may even come across some antholites, which are clusters of white crystals shaped like flowers that grow from the ceiling. A really otherworldly location.
This is the best resource I've found so far for information about cave trips in Iowa. There is a 45-minute time limit on the guided walking tour of Crystal Lake Cave. The walkways are roomy enough for pedestrians, both in width and height.
The caves in Iowa are beautifully illuminated, making for some stunning photography opportunities. The Gem Mining Sluice is also great fun for families with kids.
Take a look at these thrilling these thrilling ziplines in Iowa.
7. Ice Cave At Bixby State Preserve
Bixby State Preserve in Clayton County, northern Iowa, is home to an ice cave. Bixby State Preserve is a forested park with trickling streams and waterfalls, and there is seldom anybody else there. You can go there and relax in beautiful natural surroundings.
When the mist is billowing out of this Iowa ice cave, it looks like something out of a fairy tale. It's magical and could serve as a honeymoon destination. The cave may be reached from the main entrance by crossing Bear Creek on stepping stones. You can't get in, but you may look around within the cave.
The amount of ice in the cave is a mystery, but the cool air within may be a welcome relief from the heat of the summer.
8. Cold Water Cave
Located in Winneshiek County, this cave is part of a 60-acre park. It is currently located in Cold Water Spring State Preserve, Iowa, not far from Cold Water Cave, the source of the spring.
There are a total of around 16 miles of caves to explore, and doing so is a genuine experience. Knowledgeable explorers only, please, since this area is not for the faint of heart. Wetsuits, boots, gloves, and a lot of exploration experience are necessary here.
However, only the most seasoned cavers would appreciate the cave's 100-meter metal ladder and complete lack of illumination. There are caves, domes, and amazing rock structures interconnected by tunnels.
9. Starr's Cave Park
It's dark, it's enormous, and it's filled with bats—the cave that's Starr's in Burlington. Moreover, this cave has been sealed up to stop the spread of white-nose sickness. This is the cave in Iowa to visit if you're looking for a little more excitement in your cave exploration.
10. Wildcat Cave
Wildcat Cave, located in the highlands close to Eldora, is a renowned tourist attraction due to its length of more than 30 feet. This cave features a raging underground river and is accessible to explorers of varying spelunking expertise levels. A wall made of red sandstone is 15 feet tall and frames the entryway. People may discover cave explorers' autographs here, some of which date back to the 1800s.
11. Wapsipinicon State Park Caves
The 394 acres that make up Wapsipinicon State Park are dominated by the sandstone and limestone bluffs that run along the park's eponymous river. The park has been around longer than most of the other state parks in the state. Mountain biking, walking, boating, fishing, snowmobiling, camping, and cross-country skiing are all available. are just some of the activities available.
Caves, including an ice cave, may be discovered throughout the park. The Horse Thief Cave, named for its distinctive bowl form, is an incredible natural wonder. The locals claim the cave received its name because it served as a hideout for horse thieves in the past. There is an extensive network of trails suitable for a variety of activities that visitors may take to reach the caverns in the park.
As an added bonus, many of the caverns maintain a moderate temperature year-round, making them ideal for respite from the heat of summer. It is pretty amazing to see ice forms in some of the caverns throughout most of the year. When planning your trip, contact us ahead to ensure that the places you want to visit are open.