Beautiful mountains and dense forests are abundant in Colorado which makes it a paradise for hiking. In Colorado, whether you want to go for a hike or want to explore the natural beauty, going on a trip to the mountains and forests is a fantastic option.
For hiking lovers, below is a list of hiking trails in Colorado consisting of only the best ones.
1. Maroon Bells Hikes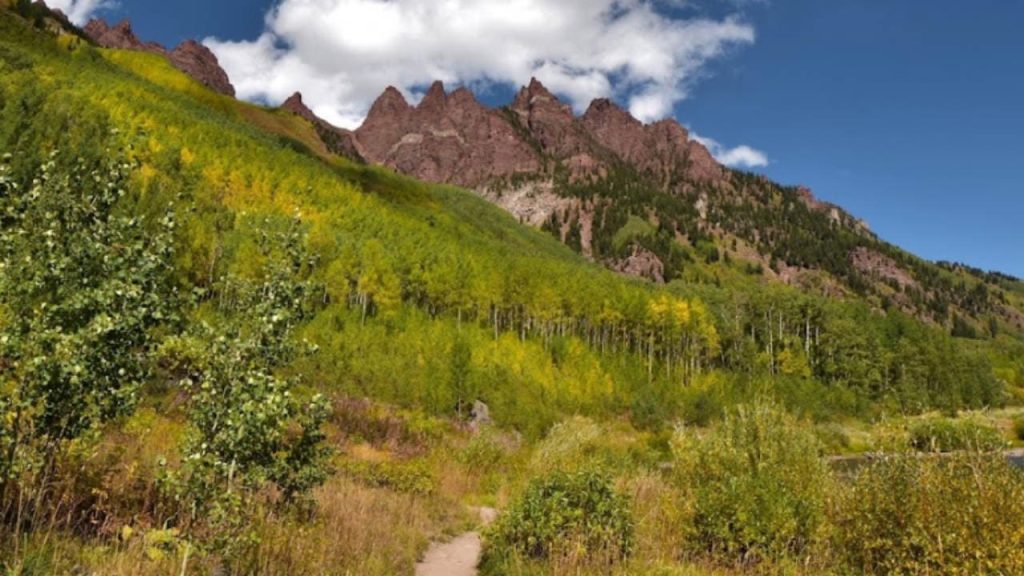 Maroon Bells offers multiple hiking trails and some of the most beautiful scenery in Colorado. This Rocky Mountain landscape is full of cascades, lakes, golden aspens – all against the iconic backdrop of the Maroon Bells peaks.
2. Hanging Lake Hike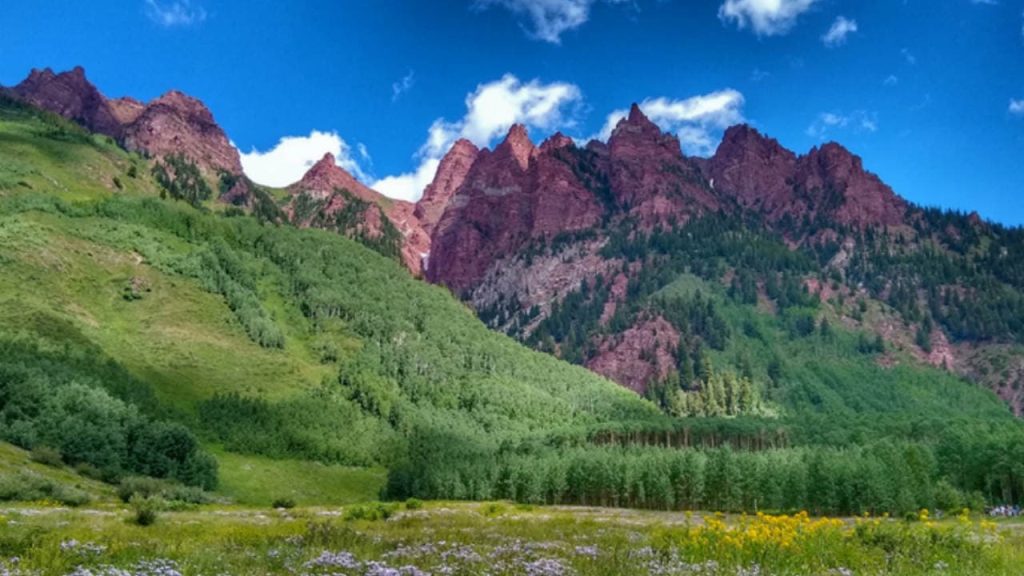 Hanging Lake is a short, but demanding hike to two waterfalls and one of the most beautiful lakes in Colorado. It's definitely worth the nearly three-hour drive to the trailhead, which is located just south of Glenwood Springs (also a great family vacation destination in Colorado). This is probably the most popular hike in all of Colorado, so be sure to arrive early for parking.
3. Alberta Falls Hike at Rocky Mountain National park
If you only want to visit one waterfall in Rocky Mountain National park, Alberta Falls is a superb choice. It is a favorite among the short hikes in the park. From Alberta Lake, hikers have options to further explore areas such as the Loch, Timberline Falls, and the Glacier Gorge area.
Learn more about the scenic bike trails in Colorado.
4. Fern Falls Hike in Rocky Mountain National Park
(View on Map)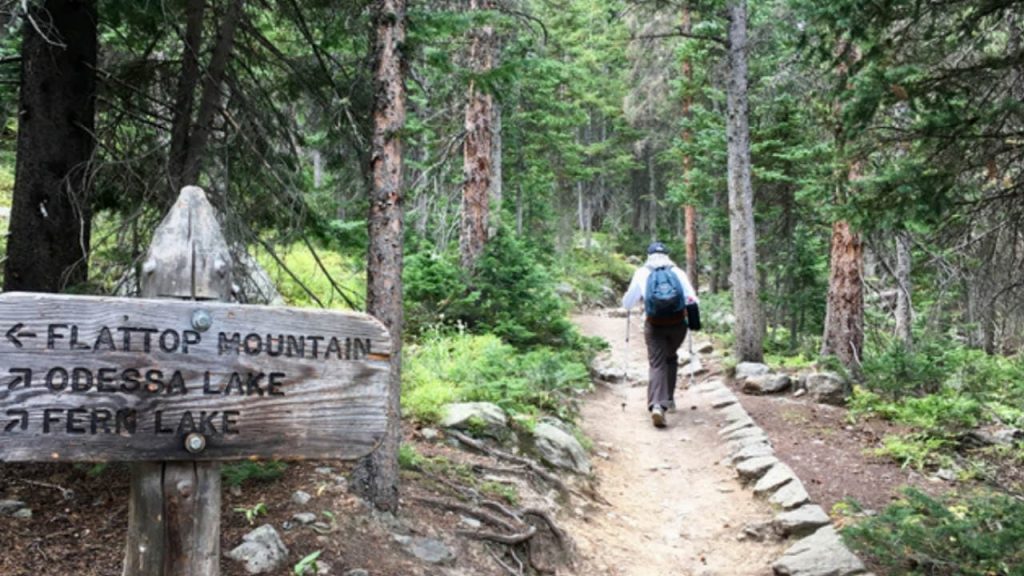 Fern Falls is located on the east side of Rocky Mountain National Park. The waterfall crashes over rock and fallen trees, moss and ferns, as it makes its way down through the forest and sprays a fine mist across the trail. Adventurers can hike beyond Fern Falls up to Fern Lake, which is another breathtaking destination.
5. Fountain Valley Trail at Roxborough State Park
Maybe if you are looking for a hike closer to Denver, you can try the Fountain Valley Trail in Colorado's Roxborough State Park, which is the Garden of the God's of Denver.
Great slabs of pink and orange rock contrast against blue sky, and even on a rainy or foggy day, the Fountain Valley Trail feels like a trip into an enchanted realm. Like Rocky Mountain National Park, no pets are allowed in the park, and a State Parks Pass or day fee is required for all entrants.
6. First And Second Flatirons Hike in Boulder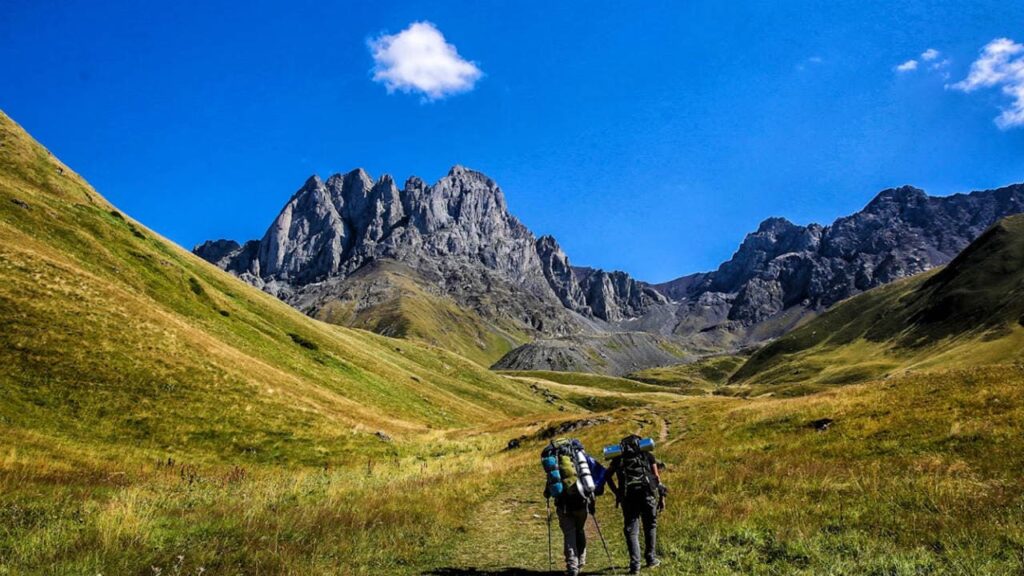 Looking for something a bit more challenging? Hiking the Flatirons Trail near Boulder, Colorado leads hikers across a green meadow, then up through a notch between the First and Second Flatirons. Moreover, the back side of the flatirons offers a shaded alcove where you can take in views of the snow-capped front range of the Colorado Rockies.
You might also be interested in visiting these waterfalls in Colorado.
7. Devil's Head Lookout Hike
The Devil's Head Trail is the classic Colorado Front Range hike, and it is just about one hour from the center of Denver. The 143-step climb to the fire lookout tower can be harrowing, but worth the 360-degree panoramic view of mountains layered upon mountains.
8. Timberline Falls in Rocky Mountain National Park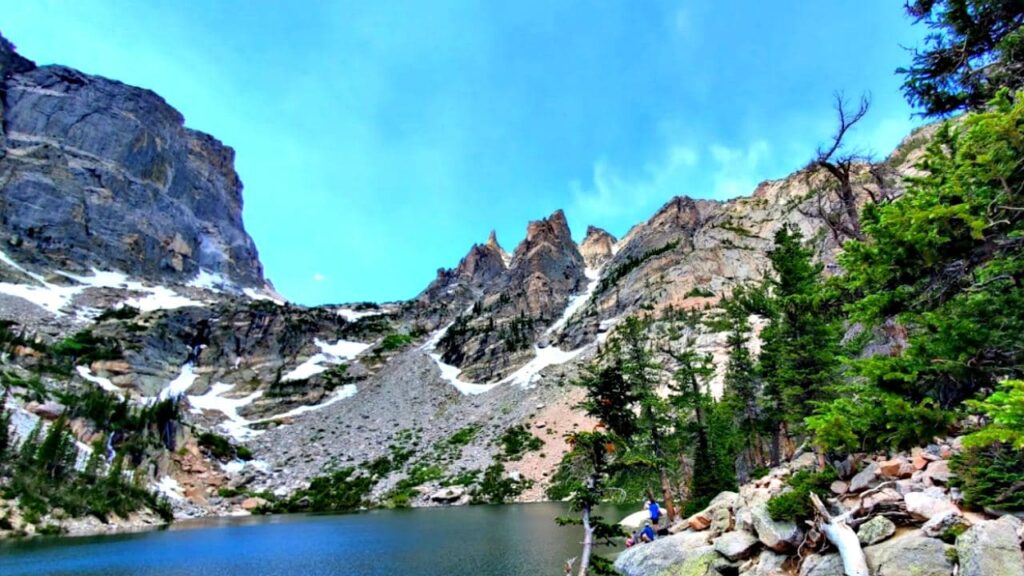 Hiking to Timberline Falls in Rocky Mountain National Park is demanding but has plenty of rewards. The trail passes Alberta Falls along the way and into the wonderful Loch Vale. Most hikers extend their hike beyond Timberline Falls to the alpine lakes and beyond.
9. Four Lakes and Waterfall Loop Hike in Rocky Mountain National Park
This 6.4-mile loop hike in Rocky Mountain National Park takes you to four beautiful subalpine lakes and Alberta Falls, one of the park's most frequently visited waterfalls. If you are looking for a hike with a lot of bang for the buck, and just have one day to visit Rocky Mountain National park, this would be a great choice and opportunity to take in a variety of terrain and destinations.
10. Monarch Lake Loop Hike
If you are vacationing in Winter Park or the Granby area, the loop hike around Monarch Lake makes for a perfect day hike. The Monarch Lake Loop takes hikers through a shaded forest, across creeks, and along the shore of the lake. It's one of the less difficult but diverse hikes in the area.
Moreover, Monarch Lake is a popular destination for activities like kayaking, canoeing, and is an access point for backpacking in Indian Peaks Wilderness area. Because this is a very popular hike, be sure to arrive early or go on a weekday.
11. Reutter-Hess Incline Challenge (Parker)
It may be one of the newest trails in Colorado, but the Reutter-Hess Incline Challenge is also one of the best, as it boasts 132 butt-busting steps via a steep incline.
12. Wager Gulch Road (Gunnison National Forest near Lake City)
Arguably one of the coolest historical hikes in Colorado is Wager Gulch Road, which is home to not only a stunning landscape but surprising ruins as well. Located atop the defunct mining town of Carson, Wager Gulch Road is a 7-mile, out-and-back trail that passes through many of the town's abandoned homes and businesses, making for a one-of-a-kind experience.
A hiking trip can be demanding, yet many people still enjoy doing it. The reason? It is nothing but the beautiful and breathtaking scenery that is rewarded throughout the hike, and Colorado's wonderful hiking trails are one of the experts in giving this type of rewards.